A recent spate of killings in the United States of non-Muslims by Muslims has gone unnoticed by the major media. Here are four cases I know of:
Mug shot of Yusuf Ibrahim.

Feb. 5: Yusuf Ibrahim, 27, Egyptian born and living in Jersey City, stands accused of shooting, then cutting off the heads and hands of two Copts, Hanny F. Tawadros and Amgad A. Konds, and burying them in Buena Vista Township, New Jersey. He is charged with two counts of murder and with desecrating human remains. He is also wanted for a Sep. 20, 2012, armed robbery in Jersey City in which a victim was shot in the foot.
Feb. 19: Ali Syed, 20, of Ladera Ranch, Calif., went on a shooting rampage in Southern California, killing Courtney Aoki, Mel Edwards, and Jeremy Lewis, then committed suicide. The Orange County Sheriff's spokesman, Jim Amormino, said Syed, described as an unemployed part-time student at Saddleback College who lived with his parents and a loner who "spent a lot of time alone in his room playing video games," left "no evidence, no note, nothing that would explain this very bizarre, violent behavior." Mar. 1, 2013 update: But he did leave a document titled "Suicide Note," we now learn. According to the Orange County Sheriff's Department, it indicates "that the events Ali Syed was responsible for were pre-meditated and planned."

Feb. 21: Ammar Asim Faruq Harris, 26, killed three people on the Las Vegas Strip and fled, is called armed and dangerous. He apparently got into an argument with, Ken Cherry, shot Cherry as Cherry was driving, which led to a collision that killed a taxi driver and his passenger. Harris has a long criminal record that includes kidnapping, sexual assault, and robbery.

Additionally, although the murder took place on July 31, 2012, only at his court hearing on Feb. 21 did public attention focus on Ali Salim, 44, a medical doctor born in Pakistan and living in New Albany, Ohio, who is accused of raping and killing nine months' pregnant Deanna Ballman, 23, by injecting her with a lethal dose of heroin. He is charged with two counts of murder (Ballman and her unborn baby) as well as rape, felonious assault, corrupting another with drugs, kidnapping, tampering with evidence and abuse of a corpse.
Comments: Because the media, law enforcement, and elected officials are so reluctant to give out information about the attackers' religion, much less their motives, it's basically impossible to tell from the outside if they represent a wave of sudden-jihad-syndrome attacks by Islamists or are just a bunch of criminals who happen to be Muslim, or a bit of both. (For documentation of this pattern, see both my article "Denying [Islamist] Terrorism" and the follow-up blog, "More Incidents of Denying Islamist Terrorism.") The most the media will concede is in the Ibrahim case, that "Privately some wonder if it had something to do with the victims' [Christian] religion." When will journalists, police, and politicians end their efforts to hide key information that the public needs and deserves? (February 24, 2013)
---
Updates: This blog prompted readers to send other recent cases of Muslim-on-non-Muslim violence:
Sep. 8, 2011: As Justin Hall, 32, of Mount Vernon, Ohio, was about to board a Greyhound bus in Springfield, Mo., Mohamed H. Dawod, 25, of Glendale, Ariz., shot him in the back. Dawod tried to fire more shots but his pistol, a .22-cal. semi-automatic, jammed, at which point other passengers subdued him. The attack appeared to be unprovoked. Police are seeking a motive. They charged Dawod with first-degree murder and armed criminal action in the shooting.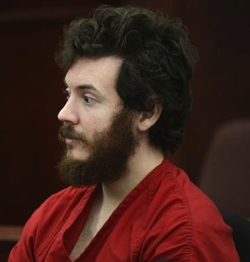 James Holmes, the Colorado mass killer, in court in March 2013 with a Muslim-style beard.

Jul. 20, 2012: James Eagen Holmes killed 12 people and wounded 58 people at a showing of the movie Dark Knight in Aurora, Colorado; although he did not exhibit any connections to Islam at the time, it came out seven months later that he is a Muslim, sports a long and thick beard, keeps a strict Muslim diet, studies the Koran for long periods, and prays five times a day. According to the National Enquirer, quoting a prison source, he claims the beard symbolizes his faith, and that he turned to Islam as a way of justifying his murder spree. "He has brainwashed himself into believing he was on his own personal jihad and that his victims were infidels."
Comments: (1) Was Holmes already a Muslim on July 20, 2012? Presumably, this will come out in due course. If he was, then this atrocity could have been jihadi warfare. (2) If he was not, and he converted subsequently, he fits a distinctly African-American pattern, namely converting to Islam after getting into some kind of trouble. (March 20, 2013)
Feb. 27, 2013: A Pakistani immigrant, Kashif Bashir (not for sure a Muslim), 27, shot an Alexandria, Virginia police officer, Peter Laboy, in the head during a routine traffic stop for a minor infraction. Laboy barely survived.
Mar. 11, 2013: Scott C. Fandrich, 55, of Ridgefield, Washington, was arrested on suspicion of having stabbing two people (Jerry Kush, 70 or 71, and Jerry Nehnevaj, 49) in a Starbucks coffee shop in Vancouver, Washington just before 5 p.m. today. From the affidavit, as reported in the Columbian newspaper:
Scott C. Fandrich, accused of a double stabbing at a Starbucks.

Hamza A. Shariati, 21, told police that he had met Fandrich at about 2 p.m. Monday to discuss religion. During their conversation at one of the cafe's tables, Kush approached and chatted with Fandrich about cars and religion. When Kush got up and left, Fandrich followed him out of the building, Shariati said. Then, Shariati said, he heard sirens. Shariati told police that Fandrich had made statements in the past about "his willingness to die for Islam." He said he knows that Fandrich "has conflicts with people."

Kush was stabbed at least five times in the neck, abdomen and the side of the chest and had to undergo emergency surgery Monday night at PeaceHealth Southwest Medical Center. Bystanders tried to intervene and stop Fandrich. … One of them, Jerry Nehnevaj, 49, was stabbed in the right lower leg when he attempted to grab Fandrich and pull him off of Kush, according to the affidavit. Nehnevaj was transported to PeaceHealth, treated and released.

Reshad Rida.
Mar. 31, 2013 update: Reshad Riddle, 25, approached his father, Richard, 52, after an Easter Service at Hiawatha Church of God in Christ in Ashtabula, Ohio, and fired a single round from a handgun that instantly killing Richard. Some 150 parishioners hid under the pews as Riddle entered the church with his gun and yelled that the shooting was "the will of Allah. This is the will of God." Apr. 1, 2013 update: In an appearance today in Ashtabula Municipal Court, Associated Press reports, "Riddle made rambling comments about God and said he wanted to be treated fairly." And Ann Riddle, sister of the victim and aunt of the suspect, said later the family knew of no possible motive. The Ashtabula police chief, Robert Stell said Riddle offered no motive: "Witnesses at the scene said the shooter entered church and made some references to Allah, but we are not sure if that was a motive or if there was a family problem. There is no indication that the father and son had a bad relationship. Everyone thinks this was very surprising." Apr. 10, 2013 update: A preliminary court hearing turned up more information: (1) When the police arrived after the murder, they found Reshad Riddle inside the church, standing at the podium, with a gun in the air, several knives on him, and a Koran on the podium. (2) When Patrolman Thomas Clemens "sat on the witness stand describing the frantic church scene, Riddle calmly stroked his beard and smiled at a child sitting behind him in the courtroom. When Clemens was asked to identify the Easter Sunday shooter, Riddle gave Clemens a little wave." (3) On submitting to a Gunshot Residue Test, Riddle "admitted he used a Smith and Wesson .38 Special," said Clemens. "He referred to the Koran and Allah, quoting passages" and remembered Riddle saying he had "served his purpose." (4) Detective William Felt said Riddle spoke about religious passages in the Koran.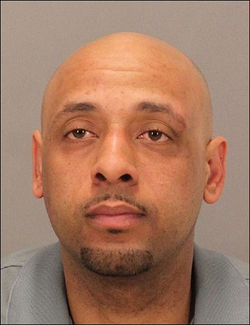 Haamid Ade Zaid, 33, of Seaside, California.

Apr. 1, 2013 update: Haamid Ade Zaid, 33, of Seaside, California drove his red, Oldsmobile Cutlass through the door of a Wal-Mart in San Jose, hitting a beer display before stopping near the pharmacy, after which he got out of the car with a blunt object and began attacking people, injuring four, one seriously. He is under arrest and held without bail on four counts of assault with a deadly weapon, hit and run, under the influence of drugs, and resisting arrest. San Jose police Officer Albert Morales commented, "In my 18-year career I have never seen anything like this. After looking at some of the pictures, it's amazing he didn't hit anybody with the vehicle."
Police said they suspect Zaid was on drugs "No motive has been determined" reports the Associated Press. This makes seven cases of potential sudden jihad syndrome in less than two months.
Apr. 19, 2013 update: Tamerlan and Dzhokhar Tsarnaev, two Islamists brothers, set off the twin blasts at the Boston Marathon on Apr. 15. Due the bombing's public nature, the mystery of the perpetrators' identity, the crime-fiction quality of their night rampage, and the lock-down of the Boston metropolitan area, this attack got all the attention that the seven prior ones over two months lacked.
Related Topics: Criminality, Muslims in the United States, Radical Islam receive the latest by email: subscribe to daniel pipes' free mailing list This text may be reposted or forwarded so long as it is presented as an integral whole with complete and accurate information provided about its author, date, place of publication, and original URL.