The current Middle Eastern upheavals are mercifully not about Israel. Anti-Zionism has been a minor, even negligible part. I find it remarkable, in fact, how small a role Israel has played. And, in general, Israel benefits by having attention elsewhere. The Israeli government should stay out of the way, as it correctly has.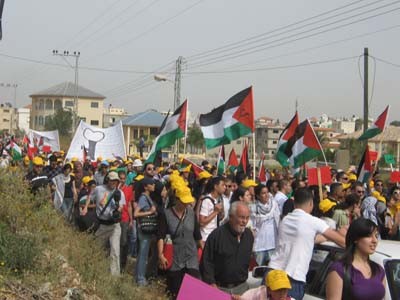 The new Palestinian tactic to eliminate Israel?
The current upheaval may prompt Palestinians to conclude that violence doesn't take them where they want to go and they might emulate others in the region by shifting away from warfare and terrorism in favor of non-violent political action. That could include massive non-violent demonstrations such as marching on Israeli towns, borders, and checkpoints.
Ironically, this shift could be to Israel's detriment. In some ways, it has benefited from Palestinian violence. That's in part because violence is ugly and in part because Israelis have proven themselves more capable in the military realm than the political one. A shift to the political realm could transform the conflict to Israel's detriment. I don't think the shift creates an opportunity for Israel because the goal remains unchanged: elimination of the Jewish state.
I hope Israelis are preparing to contend with this phenomenon, from gathering intelligence to training troops to deal with demonstrators to responding with smart political arguments. The last point is especially important. In the past, Arab leaders ranted and made preposterous arguments, but now they're getting better, more rational, more appealing. Their political campaign of delegitimization will likely reach new heights with a General Assembly resolution in September.
Daniel Pipes is director of the Middle East Forum and Taube Distinguished Visiting Fellow at the Hoover Institution of Stanford University.
---
May 15, 2011 update: On cue, the Palestinians took up this tactic today, "Nakba Day." I analyze the development at "A Turning Point in the Arab-Israeli Conflict?"
May 17, 2011 update:As suggested above, the Israeli military is in fact preparing for border marches and the like, Yaakov Katz writes in the Jerusalem Post:
The IDF Ground Forces Command is in the final stages of completing a new operational doctrine for containing so-called peaceful anti-Israel marches, and in the coming weeks will hold a military-wide seminar to prepare commanders for an increase in demonstrations ahead of the Palestinians' unilateral declaration of statehood in September.

The work on the doctrine began several months ago, and is not connected to the results of the Nakba Day riots that broke out along the Syrian border on Sunday, leading to the infiltration of some 100 Syrians into Israel. The work is being done by Brig.-Gen. Miki Edelstein, the IDF's chief infantry and paratroop officer.

The decision to write a new IDF doctrine – which dictates the way commanders are supposed to counter and contain violent protests and marches – was made amid concern that Israel will face a growing number of demonstrations in the coming months, particularly following UN recognition of Palestinian statehood at the General Assembly in September.

"The whole idea in incidents like these is to know how to confront the people marching as unarmed – if they really are – and to do everything possible to prevent casualties on both sides," Edelstein told The Jerusalem Post in an interview on Monday. … "This doctrine will be relevant for mass marches with the aim of containing them," he said.

In addition to standard riot gear like tear gas, rubber bullets and protective equipment, the IDF is also purchasing new technological systems such as the "Scream," a device that emits penetrating bursts of sound that leave protesters dizzy and nauseous; as well as the "Skunk Bomb," which contains a foul smelling liquid sprayed on protesters. Some of these devices have been used to disperse anti-security barrier demonstrations in the past in the West Bank.

According to Edelstein, a large emphasis will be placed preparing soldiers to withstand the pressure during demonstrations and not resort to violence. "A large part of this is being prepared mentally so soldiers will know how to restrain themselves," he said.