Chris Christie, the New Jersey governor since 2010, has qualities and achievements that appeal to mainstream conservatives, from his direct style to his impressive budget cutting. As a result, he has won support to run as a Republican candidate for president of the United States.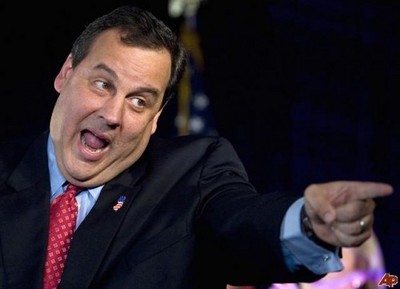 New Jersey governor Chris Christie.
But Christie has an Achilles Heel that gives one pause.
He came under criticism from fellow conservatives for nominating Sohail Mohammed, an Islamist who aspires to apply Islamic law, the Shari'a, as a state superior court judge; for an outline of these concerns, see the Investigative Project on Terrorism, "Gov. Christie's Strange Relationship with Radical Islam."
In response, Christie delivered a tirade on July 26, 2011, on the topic of Shari'a:
Sharia law has nothing to do with this [i.e., the appointment of Sohail Mohammed] at all. It's crazy. It's crazy. … So, this Sharia law business is crap. It's just crazy. And I'm tired of dealing with the crazies. I mean, you know, it's just unnecessary to be accusing this guy of things just because of his religious background. [Excerpt from 2:43 on the video.]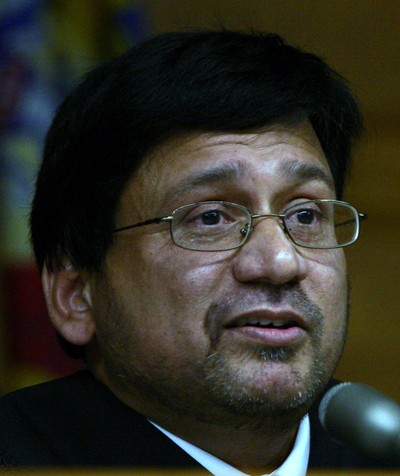 New Jersey State Superior Court Judge Sohail Mohammed.

Comments: (1) These are fighting words against fellow conservatives that will not soon be forgotten: "this Sharia law business is crap. It's just crazy. And I'm tired of dealing with the crazies."
(2) Calling critics of Mohammed "crazies" who are "accusing this guy of things just because of his religious background" reveals Christie to be a headstrong ignoramus; the IPT report on Mohammed is not about religious background but political activities.
(3) Contrarily, Christie won the hearty endorsement today of the Council on American-Islamic Relations, whose New Jersey branch issued a statement thanking him, applauding him, and urging a note of gratitude be sent him via the "Contact Us" page at the governor's website.
(4) Not a bad idea to contact Christie: if you live in New Jersey and wish to register your displeasure, go to http://www.state.nj.us/governor/contact/.
(5) Although still a small issue, Shari'a has grown very fast since 9/11 as a concern to Americans and should continue to do so for many years and decades to come.
(6) Conceivably, Christie could apologize for these remarks and undo much of the damage he's done himself. But, given his public persona, I doubt this will happen.
(7) Therefore, I predict that Christie's unremitting Grover Norquist-like friendly attitude toward Islamists will turn conservatives against him and sink his possible candidacy of his for higher office. (August 5, 2011)
Aug. 6, 2011 update: For a substantial reply to Christie's rant, answering him point by point, see the excellent 2,500-word analysis by Andrew C. McCarthy, a senior fellow at the National Review Institute. Excerpts from his article, "Christie's 'Crazies': Sharia is not a figment of our imagination":
sharia concerns can't be dismissed as "crap." They help us sort out the pro-American Muslims we want to empower from the Islamists. When we dismiss these concerns, we end up building bridges to all the wrong people, as government has done, to its repeated embarrassment, for two decades. That is how we end up "partnering" with the likes of Abdurrahman Alamoudi and Sami al-Arian (both ultimately convicted, with their ties to terrorism duly exposed); Salam al-Marayati, the Muslim Public Affairs Committee [sic - should be Council] leader who argued that Israel should be at the top of the 9/11 suspect list; and such Islamist organizations as CAIR and the Islamic Society of North America, which, though not indicted, were shown by the Justice Department to be co-conspirators in the Holy Land Foundation terrorism-financing case.

Governor Christie would have you believe opposition to Mr. Mohammed was sheer bigotry: "It's just unnecessary to be accusing this guy of things just because of his religious background," he railed to reporters. It's a narrative Christie fans would like to help cement. It's not true. For the record, Sohail Mohammed is not just an attorney. He served as a board member for an Islamist organization, the American Muslim Union.
McCarthy concludes:
Mohammed Qatanani in 2008 during a lunch break at his trial.

The questions about Governor Christie's appointment of Sohail Mohammed and his exertions on behalf of Mohammed's client, Mohammed Qatanani, have nothing to do with either sharia or the all-purpose smear of Islamophobia. They are about the governor's judgment. They are about a U.S. attorney with political ambitions pandering to a politically active constituency at the expense of national security and enforcement of the immigration laws. They are about his decision to award a state judgeship to an attorney who was an active and vocal board member of a very troubling Islamist organization — and who has a penchant for presuming that perfectly valid anti-terror prosecutions are, instead, anti-Muslim persecutions. Those questions are not answered by bluster.
Sep. 27, 2011 update: Aaron Blake of the Washington Post reveals today that Christie's stance on the Shari'a is hardly his only wondering off the conservative reservation. All this less likely that he could become president.
Feb. 29, 2012 update: Christie responded predictably to the news that the New York Police Department conducted surveillance on Muslims in New Jersey without telling state law enforcement agencies.
I hope that almost 11 years past 9/11, we are not going to go back to those days because no one is omniscient. No one knows everything in this world in law enforcement. … I don't know if this NYPD action was born out of arrogance, or out of paranoia, or out of both, but we're taking a real good, strong hard look at it from a policy perspective at the governor's office level.
Comment: It's a typical intemperate, unthinking, and foolish Christie performance when the topic is Islam.
May 1, 2012 update: Steven Emerson and I co-authored an article today on "Chris Christie's Islam Problem."
May 8, 2012 update: More on the governor's not being a conservative at "Chris Christie's ObamaCare Acquiescence" by Mike Proto.
June 8, 2012 update: Patrick Poole reveals that a New Jersey Office of Homeland Security and Preparedness document from 2008, "HAMAS Sympathizers in New Jersey: Supporting Terror Abroad," lists Qatanani as a Hamas supporter.
July 27, 2012 update: Shmuley Boteach, who is running against Cong. Bill Pascrell, Qatanani's political protector, has released copious information on Qatanani's views.
July 29, 2012 update: Christie invited Qatanani to his July 24 iftar dinner at the Governor's Mansion in Princeton and again came out in his support, as can be watched on YouTube: "In all my interactions with the imam, he has attempted to be a force for good in his community, in our state with law enforcement, with those of us who have gotten to know him for the years."
Not only did Christie stand by his terrorist but with his usual charm, he attacked those few of us who have criticized him for running with Islamists: "You'll all be fascinated to learn that in many publications around the country, I'm called an Islamist." Why say something patently absurd like this, as (1) it's just a very few publications and (2) none of us think he's a Muslim, much less an Islamist? Because Christie's immaturity means he cannot help himself.
He went on: "These are the kind of red herrings that people put up who are bigots, who want to judge people based upon their religious beliefs, want to judge people with a broad brush." Okay, so now we are not only "crazies" but also "bigots." Just you wait, Chris Christie, your appeasement, inaccuracy, and vulgarity will catch up with you.
Sep. 20, 2012 update: Mohammad "Force for Good" Qatanani, told TheBlaze that criticism of Islam poses a national security threat and the Department of Homeland Security should investigate those who do so.
Oct. 31, 2012 update: Another reason, even better than the Islamist one, why Christie will never be president. As the Politico headline put it, "Obama and Christie: A Sandy love story," where Sandy is the storm that did great damage throughout the northeastern United States and especially New Jersey, where Christie is the governor. And today is just six days before the presidential election.
Chris Christie and Barack Obama, BFFs.

It was like Valentine's Day on Halloween. President Barack Obama and New Jersey Gov. Chris Christie cemented their new-found mutual admiration society on Wednesday, as the men gushed with praise for one another while touring damage from Hurricane Sandy on the devastated Jersey Shore. … Christie publicly thanked Obama at least six times for his dedication to getting help and supplies to the Garden State.

"I'm pleased to report that he has sprung into action to help get us those things immediately," the governor said. "It's been a great working relationship to make sure that were doing the job people elected us to do. "I cannot thank the president enough," added Christie, who's statement drew a hearty handshake and a "Good job, Chris" from the president as he stepped to the microphone.
Nov. 1, 2012 update: Here is Rush Limbaugh on Christie's performance: "Obama's making these phone calls, looking for somebody to play the role of a Greek column today, and he found Gov. Christie to do it. Christie's the only Republican not just praising Obama."
Nov. 3, 2012 update: In an exclusive, Politico's Mike Allen and Jim VandeHei report that "Christie was Mitt's first choice for VP" but he did not get the nod for a variety of factors – his being late for events, "too much about himself," and this:
Advisers also fretted about the raw emotion that makes Christie so popular on TV and on the trail, fearing it might be a liability in the West Wing. In blunt language that Christie can appreciate, another official said: "The explosiveness had some risk."
Comment: This account does not mention Christie's being soft on Islamism, but it does obliquely point to the tirade against those who disagree with him on that issue.
Nov. 7, 2012 update: Romney lost, another reason why Christie will never be president, at least not as the Republican nominee.
Nov. 15, 2012 update: Ryan Mauro reports today the latest outrage: "Four Islamists on Gov. Christie's Muslim Outreach Committee." Jeffrey Chiesa, the attorney general of New Jersey and a Christie appointee, set up the panel. The four Islamist committee members are:
Imam Mohammad Qatanani, whose deportation is sought by the Department of Homeland Security for not disclosing on his green card application that he was arrested and convicted by Israel in 1993 for his involvement with Hamas;

Ahmed Shedeed, a fervent supporter of the Muslim Brotherhood and President of the Islamic Center of Jersey City, a mosque with a history of Islamist leadership. Its website currently contains disturbing statements about jihad, the West, wife beating and polygamy;

Mohammed Younes, the President of the American Muslim Union, a group with Islamist leadership and close ties to Qatanani's mosque, which was founded by a Hamas fundraiser; and

Imam Abdul Basit of the New Brunswick Islamic Center, a mosque founded by a radical cleric. In July, it held a Brotherhood-linked seminar featuring multiple extremist speakers.

Mauro provides full profiles of all four.
June 9, 2013 update: The death of incumbent U.S. Sen. Frank Lautenberg has given Chris Christie, the governor of New Jersey, the chance to appoint an interim senator. And who should he choose for the position but Jeffrey Chiesa, who led his outreach to Islamists. Ryan Mauro builds on his detailed analysis of November 2012 at "Gov. Christie Appoints Islamist-Friendly AG to Be New Senator."
July 15, 2013 update: Christie and his wife Mary Pat Foster have benefited from his pro-Islamist stance, what with the embassy of the United Arab Emirates announcing a $4.5 million donation to a fund founded by Foster to repair and enhance technology infrastructure at public schools affected by Storm Sandy in late 2012.
Aug. 7, 2013 update: Rasmussen Reports finds that 31 percent of Republicans say Chris Christie is their least favorite presidential candidate, making him far and away the most unpopular potential GOP White House hopeful. In contrast, the second most unpopular is Marco Rubio, with just 5 percent negative.
On the other hand, Christie is also the candidate with the highest positives, 21 percent, coming in ahead of Rubio, Jeb Bush and Rand Paul.
Aug. 16, 2013 update: I generally like conservatives and try to follow the maxim of "no enemies on the right" but there's something about Christie that rubs me the wrong way. Actually, lots of things. Here's the latest – his anti-intellectual rant and football-coach mindset expressed behind closed doors in Boston and surreptitiously recorded:
I'm in this business to win. I don't know why you're in it. … I think that we have some folks that believe that our job is to be college professors. Now college professors are fine, I guess. You know, college professors basically spout out ideas that nobody ever does anything about. For our ideas to matter, we have to win because, if we don't win, we don't govern. And if we don't govern, all we do is shout into the wind. So I am going to do anything I need to do to win!
Comment: If the title of this blog is wrong and Christie does become the Republican nominee in 2016, I would find it difficult, perhaps insurmountably so, to vote for him. Aug. 23, 2013 update: In a fine editorial riposte to Christie's know-nothing statement, the Boston Globe writes today:
It is difficult to imagine such a comment coming from, say, Ronald Reagan, who turned to academia for some of his most influential advisers, including Georgetown's Jeane Kirkpatrick and Harvard's Richard Pipes. "The GOP has become a party of ideas," wrote Democratic Senator Daniel Patrick Moynihan in 1980, with some envy. Sometimes the most consequential ideas of all are the ones that scholars "spout" in college classrooms.
Sep. 10, 2013 update: In a statement about a new regulation that requires outside law enforcement agencies to notify county prosecutors before conducting surveillance operations in New Jersey, Christie said: "As a former U.S. attorney appointed in the aftermath of September 11, 2001, I strongly believe we need to do everything in our power to prevent terrorist attacks on our country and keep our people safe. I also believe we must protect and maintain civil liberties, especially those of the citizens in New Jersey's Muslim community."
Comment: There he goes again, pandering and insinuating, with this gratuitous emphasis on maintaining civil liberties for "the citizens in New Jersey's Muslim community."
Sep. 17, 2013 update: The Council on American-Islamic Relations (CAIR) produced a 149-page document today, Legislating Fear: Islamophobia and Its Impact in the United States, 2011-2012 that mostly criticizes anyone who does not like CAIR (including myself) but also has a chapter titled "Best List Inductees" that praises those who "deserve recognition for their outstanding contributions to pushing back against Islamophobic trends in 2011 and 2012. … those listed below do deserve particular credit for their contributions to American pluralism."
And guess who is the only Republican in this hall of shame list? Chris Christie, of course.
Jan. 8, 2014 update: The same intemperate and injudicious qualities that prompted Christie to support Islamists and attack we who oppose them have now flared up in the George Washington Bridge scandal, in which Christie's aides if not he personally ordered the closure of some lanes of the very busy bridge from New Jersey to New York City in retaliation against a local Democratic mayor who refused to endorse his re-election. Christie has denied personal involvement in the scandal; we shall see if that is true. Most peculiar of all is that Christie had no need whatsoever for the mayor's endorsement. As I say, he will never be elected president. Put differently, the same bullying qualities that inspired Christie to call we critics nasty names has led to this predicament.
Jan. 9, 2014 update: Christie averred today "I am not a bully," which ranks up there with Richard Nixon's "I'm not a crook" and John Kerry's "I don't think we're stupid." Eight videos of him "yelling, name-calling, and belittling people" establish that, to the contrary, he is very much a bully.
The "Trentonian" captures the criticism Christie now must endure.
Jan. 10, 2014 update: David Horsey, writing in the Los Angeles Times, observes:
In a two-hour news conference [on Jan. 9], Christie claimed he knew nothing about the scheme to exact political retribution by manufacturing a traffic nightmare. The three staffers have been booted, and the governor insists that he is shocked and saddened by their actions. Nevertheless, many people are skeptical. Even if Christie is telling the truth and the aides were not following his direct orders, his combative, in-your-face political style makes plenty of people assume the three were mimicking the bullying ways of their boss.
Related Topics: Islamic law (Shari'a), Muslims in the United States receive the latest by email: subscribe to daniel pipes' free mailing list This text may be reposted or forwarded so long as it is presented as an integral whole with complete and accurate information provided about its author, date, place of publication, and original URL.