"Victory" has nearly dropped out of the minds and vocabularies of modern Westerners, replaced by compromise, mediation, and slogans such as "There is no military solution" and "War never solved anything." In contrast, I agree with that bracing t-shirt counter-slogan, "Except for ending slavery, Fascism, Nazism, Communism and Baathism, war has never solved anything."
In my view, wars end only through defeat and victory; if you don't win a war you lose it. In today's world, I call for a U.S. victory over radical Islam and an Israeli victory over the Palestinians. This emphasis on victory fits into a long line of military analysis. For example:

From "The Yale Book of Quotations," edited by Fred R. Shapiro, p. 231.
---
But that was then. Here are occasional contemporary quotes on the topic of victory, or its absence:
---
Barack Obama, president of the United States, asked by an interviewer to define a U.S. victory in Afghanistan:
I'm always worried about using the word "victory" because, you know, it invokes this notion of Emperor Hirohito coming down and signing a surrender to [Douglas] MacArthur. ... when you have a non-state actor, a shadowy operation like al-Qaeda, our goal is to make sure they can't attack the United States. ... What that means is that they cannot set up permanent bases and train people from which to launch attacks. And we are confident that if we are assisting the Afghan people and improving their security situation, stabilizing their government, providing help on economic development so they have alternatives to the heroin trade that is now flourishing.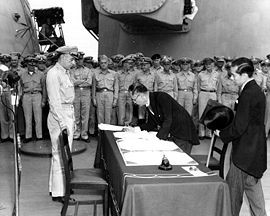 Japanese foreign minister Shigemitsu Mamoru signed his country's surrender on Sep. 2, 1945.

Comments: (1) In addition to the concept of victory, Obama's flawed knowledge of history reappears here (for another example recall his mention of 1979 and 1989 as exemplary years for U.S.-Muslim relations); Emperior Hirohito did not sign Japan's surrender to the Allies. Rather, Japan's Foreign Minister Shigemitsu Mamoru and Gen. Yoshijiro Umezu did the honors on board the U.S.S. Missouri; see the accompanying photograph for the former's signing. Also of note is that John McCain's grandfather, Vice Admiral John S. McCain, was present at the ceremony. (2) Why am I not surprised that the media fails, Quayle-like, to pick up on Obama's factual errors? (July 23, 2009)
Iran: The old ideas still prevail in the non-Western world, as Harold Rhodes indicates in his discussion of "The Sources of Iranian Negotiating Behavior":
In politics, Iranians negotiate only after defeating their enemies. During these negotiations, the victor magnanimously dictates to the vanquished how things will be conducted thereafter. Signaling a desire to talk before being victorious is, in Iranian eyes, a sign of weakness or lack of will to win.
(September 13, 2010)
John David Lewis, Bowling Green State University: His book, Nothing Less than Victory: Decisive Wars and the Lessons of History (Princeton University Press) establishes by looking at six wars that only through victory can a lasting peace be established. He notes the "astonishing" changes in U.S. doctrine after World War II:
The change in American military doctrine behind these developments occurred with astonishing speed; in 1939 American military planners still chose their objectives on the basis of the following understanding: "Decisive defeat in battle breaks the enemy's will to war and forces him to sue for peace which is the national aim." But U.S. military doctrine since World War II has progressively devalued victory as the object of war. "Victory alone as an aim of war cannot be justified, since in itself victory does not always assure the realization of national objectives," is the claim in a Korean War–era manual. The practical result has followed pitilessly: despite some hundred thousand dead, the United States has not achieved an unambiguous military victory since 1945.
This shift deserves careful study. In another passage, Lewis offers a useful corollary to Clausewitz' notion of the need to attack the enemy's center of gravity:
The "center" of a nation's strength, I maintain, is not a "center of gravity" as a point of balance, but rather the essential source of ideological and moral strength, which, if broken, makes it impossible to continue the war. A commander's most urgent task is to identify this central point for his enemy's overall war effort and to direct his forces against that center — be it economic, social, or military — with a view to collapsing the opponent's commitment to continue the war. To break the "will to fight" is to reverse not only the political decision to continue the war by inducing a decision to surrender, but also the commitment of the population to continue (or to restart) the war.
Lewis argues that, in each of the six examples he analyzes in his book, "the tide of war turned when one side tasted defeat and its will to continue, rather than stiffening, collapsed." (July 7, 2011)
Uzi Landau, Israeli politician: When Israeli military officials speak, "you don't want to hear things like 'quiet equals quiet.' You want them to speak in terms of victory." (July 7, 2014)
Brian Mast, candidate for (and then member of) Congress (with reference to ISIS): "The only way to guarantee peace is to make the enemy surrender." (March 2, 2016)
Binyamin Netanyahu, prime minister of Israel: How encouraging to see that, during a long, late evening parliamentary debate on Dec. 21, Netanyahu whiled away the time by reading John David Lewis, Nothing Less than Victory: Decisive Wars and the Lessons of History (Princeton University Press), cited earlier as a rare analysis explaining the need for victory in war. And this is doubly encouraging in light of my just-published article in Commentary applying this argument to the Palestinians. (December 23, 2016)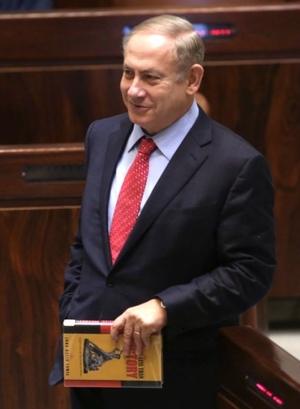 Binyamin Netanyahu carrying a copy of John David Lewis, "Nothing Less than Victory."
Angelo M. Codevilla, probably America's greatest living strategist, points with precision to the moment when victory disappeared from the U.S. vocabulary of war. His opening paragraph in the Claremont Review of Books summarizes his thesis:
Progressivism's perversion of our ruling class's ideas about war and peace began at the turn of the 20th century. It prevailed in the winter of 1950-51 when this class, having committed the armed forces to war in Korea, decided to order them not to defeat an enemy that had already killed some 15,000 of their number, but rather to kill and die to "avoid a wider war," and to foster an international environment pleasing to itself and allied governments.

Since then, the U.S. government has won no wars. More important, it has not sought to win wars. Instead, our foreign policy establishment has spent some 100,000 American lives and trillions of dollars in Korea, Vietnam, Iraq, Afghanistan, and elsewhere in pursuit of world order, multilateralism, or collective security. It has cited as a badge of superior wisdom its trashing of Aristotle's notion that victory is war's natural objective.
Codevilla portrays Truman as a rube who "deferred to the men who had surrounded the great Roosevelt." Not surprisingly, he presents the firing of Douglas MacArthur (a general "who could imagine neither fighting a war for any purpose other than victory, nor refusing to employ whatever weapons would bring victory most directly"), as the key event in the fundamental shift from victory to advancing international peace and order.
The two books Codevilla reviews in "The Tipping Point" deal with MacArthur's life and his clash with Truman. One passage, while not directly relevant to the issue of victory, must be quoted for the memorable sense of the general:
MacArthur's immediate preoccupation as the U.S. Army's chief of staff from 1930 to 1935 was to save the officer corps from near extinction by a political system consumed by the Great Depression's stringencies.

In 1934, after Roosevelt had refused to rescind his cuts in the Army's budget, MacArthur confronted him: when "an American boy, lying in the mud with an enemy bayonet through his belly and an enemy foot on his dying throat, spat out his last curse, I wanted the name not to be MacArthur, but Roosevelt."

FDR shot back, "You must not talk that way to the President!" Having done just that, MacArthur said, "You have my resignation" and headed for the door. Sensing the political if not the moral threat, FDR stopped him. "Don't be foolish Douglas; you and the budget must get together on this."
(April 25, 2017)