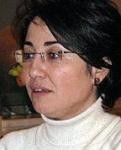 Haneen Zuabi of the Balad party.
With a new parliament about to be sworn in in Israel, one member to watch is
Haneen Zuabi
(also spelled Hanin Zoabi or Zu'abi) of the Balad party. Her lesser distinction is as the first woman to represent an Arab party in the Knesset. Her greater distinction is as the voice piece for the Islamic Republic of Iran. Some of her comments, according to Samuel Sokol in the
Jerusalem Post
:
The very concept of a Jewish state is "inherently racist." Israel must be turned into a "state of all its citizens," eliminating its Jewish or Zionist nature.

Iran's role in Palestinian affairs is "more useful" than that of regimes like Jordan and Egypt, in that Iran stands more firmly "against occupation than a lot of the Arab countries." Egypt and Jordan, indeed, are scared of a free and democratic Palestinian state.

It's not a good idea for Israel to be the region's sole nuclear power. "It would be more supporting me to have a [nuclear] counter-power to Israel. I need something to balance [its] power."

Is she worrying about Tehran getting close to acquiring a nuclear weapon? "No, I am not." To the contrary, said is "more afraid from the Israeli nuclear [weapons]."

Would the Israel Defense Forces use nuclear weapons? "The Israelis? I think yes. And I am afraid from real risk rather than from potential risk." More broadly, whereas the Iranian bomb is only "a potential" threat, the IDF is an actual danger. "Every day the Israeli [army] uses its violence, army violence."

Israel is an aggressor state, so only something along the lines of Mutually Assured Destruction would restrain it.

Would an Iranian bomb make Washington nervous, lead to more U.S. pressure on Israel, and that would be good thing? "Exactly."
Comment: Haneen Zuabi sitting in the same Knesset in which Avigdor Lieberman has a leadership role should make for a dramatic confrontation, given Lieberman's special focus on disloyal statements by parliamentarians. (March 31, 2009)
Apr. 3, 2009 update: Zuabi protests the interview with her in a letter to the editor, but I see little difference between what she is quoted as saying and what she insists she really said.
June 3, 2010 update: My comment above about Zuabi being a Knesset "member to watch" proved prescient. She joined the "Free Gaza" flotilla last week and on return to Israel not only met with an inquiry by the interior minister to revoke her citizenship but she prompted a near-brawl in the parliamentary chamber.
July 13, 2010 update: The Knesset, Israel's unicameral house, voted today 34-16 to strip Zuabi of some minor parliamentary privileges – subsidized legal counsel in certain criminal proceedings, a diplomatic passport, and privileges on foreign travel – because of her role on the Mavi Marmara ship. The Jerusalem Post describes Zuabi as sitting "in silence with a slight smile across her lips through much of the debate" about her.
Aug. 11, 2010 update: Contrary to her claims of ignorance, a video has come to light that proves Zuabi knew full well that some of her fellow-travelers on the Turkish flotilla in May 2010 were armed; indeed, she is seen standing right by some of them armed with metal pipes.
Nov. 15, 2010 update: In an unusual move, the dean of students at Haifa University, Prof. Yoav Lavie, banned a Balad political event today because Zuabi was to participate in it. He justified this step on the grounds of (1) her presence on the Mavi Marmara, where she participated when terrorists made plans to attack Israeli soldiers and (2) that "the student cells were planning to take advantage of the [Balad] event to carry out violence that could lead to bloodshed."
Nov. 16, 2010 update: Zuabi did, in the end, speak at Haifa University on the topic of democracy as protesters waved the Israeli flag.
Apr. 13, 2011 update: Ever tempting fate, Zuabi has called on Palestinians to start a wave of violence (intifada) against Israel: "I hope that they will start a large popular struggle that is political and strategic, similar to the first Intifada and not the second."
Jan. 20, 2012 update: In a raid of the Hamas office in Tulkarm in December, Israeli soldiers found a picture of Zuabi laughing casually during a meeting with four other people who included two top Hamas officials (Aziz Dweik, speaker of the Palestinian Legislative Council, and Maryam Saleh, former women's affairs "minister" in the Hamas government), both of whom have served prison sentences in Israel.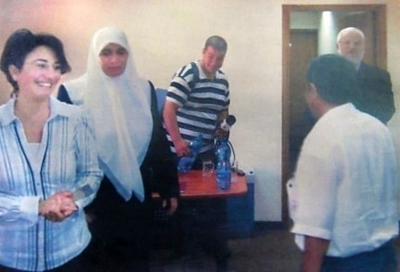 Haneen Zuabi, an Israeli MP, enjoys her time with the Hamas leadership.
Zuabi responded to the discovery of the picture, saying: "I don't see anything wrong with [the meeting]. Hamas was elected in democratic elections and it represents the Palestinian people. The whole world recognizes Hamas. Therefore, it's about time that Israel also recognizes it and sits down with its leaders. The main terror is not done by Hamas, rather by the occupation."
The photograph prompted responses to disqualify Zoabi from running again for parliament and to open a criminal investigation.
Jan. 24, 2012 update: In response to Zuabi writing the foreword a vicious anti-Israel screed (Palestinians in Israel: Segregation, Discrimination and Democracy by Ben White), MP Danny Danon (a rising star in the Likud party) commented that "Arab MKs are competing among themselves to see who is more radical and who can hurt Israel more. Israeli democracy must take proactive measures to defend itself from the enemy within, The place of MK Zoabi is not in the Israeli Knesset but behind bars."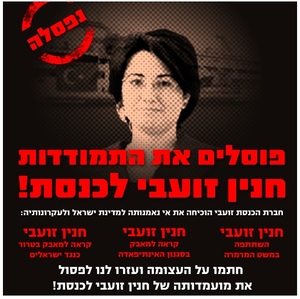 Danon's petition against Zuabi.

Oct. 3, 2012 update: MP Danny Danon, has requested Israel's Central Elections Committee to disqualify Zuabi from running in the next election on the grounds that she "used her [parliamentary] immunity in order to support a terror action that attempted to kill IDF soldiers," in the Mavi Marmara incident. "A person like that has no place in the Knesset. She belongs in jail."
Nov. 1, 2012 update: Danon has posted a petition at World Likud to void Zuabi's Knesset candidacy, accusing her of having "crossed red lines during her tenure in the Knesset." In return, Zuabi filed a lawsuit against Danon, accusing him of incitement.
Dec. 2, 2012 update: I am in Nazareth today and noted this unusual campaign ad for Zuabi: "Haneen Zuabi: Oh, devoted daughter of Nazareth, Your people defend you."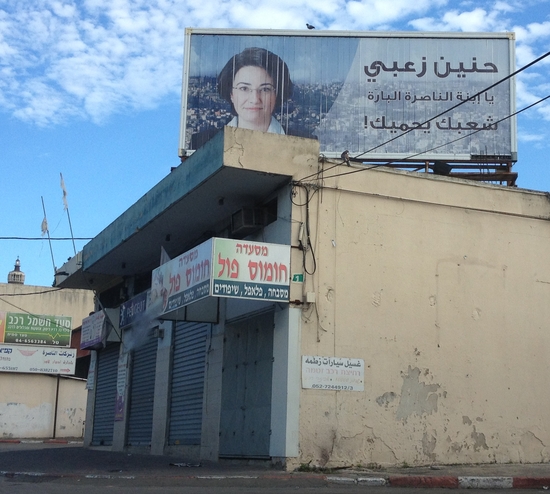 Zuabi campaign ad for the January 2013 Knesset elections.
The same billboard was in several places around town.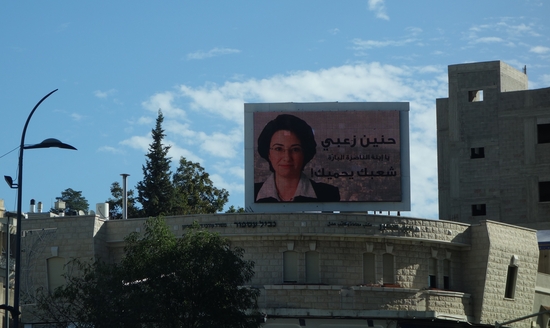 Another Zuabi billboard in Nazareth.
She also benefits from an informal campaign, such as this graffito on a house in Nazareth.
An anonymous scribbler hails Haneen Zuabi, even while misspelling her name.
Dec. 20, 2012 update: Israel's Central Elections Committee has disqualified Zuabi from running in the January 2013 Knesset elections by 17-7 following a heated seven-hour debate. The decision must now be confirmed by a nine-justice panel of the High Court of Justice before it can take effect.
Dec. 27, 2012 update: Israel's Left has rallied to Zuabi's support. Steven Plaut provides details:
A large petition appears in the Israeli press today under the caption, "Not for Jews Alone." It is a solidarity petition with Zoabi and a protest against her having been banned from running for election. It is also a smear campaign against Israeli non-leftist public figures. It is signed by a gaggle of tenured extremists plus some other prominent leftists.
He notes the Left's inconsistency (why absolute freedom of speech for Zuabi but not for Meir Kahane's followers?) and then profiles a number of the signatories.
Dec. 30, 2012 update: Overturning the Central Elections Committee decision to disqualify Zuabi's candidacy, a nine-judge panel of Israel's High Court of Justice unanimously decided today to reinstate her.
Zoabi responded: "I expected such a decision; it looks like there was just no legal basis to justify my disqualification. I was subject to ridiculous political persecution [and] the High Court made the right and proper decision."
Yariv Levin, a Likud member of parliament noted sardonically that "Supreme Court justices will only realize that Zoabi needs to be removed from the Knesset after she blows herself up inside the building," while the joint Likud-Yisrael Beytenu campaign promised to change the law so that the court does not have the final say in parliamentary eligibility.
Jan. 24, 2013 update: Zuabi did get re-elected on the Balad party list in Israel's elections two days ago but her aggressive anti-Zionism has become a liability for the Arab members of Knesset. In contrast to two decades ago, when Yitzhak Rabin formed a government dependent on Arab support, the star of this election, Yair Lapid, has flat-out stated "I will not form a bloc that has Hanin Zoabi in it." In short, Zuabi's antics assured Binyamin Netanyahu his re-election as prime minister of Israel.
Nov. 1, 2013 update: Zuabi said on Knesset television that she should be thanked for "allowing Jews to stay in my homeland."
June 17, 2014 update: Zuabi responded to the seizure of three Jewish teenagers on June 12, presumably by Hamas, with a comment that the kidnappers "aren't terrorists" but "people who don't see any opportunity of changing their reality. [They] are forced to used such means until Israel wakes up, until the citizens of Israel and the society wake up and feel the suffering of the other."
Foreign Minister Avigdor Lieberman responded by writing that "Not only are the kidnappers terrorists, Zuabi herself is a terrorist. ... The kidnappers and Zuabi, who is inciting kidnappings, should meet exactly the same fate." MK Moti Yogev (Habayit Hayehudi) announced plans to have Zuabi expelled from the Knesset.
In an unrelated development, Knesset Interior Committee Chairwoman Miri Regev (Likud) called Zuabi a "traitor," recalling Zoabi's presence on and support of the Mavi Marmara ship sent to Israel in 2010 to break the embargo on Gaza.
July 10, 2014 update: A police officer in Nazareth reports that on July 6, after he testified in the city's magistrate's court and was standing in the crowded courthouse, Zuabi (in the words of an Israel Hayom article) "began yelling harsh insults at them and addressed the people present in a manner suggestive of incitement to violence." Accordingly, the police opened a criminal investigation into Zuabi for incitement to violence and insulting a public official. On July 9, her file was transferred to the State Attorney's Office with a recommendation to open a criminal investigation.
Comment: It appears that inciting to violence and insulting public officials is fine so long as they don't wear blue uniforms.
July 18, 2014 update: The police handcuffed Zuabi as she led an illegal demonstration of Israeli Arabs in Haifa in which, the Times of Israel reports, "Some of the protesters were reported to have waved Palestinian flags as they chanted slogans welcoming Hamas rocket fire at Tel Aviv."
July 30, 2014 update: The Knesset's Ethics Committee on has barred Zuabi from plenum sessions and committees meetings for six months, the harshest sanction it can impose; Zuabi is the first member to be subjected to this measure in full. She still can vote in the plenum, however, and collects her wages and other benefits. Further, as the Knesset is about to take its summer recess for three months, the suspension has effect for only three months.
Aug. 6, 2014 update: Israel's Attorney-General Yehuda Weinstein rejected Zuabi's arguments about parliamentary privilege and ordered her to report for police questioning. Her office said she "will report for police questioning, as she always said she would do, and give her version of the events."
Oct. 20, 2014 update: Zuabi went after the Israel Defense Forces yesterday:
They [members of the Islamic State] kill one person with a knife each time, while the IDF kills dozens of Palestinians at a time by pressing a button. The soldier remains in the plane when he launches strikes and he does not see the victim—the wings of the plane just shift slightly. He is no less a terrorist than one who beheads others with a knife. And those who take pictures with corpses, laughing with Palestinian corpses, I do not think they are any less terrorists than the ones who behead. They kill more than a knife kills.
Oct. 24, 2014 update: Zuabi's latest comments prompted the Israel Hayom newspaper to commission the New Wave Research Institute to ask Jewish Israelis if they want her expelled from parliament. It found that 85 percent want her gone, 11 percent consider it a valid exercise of free speech, and 4 percent have no opinion.
Dec. 11, 2014 update: Zuabi appealed to the High Court of Justice to reinstate her full Knesset privileges but a five-judge panel turned her down by a 4-1 vote. She can vote but cannot take part in floor debates or committee hearings until Jan. 29, 2015. Justices Miriam Naor, Elyakim Rubinstein, Esther Hayut and Hanan Melcer voted to uphold the ethics panel decision; Justice Salim Joubran (an Arab Christian) dissented.
Dec. 26, 2014 update: Danny Danon of the Likud party wants Zoabi to be excluded from running for re-election in March 2015; in this context, he calls her "a representative of Hamas in the Israeli Knesset," echoing the 2009 title of this weblog entry.
Oct. 11, 2015 update: Israel's Prime Minister Netanyahu has asked the attorney general to open an investigation into Zuabi on account of her inciting violence in statements such as "Hundreds of thousands of worshipers should go up to al-Aqsa in order to stand against the Israeli plot for the blood of East Jerusalem residents.
Dec. 21, 2015 update: Zoabi has finally had to pay a price, though a small one, for her incitement:
An indictment was brought against Hanin Zoabi on Monday after the firebrand MK of the Arab Joint List pleaded guilty to insulting a public official. Attorney General Yehuda Weinstein sent a letter to Knesset Speaker Yuli Edelstein informing him of the indictment, following Zoabi's agreement to renounce her parliamentary immunity. As part of the plea bargain with the State Attorney's Office, the Joint List MK also agreed to pay a 3,000 shekel fine and issue a public apology.
Feb. 4, 2016 update: Zoabi and two other Arab parliamentarians met with the families of Palestinians who attacked Israelis. One father commented that the meeting was "warm and productive. The Palestinian Knesset member brothers listened to the suffering and pain of the shaheed's families, whose bodies are held in Israel."
Feb. 7, 2016 update: Zoabi received a 6-month suspended sentence and a NIS 3,000 fine over insulting Arab police officers because they work for the Israeli government.
July 11, 2016 update: Zoabi has become so outlandish - last week calling Israeli soldiers "murderers," prompting a near-riot in the Knesset, and causing Prime Minister Netanyahu to authorize a bill to oust Zoabi – that Ayman Odeh, the head of her party, the Joint List, reportedly approached a "senior Knesset member" for advice on how to "be rid" of her from the party and from the parliament.