As someone who has been sounding the alarm ever since the AKP won its first election in 2002, I now warn: Elections taking place today are likely to be the last fair and free ones in Turkey.
With Turkey's leading Islamist party controlling all three branches of the government and the military sidelined, little will stop it from changing the rules to keep power into the indefinite future. And should the AKP manage to gain a 2/3s parliamentary majority, either on its own or in alliance with others, it will change the constitution, speeding up this process. (June 12, 2011)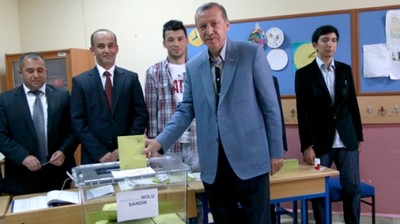 Recep Tayyip Erdoğan, AKP boss and Turkish prime minister, votes today.
Dec. 21, 2013 update: Cem Toker, chairman of Turkey's Liberal Democratic Party, argues in "Elections in Turkey: Fair or Fraud-Ridden?" that the country's Supreme Election Board (YSK) "advertently or inadvertently, might be involved in manipulating" voting results. He notes that
The YSK is comprised of senior judges whose rulings regarding the elections cannot be appealed to any other legal body including the Constitutional Court, and is thus an extremely powerful institution of Turkey's electoral system.
He points to several anomalies:
According to the official numbers of the YSK, the number of registered voters went up by 1.02 percent between 2002-7. It is surprising that the total number of voters between 2007-14 increased by 29 percent. More surprising is that the population of Turkey increased by less than 10 percent in this latter period.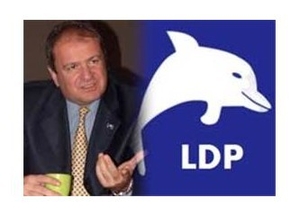 Cem Toker with the logo of Turkey's Liberal Democratic Party.

Also,
In a controversial and unprecedented decision, the Turkish Statistics Institution (TUIK) decided on 20 November 2008 to destroy all records used for "address-based voter registry" –less than a year after it was made public. Despite objections from political parties and opinion leaders, the agency destroyed all data.

In another controversial decision, in 2009 the YSK decided –after decades of use– to stop the practice of placing dye on the index finger of the voters in order to avoid duplicate voting. Furthermore, YSK refused to publish the results of the 2010 referendum on ballot box basis, meaning it was impossible to find out the breakdown of votes at a ballot box, only aggregate figures were shared.

It should also be noted that Turkey first began using the software developed by Sun Microsystems called Computer Supported Centralized Voter Roll System (SECSIS) in 2007, before the parliamentary elections. The technical debate surrounding the controversy of this system still continues in Turkey. Critics suggest that this system is vulnerable to electronic manipulation and programming, thus also having the potential to skew ballot box results.
He then probes the suspicious circumstances surrounding ballot irregularities, for example a huge increase in the number of surplus ballots printed. In addition,
It is no secret that, after each election, used and unused ballots turn up in dumpsters in Turkey. Since they are believed not to be in quantities significant enough to change the outcome of the elections, however, no legal steps have been taken so far.
From this mess, Toker concludes that
Any informed citizen, after putting the pieces of this puzzle together, would have reasonable doubt about the controversial practices utilized before and after each election since the AKP came to power in 2002.
Related Topics: Turkey and Turks receive the latest by email: subscribe to daniel pipes' free mailing list This text may be reposted or forwarded so long as it is presented as an integral whole with complete and accurate information provided about its author, date, place of publication, and original URL.