As someone who has been sounding the alarm ever since the AKP won its first election in 2002, I now warn: Elections taking place today are likely to be the last fair and free ones in Turkey.
With Turkey's leading Islamist party controlling all three branches of the government and the military sidelined, little will stop it from changing the rules to keep power into the indefinite future. And should the AKP manage to gain a 2/3s parliamentary majority, either on its own or in alliance with others, it will change the constitution, speeding up this process. (June 12, 2011)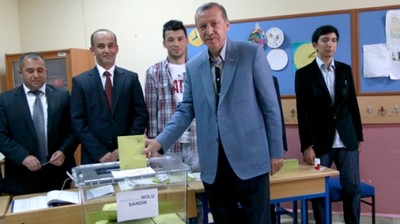 Recep Tayyip Erdoğan, AKP boss and Turkish prime minister, votes today.
Dec. 21, 2013 update: Cem Toker, chairman of Turkey's Liberal Democratic Party, argues in "Elections in Turkey: Fair or Fraud-Ridden?" that the country's Supreme Election Board (YSK) "advertently or inadvertently, might be involved in manipulating" voting results. He notes that
The YSK is comprised of senior judges whose rulings regarding the elections cannot be appealed to any other legal body including the Constitutional Court, and is thus an extremely powerful institution of Turkey's electoral system.
He points to several anomalies:
According to the official numbers of the YSK, the number of registered voters went up by 1.02 percent between 2002-7. It is surprising that the total number of voters between 2007-14 increased by 29 percent. More surprising is that the population of Turkey increased by less than 10 percent in this latter period.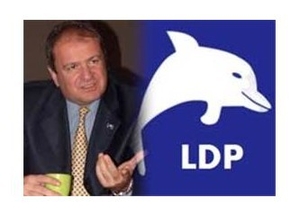 Cem Toker with the logo of Turkey's Liberal Democratic Party.

Also,
In a controversial and unprecedented decision, the Turkish Statistics Institution (TUIK) decided on 20 November 2008 to destroy all records used for "address-based voter registry" –less than a year after it was made public. Despite objections from political parties and opinion leaders, the agency destroyed all data.

In another controversial decision, in 2009 the YSK decided –after decades of use– to stop the practice of placing dye on the index finger of the voters in order to avoid duplicate voting. Furthermore, YSK refused to publish the results of the 2010 referendum on ballot box basis, meaning it was impossible to find out the breakdown of votes at a ballot box, only aggregate figures were shared.

It should also be noted that Turkey first began using the software developed by Sun Microsystems called Computer Supported Centralized Voter Roll System (SECSIS) in 2007, before the parliamentary elections. The technical debate surrounding the controversy of this system still continues in Turkey. Critics suggest that this system is vulnerable to electronic manipulation and programming, thus also having the potential to skew ballot box results.
He then probes the suspicious circumstances surrounding ballot irregularities, for example a huge increase in the number of surplus ballots printed. In addition,
It is no secret that, after each election, used and unused ballots turn up in dumpsters in Turkey. Since they are believed not to be in quantities significant enough to change the outcome of the elections, however, no legal steps have been taken so far.
From this mess, Toker concludes that
Any informed citizen, after putting the pieces of this puzzle together, would have reasonable doubt about the controversial practices utilized before and after each election since the AKP came to power in 2002.
Apr. 1, 2014 update: A report from Ankara today tells of the police using water cannons and stun grenades
to disperse crowds protesting voting irregularities in one of the closest races in [Mar. 30,] Sunday's local elections, which brought a landslide victory nationwide for the Islamic-rooted governing party. Television reports showed two antiriot vehicles moving along a street and firing water cannons at groups calling for a recount. Mansur Yavaş, the opposition mayoral candidate, filed an appeal at the Supreme Electoral Board for examination of irregularities in light of findings by more than 1,000 volunteers working to pin down fraud.

Photographs of dozens of ballot box information forms posted on Twitter, which the government moved to shut down last month, showed discrepancies between handwritten vote counts for the opposition party and entries in the digital counting system. The Supreme Electoral Board said on Tuesday that the official count was a legal process and urged parties to remain calm.
Apr. 17, 2014 update: Reporting from Ankara about rigged voting, Sayed Abdel-Maguid writes for Al-Ahram that
the controversy over reports of foul play in the conduct and counting of the results of the municipal elections that took place on 30 March looks as if it will continue to rage into the foreseeable future. What is certain is that this controversy has further damaged Turkey's democratic credentials in the EU and US.
Abdel-Maguid notoes that the Gülen newspaper Zaman
devoted an editorial to the question of why US President Barack Obama had not congratulated Erdoğan on his election victory. Surely, the answer was that the fraud and tampering in the recent polls were so flagrant as to shock Europe and the US and heighten their fears over Turkey's commitment to democracy and democratic values. This was why Obama, contrary to custom, did not pick up the phone to congratulate Erdoğan.
I am skeptical about the import of this lack of call, however, as the elections were municipal, not national. More importantly, as Toker feared:
On top of the reports of electoral crimes and irregularities, the Turkish government has been actively obstructing the legal mechanisms for investigating them and bringing them before the courts.
Aug. 6, 2014 update: Sayed Abdel Meguid of Al-Ahram reviews the media bias ahead of the presidential election on Aug. 10:
Although the Turkish press is privately owned, Erdogan has managed to bend most of the print media to his interests. He has done this through an astute manipulation of the newspapers' need for funding, lower taxes, rescheduling of debts and providing easy-term loans. The government-run television (TRT) is the most shameless in its obsequiousness, according to Murat Yetkin, a journalist for the Radikal newspaper.

Thanks to the AKP and government strongman Bülent Arınç, who purged the broadcaster of troublemakers who sought more journalistic neutrality, TRT has now become Erdogan's personal mouthpiece. It has been trumpeting his accomplishments 24/7, among them that Turkish exports have quintupled under his rule to over US$160 billion, while skirting around the fact that Turkish imports have soared to some US$20 billion more than that figure.

TRT broadcasts live coverage of every speech made by Erdogan. It follows him on his tours and along the campaign trail. The coverage shows him surrounded by officials. Sometimes the station accompanies the footage with soundtracks that have a Bollywood ring to them.

Routinely, viewers see the prime minister cutting ribbons or performing similar rituals for the inaugural ceremonies of major projects. Some of these openings have been intentionally delayed so they can coincide with the run-up to the presidential polls. This was the case with the inauguration of the construction of Istanbul's third international airport and the Ankara-Istanbul high-speed railway, officially opened two weeks ago.

Erdogan does not allow journalists to ask him questions about his electoral platform. At the end of his campaign rallies, he rushes off to meet with local officials to coordinate strategy for the upcoming vote.

As for the rival candidates in the presidential elections, Ekmeleddin Ihsanoglu and Selahettin Demirtas, they can count on coverage from a couple of the smaller private satellite TV channels and a handful of daily newspapers. This discrepancy between the media outlets available to Erdogan and those of his challengers raises grave concerns about the credibility of the election.
Aug. 11, 2014 update: A preliminary European assessment of yesterday's first-ever direct presidential elections found that "Freedoms of assembly and association were respected. However, the use of official position by the Prime Minister as well as biased media coverage gave him a distinct advantage over the other candidates."
Related Topics: Turkey and Turks
Related Articles:
receive the latest by email: subscribe to daniel pipes' free mailing list
This text may be reposted or forwarded so long as it is presented as an integral whole with complete and accurate information provided about its author, date, place of publication, and original URL.