According to a flattering profile about her, Linda Sarsour of Brooklyn has "got her hands in everything" as director of the Arab American Association of New York, the Coordinator of Community Initiatives for the YWCA Brooklyn, a member of the Coalition for Muslim School Holidays, a Palestine activist, and an "activist for women and immigrants." On March 10, she was even honored as one of "Brooklyn's Extraordinary Women" by the borough's district attorney.
Whew. Being so busy, Sarsour surely must find it difficult to keep her facts straight. She's twice discussed me in recent interviews: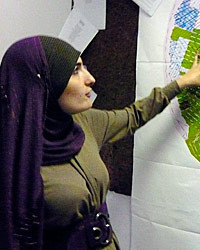 Linda Sarsour, too busy to get her facts straight.
"Rallying Arab America," June 2009: "I get excited when Daniel Pipes writes about me. He's my publicist. When someone says you have a 'powerbase' that's like you walk down the street and have a million man march behind you. People want to talk to me all the time after he wrote all that crazy shit about me."

"Arab Brooklynite Linda Sarsour Holds Her Own." March 16, 2010: "hatemongers like Daniel Pipes and Emerson Vermaat and others have tried to paint me as a Hamas Sympathizer and they have failed miserably. They actually have helped my career in so many ways. For them to think that I am so important of a person, so influential, that they tried to take me down, has actually made me just that - an important and influential person in the Arab and Muslim community nationally. I am frequently contacted by local, national and international media as an expert on Arab and Muslim issues or to gain the perspective of an Arab and Muslim - so THANK YOU Mr. Pipes!"
YOU'RE WELCOME, Ms Sarsour!
There's just one little problem with these two quotes. I hate to pop Sarsour's balloon, but until this blog I never wrote about her. Indeed, until today, I'd never even heard of her. So, whatever great things you have achieved, Linda, you did them on your own, without benefit of help from me.
Comments:

(1) Could it be that, in her haste, Sarsour confused me with PipeLineNews.org, a self-described "boutique news service" founded in 1999 that provides "vital information regarding national security matters, including the culture war, the rise of radical Islam and the 'stealth jihad'." Emerson Vermaat is on the PipeLineNews.org masthead and one of its articles both calls Sarsour a Hamas sympathizer and says she has "a power base in Brooklyn's Bay Ridge district."
(2) Sarsour ought to shower PipeLineNews.org, not me, with her affections.
(3) A normally literate person should be able to distinguish between PipeLineNews.org and Daniel Pipes.
(4) What's it about those who disagree with me that they imagine me doing and saying things that are provably false? (For many other examples, see here and here.) It may irritate me but it damages them. Time to stop, gang. Get your facts straight. (March 16, 2010)
Mar. 22, 2010 update: Emerson Vermaat states today: "I never accused Linda Sarsour of anything nor do I happen to know her."
Dec. 15, 2011 update: Leave it to the Obama White House to honor Sarsour as a "champion of change."
Apr. 5, 2012 update: Looks like Sarsour is again too busy to keep her facts straight. This time: she published "My Hjiab is my hoodie" on CNN.com an affecting personal response to the murder of Shaima Alawadi, full of information about the note left beside her body with "Go Back to your country, you terrorist" and a lot of information about supposed anti-Muslim bias in the United States. Only Sarsour overlooked the fact that Alawadi's husband, Kassim Alhimidi, forged that note as a way from deflecting attention from himself as her murderer in an honor killing. June 23, 2014 update: Alhimidi was convicted of first-degree murder and sentenced to 26 years in prison. Nonetheless, that embarrassing article by Sarsour remains up at CNN, without apology or modification, a stain on its and her reputations.
May 8, 2012 update: Sarsour tweeted in reference to Umar Farouk Abdulmutallab and his attempt to bring down Northwest Airlines 253 in 2009: "Underwear bomber was the #CIA all along. Why did I already know that?!"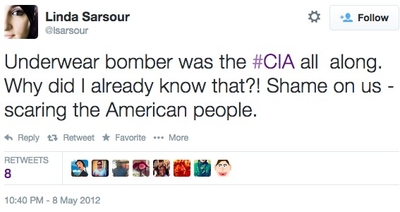 Sep. 30, 2012 update: Sarsour has the audacity to present herself publicly on Instagram in what she styles a mermaid dress; almost as amusing are the gasps of appreciation she garners.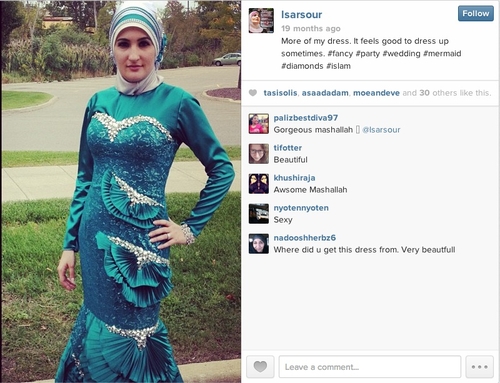 Linda Sarsour models a fetching "mermaid" dress on Instagram, to acclaim.
Nov. 1, 2012 update: The Investigative Project on Terrorism has collected lots of useful and interesting information about Sarsour at "More Radicalism from Another White House Guest." Learn about her sophisticated view of Zionism, visits to the White House, the NYPD conspiracy against Malcolm X, and much more of delight.
Jan. 19, 2014 update: Lovely Linda posted the picture below from a Network of Arab-American Professionals promotional; feel free to swoon at what she modestly calls her "striking good looks."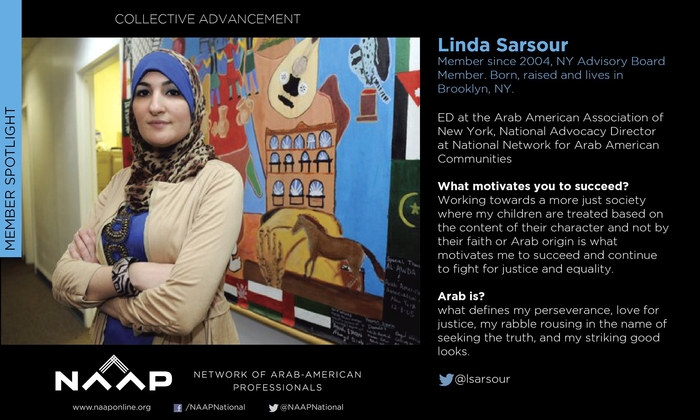 Linda Sarsour boasts of her "striking good looks."
Feb. 2, 2014 update: Sarsour's vanity bursts out again, this time to boast on Twitter "I am beautiful."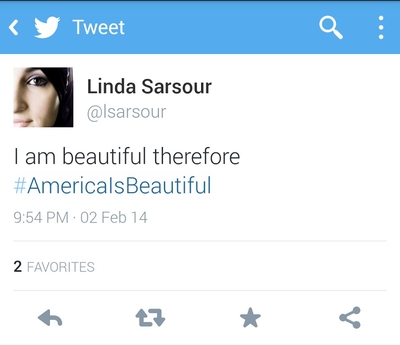 Feb. 4, 2014 update: "Without my hijab, I don't really have an identity on the outside." So says Sarsour in a video for "World Hijab Day."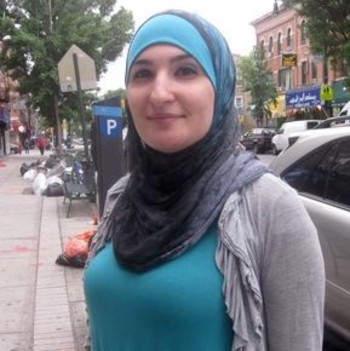 Linda Sarsour wants to be identified by her hijab.
May 13, 2014 update: Sarsour adds this tasteless comment today to a picture of herself and journalist Errol Louis: "Two amazing people in one picture - yes, and I am one of them."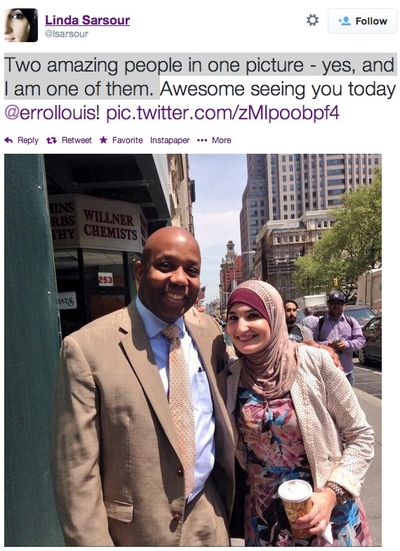 Errol Louis (l) and Linda Sarsour (r).
Aug. 1, 2014 update: Sarsour has now verbally attacked a pro-Israel college student, Chloë Valdary. (Disclosure: I spoke for Valdary at the University of New Orleans 1½ years ago.)
Valdary (@Cvaldary on Twitter) on July 31 laid into an antisemitic group: "Please understand Students for Justice in Palestine (SJP), that this year, we are coming for you."

Sarsour (@lsarsour on Twitter) replied: "This girl forgot where she came from. Publicly threatening @SJPNational. Bring it on."

Valdary: "Do we have an anti-zionist racist on our hands? SHOCK @lsarsour careful your klansman mask is showing."

Sarsour: "We all know exactly who you are and who pulls your strings and fills your pockets. Run along."
Valdary told Adam Kredo of the Washington Free Beacon:
It is unfortunate that this racist language is being used by Israel's enemies, but I cannot say I am surprised. This is the extrapolation of the anti-Zionist's argument to its logical conclusion. Anyone who denies the Jews the right to self-determination in their native land will obviously disparage other ethnic groups who are allied with them. What disturbs me more, however, is that Sarsour is a self-described "civil rights activist" and a "Champion of Change," according to the White House.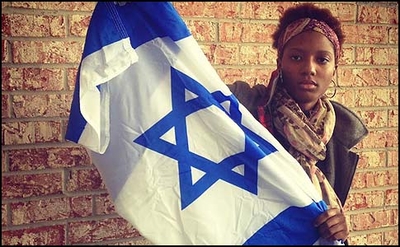 Chloë Valdary, demonstrating for Israel.
Aug. 29, 2014 update: How charming. Sarsour entered a CAIR raffle, won a Koran, and now proclaims her good fortune to the world. We had no doubt that she supported CAIR, the illegitimate step-child of Hamas and therefore of the Muslim Brotherhood, but now we have proof.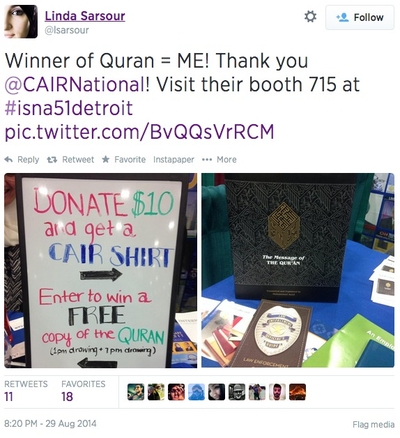 Sarsour's proud tweet thanking CAIR.
Sep. 8, 2014 update: In another self-congratulatory statement, Sarsour tweeted about "Such a beautiful photo taken of" her. Has she no shame?

Sep. 9, 2014 update: Sarsour squealed "hate crime" when a street person in Brooklyn accosted her on Sep. 3, winning national attention for her plight and the alleged problem of anti-Muslim bias. For example, the mayor of New York, Bill de Blasio, wrote her a tweet: "New Yorkers stand with you, @lsarsour. Our city will never condone such glaring acts of bigotry and intolerance."
But Christine Sisto writes today at "Hate Crime? Not So, Says Brooklyn Community. A hate crime making national headlines is debunked by the locals" that Sarsour has transformed the local drunk into a bigot for her own purposes. Brian Doherty, a retired police officer, speculates that she hopes to succeed Bay Ridge's term-limited councilman in 2016: "She's attempting to make it political because she has her eye on [Vincent] Gentile's seat."
Nov. 16, 2014 update: Sarour today ridiculed Saudi women because they complain about not being able to drive: "10 weeks of PAID maternity leave in Saudi Arabia. Yes PAID. And ur worrying about women driving. Puts us to shame." Comment: (1) I wonder which Sarsour herself would rather give up, 10 weeks of paid maternity leave or her driver's license? To ask that question is to answer it. (3) Sarsour reveals herself here as an apologist for a despicable regime.

Sarsour's tweet.
Feb. 8, 2015 update: Sarsour just can't get enough of her alleged beauty. Her remarks (ignorant typo left as is) on this Instagram picture: "Blue is a power color. Maybe your born with it, Maybe it's Maybelline, I praise the lord that I am born with it. #media #womenarebetterateverything #women." Oh, and what to make of the infantile feminism, "women are better at everything"?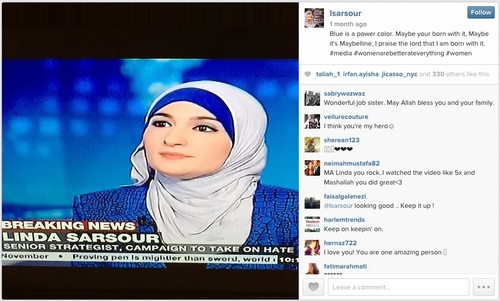 Sarsour again admires her own image.
Feb. 19, 2015 update: Sarsour announced this news on The Rachel Maddow Show:
We [Muslims] come to the US [and find] 22 states with anti-Sharia bills trying to ban us from practicing our faith, mosque oppositions, we're fighting, you know, zoning boards across the country, our kids are hearing this rhetoric, we have people, mosques being vandalized, kids being executed, Islamophobia, leaders on national television saying that, you know, holy wars and these people want to take over America.
It's quite a litany of errors and exaggerations: those anti-Sharia bills she mentions neither stop Muslims from practicing their faiths nor have they been passed in 22 states. But most notable are the words in bold – "kids being executed." Sarsour seems to be stating that the U.S. government is systematically executing young Muslims. Do tell us more, Linda.
May 31, 2015 update: Aki Muthali, a Canadian freelance writer has an article in Pakistan's Nation, "Let's talk about racism and sexism from world's majority – people of colour," in which she criticizes Sarsour as tolerant of Arab racism. Excerpts:
I'd like to address the irony courtesy of the identity politics pursued by minorities of the West. Those of Asian Caucasian heritage like Linda Sarsour and Bahar Mustafa tout their new-age definitions of "racism" and "sexism" to appeal to their own bigotry. ... Where would racism and sexism be without one of the most powerful people on Earth, the Arabs? The worst place for people of actual colour, those with obvious levels of melanin, like Africans and South Asians, is the Middle East. ...

I find it amusing that Linda Sarsour, who is appropriating the struggles of African Americans under the guise of "solidarity", has never once addressed any of these issues regarding "power and bigotry". 

Is it not dubious to march for Africans in one land while remaining silent about Africans being abused and enslaved by the Arabs in another land? It's clear Sarsour's narrative is that of the "white man vs the rest of us". Not a single Palestinian demonstration has been organized to support the migrant workers of colour who are systematically abused by Arab Muslims – yet, suddenly, their indignation has crossed oceans for Ferguson? ...

The Middle East is a perfect example of what happens when Sharia is implemented in the justice and social system. But a woman as Linda Sarsour with active ties to CAIR ... wouldn't be swayed by the brutality women and girls face in the actual Arab world as a result of Sharia. Sarsour has yet to condemn the honour killings in Palestine that has increased 3 times its national average since Hamas, a genocidal Islamist group, was willfully elected by Palestinians.

She applies the "Islamophobia" babble to deflect discourse regarding the tyranny imposed by Sharia on her Eastern brethren. Her selective understanding of Islam, much like Reza Aslan's and Mehdi Hasan's, displays an overwhelming volume of intellectual dishonesty. Just like Aslan, Sarsour echoes FGM is an "African problem." As a self-proclaimed "unapologetic Muslim", is she claiming the endorsement of FGM in Islamic scriptures is un-Islamic? But again, I don't expect much honesty from a woman who is associated with CAIR.
June 27, 2015 update: A fanatic anti-Zionist named Nora wrote Sarsour on Twitter, "I want to be @lsarsour when I grow up." To which our favorite narcissist replied, "Means a lot to me. Anyone can. We all have it in us."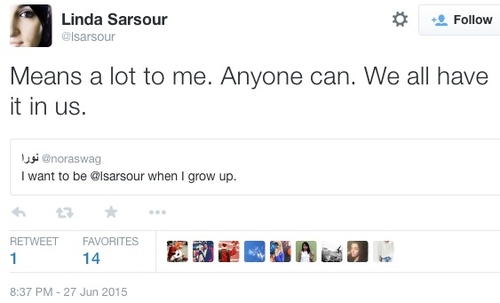 July 23, 2015 update: Sarsour is complimenting herself again on Instagram, but this time more her clothing than her person: "The beauty of modesty. Loved my prayer outfit today for #Eid."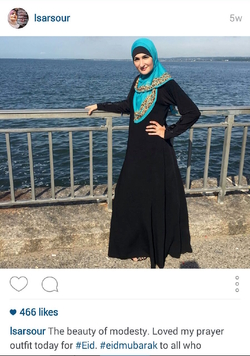 Sarsour compliments her clothing.
Aug. 9, 2015 update: In a nearly-3,000-word puff piece, "Linda Sarsour Is a Brooklyn Homegirl in a Hijab," Alan Feuer of the New York Times does manage to register a criticism of Sarsour's egomania:
"She's basically filled the void left by people like myself and other Muslim leaders who are also activists but don't have the luxury of time to appear on a 10 a.m. CNN show," said Debbie Almontaser, a New York educator and the board president of the Muslim Community Network. Ms. Almontaser added that modesty — "thinking as a collective, always volunteering others before oneself" — is a core Islamic value. "That sort of ingrained humility," she said, "is not exactly a part of who Linda is."
Aug. 22, 2015 update: Sarsour (left) proudly associates with one of the most execrable Islamist and anti-Zionist academics on an American campus, Hatem Bazian of UC-Berkeley.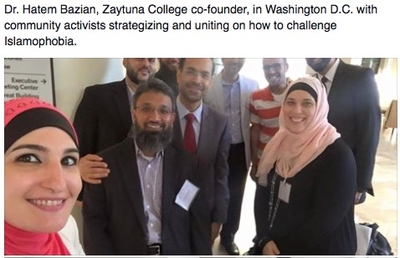 Oct. 10, 2015 update: Why, look who's up there on the stage of the Nation of Islam's Million Man March 20th Anniversary with the Rev. Jeremiah Wright. It's none other than Linda Sarsour!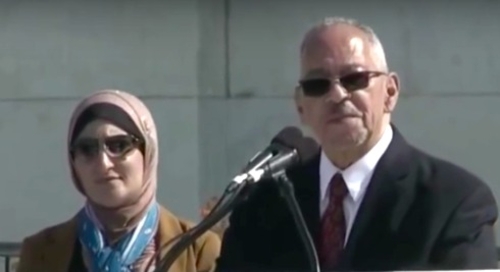 Linda Sarsour (l) and Jeremiah Wright (r) at the Million Man March 20th Anniversary. (Screen grab from the C-SPAN coverage.)
Oct. 15, 2015 update: Sarsour is again in hot water, this time because she tweeted a picture of a young boy walking down a road towards Israeli soldiers with rocks in each of his hands, calling this "The definition of courage."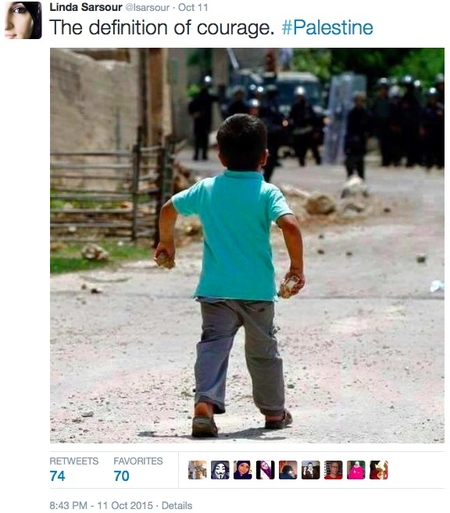 Linda Sarsour encourages attacks on the Israel Defense Forces.
This statement led to calls for her group, the Arab-American Association of New York, to lose the $164,050 it currently receives from the New York City taxpayer.
Oct. 23, 2015 update: Andrea Peyser devotes her New York Post column today, "Taxpayers should not be funding this anti-American hate-spewer," to the need to defund Sarsour's AAANY.
Dec. 9, 2015 update: Sarsour reacted negatively to a plea by Barack Obama that American Muslims help "root out" and confront extremist ideology in their communities: "We would never ask any other faith community to stand up and condemn acts of violence committed by people within their groups. The fact that this is only directed at the Muslim community is something that I personally can't accept."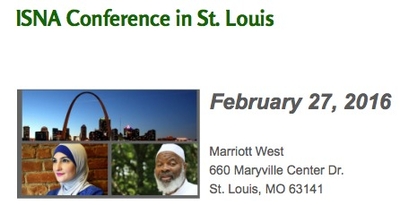 Dec. 14, 2015 update: Sarsour wrote the forward to a petition offered by CAIR: "Please sign the Council on American-Islamic Relation's (CAIR) petition. Call on the Republican Party to demonstrate leadership within the conservative movement by denouncing Islamophobia."
Dec. 15, 2015 update: Sarsour teaches us today that "Islam is a religion that empowers women."
Feb. 27, 2016 update: Sarsour is starring at the ISNA conference in St. Louis on the theme of "Striving for Justice - the Prophetic Way of Life."
Mar. 11, 2016 update: The Mayor's Fund to Advance New York City is granting Sarsour's organization, the Arab-American Association of New York, money for a mental health program. Apr. 2, 2016 update: The amount of the grant is $500,000. Comment: A small thank-you for her supporting his candidacy?
May 9, 2016 update: Sarsour showed off her profound knowledge of history on a panel at the Union Theological Seminary with a bizarre account of the Islamic prophet Muhammad: "Our prophet was a racial justice activist, a human rights activist, a feminist in his own right. He was a man that cared about the environment. He cared about animal rights. ... He was also the first victim of Islamophobia."
May 10, 2016 update: "Fake Activist Exposed: The Real Linda Sarsour" is a 4,500-word screed against our favorite mermaid. Written anonymously at a website called Ikhras from so radical an anti-Zionist perspective that another anti-Zionist actually raises the idea it's actually produced by "an extreme right-wing Zionist operation." Ikhras lambastes Sarsour as a limousine liberal devoted to self-promotion and power. Some choice quotes:
"her entire public persona has now become a masquerade inundated with pretense and exaggeration."
"Sarsour does not fast and is hardly religious although she does invoke religion when it serves her purpose"
"the seduction of a photo-op with the Mayor [of New York City] and the perceived petty prestige that comes with it was apparently just too much to resist."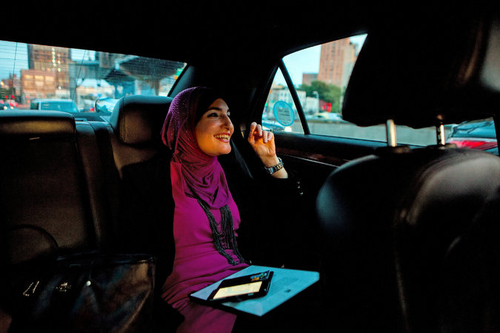 Ikhras' caption to this picture reads: "The 'Revolutionary Activist' enjoys being chauffeured between events around New York."
"Even Palestinian-Americans who do not know Sarsour personally recognize a caricature type quality to her public behavior. In what is apparently an attempt to adhere to some stereotypical Brooklynite image, complete with an exaggerated and pretentious accent, she now comes across as an Arab parody of Rosie Perez."
She betrays "a complete lack of a moral compass."
"Sarsour is known to harbor an ugly racism towards African-Americans. ... [It] is common knowledge among the Arab-American community in NY, and it is members of this community that have a moral obligation to point out the foul racists and two-faced hypocrites. ... Sarsour is increasingly on the defensive but we must ensure that pressure is maintained and she is fully exposed."
Sarsour's support for Sen. Bernie Sanders' presidential campaign "is disingenuous, opportunistic, and, like all her 'activism,' motivated by self-interest. Her role in the Sanders campaign in NY has been invaluable in preparing for her own campaign next year. It provided her even more media access and presented her with yet another opportunity to latch on to an independent phenomenon in the name of the Arab and Muslim communities."
Sarsour has no "knowledge or understanding of any political parties or movements in the Arab world. ... Sarsour is one of those clueless Arab-Americans that feign knowledge of the Arab world by invoking their ethnic heritage."
"Sarsour has no genuine convictions or principles nor is she actually committed to any cause other than her own full-time hobby. To that end she has demonstrated no hesitation to exploit any cause."
"In addition to a lack of conviction and principles, Sarsour has also demonstrated a very shallow understanding of her own favorite topics. Her knowledge of U.S. history, politics, and society does not extend beyond a Middle School curriculum and she approaches these subjects without any serious thought or critical analysis."
"Sarsour will undoubtedly continue her ego-driven, one-person circus act. She recently hired a professional videographer to produce a self-promotional video in which she explains she is very modest and humble."
May 23, 2016 update: The ever-immature Sarsour posted this message on her Facebook page: "I am going as an official delegate to the Democratic National Convention in July! Now I have to decide if I am going to behave or not."

Dec. 6, 2016 update: Speaking for annual American Muslims for Palestine, Sarsour attacked Jews who worried about hostility toward Muslims in America as well as fellow Muslims who accept their good will, the Investigative Project on Terrorism reports.
We have limits to the type of friendships that we're looking for right now and I want to be friends with those whom I know have been steadfast, courageous, have been standing up and protecting their own communities, those who have taken the risk to stand up and say – we are with the Palestinian people, we unequivocally support BDS when it comes to Palestinian human rights and have been attacked viciously by the very people who are telling you that they're about to stand on the front line of the Muslim registry program. No thank you, sisters and brothers.
Dec. 27, 2016 update: Sarsour sure has a way with words. Look at this one, from the MAS-ICNA convention: "The sacrifice the black Muslim slaves went through in this country is nothing compared to Islamaphobia today." @lsarsour #MAS16"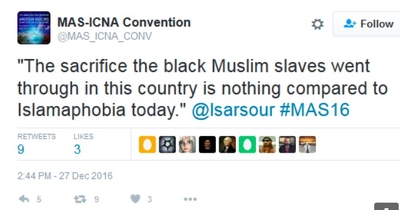 Dec. 30, 2016 update: Sarsour's deft wit and sharp keyboard (".‪@DanielPipes gets refuted and still puts out false statements. Oh, I forgot that's what he does for a living.
") leave me devastated. Happily for me, though, her Twitter followers have her number.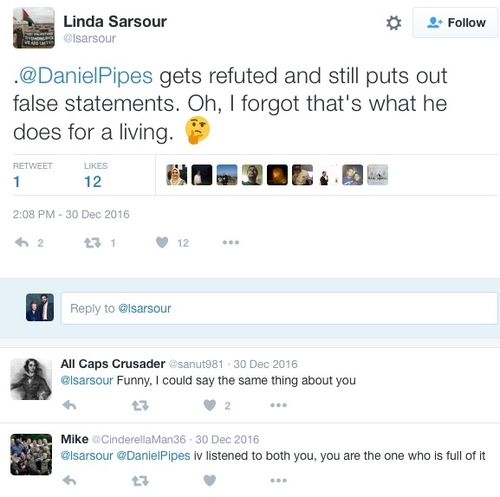 Mar. 11, 2017 update: Tightening ever closer her bond with CAIR, Sarour keynotes the Philadelphia chapter's annual dinner today, tagged "Revelation and Resistance."