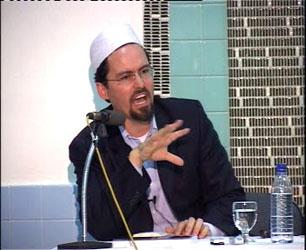 Hamza Yusuf Hanson publicly declares his own extremism.
I have offered a number of
questions to ask of Muslims
to determine whether they are radical or moderate. Hamza Yusuf Hanson,
called by the Guardian
"arguably the west's most influential Islamic scholar,"
announced at the just-ended convention of the Islamic Society of North America
, "I took that test and I failed. And I want to say to all of you, I hope you fail that test too." There is no "test" involved but if Yusuf informs me that he failed it anyway, that's useful information because it identifies him as an extremist. (September 6, 2004)
Oct. 11, 2004 update: A note from one "Hamdan Yousuf, Muslim Student Association, Pennsylvania State University," complete with personal website information, informs me in an e-mail today: "I am proud to join a long line of Muslim leaders, including Sheikh Hamza Yusuf, in failing Daniel Pipes' test." And I am proud to list his name here, or that of anyone else who wishes to announce publicly his radicalism on this weblog.
Nov. 17, 2004 update: A Muslim academic specialist on Islam informs me that there is a test the other way around. "One of the first questions in determining the modern 'orthodoxy' of a Muslim scholar," he writes, "seems to circulate around Daniel Pipes. ... If a Muslim does not stand against Daniel Pipes, s/he must be a bad Muslim." The question asked is direct and crude: "What do you think of Daniel Pipes and his stance against Muslims?"
June 18, 2005 update: "I am an orthodox, practicing Muslim American and I passed Dr. Pipes' test with flying colors." So writes Hamid Ahmed in a comment on my list of questions, followed by his thoughts on Wahhabism and other topics.
June 18, 2006 update: Hamza Yusuf may have declared himself an extremist but the New York Times' Laurie Goodstein, in a glowing piece today, deems him someone "encouraging tolerance."
Apr. 11, 2007 update: The New York Times may have declared Hamza Yusuf tolerant, but Stephen Schwartz calls him "The 'Sufi' Master of Deceit."
Jan. 19, 2015 update: Yusuf engaged in shocking moral equivalence a few days after the Charlie Hebdo staff massacre at the hands of his fellow Islamists:
lest we forget, the people at Charlie Hebdo knew exactly what they were doing. They acted much like Steve Irwin, the Australian crocodile hunter, who went around poking wild animals only to provoke a response from them. Eventually, he decided that the countless land and river animals were not enough and chose to dive into the vast ocean in search of sea creatures to provoke until a stingray, in apparent solidarity with its fellow land and sea creatures suffering at the hands of humans like Irwin, poked back and killed him. But, like the Charlie Hebdo staff, Irwin well knew the risks he was facing when provoking these wild animals and fell victim to the consequences. The editor of Charlie Hebdo knew the game he was playing and enlisted a guard to protect his staff given the many death threats they had received. He was cognizant of the real dangers of provoking those he deemed open game and sport for the paper's "satire."
Comments: Implication (1): Any critic of Islam is asking to be murdered. Implication (2): Islamists have brains no larger than those of crocodiles and stingrays.