The Islamic Center for Human Excellence, a branch of the Nation of Islam based in Little Rock, Arkansas, has received permission from a local planning commission, report KLRT-TV and the Arkansas Times, to build an Islamic community to include a mosque, a school, 22 homes, and the adhan call-to-prayer broadcast by loudspeaker five times a day. It appears the community will be open only to Muslims. Further, Imam Aquil Hamidullah explains, the goal is "to have a clean community," which he describes as one "free of alcohol, drugs, and free of gangs."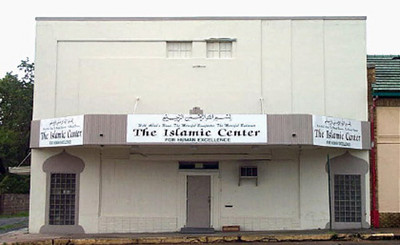 The Islamic Center for Human Excellence in Little Rock, Arkansas.
Last I checked, drugs and gangs are outside the law but alcohol is not. Forbidding alcohol suggests imposition of some sort of Shari'a (Islamic law) in this micro Dar al-Islam.
There are many steps between a planning commission and actually building, plus opposition is assured. The planning commission meeting was packed. For example, Tim Lawson, a Little Rock resident, expressed his opposition "to any type of segregation, and I believe this is what's going to happen [at the Islamic Center for Human Excellence]."
Comments: (1) Allowing the development of such restricted, isolated, supremacist, Islamist enclaves would be an all-around disaster. (2) There exist already some 10-20 Muslim-only enclaves in the United States, the villages run by Muslim of the Americas, a group affiliated with the Pakistani group Jamaat ul-Fuqra. (August 27, 2004)
Sep. 10, 2004 update: In a related topic, I take up "''Muslims Only!' at Adventure Parks."
Oct. 6, 2004 update: Despite strong opposition, the City Board of Directors approved the Islamic Center for Human Excellence' plans for an Islamic community. According to KLRT-TV, the center say the community is open to non-Muslims, whom they encourage to join the experiment. Neighbors of the prospective community, however, are skeptical that such assurances will last. The building will begin in January 2005.
Nov. 29, 2004 update: The the Sonali Gardens project is a parallel development in London, England. It consists of 40 new homes built as part of a joint effort by the Tower Hamlets council and Circle 33 housing association and scheduled to open in summer 2005. According to the Evening Standard, the Muslim-only policy on state-subsidized property is justified by the special services such as halal meals, Bengali-speaking caregivers, and Islamic praying facilities Showing just how degraded the situation is in the United Kingdom, the Conservatives objected to this project on the grounds that the British National Party would seize on it in a bid for votes.
Mar. 4, 2005 update: From Dudley, England comes word of an exclusively Muslim "village," called the Pride of Dudley, in the town center. It will receive £150,000 funding from taxpayers, or about 1 percent of the total £15 million cost, from the Neighbourhood Renewal Fund, as awarded by the Dudley Community Partnership. This money comes despite the fact that Dudley's Muslim Association had promised that the project, which includes a large mosque, sports halls, fitness room, health clinic and computer center, would be exclusively funded by Muslims. Mar. 9, 2005 update: A letter from the head of the Dudley Community Partnership clarifies that none of the £150,000 will be used to build a mosque.
Mar. 25, 2005 update: The idea of segregated Muslim housing is taking place outside the West too. IslamOnLine.net reports today on a first Islamic housing compound being planned for Nigeria, on the Lekki beach in Lagos. The project will include housing, a shopping mall, mosque, Arab and Islamic-language schools, foreign language schools, a multi-purpose lounge, sporting facilities and parks. It is expected to be completed within two years. Interesting to note is that, according to the reporter, "The cost of the Islamic compound is far cheaper than any other housing facilities in the same area," suggesting a subsidy, presumably from the Saudi government. (Note also the Arabic language instruction.)
July 18, 2005 update: An undated article on the Muslim Link Paper website tells the story of the Gwynnoaks Muslim Residential Development effort in Baltimore, where 85 to 100 families in an eight-block radius are all Muslim. It was initiated by Yahya Cason, at that time an engineer with a large company, looking for a place to raise his family. Out of his efforts now exists a group of property developers, The Development Group, that claims twenty to thirty employees. Another article, on the American Planning Association website, traces Gwynnoaks to 9/11 and the need American Muslims felt both to "protect themselves from the racist backlash that occurred in the wake of the attacks and to reach out to educate the public on the moral and social framework that the vast majority of American Muslims abide by." In this case, at least, there seems to be no legal restrictions against non-Muslims, nor any taxpayer monies involved. Aug. 6, 2005 update: But there might be other problems at Gwynnoaks, if Mahmud Faruq Brent (a.k.a. Mahmud Al Mutazzim), arrested on Aug. 4 for providing material support to the Lashkar-e-Taiba terrorist organization, is from there. The Associated Press writes he's from "Gwynn Oak, Md." The Washington Post indicates he hails from "Gwynn Oak Avenue in northwest Baltimore."
Oct. 6, 2005 update: It's not exclusively for Muslims, but an as-yet unnamed block of flats in Bristol, England, built by the Aashyana Housing Association using public monies, comes close. The 16 flats built for £1.7 million contain various features said to be attractive to Muslims, including toilets specifically not facing the southeast (i.e., the direction of Mecca), powerful extractor fans in the kitchen, outsized kitchen cupboards, and a designated area of worship for Sikhs.
The Government-backed Housing Corporation paid for most of the project, with contributions by the Bristol City Council and Aashyana's parent body. The city council's spokeswoman, Kate Hartas, explained the priorities for gaining access to this housing: "where there are two households of equal priority who qualify for an Aashyana home, we would offer to the household who would most benefit from the culturally-sensitive services that Aashyana provides," meaning Muslims or Sikhs.
Mar. 20, 2006 update: David Kennedy Houck considers the legal implications of this phenomenon in "The Islamist Challenge to the U.S. Constitution" in the spring issue of the Middle East Quarterly. His conclusion looks at the Arkansas case:
The local planning commission in Little Rock, Arkansas, might proceed with the proposed Muslim enclave, but the Arkansas courts and its legislature should not abdicate its responsibilities to ensure that Western liberal rights and protections remain supreme. The government should monitor both the rhetoric and behavior of these communities. As the Supreme Court stated in Cantwell: the freedom to believe is absolute, but the freedom to act, in the nature of things, cannot be, especially as to the safety and preservation of the American democracy.
Mar. 21, 2006 update: I was fortunate to receive from Oriana Fallaci an early copy of the English translation of her new book, The Force of Reason. In it, on pp. 83-84, she describes a Muslim enclave in Spain. The Brothers in Prophet Mohammed, she writes,
moved to Granada where they settled in the historical quarter of Albaicin, and this is the point. Because despite the naïve anti-clericalism spit up during the Holy Week Procession, those Brothers in Prophet Mohammed were not naïve at all. In Granada they created a situation similar to the one which at the time was engulfing Beirut and which now is engulfing so many cities of France, Britain, Germany, Italy, Holland, Sweden, Denmark, etcetera. Ergo, today the quarter of Albaicin is in every sense a State within a State. An Islamic feud, an apostatic domain, which lives with its own laws. Its own institutions, its own hospital, its own cemeteries. Its own abattoir, its own newspaper: La Hora del Islam. Its own publishers, its own libraries, its own schools. Schools that exclusively teach how to memorize the Koran. And its own shops, of course. Its own markets, its own banks. Even its own currency, given that in Albaicin all is bought and sold with the gold and silver coins struck on the model of the dirham in use at the time of Boabdil Lord of old Granada. (Money coined in Calle San Gregorio that for the usual reasons of «public order» the Spanish Ministry of Finance pretends to know nothing about).
Nov. 14, 2006 update: I discuss a related topic today at "The 751 No-Go Zones of France."
Oct. 6, 2007 update: Vaughan, a northern suburb of Toronto, hosts the "Peace Village," Canada's first Muslim subdivision, where members of the Ahmadiyya sect from Pakistan own all 260 homes. As Peter Kuitenbrouwer writes in the National Post, "It looks ordinary, with basketball nets and minivans in the driveways, until you notice the street signs: Mahmood Crescent, Ahmadiyya Avenue and Noor-Ud-Din Court."
"There is nothing like this in North America," boasts Naseer Ahmad, a real estate agent from Pakistan who dreamed up this community of Islamic dream homes (including oak stairs and central air conditioning) on the edge of Toronto. "You have a mosque, and people are walking to enjoy their faith." The houses, with some modifications, such as increased ventilation (for spicy food) and separate living rooms for women and men, are so successful that, six years after Peace Village opened, Mr. Ahmad plans to double the mosque's size and is now selling 55 townhomes, 1,700 square feet each, for around $350,000 with a garage and a yard, as "Peace Village Phase II." … a special cable to each home feeds Muslim television from an audio-visual room at the base of the minaret. …

Teston Road Public School, which opened last month next to the mosque, is about 80% Muslim, and the school provides its gym on Fridays at lunchtime so the kids can kick off their running shoes, bow low toward Mecca and pray. "Even though they are born in Canada," says Teston Road's principal, David Nimmo, "their first language is Urdu."
Although Muslims own all the houses in Peace Village, Ahmad says that anyone can purchase a house. "There is no exclusion here. You come and buy the house, no problem. You want to live beside the mosque, you want to live in a predominantly Muslim community, no problem at all." But not is all sweetness and light:
To the dismay of some locals, a demolition crew last year took down a United Church next to where Peace Village is growing. The changes have inspired Christians to reassert themselves: Across the highway, Italian-Canadians built "Vellore Woods" with a large Catholic church at its centre, mimicking Peace Village.
Oct. 12, 2007 update: These Toronto plans must have caused some distress in Calgary, where leaders of the Ahmadiyya sect are busy denying that they have plans for an enclave in that town:
Sultan Mahmood, president of the local Ahmadiyya group, yesterday said the community's only focus is the mosque being built at 4353 54 Ave. N.E. and slated to open next year. "We have nothing on paper, no discussions on it," he said, dismissing reports of a planned Muslim-oriented suburb. Project manager Naseer Ahmad said nothing is planned for the site beyond the mosque which, at a cost of $14 million and a size of 48,000 sq.-ft., will be one of North America's largest. "All we are doing at the moment right now is building a mosque—I don't know what all the hype is about," he said.
Oct. 28, 2007 update: For a television report on the "Peace Village" in Vaughan, see this French-language segment at YouTube.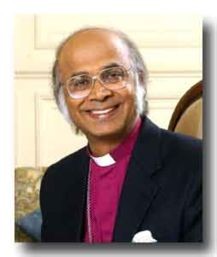 Michael James Nazir-Ali, bishop of Rochester, England.
Nov. 1, 2007 update
: For the story of former music producer Kenny Gamble and his Universal Companies, see the separate weblog entry, "
Is Kenny Gamble Building a Muslim-only Enclave in Philadelphia?
"
Jan. 5, 2008 update: Michael Nazir-Ali, the Pakistani-born bishop of Rochester, tells in the Daily Telegraph about a favored mechanism in Great Britain:
Attempts have been made to impose an "Islamic" character on certain areas, for example, by insisting on artificial amplification for the Adhan, the call to prayer. Such amplification was, of course, unknown throughout most of history and its use raises all sorts of questions about noise levels and whether non-Muslims wish to be told the creed of a particular faith five times a day on the loudspeaker. This is happening here even though some Muslim-majority communities are trying to reduce noise levels from multiple mosques announcing this call, one after the other, over quite a small geographical area.
Apr. 17, 2008 update: For Muslim-only hours at a British municipal swimming pool, see my report on the Clissold Leisure Centre in Stoke Newington, East London, where a father and his 10-year-old son were denied entrance to a pool because of their not being Muslims.
Dec 13, 2008 update: Kim MacDonald writes from Perth, Australia, about the Islamic Council of Western Australia's plan to build a A$10 million 20-unit Muslim-only enclave on the community's 1280-square-meter Malvern Street property in the nearby town of Rivervale.
According to the group's spokesman, Rahim Ghauri, it has an architect-designed concept plan for a six-storey housing development, an underground parking garage, and a multi-purpose hall. If all goes well, ICWA hopes to buy neighboring vacant land also to build offices, sporting facilities, and another garage. Ghauri argues that the project would teach Islamic youth how to become good Australian citizens – and would not further isolate Muslims from mainstream Australian society. So far, he said, $100,000 had been raised for the project.

The Islamic Council's religious adviser, Abdul Jalil Ahmad (who once tried to set up a Shar'i court in Western Australia), plans to live in the complex. He made the interesting point that, in MacDonald's paraphrase, it is "useful for different religious or ethnic groups to have separate residential enclaves so their customs and exotic cooking smells did not offend neighbors. "It's ideal for any ethnic group because you can deal with each other in an easier way. In South Africa, because of apartheid, all different communities were set up and it worked well. It kept people separate. We can be together in terms of our contribution to the wider community."

In response, the president of the Ethnic Communities Council, Ramdas Sankaran, said he supports a Muslim recreation hall and even separate facilities for the aged, but not separate general housing, calling this "deplorable" because it undermines social cohesion and promotes segregation and sets a dangerous precedent. "Self exclusion is just as bad as being excluded by other parties in Australia. It's not in the interests of any group."
Jan. 12, 2009 update: (1) I take up the related topic of "Muslim Autonomous Zones in the West?" as a major future prospect.
(2) Ahmed Marcouch, a Labor Party councillor in Amsterdam and mayor of one of its neighborhoods, has proposed a Muslim "city in itself" – but it's not clear if non-Muslims would be permitted or excluded from it. "A flourishing Muslim community can arise there, with sufficient social capital. The Muslim minority would then be an advantage." Marcouch earlier proposed that classes promoting Islam be taught in public schools.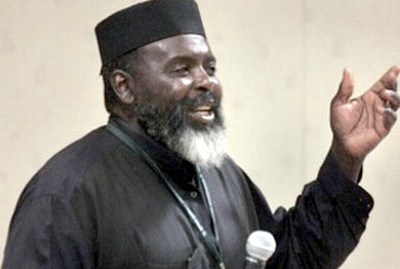 Abdul Alim Musa, leader of As-Sabiqun.

Jan. 20, 2010 update: As-Sabiqun, which desccribes itself as "an Islamic movement/organization" founded by Abdul Alim Musa and based in Washington, D.C., with branches in Oakland, Los Angeles, San Diego, Sacramento, and Philadelphia, announces on its homepage an intent to "establish Islamic homes and build model communities where Islam is lived." A page devoted to the group's mission statement and goals elaborates:
Through our work and sacrifice, we hope to become a model "Islamic community." We define an Islamic community as one which is self-sufficient, independent, and well-guided. A community in which true brotherhood and sisterhood is clearly defined and practiced. We do not, however, limit ourselves by defining "community" as one geographical location. Instead, we intend to establish, with the help of Allah, multiple masjid-centered communities across the country.
Comments: (1) For more on the leader of this group, see DiscoverTheNetworks.org. (2) As-Sabiqun does not make explicit whether it intends to exclude kafirs from its model communities but that would certainly be consistent with its outlook and tactics – attaining "total economic independence," creating a "comprehensive educational system," and establishing a caliphate.
July 9, 2010 update: In an article today on this subject, "Muslim Enclaves U.S.A.," Ryan Mauro argues that there's been a progression over time from the early staid efforts seeking enclaves to the "more radical groups" now in this business.
Jan. 12, 2012 update: Plans have been unveiled to open Firdaus Center in Hamburg, Germany, a shopping area with only Muslim merchants and hoping to attract "true believers" as customers. It has met with resistance from the CDU party.
Related Topics: Muslims in the West, Radical Islam receive the latest by email: subscribe to daniel pipes' free mailing list This text may be reposted or forwarded so long as it is presented as an integral whole with complete and accurate information provided about its author, date, place of publication, and original URL.