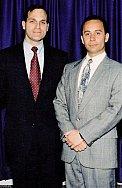 Bassem Youssef, right, stands with former FBI Director Louis Freeh.
I wrote in March 2003 ("
The FBI Fumbles
") about the FBI's handling of Gamal Abdel-Hafiz, a Muslim immigrant from Egypt and special agent who showed a reluctance to go after Islamists but was promoted anyway.
Now we learn of troubles with another Egyptian-born FBI agent, Bassem Youssef. Youssef is suing the bureau, the Department of Justice, Attorney General John Ashcroft, and FBI Director Robert Mueller on grounds of racial discrimination. His complaint asserts that there is a "glass ceiling" in place preventing the promotion of U.S. citizens born in Arab countries.
Further, it goes on: "No other non-Arab FBI employee with similar background and experience in counterterrorism was willfully blocked from working 9-11 related matters. In fact, numerous non-Arab FBI employees with far less experience and expertise in counterterrorism were assigned to 9-11 related work." Youssef's attorney claimed his client was sidelined for no good reason. "What you want is the most qualified person and the most qualified person was not permitted to work on the most important criminal prosecution in American history."
In addition to compensatory damages, CNN reports, "Youssef wants the FBI to set affirmative action goals for the recruitment and promotion of people of Middle Eastern descent, and an annual report on how the bureau is meeting those goals." He also wants the FBI to reinstate him immediately at his former counterterrorism position or at a higher one.
Comment: I know no details about this case other than Youssef's grievances, but the information he provides makes one wonder what he might have done to be taken off the beat (and at one point dispatched to tag and process evidence at an off-site facility). At minimum, it appears that the FBI is acting more far cautiously with Youssef than with Abdel-Hafiz. (July 20, 2003)
Jan. 18, 2004 update: I have updated my account of Gamal Abdel-Hafiz at "The Saga of FBI Special Agent Gamal Abdel-Hafiz."
Aug. 19, 2004 update: Wilfred Samuel Rattigan, a black American of Jamaican descent who converted to Islam in December 2001, while serving as legal attache in Saudi Arabia, has intitated a law suit, seeking unspecified damages, in which he charges that the FBI harassed and demoted him because of his race and religion. If that sounds unlikely, consider next the specifics of Rattigan's case, as reported by Reuters:
Rattigan charged that discriminatory behavior he faced could have compromised the Sept. 11 investigations and reflects "the ongoing legacy of racial discrimination that has roiled the bureau in past 10 to 15 years." … Rattigan said that after he became the legal attache in July 2000, he told supervisors that his office was badly understaffed. He said the FBI failed to give him enough help even though U.S. concerns about terrorism were focused on Saudi Arabia.

The 2000 attack on the U.S. warship Cole in Yemen increased the workload on his office, but Rattigan said the FBI refused to ease the burden by shifting responsibilities to other offices. And when the Sept. 11, 2001, attacks increased the workload "many fold," Rattigan said his request for additional assistance "for the most part, fell on deaf ears or was turned down."

He charged that during this time, other attache offices headed by white employees got more help than Riyadh even though they were less connected to the Sept. 11 investigation. Rattigan said that since he filed an internal complaint in May 2002, he has been continually harassed and was eventually transferred out of Riyadh and demoted.
The Associated Press adds more details:
On Oct. 3, 2001, the lawsuit claims, one of Rattigan's supervisors during a discussion about anticipated support from Saudi Arabia's own FBI-style agency said in regard to the Sept. 11 probe, "Let's see how much his [Rattigan's] Arab brothers are going to help him on this one." Eventually, Rattigan's superiors stopped communicating with him or only did so in a hostile, demeaning or condescending manner, causing him to suffer mental pain, embarrassment, humiliation and degradation, according to the lawsuit.
The FBI denied resources to its Riyadh branch because of the skin color of its agent-in-charge? Frequent critic though I am of the FBI, all the above accusations strike me as plain silliness.
Oct. 28, 2004 update: Rattigan withdrew his request for punitive damages and his case was transferred from New York to Washington.
June 19, 2005 update: After a long silence, the various Arab/Muslim cases are back in the news, thanks in part to the leak of materials from the Bassem Youssef against the FBI (on which, see the July 20, 2003 entry above). The sworn testimony of FBI managers post-Sept. 11 indicates that expertise about the Middle East and terrorism is unimportant when choosing agents to run the bureau. That would seem to explain why Youssef was repeatedly passed over for top-level counterterrorism jobs at headquarters.
June 27, 2005 update: A Time magazine story by Adam Zagorin concerns mutual recriminations between the Saudi and U.S. governments for the failure of the FBI's Riyadh office both in the run-up to and the aftermath of 9/11. Some snippets from his piece:
In 2001 the FBI's Saudi office comprised a secretary and two agents—Wilfred Rattigan and his lieutenant, Egyptian-American Gamal Abdel-Hafiz. They also oversaw six nearby countries. … In a June 6 letter to FBI Director Robert Mueller, the Senate Judiciary Committee renewed a request for information about allegations that the FBI's Riyadh office was "delinquent in pursuing thousands of leads" related to 9/11. When the senior FBI supervisor was sent to the Riyadh office nearly a year after 9/11, she found secret documents literally falling out of file drawers, stacked in binders on tables and wedged behind cabinets, according to an FBI briefing to Congress. The process of sending classified material to the U.S. had fallen so far behind that a backlog of boxes, each filled with three feet of paper containing secret, time-sensitive leads, had built up. Since embassies must be prepared for the possibility of a hostile takeover, the rule is that officials should need no more than 15 minutes to destroy all their sensitive documents. Accordingly, the supervisor ordered the shredding of hundreds, perhaps thousands of pages, many of them related directly to the ongoing 9/11 investigation, an FBI briefer told Congress.
In a deposition for a lawsuit filed by Bassem Youssef, the FBI's previous No. 1 in Riyadh, Mueller conceded that there were problems in the office after 9/11.
The Judiciary Committee letter, signed by chairman Arlen Specter and members Charles Grassley and Patrick Leahy, mentioned an allegation that Rattigan and Abdel-Hafiz at one point could not be contacted by the FBI and "may have surrendered their FBI cell phones to Saudi nationals." That charge possibly arose from a working trip that the agents' colleagues say the two made to Mecca during the Muslim pilgrimage season. The pair were required to give up their FBI-provided cell phones just as an FBI official in the U.S. was trying to get in touch with them. When the U.S.-based G-man called, according to one account, a Saudi answered the phone and was asked, "Who the f___ are you?" To which the Saudi replied, "And who the f___ are you?" The committee's letter also raised the allegation that "agents on temporary duty in Riyadh were provided prostitutes." In its statement, the FBI said it had found that charge to be unfounded.
Rattigan and Abdel-Hafiz have left Saudi Arabia, but both still work as FBI agents. Rattigan is suing the FBI, claiming that it discriminated against him on the basis of his race, religion and national origin. (He is an African American of Jamaican descent who converted to Islam in Saudi Arabia in the months after 9/11.) Rattigan at times wore Arab headgear and robes on work assignments in Saudi Arabia, as did Abdel-Hafiz, also a Muslim, which did not go down well with some FBI managers in Washington.
July 3, 2006 update: Back to Special Agent Bassem Youssef: An internal investigation by the Office of Professional Responsibility in the Justice Department "found reasonable grounds" to conclude that he was blocked from a counterterrorism assignment in 2002 and has concluded there is "reasonable cause" to believe he was the victim of retaliation by his superiors. It report concludes that the FBI blocked Youssef from a counterterrorism role at least in part because he angered and embarrassed FBI Director Robert Mueller at a meeting with Rep. Frank Wolf (Republican of Virginia), when he complained that his skills weren't being used.
Dec. 4, 2006 update: Bassem Youssef, for the first time, is speaking out against the agency. "I don't believe that the FBI's doing everything it can to combat terrorism," he told NBC News. Now running a squad that analyzes links between telephone calls, the Communications Analysis Unit, far from counterterrorism's frontlines, he complains that "To be totally set aside, blackballed since 9/11, makes absolutely no sense." Youssef told NBC why he complained to Rep. Wolf: "I had gone through every possible channel that I could think of within the [FBI] family, and nothing was done."
Sep. 28, 2006 update: The wheels of justice turn slowly in the United States and Youssef's 2003 case has only now reached the courts, where a federal jury heard his claims, as Spencer S. Hsu explains in the Washington Post:
On Monday, a jury before U.S. District Judge Colleen Kollar-Kotelly in Washington ended one strand of litigation entangling the parties, denying Youssef's claim that the FBI denied him opportunities to qualify for promotion in 2004 and 2005 because of his whistleblowing. Nevertheless, Youssef returned to work Tuesday as head of an FBI technical unit that analyzes telephone and electronic communications for terrorism clues. He also will continue to pursue his related legal claims that bureaucratic pride led the FBI to discriminate against or ignore Arabic or Muslim experts and deny his promotion or transfer. …

In court, government lawyers played down Youssef's record, describing a chronically depressed and impolitic - if not angry - functionary who became bogged down in litigation, missed work and lost sight of the FBI's elite counterterrorism division's mission to protect the public. The seven jurors agreed, finding that the FBI did not deny Youssef assignments generally required for promotion to top posts because he met in June 2002 with Rep. Frank R. Wolf (R-Va.) - who oversaw the FBI's budget - to air his concerns.
Then things get interesting:
At the time of the Sept. 11 attacks, however, Youssef was not recalled to FBI headquarters. Supporters say he was mistaken internally for a Muslim agent who refused to wear a wire in an FBI investigation. An internal FBI review indicated that superiors revoked Youssef's transfer to a terrorism investigations section after his meeting with Wolf.
Feb. 3, 2011 update:Youssef's case appears finally to be finished, eight years after it began: "Judge Denies FBI Agent New Trial in Retaliation Suit."
A federal judge in Washington yesterday denied the FBI's highest-ranking Arab American agent's motion for a new trial on claims the bureau retaliated against him for reporting alleged discrimination. … At trial in September in Washington's federal district court, Youssef's lawyers, including Stephen Kohn of the whistleblower shop Kohn, Kohn & Colaptino, argued the FBI blocked Youssef's career advancement, including delaying for two years his completion of training opportunities necessary for so-called "inspection certification." That certification helps agents in future promotion efforts.

Justice Department lawyers representing the bureau said at trial, according to court papers, that FBI officials denied Youssef permission to participate in training activities because he had already missed too much work since his transfer into a new unit. In her ruling Wednesday, Judge Colleen Kollar-Kotelly said "there was substantial evidence in the record at trial suggesting Youssef was not actually harmed" by the denial of his requests to go on inspections in January and February 2005.
June 7, 2011 update: Catching up on the Rattigan case: He won a $300,000 verdict, the Department of Justice appealed, and the U.S. Court of Appeals vacated the judgment in a ruling June 3 on the grounds that the jury instructions were flawed.
July 10, 2012 update: The three-judge U.S. Court of Appeals for the D.C. Circuit ruled in the Rattigan case to limit the scope of government liability in an FBI agent's retaliation suit against the bureau.
Jan. 29, 2014 update: Bassem Youssef first sued the attorney general et al. in July 2003, a case which he lost in February 2011. No sooner was that over than he sued the attorney general, now Eric Holder, later in 2011, now claiming, Ryan Abbott reports for Court Room News, that "he was denied an assistant section chief position in the FBI's Counterterrorism Division Communications Exploitation Section because of his race and because of another Equal Employment Opportunity complaint he had filed in 2003."
U.S. District Judge Colleen Kollar-Kotelly today issued a 53-page ruling saying that the bureau's choice of another candidate for the job was not discriminatory. "Although Youssef may believe the [hiring] board should have been more impressed with his credentials, the board was entitled to form its own opinions concerning the relative value of his experiences."
Comment: Can't wait for the next lawsuit to allege discrimination because this just-concluded one was underway when Youssef was again denied the promotion he feels he deserves.
Related Topics: Counter-terrorism, Muslims in the United States receive the latest by email: subscribe to daniel pipes' free mailing list This text may be reposted or forwarded so long as it is presented as an integral whole with complete and accurate information provided about its author, date, place of publication, and original URL.