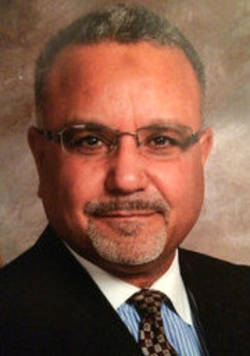 FBI Special Agent Gamal Abdel-Hafiz.
As an FBI agent, Gamal Abdel-Hafiz could have a key role helping America's premier anti-terrorist force protect the United States from harm.
But evidence from high-profile terrorism cases suggests that Abdel-Hafiz, an immigrant Muslim, twice refused on principle to tape-record his coreligionists, harming the investigations.
The first case concerns a now-defunct Secaucus, N.J.-based Islamic investment bank called BMI Inc. Founded in 1985, it was financed by known terrorists and by members of the bin Laden family. The FBI got a break in 1999, when a BMI accountant contacted it and relayed his suspicions that $2.1 million in BMI funds "may have been used" to finance Al-Qaeda's twin bombings of U.S. embassies in East Africa in August 1998.
When the president of BMI - a Muslim - learned of this communication, he contacted Abdel-Hafiz to ask for a meeting. On a conference call in April 1999, an assistant U.S. attorney dealing with the BMI case, Mark Flessner, encouraged Abdel-Hafiz to meet the BMI president and clandestinely record their discussion.
Abdel-Hafiz refused. Why? "I fear for my life." But you have FBI protection, Flessner pointed out. No, Abdel-Hafiz scornfully replied: "The FBI can't protect me. The FBI, I don't trust them."
Pressed further, Abdel-Hafiz blurted out another reason, one recalled by several participants on the call:
"I do not record another Muslim. That is against my religion" (Flessner).
"A Muslim does not record another Muslim" (Robert Wright, FBI agent).
He "wouldn't have any problems interviewing or recording somebody who wasn't a Muslim, but he could never record another Muslim" (John Vincent, FBI agent).
Robert Wright informed a supervisor at FBI headquarters about this conversation and met with indifference: "Well, you have to understand where he's coming from, Bob." When ABC News inquired about Abdel-Hafiz's statement, the FBI bureaucracy exonerated him by saying that the clandestine recording would have taken place in a mosque. But this was a falsehood (there was no mosque involved), a fact which the FBI later acknowledged and retracted its statement.
The second case concerns Sami Al-Arian, a University of South Florida professor recently indicted for his role financing and running the Palestinian Islamic Jihad terrorist group. Al-Arian had been under criminal investigation for years; at one point, he met Abdel- Hafiz at a conference and pressed for details about his case.
Abdel-Hafiz's then-colleague, Barry Carmody, says that he asked Abdel-Hafiz to learn more from Al-Arian by secretly recording a conversation with him. Abdel-Hafiz refused: He would make the call, but not record it.
Wright reports another problem with Abdel-Hafiz: Agents at the FBI's Washington field office wrote of his "contacting subjects of their investigations and not disclosing these contacts" to the special agents running those cases.
Carmody's repeated complaints about Abdel-Hafiz went nowhere. Worse, FBI headquarters promoted Abdel-Hafiz in February 2001 by sending him to terrorism central - to a sensitive, important, and prestigious posting at the U.S. Embassy in Riyadh, Saudi Arabia. Which makes one wonder: In a country whose nationals are close to 100 percent Muslim, did Abdel-Hafiz continue his practice of incompletely investigating anyone who is Muslim?
Apparently he did continue that practice, for there is now a special inspection underway into the Riyadh embassy's failure to actively pursue counterterrorism leads. And the FBI just days ago returned Abdel-Hafiz to the United States, put him on administrative leave and (according to Fox News) asked the Justice Department's much-feared Office of Professional Responsibility to review his conduct. (Among other things, that office investigates "allegations of misconduct by law enforcement personnel.")
Special Agent Abdel-Hafiz's actions raise some urgent and important questions:
What was the true reason for his alleged unwillingness to record conversations with fellow-Muslims - a misguided sense of religious solidarity or a real fear for his life?
Does Abdel-Hafiz sympathize with or support militant Islam?
Is he the FBI's only Muslim employee whose religious bonds apparently trump the requirements of his office not to show favor?
Did the FBI ignore a breach of oath by Abdel-Hafiz?
Did the FBI reward misbehavior with a plum assignment?
Did the FBI bureaucracy lie to cover up its mistakes? If so, does this fit a more general pattern?
Is the FBI punishing Robert Wright, its whistleblower who bravely went public with this story?
And when will the FBI permit Wright to speak freely about these matters?
Until FBI Director Robert Mueller fully answers these questions, Americans cannot rest assured that his agency is doing all possible to protect them.
---
Apr. 20, 2003 update: My weblog entry, "The Saga of FBI Special Agent Gamal Abdel-Hafiz," provides more information on this case.