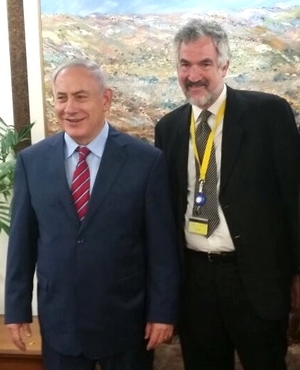 Benjamin Netanyahu in his office with Daniel Pipes.
From the moment I met Benjamin Netanyahu, I liked him. On a personal level, we have had sporadic but good relations over nearly forty years. We first met in 1983, when he was deputy chief of mission at the Israeli embassy in Washington and I worked at the State Department. Over the decades since, I came to admire him for his many accomplishments.
But it's time for him to go.
Netanyahu became Israel's youngest-ever prime minister in 1996. His tenure had its ups and downs. Visiting him a month into his first premiership, I wrote appreciatively that he "glowed and looked to the future." That glow dimmed during his weak and amoral first prime ministry, to the point that in 1999 I wrote an exposé of his failed Golan Heights policy and reluctantly rooted for his opponent to win the election.
Things improved in 2003-05, when Netanyahu served as Israel's minister of finance. His economics training gave him the skills and confidence to make unpopular but much-needed changes, which to this day benefit Israel. By his second time as prime minister, happily, Netanyahu had matured. He governed with a moral compass, provided real leadership and impressed the Israelis sufficiently to win reelection a remarkable five times between 2013 and 2020. Will March 2021 make it six?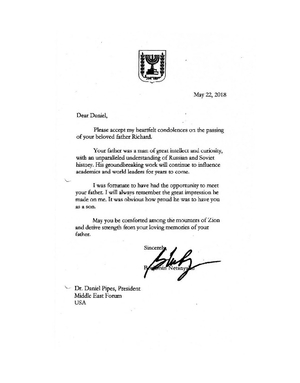 A condolence note from Benjamin Netanyahyu on the death of my father, Richard Pipes. (Click here for a larger version.)
We stayed in touch over the years. He even took the time to send me a generous
condolence note
and to call me after my father died in 2018. So, I emphasize, my issue with him is neither political nor personal. Rather, it comes down to two problems: a frantic avoidance of criminal lawsuits and the alienation of allies.
Netanyahu's opponents, unable to bring him down electorally, have resorted to multiple lawsuits to end his political career. Granting that Netanyahu skated near the legal limits, Alan Dershowitz convincingly argues that his "fate belongs in the hands of voters, not investigators or the courts." However, even presuming his innocence, Netanyahu's desperate efforts to avoid or at least minimize the impact of the court cases harms the country.
Netanyahu's personal priorities, not the party's nor the country's, now drive Israeli domestic politics, with baleful implications for the economy, public health and civic trust. For example, during frenzied attempts to form a government in June 2019, the prime minister made underhanded offers to members of opposition parties and considered a coalition with the anti-Zionist Joint List. Also, to ensure the loyalty of the Haredi (Ultra-Orthodox) parties, he grants them undue influence over Israeli society, at the expense of the country's cohesion.
If Netanyahu does not deserve his legal woes, the alienation of allies is undoubtedly of his own making. The political class mistrusts him and resents the government being subordinated to his personal interests. The "Anyone But Bibi" slogan represents this sentiment. Former colleagues in the Likud Party—Naftali Bennett, Moshe Kahlon, Avigdor Liberman and Gideon Sa'ar—have become his avowed political enemies and abandoned Likud in anger to found their own rival parties.
Most devastating, however, was Ze'ev Elkin's very recent denunciation of Netanyahu, delivered as Elkin announced he was departing Likud to join Sa'ar's fledgling party. For a decade, Elkin had served as Netanyahu's confidant, filling myriad key roles for him from coalition chairman to Russian translator with Vladimir Putin. In a stunning revelation, Elkin accused Netanyahu of "destroying Likud" by turning it into a "Byzantine court" and a personality cult. He indicted Netanyahu for making false promises to "friends, allies, activists and ordinary citizens."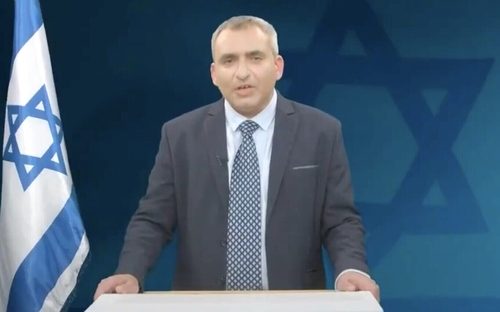 Ze'ev Elkin announces his resignation from the Likud party and his joining the New Hope party, Dec. 23, 2020.
Reluctantly, this analyst concludes that it's time for Netanyahu to move on. He's already Israel's longest-ever serving prime minister. His optimism and vision serve as his legacy, as do his economic savvy and his resolve versus enemies of the Jewish state. His vote of thanks should be election as the next president of Israel in half a year.
As one 71-year-old to another, I note the great talent of Israel's younger generation and urge my friend Bibi to give it the chance it deserves.
Mr. Pipes (DanielPipes.org, @DanielPipes) is president of the Middle East Forum. © 2020 by Daniel Pipes. All rights reserved.
---
Dec. 30, 2020 update: Elkin adds: "Netanyahu is dragging Likud into the grave. He will not leave the party even if he loses the election." And, while he has done many great things for Israel, "he has come to a dangerous point where he thinks that what is good for him is also good for the country."
May 4, 2021 update: Ayalet Shaked, who began her career as a staffer for Netanyahu, says of him: "He wants to remain in power. He has a lust for power — he and his wife. They're like tyrants, like dictators. They're not prepared to move aside."
June 9, 2021 update: According to the Times of Israel, "Netanyahu explored a last-minute run for president, but ultimately rejected it. Likud officials eyed idea of leader moving to new post, hoping it would break country out of political logjam, but PM eventually said: 'It's better to be leader of the opposition'."