Did you know that the War on Terror actually "is a war for natural resources – and that terrorism has little to do with it"?
So argues John Maszka in his book, Washington's Dark Secret: The Real Truth About Terrorism and Islamic Extremism (Potomac, 2018), as summarized in the publisher's blurb. If you were curious how this "Terrorism Scholar" (his capitals) and professor of international relations at the Higher Colleges of Technology in Abu Dhabi, would pull off so implausible a thesis, you might want to dip into the book.
A sentence, however, on p. 54, might give you pause: "Islamophobes such as Daniel Pipes insist that there is no such thing as a moderate Muslim."

The offending paragraph from "Washington's Dark Secret."
Okay, you might ignore the predictable "Islamophobe" silliness; but where did that statement come? Wherever did I "insist that there is no such thing as a moderate Muslim"?
A search of the archive at DanielPipes.org turns up 5 article titles and 6 blog titles including the words "moderate Muslim"; also 2 and 3 titles, respectively, with the term "moderate Islam." In all, the term "moderate Muslim," turns up 619 times there and "moderate Islam" 1,270 times. That adds up to nearly 1,900 references.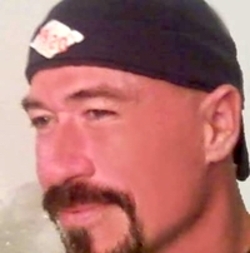 John Maszka.
You will find so many of my articles on this topic that there is even a collection of them in a "
Bibliography – My Writings on Moderate Muslims
." In addition, a favorite, standing slogan of mine, "Radical Islam is the problem, moderate Islam is the solution," shows the centrality of moderate Islam to a strategy I have long held for defeating Islamism.
By teaching in Abu Dhabi, Maszka spreads crackpot American ideas around the world. A UAE national responded to his errors by writing me, "Unfortunately, with Islam still so largely unknown in the West, some academics manipulate facts and ideas for career purposes. Emirati institutions urgently need better quality control."
So, how does anyone, much less a professor, promote views that are so clearly stated and so profoundly wrong? Two enquiries to Maszka received no response, so one can only speculate. Here is the logic that may explain his error:
Maszka inhabits the academic hothouse of inaccurate polemics, which he both contributes to and draws on. For an example of the former, just see his baffling tweet on Aug. 16, 2016, shortly after a jihadi killed 86 in Nice, France: "What did the French government stand to gain by the Nice attack?"
---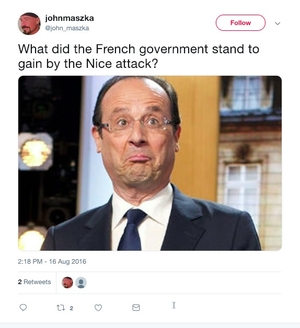 ---
Maszka's misstatement of the views of this author is another example of his adding to the miasma of misinformation: vaguely aware that Middle East and Islam specialists inaccurately but routinely claim me to be anti-Muslim and anti-Islam (as opposed to anti-Islamist and anti-Islamism, which is accurate), he probably figured that he knew what my views were well enough not to have to bother with the tedious exercise of verifying what they actually are.

In this, Maszka depressingly typifies much of Middle East studies: too dim to have common sense, too lazy to bother with research, too ideological to fix factual mistakes, and too smug to care about the harm caused by them.
Daniel Pipes (DanielPipes.org, @DanielPipes) is president of the Middle East Forum. © 2019 by Daniel Pipes. All rights reserved.