Since he became involved with the presidential campaign of Jesse Jackson in November 1983, Louis Farrakhan has been universally portrayed as a Muslim, and his views have been ascribed to the Islamic religion. For example, in a description of Farrakhan's enrolling to vote for the first time, an article in The Washington Post noted that his action "is a major break with Muslim preachings that blacks not participate in a political process controlled by what they call white oppressors."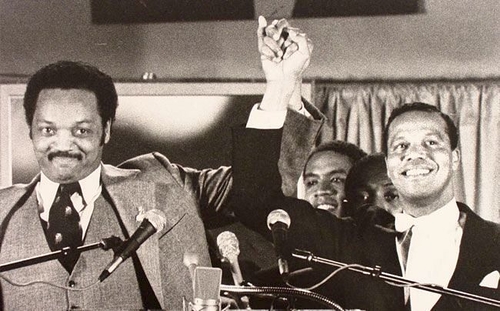 Jesse Jackson (L) and Louis Farrakhan during the 1984 presidential campaign.
But this is wrong. Louis Farrakhan is not a Muslim; Islam says nothing about blacks voting in U.S. elections. Instead, Farrakhan subscribes to an American black religion founded in Detroit 50 years ago. His faith is not recognized as Islamic by real Muslims, and his teachings bear almost no resemblance to those of Islam. Farrakhan is as much a Muslim as the Shriner is an Arab.

Farrakhan leads a group formally known as the "Nation of Islam," commonly called the Black Muslims. The origins of this religion go back to 1931, when Wallace D. Fard, an itinerant silk merchant, probably from Lebanon, taught the rudiments of Islam to Elijah Poole, a 34-year-old black laborer. Poole later changed his name to Elijah Muhammad and after the disappearance of Fard in 1934, he became the leader of a group whose teachings were loosely based on Fard's instructions. Many thousands of American blacks joined this folk religion over the subsequent decades.
Although called the Nation of Islam, Elijah Muhammad's religion had almost nothing in common with Islam. Rather, it was an original amalgam of animist and Christian themes elaborated by an extravagant imagination.
Islam stresses the absolute transcendence and unity of God. Elijah Muhammad said the Black Nation as a whole is God, and one person, the most powerful Black Scientist of the age, is the Supreme Being. Islam stipulates that the seventh-century prophet Muhammad was the last prophet sent to mankind; Elijah Muhammad claimed prophethood for himself. Islam condemns racism; Elijah Muhammad deemed blacks morally and spiritually superior to whites, and believed that if blacks convert to his religion, they will eventually destroy whites, who are devils. Therefore, while Islam calls on all people to accept the Koranic message, Elijah Muhammad permitted only blacks to join his religion. Islam imposes a great body of regulations on its followers; Elijah Muhammad cast these out entirely or altered them beyond recognition.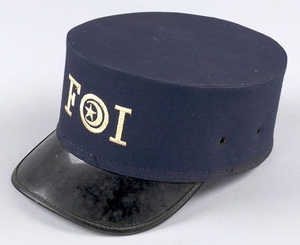 A Fruit of Islam cap.
Elijah Muhammad's main political activities had nothing to do with Islam; not his withdrawal from the U.S. electoral process, not his call for a separate state for blacks, not his emphasis on black economic self-sufficiency, and not his creation of a black paramilitary force, the Fruit of Islam.
Had Elijah Muhammad called his religion something else - say, Poolism - no one could confuse it with Islam. It would then have developed in its own fashion into a distinct faith. But he called it the Nation of Islam, and this simple fact of nomenclature profoundly affected its subsequent evolution. For as Elijah Muhammad's followers came into contact with Islam in Africa and the Middle East during the 1960s, and as Middle Eastern Muslims took an interest in them, they began to realize how much Elijah Muhammad's doctrines differed from Islam. The name of the American religion brought pressure to bring its practices into conformity with Islam.
Two encounters with the Middle East had particular importance. When Malcolm X, one of Elijah Muhammad's top lieutenants, traveled to the Middle East, he became aware of the disparity between his faith and its supposed progenitor. On his return to the United States, he demanded that Elijah Muhammad adopt Islamic practices. These efforts failed, and Malcolm X left the fold to become a Muslim, taking some of Elijah Muhammad's followers with him.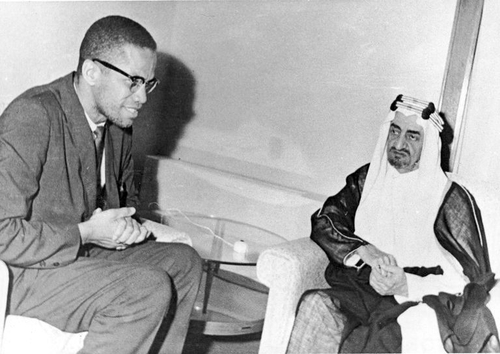 When in Saudi Arabia in 1964, Malcolm X met King Faisal.
Second and even more critical, Elijah Muhammad sent some of his sons to be educated in Cairo, where they studied Arabic and Islam. Although the sons knew Islam, they kept their views quiet until Elijah Muhammad's death in February 1975. Then one of them, Wallace Muhammad, succeeded his father. Within a few months he abandoned the old tenets and adopted those of Islam: one transcendent God, no prophet after Muhammad, no racism, the religion open to all, and adherence to Islamic regulations. The sect led by Wallace Muhammad is now called the American Muslim Mission.
As part of this transformation, Wallace recast his father as a "social reformer" (not a prophet) who deliberately misinterpreted the Koran to make it fit the needs of American blacks. Wallace also toned down his father's politics, especially the demand for a separate state, and disbanded the paramilitary force. He went so far as to take up celebrating the Fourth of July.
Most of Elijah Muhammad's followers accepted Wallace Muhammad's authority and became Muslims with him. Most but not all; Louis Farrakhan took over the leadership of the minority which continued in the old beliefs.
Farrakhan uses the old name, Nation of Islam, and maintains the doctrines as they had been under Elijah Muhammad. It was the Fruit of Islam that guarded Jesse Jackson in the 1984 presidential campaign before the Secret Service took over. In April, Farrakhan warned the Democratic Party that if Jackson's demands were not taken seriously at the national convention, he would "lead an army of black men and women to Washington, D.C. and we will ... negotiate for a separate state or territory of our own." Farrakhan's statements about Hitler, Israel, and Judaism continue in the anti-Semitic tradition begun by Elijah Muhammad.Wallace Muhammad is a Muslim. Louis Farrakhan is not. Farrakhan's reprehensible statements must not be ascribed to the fair-minded traditions of Islam.