Today marks the gloomy 40th anniversary of the day that Turkish troops overpowered the tiny, almost undefended island of Cyprus in a brutal exercise of military might whose immorality only intensifies with the passing decades. Some thoughts in honor of the day:
The invasion did not take place under Islamist rule: Although an Islamist (Necmettin Erbakan) served as deputy prime minister in a coalition government for almost all of 1974, he was not the key decision maker in Turkey. Rather, Prime Minister Bülent Ecevit, a leftist, enjoyed that privilege.
The Ecevit-Erbakan cooperation in 1974 symbolizes a support among Turks of all political persuasions for the invasion of Cyprus that still persists. This near-unanimity is a basic fact of Turkish political life.
That consensus will presumably remain in place until the Turkish occupation begins to take its toll – economic, diplomatic, or even military – on the Republic of Turkey. After 40 years, this has not even started, making one wonder if it ever will.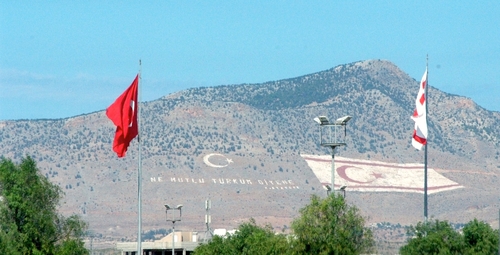 The Republic of Turkey reminds everyone who runs the northern part of Cyprus through flags and a quote from Atatürk.
But two recent developments could potentially change the dynamic by turning Turkish Cypriots against the status quo: (1) their frustration at being excluded from the incipient gas and oil bonanza on the island and (2) their growing resentment toward the ever-more autocratic Islamist overlords in Ankara. As the occupation is ostensibly for their benefit, if Turkish Cypriots want it ended, they just might make it happen.
Also to note: the Republic of Cyprus (the southern, official part of the island) has, as I put it in recent article titles, both stepped on the world stage and joined the Middle East. It held the presidency of the European Union, prompted a world-shaking economic crisis, is becoming a significant energy exporter, and has newly-close links to Israel, the military powerhouse of its region. The "Cyprus Problem" now matters more to the outside world, which could be constructive.
The occupation that began on July 20, 1974, still brings much suffering to what could be an idyllic Mediterranean island. It must be but a memory by the time the fiftieth rolls around. (July 20, 2014)
Related Topics: History, Turkey and Turks
Related Articles:
receive the latest by email: subscribe to daniel pipes' free mailing list
This text may be reposted or forwarded so long as it is presented as an integral whole with complete and accurate information provided about its author, date, place of publication, and original URL.