Two reports from Beirut's Al-Akhbar point to potentially catastrophic water problems about to affect Syria.
The lesser concerns Aleppo, where mortar shells and barrel bombs have slackened off but Islamist rebels have shut down the city's potable water supply, forcing Aleppan residents in government-controlled areas to depend on wells and trucks for limited, contaminated, and expensive water. Lines of women and children "have become ubiquitous in front of mosque fountains and government wells in order to fill small containers such as cooking pots, teapots and plastic bottles as well as small barrels." According to an official at the Syrian Red Crescent, "The situation signals a humanitarian and health disaster."
The greater problem concerns the Euphrates River, the second longest waterway of the Middle East. Nearly all its volume originates in the Republic of Turkey, from which it flows into Syria and Iraq, ending in the Persian Gulf. It provides about one-third of Syria's water supply. In the last few weeks, the Turkish government completely stopped Euphrates waters from leaving Turkey and flowing into Syria, something made possible by the enormous reservoir behind its Atatürk Dam.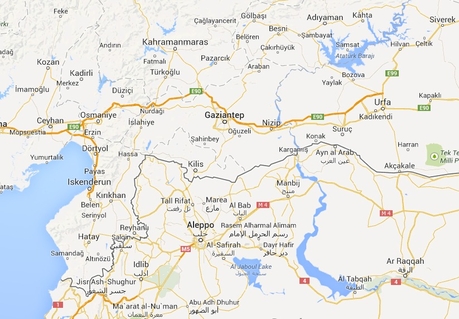 Two massive dams along the Euphrates River have created two huge reservoirs, one behind the Atatürk Dam in Turkey (upper right) and one behind the Tabqa Dam in Syria (lower right).
This action threatens Syria and also Iraq with water crises. As one indication, the water level in Lake Assad, Syria's largest body of water, has gone down by about 20 feet. Within days, some 7 million Syrians could be left without water as well as electricity. Al-Akhbar notes that "A halt to the water supply is now inevitable and can't be resolved unless the Turkish government takes the decision to resume pumping Euphrates water." To make matters yet more worrisome, the fanatic Islamic State in Iraq and Syria group controls the Tishrin Dam, one of Syria's three dams on the Euphrates.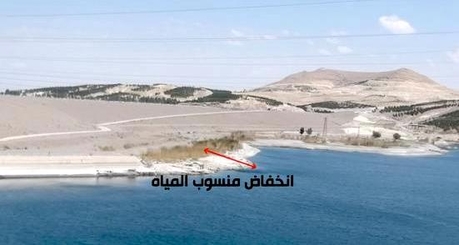 A photograph from Al-Akhbar shows the severe drop in height of Lake Assad behind the Tabqa Dam in Syria.
Comments:
(1) The Syrian civil war keeps getting more ferocious, vicious, and barbaric – not a surprise given that Islamists, both domestic and foreign, dominate the fighting on both sides.
(2) The Euphrates and Tigris rivers contain some of the world's most volatile and fearsome waterworks; the Mosul Dam in Iraq, for example, could collapse, killing millions. Again, given the three states involved (Turkey, Syria, and Iraq), this also ranks as less than a surprise.
(3) Should terminal dehydration kill massive numbers of Syrians, this will likely prompt Western opinion to call for intervention.
(4) Turkey's AKP government has already shown itself callous about loss of life (recall the Soma coal mine disaster). But is Prime Minister Recep Tayyip Erdoğan really about to commit what appears to be genocide?
(5) The Turkish view toward water flowing downstream was immortally asserted by President Süleyman Demirel (himself a hydraulic engineer) when he dedicated the Atatürk Dam on July 25, 1992: "Neither Syria or Iraq can lay claim to Turkey's rivers any more than Ankara could claim their oil. This is a matter of sovereignty. We have a right to do anything we like. The water resources are Turkey's, the oil resources are theirs. We don't say we share their oil resources and they cannot say they share our water resources." (June 1, 2014)
June 24, 2014 update: "Syria's essential services are on the brink of collapse under the burden of continuous assault on critical water infrastructure" writes Nouar Shamout for Chatham House. Excerpts from his analysis, starting with the cities, especially Aleppo:
The deliberate targeting of water supply networks and related structures is now a daily occurrence in the conflict. The water pumping station in Al-Khafsah, Aleppo stopped working on 10 May, cutting off water supply to half of the city. It is unclear who was responsible; both the regime and opposition forces blame each other, but unsurprisingly in a city home to almost three million people the incident caused panic and chaos. Some people even resorted to drinking from puddles in the streets.

Attacks and counter-attacks have destroyed several waste water treatment and sewage facilities in the country. Damage to the sewage system in Aleppo, for example, has resulted in the contamination of drinking water. Warnings to citizens to boil all tap water were issued in the city this month. But, with the rising prices of black-market fuel, boiled water is itself a luxury that most of the besieged population cannot afford. Disinfection of the water supply system now needs a two-day fresh water flush, during which time the water supply would be inaccessible – making it a an unpalatable action, given the current water shortage.

The effects of the diversion and destruction of key water infrastructure, including dams, water pipes and waste treatment plants − compounded by the loss of skilled workers − is felt acutely in the country's largest cities. Hama and Homs have lost water supplies over several consecutive weeks, due to attacks on the water treatment plant on the banks of the Orontes River and on the water pipeline conveying treated water to the two cities. Waterborne disease cases, including typhoid, are on the rise in the Euphrates region, where it has been difficult to supply disinfection chemicals.
Then on to Al-Assad Lake, Syria's largest reservoir, which provides irrigation for 500 square miles of agricultural land and all of Aleppo's drinking water: its level
has dropped by six meters since ISIS took control in January. If the lake loses one more metre the water system will stop working. This will leave more than four million inhabitants without access to safe water. This could result in a humanitarian catastrophe that would overwhelm agencies on the ground.
Shamout then discusses a possible food crisis, which he says "could also be just months away." But, these alarming problems don't phase either the Syrian regime or opposition groups, which he describes as "in a state of denial: neither is responding to, or preparing for, a food and water crisis. All efforts are concentrated on fighting; management and maintenance of water resources are left to a dwindling number of international agencies and local professionals." Beyond the humanitarian disaster, this situation "could lead to a huge outflow of people" to neighboring countries.
July 4, 2014 update: The Turkish Ministry of Foreign Affairs has issued a press release "Regarding the Amount of Water That Turkey Releases from the Euphrates River" in which it denies a reduction in water flowing into Syria, calling reports to the contrary "unsubstantiated."
Turkey has never reduced the amount of water released from its transboundary rivers for political or other purposes throughout its history. This is also valid for the period of instability and crisis that our region is presently going through. Turkey approaches the water issue solely from a humanitarian perspective and attaches great importance to the water needs of the Turkish people and the people of the neighboring countries.
It notes, however, that because of a severe drought, there "might be decrease in some periods in the released amount of water." The MFA also takes a dig at the regimes in Damascus and Baghdad, neither of which it approves of:
it should not be forgotten that the claims of water shortage in Syria and Iraq stems from the wastage of the limited water resources in the said countries as well as the struggle between the conflicting parties to control these resources and to exploit the water issue for their own purposes.
July 21, 2014 update: Nadia Massih notes in Beirut's Daily Star that
water in the ISIS-held Lake Assad is running dangerously low. The 85 kilometer long lake is Syria's largest and until recently it held more than 14.2 billion cubic meters of water. According to the anti-regime activist group the Raqqa Media Center, water levels have dropped by 1.6 billion cubic meters in the past few weeks, forcing two-thirds of the lake's electricity-generating turbines to stop working. The dramatic, unprecedented drop in water levels has left nearly three million people in Aleppo and over a million people in Raqqa without potable water, Shamout said.
Aug. 9, 2014 update: Although I have seen no media coverage of the Turkish shut down of the Euphrates, it would seem to be still underway, judging by the furious reaction from an ISIS member taped in a VICE video. The Times of Israel transcribed the conversation:
In an interview with an Islamic State operative in Raqqa, Syria, where the group's stronghold is located, VICE reporter Medyan Dairieh — who was said by VICE to have gained "unprecedented access to the group in Iraq and Syria," and who the Turkish Hürriyet daily said was the first journalist to expose the inner workings of IS — was told that the "apostate" Turkish state would have to capitulate to IS's demands — or be conquered.

These demands are, chiefly, the reopening of a Turkish dam on the Euphrates River, preventing drinking water from reaching neighboring Syria. The Ataturk Dam, located close to the Turkish-Syrian border, was closed earlier this year.

"I pray to God that the apostate [Turkish] government reconsiders its decisions [to close the dam]. Because of they don't reconsider it now, we'll consider it for them by liberating Istanbul," warned the IS operative in the interview, which was conducted on the banks of the Euphrates, with the operatives' children splashing about in its waters in the background.

Dairieh, who was embedded with IS for three weeks, then asked the operative if his words were meant as a threat. "Yes, this is a clear threat, and God willing, if they don't open it, we'll open it from Istanbul," he warned.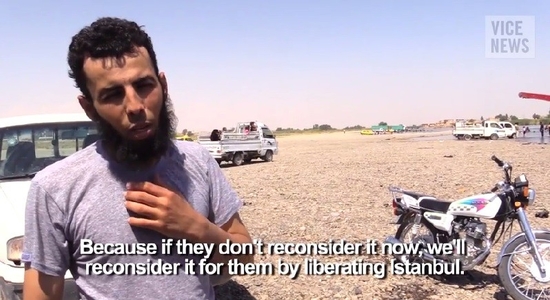 Comment: Days after ISIS has captured Mosul Dam, Iraq's largest, it threatens to seize the Atatürk Dam, Turkey's largest. One would dismiss this as sheer bravado except that ISIS militiamen are winning against the Syrian, Iraqi, and Kurdish armed forces.
Sep. 8, 2014 update: Its title notwithstanding, Michael Rubin's "Water wars in the heart of Mesopotamia?" deals with substantially with Syria, providing valuable background to the present situation.
Sep. 10, 2014 update: John Daly reviews the situation in "Turkey's Water Policies Worry Downstream Neighbors."
July 12, 2015 update: Making matters even more dangerous for Syrians, the Kurdistan Communities Union (KCK), an organization linked to Turkey's Kurdistan Workers' Party (PKK), has announced that "all the dams [in Turkey] will be targeted by guerillas" as well as construction material for those dams. According to Today's Zaman:
the KCK called on the contractors who had undertaken the building of the dams in the Southeast [of Turkey] and the workers who work there to leave the sites. "From now on, the AKP and the contractors who insist on building the dams will be responsible for the clashes at the construction sites of dams as well as other consequences."
Jan. 20, 2016 update: Damian Paletta reviews ISIS policies for the Wall Street Journal in "Islamic State Uses Syria's Biggest Dam as Refuge and Potential Weapon: Militants hiding high-value prisoners and sheltering senior officials at Taqba Dam in conviction U.S. won't dare unleash deluge by bombing it."
Mar. 27, 2017 update: As ISIS and its enemies battle near Raqqa, ISIS claims that the Tabqa Dam is in danger of collapse and has ordered Raqqa's partial evacuation in response. For its part, the Kurdish-led Syrian Democratic Forces stopped operations for four hours to allow engineers to inspect the dam.
May 10, 2017 update: Aylina Kilic quotes SDF commander Rojda Felat: "The Tabqa Dam has been fully captured by Syrian Democratic Forces."
Nov. 5, 2019 update: Collen Dilleen assesses the impact of Turkey's dam-building projects on Syria, finding they
have reduced water flows to Syria by an estimated 40%. This has been particularly problematic for Damascus, as water scarcity is more severe in Syria than in either Turkey or Iraq. The long drought that started in 2006 devastated Syria's agriculture and forced large numbers of people into cities. It has also been linked to the social upheaval and unrest that led to the civil war in Syria. By 2011, Syria's total annual water withdrawal as a percentage of internal renewable water resources had reached 160%, compared with 80% in Iraq and 20% in Turkey.
Apr. 1, 2020 update: Kurdish sources report that, on March 21, the Turkish government sent armed groups to the Allouk water station in Syria, where they "forced it to stop its work and threw out the technicians," cutting the water supply to about 460,000 people in the northeast of Syria, a predominantly Kurdish-populated region.
July 6, 2020 update: The water crisis due to Turkish activities continues, as documented by Wladimir van Wilgenburg at "Turkey using water as weapon against administration in northeast Syria." This has deprived "hundreds of thousands of people of access to clean water. In addition, the reduced water flow has caused electricity shortages in a region dependent on electricity generated by the Tabqa dam."
Aug. 24, 2020 update: Turkey continues to deny water to the mostly-Kurdish population of 800,000 in northeastern Syria and the situation is getting more dire, with the first deaths occurring.
Mar. 11, 2021 update: A Kurdish-affiliated organization, the General Administration of Dams in Northeast Syria, issued a statement that accused the Turks of reducing the water sources flowing into the Euphrates: "Since the end of January the average water flow quantity became less than a quarter of the quantity agreed upon according to the agreement signed between the upstream and the downstream countries that share the riverbed."