Obama's appointment of the former U.S. Senate leader as "Special Envoy for the Middle East" has met with good reviews from most concerned. Sallai Meridor, Israel's ambassador to the United States, said his government "holds Senator Mitchell in high regard and looks forward to working with him on taking the next steps towards realizing a future of peace and security for Israel and her neighbors." J Street, Israel Policy Forum, and Americans for Peace Now all lauded his appointment.
But not me.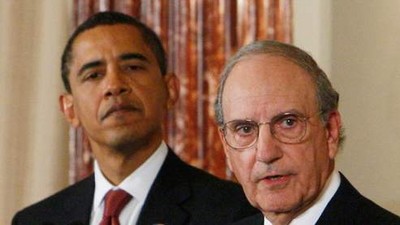 Barack Obama with George Mitchell, his Special Envoy for the Middle East.
First, how can one hold in high regard someone who came out with the wretched
Sharm El-Sheikh Fact-Finding Committee Report
also known as the "Mitchell Report," of April 2001? I did an analysis of it when it appeared at "
Mitchell report missed it
." I called it "a great disappointment." A couple of excerpts:
it reveals the would-be peacemaker's typical unwillingness to judge right and wrong.… Not wanting to offend, in other words, creates an illusionary balance of blame ("Fear, hate, anger, and frustration have risen on both sides," says the report) that makes it impossible to distinguish between aggressor and victim, between right and wrong.

the Mitchell report suggests that Israel "should freeze all settlement activity" to mollify the Palestinians. This is a step the Israelis never agreed to, even when negotiations were under way. To do so now rewards the Palestinians for engaging in violence, something objectionable in principle and ineffectual in practice.

the report emphasizes getting the two parties back to the negotiating table, as though this were an end in itself. It seems oblivious to the important fact that negotiations over the past eight years did not bring the parties closer to a settlement but, to the contrary, exacerbated differences and had a role in the outbreak of violence.
I found that Mitchell and his committee were "myopically unaware of the real issue at hand, which is not violence, or Jewish settlements, or Jerusalem. It is, rather, the enduring Arab reluctance to accept the existence of a sovereign Jewish state." I suggested that, the real solution "lies not in getting the parties back as fast as possible to diplomacy, but in instilling in the Palestinians an awareness of the futility of their use of violence against the Jewish state."
Second, how can one take seriously yet another diplomatic initiative? Here is a partial listing of diplomatic initiatives undertaken since 2001:
Albert Einstein defined insanity as "doing the same thing over and over again and expecting different results." Could someone explain to me how that definition does not apply to this fifteenth effort? Does anyone wish to wager on its chances for success? (January 22, 2009)
May 13, 2011 update: Sadly, no one took up my offer of a wager, for today George Mitchell resigned from his position as U.S. special envoy for the Middle East. I could have been rich.
May 14, 2011 update: For one tough critique of Mitchell and Obama's record on Arab-Israeli diplomacy, here is Walter Russell Mead of the Council on Foreign Relations:
The news that George Mitchell is resigning as US special envoy closes a chapter in the greatest international failure of the Obama administration to date. … there is no way to disguise the harsh truth: the White House flopped big time on the Israel-Palestine process. Administration apologists want to shift the blame for the Middle East failure to Israeli intransigence and Palestinian fecklessness, and while those factors are, as usual, part of the problem, the failure of its peace initiative is one mess the White House owns.

Brimming with self-confidence, the incoming team was sure it could get the job done back in 2009. President Clinton, they argued, had the right idea, but he left it too late. Bush also left it too late, they said, and was both too close to Israel and too diplomatically inept. The Obamans would show us how the job should be done. They would start early with a full court press and, unlike President Obama's supposedly incompetent predecessors, they wouldn't be "Israel's lawyer." Getting tough on Israel would score points in the Muslim world and bring the peace negotiations to a rapid conclusion.

Arrogance mixes poorly with inexperience; the US position in the peace process has been on the skids from the new administration's earliest days, and the unraveling of American diplomacy in the Middle East has significantly damaged both the perception and the reality of American strength in the region.

Let us hope that things change, but the bitter truth is that so far President Obama has the worst Middle East peace policy since US presidents first took a direct interest in the peace process back in the Nixon Administration. No one has tried harder and accomplished less than President Obama. After two years of high profile White House activism neither the Israelis nor the Palestinians think that this President can help them; neither side feels much need to work with Washington at this point.

Worse, there are now questions about the survival of the Egyptian-Israeli peace treaty negotiated under Jimmy Carter. President Obama may not only be remembered as a president who failed to make any progress towards Middle East peace; he could well be the president who saw thirty years of painful progress collapse on his watch.
Related Articles:
receive the latest by email: subscribe to daniel pipes' free mailing list
This text may be reposted or forwarded so long as it is presented as an integral whole with complete and accurate information provided about its author, date, place of publication, and original URL.