As "women" wearing Islamic head coverings again and again plunder banks, jewelry stores, a real estate leasing office, and other retail services (for documentation see my weblog entry, "Niqabs and Burqas as Security Threats"), it was only a matter of time until the victims begin to defend themselves. Their efforts will be documented here.
"Retailers back call for hijab ban": For security purposes, the National Retailers Association in Australia has called for a ban on hijabs, helmets and hoodies in commercial establishments, echoing an appeal by talk-radio show host Michael Smith. NRA executive director Scott Driscoll said that "Retailers should not have to fear any form of retribution or backlash for requiring the removal of any obscuring headwear, including hijabs, as a condition of entry. This is about ensuring a more safe and secure retail environment for all and being able to readily identify any and all perpetrators of armed hold-ups or shop theft." A poll on the radio station's website asking, "Should we impose restrictions on the wearing of burkas in Australia?" resulted in 76 percent affirmative and 23 percent negative. (January 15, 2009)
Woman in hijab refused service in bank: A news account in the Contra Costa Times reports what sounds like a new policy against head coverings:
Safa Magid photographed near her home in Oakland, California.

When Safa Magid went to Community Bank of the Bay to make a deposit, a teller refused to serve her, explaining that the bank's policy prohibiting people from wearing hats included head scarves. "The woman asked if I could take off my scarf," Magid said Thursday. "And I said, 'No, I'm not going to take off my scarf.' Then, she said she couldn't serve me because I'm wearing a scarf." Magid then tried to explain that she wore the scarf for religious reasons, but that a second bank employee confirmed the "no hat" ban included Magid's scarf.
Brian Garrett, president of the California bank, subsequently apologized to Magid, blaming the incident on an "overzealous" employee who was "not exercising good judgment." At the same time, the bank stood by its "no hats" policy, said it must be applied with common sense. Garrett explained that the bank "initiated this step when a gang of hoodlums was terrorizing Oakland restaurants and banks with 'take over' style hold ups and threatening people with guns. … There's been some use of religious dress to engage in bank robberies. You can go look at the FBI Web site." Garrett also rejected Magid's request that the bank take up sensitivity and diversity training for employees and said the company would not implement a "blanket allowance of any type of headscarves," but would consider exceptions on a case-by-case basis. (February 5, 2009)
Credit union separates covered women: Carolina Federal Credit Union of Cherryville, North Carolina, has decided that, beginning March 2, anyone wearing hats, hoods or sunglasses must go to special teller near the front of the bank where they will come under special scrutiny. Donna Beringer, CFCU president, said that "This program will provide a safer environment for members and employees." Rose Hamid, head of the Muslim Women of the Carolinas, took exception: "So we will be separate but equal. That is absolutely unacceptable. I would find that offensive and I would do everything I could to make sure it does not go through." Ibrahim Hooper of the Council on American-Islamic Relations agreed with her: "We understand what is behind this. But this is such a broad and vague policy that it will inevitably lead to problems." (February 22, 2009)
"Muslim Woman Asked to Leave Line at Credit Union Because of Head Scarf": Employees at the Navy Federal Credit Union in Southern Maryland asked Kenza Shelley, 54, a Muslim woman, on March 8 to leave her place in line and be served in a back room because her hijab violated the union's new "no hats, hoods, or sunglasses" policy. To which she replied, "No, I want to be served like everybody else," and left the credit union. "There was so many people there, and I was embarrassed," she added.
The senior vice president for security at Navy Federal, Tom Lyons, defended the institution's policy, first implemented in December 2008, on the grounds that it prevents both armed robbery and identity theft. "We want to be able to clearly identify who you are and make sure the transaction is safe," Lyons said. "This is a policy that applies to everybody in the branch. She wasn't singled out. . . . We tried to accommodate her and help her with her transaction and move on." Noting a significant increase in robberies last year, Lyons observed that this policy is taking place "all over the country." (March 10, 2009) Mar. 17, 2009 update: The Washington Post reveals that an internal Navy Federal Credit Union memo instructs employees to stop enforcing the "no hats, hoods or sunglasses" policy while officials decide how it can be applied fairly. At the same time, the memo indicates, signs prohibiting such items should remain up. Tom Lyons told the Post that the memo does not mean the policy will be abandoned.
Our Lady and St John Catholic Art College, UK, bans the niqab: An unnamed 32-year-old Muslim mother had to leave a parents' evening at Our Lady and St John Catholic Art College in Blackburn because she insisted on wearing a niqab. Security reasons were cited: school policy since 2007 requires visitors 'faces to be visible at all times. When she refused to leave the premises, the police were called; she eventually walked away in tears. "'I don't like going to the school any more because I leave crying. I can understand that people should be identified but I am just a normal person, trying to lead a normal life. Why should how I dress make a difference?" Headteacher Colette Gillen offered one-to-one meeting in her office for the niqabed mother to discuss her son's progress but refused to relax the policy. (April 4, 2009)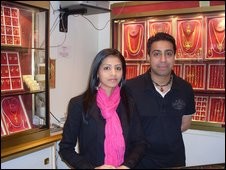 The Sadiqs, owners of ATAA Jewellers in Glasgow, Scotland, have banned niqabs from their store.
Muslim jewelery store bans niqabs: Of course, the story is more piquant when it's Muslims banning Islamist headgear, as has happened at ATAA Jewellers in Glasgow, Scotland. As reported elsewhere on this weblog, the store was robbed in early April 2009; after that incident, the Sadiq family who own the store decided not to allow in anyone wearing a niqab. They plan to post a sign banning any face covering and expect this idea to spread. If such a move offends some people, they insist that their own safety must take priority.
Hanzala Malik, the councillor in Glasgow in whose district ATAA Jewellers is located, backs the Sadiqs' decision: "Business people have to make a decision; do they want their customers in or not with that type of dress? I know in Scotland that banks will not allow their customers coming in with motorbike helmets, I don't see why it should be different for people wearing the niqab. It is an issue about identifying people." (April 27, 2009)
Citizen's Bank asks that head programs be removed: I took this picture at a Citizen's Bank branch in Cambridge, Mass., with the instruction "Please remove Hats, Sunglasses and Hoods." (Aug. 23, 2009)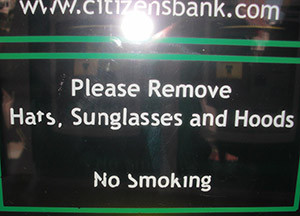 Citizen's Bank policy in Cambridge, Mass.
PNC Bank "requests" removal of head coverings: I took this picture today at a PNC Bank branch office in Philadelphia. A sign on the door to the bank announces that "The safety of our employees and customers is our foremost concern. We request that you remove any hats, caps, sunglasses or hoods while inside this financial institution." Left unstated – and I did not investigate – is what happens if a customer chooses not to remove said hat, cap, sunglasses, or hoods. (January 4, 2010)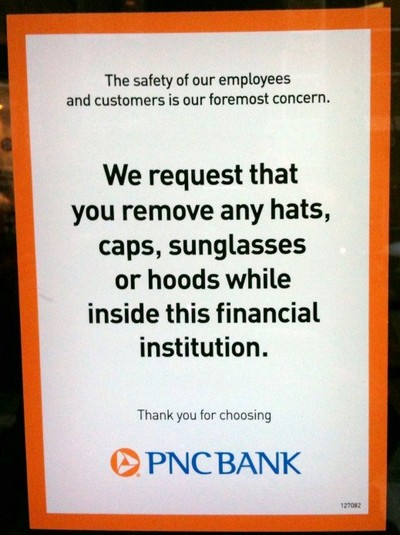 PNC Bank policy in Philadelphia.
A "security program" at M&I Bank: I took this picture today at an M&I Bank office in St. Louis: "This facility participates in the 'No Hats, No Hoods, No Sunglasses, No Guns' security program. Please remove these items before entering." (December 5, 2010)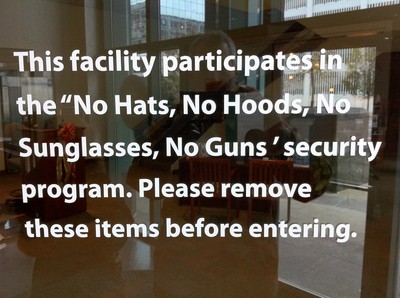 M&I Bank policy.
CAIR wants Valley National Bank in Tulsa to permit face coverings: The Council on American-Islamic Relations demands that this Oklahoma bank drop its requirement that customers not wear hats, hoods and sunglasses to its four branches, arguing that this discriminates against Muslims. It does so following a hijab'ed woman being told that she'd have to leave the bank unless she removed the head covering. It does not appear that the bank will bend, but let's see. (November 8, 2012) "Muslim group, ACLU praise bank association's headscarf clarification," it appears that CAIR did win this one.

Whitney Bank disallows head gear: "Please remove hats, hoods, & sunglasses" reads a sign on the front door of a Whitney Bank facility in New Orleans, La. (January 27, 2013)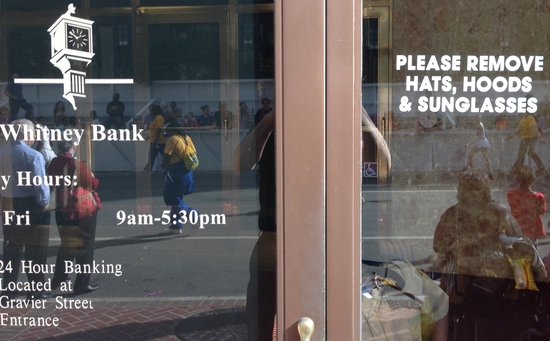 Whitney Bank policy in New Orleans.
Related Topics: Criminality, Mecca and Medina, Muslims in the West receive the latest by email: subscribe to daniel pipes' free mailing list This text may be reposted or forwarded so long as it is presented as an integral whole with complete and accurate information provided about its author, date, place of publication, and original URL.