In a caustic piece last month titled "A French Lesson for Tom Harkin," I noted that due to the hostility coming from the Muslim population of France, nearly half of the country's sizeable Jewish population is considering emigration. In this space, I shall provide occasional updates, in reverse chronological order, on the reasons why Jews of Europe, having survived the Holocaust, again worry about their future.
---
Jewish schoolgirl pretends to be Muslim: In the course of a tour of seven European Jewish communities, Aaron D. Rubinger, an American rabbi, found various causes for alarm, including a 13-year old Jewish girl in Brussels who was hospitalized for multiple injuries including a concussion, inflicted on her by a group of female Muslim students at her school as they screamed at her "filthy Jew!" Most memorable, however was this vignette:
a Parisian mother related how the fear of being physically attacked by Muslim extremist thugs means that it is "not rare at all today" for French Jewish students to attempt to pass themselves off as Muslim - with some even going as far as to fast on Ramadan. One case in point was a Jewish girl of North African descent who for years was successful in this deception, until finally she was "exposed" when Muslim girls caught her eating matzah in the bathroom during Pesah. After her classmates beat her viciously, they invited their male Muslim friends to their school to participate in a gang rape.
(January 18, 2012)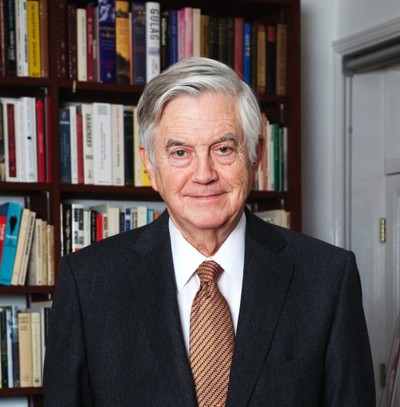 Frits Bolkestein warns Dutch Jews.

Prominent politician urges Jews to give up on the Netherlands: Frits Bolkestein, a retired Dutch politician of the VVD , has publicly stated that religious Jews have no future in the Netherlands due to anti-Semitism. They should "emigrate to the U.S. or Israel," he said in a new book (in Dutch) The Decay: Jews in a Rudderless Netherlands, by Manfred Gerstenfeld. Bolkestein went on to note that the main cause of the growing hostility is "anti-Semitism among Dutchmen of Moroccan descent, whose numbers keep growing." He also doubted that the government can protect its Jewish citizens. His remarks prompted the parliament to hold a special session devoted to this issue. (December 20, 2010)
"Hate crimes force Jews out of Malmo: Anti-Semitic threats come from Muslim community": Karl Ritter of the Associated Press tells about a young Jewish family of four that is fleeing Malmo for Israel due to a rise in hate crimes by Muslims against Jews, compounded by a sense that the authorities have little interest in dealing with the problem. Shneur Kesselman, an Orthodox rabbi, estimates that "it's 99 percent Muslims" who are behind the incidents, not the neo-Nazi right.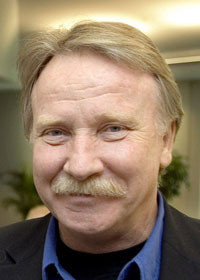 Malmo's Mayor Ilmar Reepalu can't find antisemitism in his town.
Of Malmo's population of 285,000, 60,000 are Muslims and 700 are Jews. Further, the Muslim element is growing and the Jewish is shrinking. Malmo police count 115 hate crimes in al during 2009, 52 of them were antisemitism. That comes out to one crime per14 Jews.
Despite this, the town's mayor a left-winger named Ilmar Reepalu, insists the antisemitism comes from neo-Nazis. Oh, and he blames the Jews of Malmo for not distancing themselves from the Israel's 2008-09 campaign in Gaza. "Instead they choose to hold a demonstration ... which can send the wrong signals." (March 29, 2010)
"The 19th arrondissement of Paris has become a war zone between Jews and North Africans": Tiberge writes in the Brussels Journal about the most recent flare-up of Parisian violence on June 21: "A 17-year old Jewish boy suffered several broken ribs and skull fractures during a violent assault by Mulsim youths. The boy was hospitalized in an unconscious state at Cochin Hospital where he is currently being kept in an artificial coma. The boy, who was wearing a kippa, was walking on Rue Petit, in the 19th, when he came upon a group of 30 young persons of African origin who insulted him before beating him. Five minors were arrested, said a police source, but they have not been identified by witnesses. According to the police, the assault must be put into the context of "brawls" between groups of young Jews and North Africans. One such brawl is said to have occurred just before the beating." (June 24, 2008)
"Jews fleeing Paris suburbs for 'ghettos' where life is safer": Devorah Lauter writes for JTA that in a period of just three years, roughly half the Jewish families in Villepinte, working-class suburb north of Paris, 150 out of 300, have left due to anti-Semitism, fleeing to other suburbs, Paris neighborhoods considered safer for Jews, or out of France entirely. Symbolic of this flight, Villepinte's 40-year-old synagogue, already torched in 1991 and 2001, might close because it often lacks a minyan. "By the next generation there will be practically no more Jews in the northern Paris periphery," says Maurice Robert Fellous, the president of the Jewish community in Noisy-le-Sec, a northern Paris suburb. More broadly, more than 16,000 Jews, or roughly two-thirds of the mostly Sephardic Jews who once lived in the Seine-Saint-Denis region have left due to the surge of anti-Semitism in the period 2000-05.
As the Jews move tighter together, observes University of Paris sociologist Shmuel Trigano, a self-ghettoization is taking place. "It is a general shift, not a passing crisis. The Jewish community is becoming a ghetto. It is no longer a community of choice but a community of necessity. In a democracy that shouldn't happen."
Many Sephardic families compare this migration and their families' escape from North Africa in the 1960s. "They chased us from Algeria and they followed us here," Robert Sebbane, 81, of Creteil. In 2000, "we were shocked because we didn't think this would happen here." (March 12, 2008)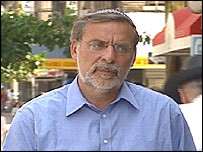 Dov Hikind, New York State Assemblyman.

American politician urges special refugee status to European Jews: Dov Hikind, a Democrat who represents Boro Park in the New York State Assembly, characterized anti-Semitic incidents in Europe as "staggering," said anti-Semitism has made life intolerable for Jews in England, France, Germany, and Belgium, and called on President George W. Bush to grant Western European Jews special refugee status. (Dec. 4, 2007)
French woman attacked for wearing Star of David: An unnamed French woman, 22, reported that two youths of Middle Eastern origin snatched her Star of David necklace at an underground train station in Marseille, lifted her shirt, drew a swastika on her stomach, and then fled. (Apr. 26, 2007)
Belgian Jewish group attacked by Turks: Sixty or so teenage Hasidic Jews from Antwerp, out on a trip, were attacked on Nov. 30 in the town of Beringen. The MSM ignored the incident for three days. The blog "Islam in Europe" has stitched together this account:
The incident started when a group of Orthodox Jewish kids ages 13-15 came with several adult escorts to the town in order to spend the weekend. The kids had spent the day having fun and had come to Beringen to sleep over at a youth hostel [in a largely Muslim neighborhood, adds the JTA]. Once the kids stepped out of the buses, they were immediately attacked by a group of Turks who threw stones at them and yelled anti-Semitic slurs. The Jewish kids took cover in an inner corridor of the youth hostel. The Turks threw stones and concrete blocks, breaking dozens of windows in various buildings. Glass and stone fragments littered the floor and beds.

The police showed up but the violence continued for about another hour. Even after police managed to get things under control, the Turkish youth kept hanging round the building. The police informed the organizers of the trip that they could not guarantee the safety of the children and at that the organizers decided to cut short the trip and the group returned to Antwerp [accompanied to the highway by a police escort, adds the JTA]. Ten people were arrested later on, among them six minors and four adults.
(Dec. 5, 2006)
Norwegian Jews warned to lie low: After a man wearing a yarmulke was assaulted on an Oslo street on July 22, the Jewish communal body in Norway, called the Mosaic Religious Community, issued an advisory urging Jews to be discreet. "We have encouraged our members to avoid speaking Hebrew loudly on the street," Anne Sender told the newspaper Vårt Land. To Norwegian Broadcasting she suggested that men reconsider wearing a yarmulke. Despire these warnings, Sender stressed that "the situation for Jews in Norway is better than it has been for a long time." (July 20, 2006)
Murder of a Parisian Jew: Ilam Halimi, 23, was a mobile-telephone store clerk who was lured by an Iranian woman, then abducted, tortured, and murdered by a Muslim gang over a 24-day period. (February 2006)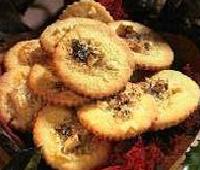 Denmark's "Jewish" cookies.

Denmark's offensive Jewish cookies: It's a small thing in the greater scheme of things, but indicative of three trends. First, Danish Muslims are refusing to buy or eat a cinnamon and hazelnut confection known as the "Jewish cookie" because they don't like the name, reports Yigal Romm in the European Jewish Press. Second, Ole Poulsen, the head of something called the "public food consumer department" noted that this boycott could effect sales, in which case, "we would be obliged to do something about it," i.e., change the product name. Third, noting that the "Jewish cookies" are popular in the pre-Christmas period and have nothing specifically Jewish about them, Denmark's chief rabbi, Bent Lexner, is easy with a change in name. "There is nothing Jewish in it and I wouldn't mind another name," though he does add that "it would be better to educate Muslims to respect the culture of the majority in Denmark, if they want the majority to respect their culture."
Comment: What Poulsen and Lexner both seem to miss here is the consequences of giving way to rank Muslim antisemitism. Winning this small cookie victory inevitably will lead to a push on larger issues. (Dec. 6, 2005)
Former chief rabbi: European Jewish history nearing its end. Israel's former chief rabbi, Meir Lau, yesterday predicted that European Jewish history is nearing its end for the slightly more than one million Jews now living in Europe. He warned that antisemitism is on the rise in nearly every European country and quoted survey data released in recent days indicating that 62 percent of Germans are tired of hearing about the Holocaust. "I see the end of the Diaspora of Jews in Europe. I call on the government to prepare for a new phase in the spiritual and physical absorption of European Jewry before they consider emigrating to the United States or Australia." (Dec. 3, 2004)
Denial of Antisemitism: It's horrible enough that Moshe Yitzchak Naeh, 26, a Hasidic Jew, synagogue sexton, and the father of four, was shot in the head and killed while walking down the street in Antwerp early in the morning on Nov. 18. The fact that Naeh was carrying a considerable sum of money (€1,400) which was not stolen, plus that he had no known criminal connections and was walking near a predominantly Muslim area all pointed to the crime being anti-Jewish in nature. That, however, is not what the Belgian authorities have concluded. "There are no signs that racism was involved," stated Dominique Reyniers, a spokeswoman for the Antwerp prosecutor's office. (Nov. 20, 2004)
French Government Re-authorizes a Terrorist Television Station: France's Higher Audiovisual Council (CSA) reached an agreement on Nov. 19 to permit Hizbollah's al-Manar TV to continue broadcasting throughout Europe using the French satellite operator Eutelsat. (The United States and Britain classify Hizbollah as a terrorist group.) This decision followed an attempt by the Conseil Représentatif des Institutions Juives de France (CRIF) to have al-Manar's local operations shut down due to its drama "The Diaspora," depicting a Zionist plot to dominate the world. CSA called the "Diaspora" program "intolerable" but permitted al-Manar to go on operating if it agreed to a list of commitments to unbiased journalism. Al-Manar readily agreed to the list but also said it foresaw no changes following the agreement. CRIF president Roger Cuikerman responded to this agreement that "We French citizens are under attack as Jews by this television. The Republic should protect all its citizens and not give in to external pressures." (Nov. 20, 2004) Dec. 13, 2004 update: France's highest administrative court, the Council of State, today banned al-Manar from Eutelsat, a French satellite service, thereby becoming the first country partially to ban the station (it continues to be broadast on GlobeCast, another French satellite). Dec. 16, 2004 update: The New York Sun ascribes this decision to the efforts of Natan Sharansky.
Moving to Israel: The New York Times reports that "The Jewish Agency, the quasi-governmental body responsible for settling immigrants, reported a doubling in the number of French Jews who arrived last year and in 2002, to more than 2,000 each year, compared with about 1,000 a year in the previous three years. By contrast, worldwide immigration to Israel has sharply declined during the Arab-Israeli violence." (July 4, 2004)
Only Jewish student: Today's International Herald Tribune recounts how the only Jewish student in a French public school outside Paris with a large Muslim minority stopped eating and had nightmares due to the incessant insults and attacks against her, until she and her mother moved to the south of France, where the 13-year-old enrolled in a new school. (Feb. 10, 2004)
"Teacher told to drop Star of David": That's the headline in Norway's Aftenposten. Curiously, the teacher in question, Inge Telhaug is not a Jew but wears a 16-millimeter (0.6-inch) Magen David around his neck, usually under a T-shirt, as a religious symbol: "I see it as the oldest religious symbol we have in our culture, because without Judaism there would be no Christianity." But he was informed by Kjell Gislefoss, principal of the Kristiansand Adult Education Center, where he teaches immigrants about the Norwegian language and culture, that wearing the star could be deemed a provocation towards the many Muslim students at the school. "The Star of David would be a symbol for one side in what is perhaps the world's most inflamed conflict at the moment. Many [students] have a traumatic past that they have escaped and then we feel that if they are going to learn Norwegian then they can't sit and at the same time be reminded of the things they have traveled from." Telhaug refuses to acquiesce and has hired a lawyer. Heidi Hauge Uldal, head of the Education Association in Kristiansand, deemed the school's decision "unacceptable." (Feb. 5, 2004)
Death Chants: During a Belgium-Israel football game on January 28, 2004, reports Le Soir (Brussels), Muslim fans pulled out Hamas and Hezbollah flags, then cried out "Jews to the gas chamber!" "Death to Jews!" and "Strangle the Jews!" To make matters worse, a Belgian soccer player named Mustapha Toukouki, is said to have encouraged these chants. (Jan. 31, 2004)
Related Topics: Antisemitism, Jews and Judaism, Muslims in Europe receive the latest by email: subscribe to daniel pipes' free mailing list This text may be reposted or forwarded so long as it is presented as an integral whole with complete and accurate information provided about its author, date, place of publication, and original URL.