I wrote recently about FBI Special Agent Gamal Abdel-Hafiz, documenting how he "could have a key role helping America's premier anti-terrorist force protect the United States from harm. But evidence from high-profile terrorism cases suggests that Abdel-Hafiz, an immigrant Muslim, twice refused on principle to tape-record his coreligionists, harming the investigations." The most notable piece of evidence was his statement, "A Muslim does not record another Muslim."
According to the Dallas Morning News, Abdel-Hafiz is being investigated not for any of the problems discussed in that article but because "a bitter ex-wife ... suddenly became willing to spill what she called the truth about an old burglary and stolen gold chandeliers." (April 20, 2003)
Jan. 18, 2004 update: Steve McGonigle, the Dallas Morning News ace reporter, offers Abdel-Hafiz' take on what happened and his article contains much of interest. Note, for example, Abdel-Hafiz' comment that he and a FBI colleague took off for the week-long hajj in Mecca not to fulfill religious obligations but for work reasons ("All our contacts are there, and we meet with them and we talk to them. You sit and you talk, and you just shoot the breeze while there is no pressure for work, and they tell you a lot of things that they normally don't say").
Of special importance, however, is Abdel-Hafiz' explanation of the "a Muslim does not record another Muslim" remark. McGonigle reports it this way: Abdel-Hafiz
did not deny saying to the Chicago agent that "a Muslim does not record another Muslim." But he said he was discussing a common perception in the Muslim community, not his personal belief. Taping the witness, Mr. Abdel-Hafiz said, was unnecessary and could have destroyed his credibility with other investigative sources if it became known. He said his bosses in Dallas concurred with his decision to refuse to do the taping.
Assuming this account to be accurate, it has two striking implications. First, a Muslim FBI agent cannot investigate other Muslims or this would "destroy his credibility" with them, whatever that means. Second, the FBI brass goes along with this foolishness. Both points leave me feeling more worried than ever about the FBI under Robert Mueller (whose mistakes in judgment I have written about here and here). (January 18, 2004)
Feb. 25, 2004 update: Newsweek reports today that, in an unusual move, the FBI brass overruled the bureau's top disciplinary officer and ordered Abdel-Hafiz reinstated, despite allegations that he had been involved in a case of insurance fraud and then lied about it to FBI investigators. FBI watchers are reduced to rolling their eyes at another one of Director Mueller's mistakes; what will the price of his poor judgment be this time?
Feb. 26, 2004 update: A Chicago Tribune follow-up story today offers an interesting justification of the "Muslim does not record another Muslim" remark (quoted in the Jan. 18 entry): "Abdel-Hafiz and FBI officials in Washington have maintained that his supervisor at the time determined he had already gotten the necessary information from a suspect and conducting a second interview with a hidden recorder would have jeopardized his position." This, of course, is quite at variance with the explanation in the Dallas Morning News over a month ago, cited two entries above.
Speaking of the Dallas Morning News, its article on Abdel-Hafiz today includes this statement by him, presumably directed to his soon-to-be-again-FBI colleagues: "Some people will [be welcoming] and some people won't. And the people who won't, I will not have any mercy on them. I will have no mercy on anyone who will try to cross me again."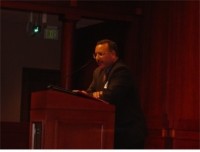 "Texas' very own and the 1st Muslim ever to be promoted by the FBI to Special Agent - Gamal Abdel-Hafiz sharing some of his thoughts with the audience in this post-9/11 environment."

Sep. 10, 2004 update: It is very distressing to find Abdel-Hafiz addressing the Freedom and Justice Foundation – note the accompanying picture, complete with the original F&J caption – alongside such Islamists as Salam Al-Marayati and the executive director of the Council on American-Islamic Relations' Houston office, Iesa Galloway.
Dec. 9, 2005 update: Paul Sperry connects Abdel-Hafiz to the unexpected acquittal of Sami Al-Arian of terrorism charges, providing new details on the first Muslim FBI agent's soft spot for the Palestinian Islamic Jihad leader – how Abdel-Hafiz provided him with information on Steven Emerson, denigrated a fellow FBI agent who was investigating Al-Arian, met with subjects of investigations without informing his superiors, and generally "showed a pattern of pro-Islamist behavior."
As a result, Sperry writes, "Al-Arian even bragged to Abdel-Hafiz that the Tampa office did not have a strong case against him—thanks in large part to Abdel-Hafiz." Sperry raises the issue of whether Abdel-Hafiz has jeopardized the massive Safa case.
Related Topics: Counter-terrorism, Muslims in the United States
Related Articles:
receive the latest by email: subscribe to daniel pipes' free mailing list
This text may be reposted or forwarded so long as it is presented as an integral whole with complete and accurate information provided about its author, date, place of publication, and original URL.