A ranking Iranian political figure, Issa Kalantari, recently warned that past mistakes leave Iran with water supplies so insufficient that up to 70 percent, or 55 million out of 78 million Iranians, would be forced to abandon their native country for parts unknown.
Many facts buttress Kalantari's apocalyptic prediction: Once lauded in poetry, Lake Urmia, the Middle East's largest lake, has lost 95 percent of its water since 1996, going from 31 billion cubic meters to 1.5 billion. What the Seine is to Paris, the Zayanderud was to Isfahan – except the latter went bone-dry in 2010. Over two-thirds of Iran's cities and towns are "on the verge of a water crisis" that could result in drinking water shortages; already, thousands of villages depend on water tankers. Unprecedented dust storms disrupt economic activity and damage health.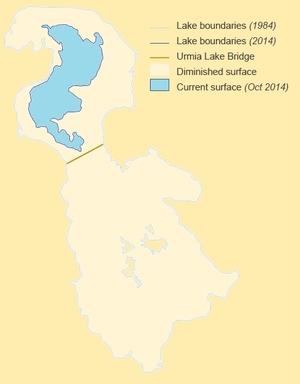 Lake Urmia in Iran has lost 95 percent of its water in recent decades.
Nor are Iranians alone in peril; many others in the arid Middle East may also be forced into unwanted, penurious, desperate exile. With a unique, magnificent exception, much of the Middle East is running out of water due to such maladies as population growth, short-sighted dictators, distorted economic incentives, and infrastructure-destroying warfare. Some specifics:
Egypt: Rising sea levels threaten not only to submerge the country's coastal cities (including Alexandria, population 4 million) but also to contaminate the Nile Delta aquifer, one of the world's largest groundwater reservoirs. The Ethiopian government finally woke to the hydraulic potential of the Blue Nile that originates in its country and is building massive dams that may severely reduce the flow of river water reaching Egypt (and Sudan).
Gaza: In what's called a "hydrological nightmare," seawater intrusion and the leakage of sewage has made 95 percent of the coastal aquifer unfit for human consumption.
Yemen: Oil remittances permit Yemenis to indulge more heavily than ever before in chewing qat, a leaf whose bushes absorb far more water than the food plants they replaced. Drinking water "is down to less than one quart per person per day" in many mountainous areas, reports water specialist Gerhard Lichtenthaeler. Specialist Ilan Wulfsohn writes that Sana'a "may become the first capital city in the world to run out of water."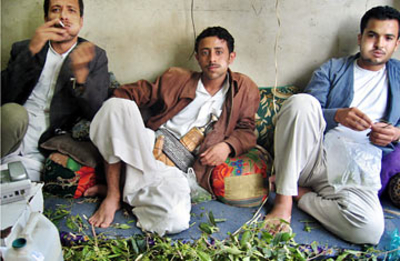 Three Yemenis chewing qat.
Syria: The Syrian government wasted $15 billion on failed irrigation projects in 1988-2000. Between 2002 and 2008, nearly all the 420,000 illegal wells went dry, total water resources dropped by half, as did grain output, causing 250,000 farmers to abandon their land. By 2009, water problems had cost more than 800,000 jobs. By 2010, in the hinterland of Raqqa, now the Islamic State's capital, the New York Times reports, "Ancient irrigation systems have collapsed, underground water sources have run dry and hundreds of villages have been abandoned as farmlands turn to cracked desert and grazing animals die off."
Iraq: Experts foresee the Euphrates River's waters soon halved (refer to Revelation 16:12 for those implications). Already in 2011, the Mosul Dam, Iraq's largest, shut down entirely due to insufficient flow. Sea water from the Persian Gulf has pushed up the Shatt al-Arab; the resulting briny water has destroyed fisheries, livestock, and crops. In northern Iraq, water shortages have led to the abandonment of villages, some now buried in sand, and a 95 percent decrease in barley and wheat farming. Date palms have diminished from 33 million to 9 million. Saddam Hussein drained the marshes of southern Iraq, at once destroying a wildlife ecology and depriving the Marsh Arabs of their livelihood.
Persian Gulf: Vast desalination efforts, ironically, have increased the salinity level of gulf sea water from 32,000 to 47,000 parts per million, threatening fauna and marine life.
Nearby Pakistan may be "a water-starved country" by 2022.
Israel provides the sole exception to this regional tale of woe. It too, as recently as the 1990s, suffered water shortages; but now, thanks to a combination of conservation, recycling, innovative agricultural techniques, and high-tech desalination, the country is awash in H2O (Israel's Water Authority: "We have all the water we need"). I find particularly striking that Israel can desalinate about 17 liters of water for one U.S. penny; and that it recycles about five times more water than does second-ranked Spain.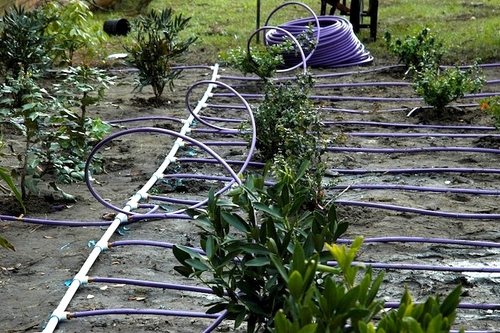 Drip agricultural technology made by Netafim, an Israeli company operating in more than 100 countries.
In other words, the looming drought-driven upheaval of populations – probably the very worst of the region's many profound problems – can be solved, with brainpower and political maturity. Desperate neighbors might think about ending their futile state of war with the world's hydraulic superpower and instead learn from it.
Mr. Pipes (DanielPipes.org, @DanielPipes) is president of the Middle East Forum. © 2015 by Daniel Pipes. All rights reserved.
---
May 11, 2015 update: Neighbors in the Middle East may not be ready to learn about water from Israelis but Californians are: some projects (such as the $1 billion desalination plant IDE Technologies is building to provide 50 million gallons of water daily in the San Diego area starting in November) are already underway and many, many more are in the works.
June 14, 2015 update: News out of Iran finds that:
Precipitation has fallen 20% in Iran in the current water year (183 millimeters vs. 229 millimeters in the previous year).
More than 500 Iranian cities are struggling with drinking water shortage.
The regime earmarked $10 billion to harness cross-border water resources.
A former minister of agriculture calls the water crisis "more dangerous than Israel, America, or political fighting," and suggested the Iranian plateau will soon become uninhabitable.
The UN has labeled water Iran's "most important human security challenge in the coming decades."
Sep. 2, 2015 update: Space pictures show the contrast between Iran's Lake Urmia in 2000 and 2014.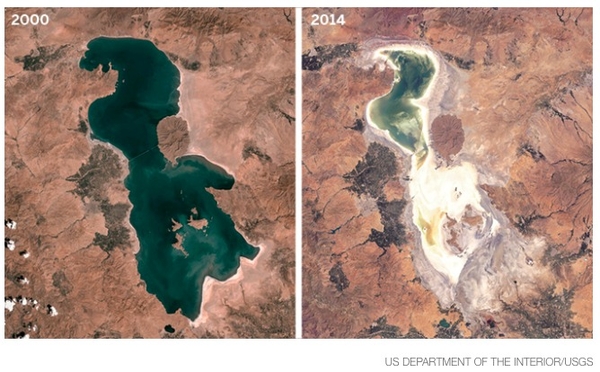 Iran's Lake Urmia is disappearing.