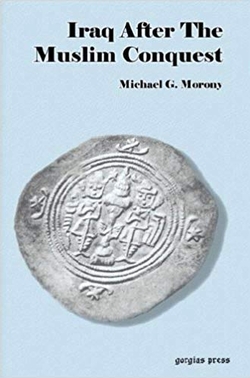 "It can be argued that Islamic civilization was the result of changes that began under the last Sasan­ians" (p. 521). Thus does Michael G. Morony con­clude his study, implicitly disputing those who hold Arabian, Jewish, or Greek influence to have been most critical for the formation of Islam. He shows, instead, that the lands under control of the Sasanian empire (A.D. 226-651) contributed most to the nas­cent civilization.
Morony shows more, too: that Islam spread throughout the Middle East because it best incorpo­rated Sasanian characteristics. He closes the book with the observation that "what we call Islamic civilization was, in fact, the regional culture of west­ern Asia ... [T]he significance of Islam may be ... that it was the most successful crystallization of the direction of change during Late Antiquity" (p. 526).
These are radical arguments indeed. They come, however, at the end of a large and learned study that meticulously establishes connections between Iraq in late antiquity (A.D. 300-600) and the same region in early Islam (up to the year A.D. 700). In a sweeping review of institutions, the author shows how Muslim practices derived from Sasanian prec­edents in the realms of military organization, inter­nal security, property holding, public architecture, court procedure, royal offices, government bu­reaucracy, justice, taxation, and provincial adminis­tration. He shows a similar continuity for relation­ships between religious and political leaders, be­tween the rulers and ruled, and between members of diverse ethnic and religious groups.
Perhaps the most striking case of continuity, for the reader can see it for himself, is coinage: the last Sasanian zuzes and the first Muslim dirhams are identical except for a tiny Islamic legend on the margin of the dirhams (pp. 42-43). Early Muslim rulers propagated images of Sasanian emperors and Magian fire altars!
Morony also establishes that Sasanian administra­tive institutions "were adopted by Muslims during the seventh century...at least a century earlier than is usually assumed" (p. 18). It was not the caliphs but the Muslim governors of Iraq, and especially Ziyad b. Abihi, governor of Basra from 665 and of all the eastern provinces from 669 until 673, who first applied Sasanian theories and prac­tices to Islamic government.
In the four centuries under consideration, the author shows, Iraq was a great center of religious change. He breaks the custom of studying Iraq's religions in isolation and looks at them together, proving that major developments took place not only within each religion (such as the Nestorian schism and the establishment of Rabbinic Judaism) but also in state-church relations. The practice of government toleration for a multiplicity of faiths came from Iraq, as did the notion of ultimate allegiance directed to one's religious grouping, so essential to the later Muslim political order.
The author, who seems to have read everything bearing on Iraq in these centuries, argues his case with great persuasiveness. Although Iraq after the Muslim Conquest is but a "preliminary statement" (p. 23) in an ongoing project, Morony has already laid down his challenge: will anyone argue that Sasanian civilization was not critical to the formation of Islamic civilization?