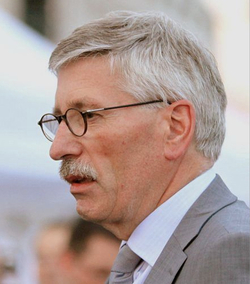 Thilo Sarrazin.
Eesti Päevaleht
: The German writer Thilo Sarrazin argues that because Muslims and Africans come from completely different cultural backgrounds, most of them cannot integrate into Western society; do you agree?
Daniel Pipes: I do agree, but I see this as only half the problem. The other half is that many migrants, especially Muslim ones, prefer their culture and way of life to the Western ones. So, some immigrants have trouble integrating and others reject doing so. Add to this the near-universal low demographic rates in advanced countries, implying an inability to sustain current populations, and you see why Western countries face a profound civilizational shift. As I personally do not welcome living in some combination of Muslim and African cultures (Somalia, anyone?), this is an extremely disturbing prospect.
EP: The Western world being proud of its fact-based debate, why has it become nearly taboo in Western Europe and North America to discuss aspects of Islamic culture (such as attitudes towards women) or problems associated with immigration from Muslim countries?
DP: That taboo exists only on the Left; the Right does discuss these problems. It may seem like the taboo is universal because the Left almost everywhere (Hungary stands out as a lonely exception) has greater cultural power than the right, and can intimidate and cancel it, not just in social media but also in daily life (for example, bank accounts mysteriously close). The Right has very capable analysts and politicians; it needs stronger platforms, from newspapers to social media to universities. Where are the entrepreneurs and philanthropists?
EP: When did these topics become taboo?
DP: I cannot provide a precise date, but the contrast between the situation now and in 1989, when the Rushdie affair erupted, is striking. Back then, the Left generally stood up more firmly against Ayatollah Khomeini than did the Right. The change took place over the next decade.
EP: Are journalists and activists intentionally trying to confuse the situation by avoiding the term illegal migrants and instead using terms like refugees, asylum seekers, and undocumented immigrants? If so, why?
DP: Yes, this is part of the same problem discussed above; the Left seeks to soften opposition to uninvited, unwelcome, and illegal migrants breaching one's borders. It does so by manipulating the vocabulary, making the illegals appear sympathetic, then turning them into heroes and victims. It's an ambitious project that has convinced elites nearly everywhere but less so everyone else.
EP: Are Muslim "no-go zones" in the West a myth or a reality?
DP: You are asking the right person. In the years 2006-15, I visited 29 predominantly Muslim areas in Australia, North America, and Western Europe. I struggled publicly with how to describe these distinctive areas, finally choosing the term "partial no-go zone" because it best sums up their complexity, meaning "their accessibility to ordinary visitors at ordinary times or their inaccessibility to government officials in times of tension. There are also no-go gradations, some places where attacks are more frequent and violent, others less so."
An angry mob in Paris set fire to a police car with officers inside it.
EP: Why does each successive generation of migrants in countries like Sweden, England, and France act more Islamist than the prior one?
DP: Because the generation that migrated before about 1990 usually felt gratitude to be received and to find work, and so it focused on the practical matters. Their children and grandchildren, born in the West, evince almost no gratitude but instead tend to feel resentment. Islamist ideology then justifies that resentment and further builds it.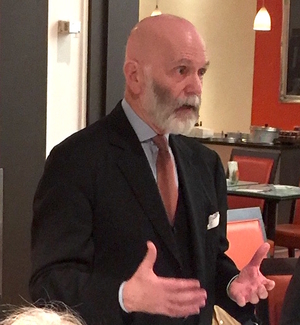 Renaud Camus explaining his ideas in Paris in 2016. © Daniel Pipes.
EP
: What do you think of the Great Replacement theory forwarded by the French author Renaud Camus, the idea that Western populations are in the process of demographic and cultural replacement by non-Westerners through mass migration?
DP: The Left routinely calls this theory "white supremacism" but it merely articulates common sense. I don't believe in a conspiracy whereby elites plot to change out their constituents for Muslims and Africans, but I do see those elites eager to assuage their guilty consciences by bringing in Muslims and Africans. How better than this can they remedy the West's big three sins of racism, fascism, and imperialism?