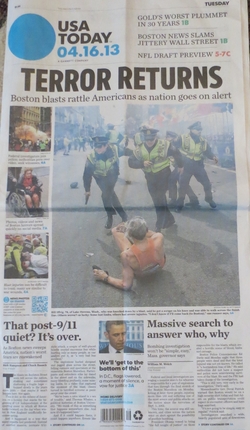 The inaccurate front page of "USA Today" on April 16, 2013, after the Boston Marathon bombing.
"TERROR RETURNS" ran a frontpage headline in huge capitals across
USA Today
the day after the Boston Marathon bombing in April 2013. An accompanying article titled "
That Post-9/11 quiet? It's over
" documented terror's apparent absence from the United States for over a decade.
But this reporting contained two inaccuracies. First, despite the self-evidently terrorist nature of the Boston Marathon bombing – in which two Islamist brothers randomly attacked their fellow citizens out of hatred of America – the U.S. government has resisted classifying it as terrorism.
Second, no such "post-9/11 quiet" ever existed. Rather, a drumbeat of Islamically inspired attacks by Muslims against non-Muslims, which I shall call jihadi assaults, persisted through the decade. A June 2015 report finds 69 "publicly known Islamist terrorist plot or attack against the U.S. homeland since 9/11."
Islamic inspiration often serves as the motivation of Muslim-on-infidel attacks around the globe, intending to advance the agenda of imposing Islamic law and Muslim supremacy. This goal motivates crimes as huge as genocide in Sudan and Iraq to those as minor as banning liquor in taxis or ham sandwiches on trolleys.
Some of the U.S. attacks between 2001 and 2013, such as the Beltway Snipers and the Ft. Hood Massacre, dominated national headlines and are well remembered. Others, such as the fragging murders of two American soldiers in Kuwait and the attack on pedestrians at the University of North Carolina, attracted brief attention. Many more only hardly make the local news, such as the Home Depot car attack, the X-Men: The Last Stand murder, the Safeway warehouse rampage, the Bay Area SUV incident, the Colorado police killing, the Homestead Air Reserve Base assailant, and the Rochester, N.Y. car menace.
The recurrence of attacks has been steady. The year 2013, for example, witnessed 12 cases of Muslim-on-non-Muslim fatalities in the United States; but almost no one in that year heard of the beheading of two Egyptian Christians in New Jersey, the Orange County shooting rampage, the Las Vegas car killings, the Starbucks religious flare-up in Washington State, the father murdered in church on Easter in Ohio, or the customers and staff assaulted at a Walmart in California.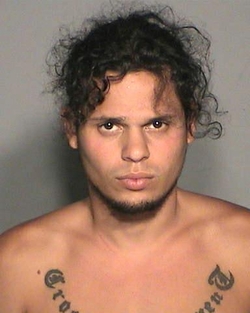 The mug shot of Yusuf Ibrahim, accused of killing two Copts.
To take the first, and perhaps the most grizzly of these murders: An Egyptian Muslim, Yusuf Ibrahim, 27, living in New Jersey, was arrested in February 2013 for abducting, shooting, and then beheading two Egyptian Christians, Hanny F. Tawadros, 25, and Amgad A. Konds, 27. The prosecutor (a crony of Gov.
Chris Christie
) made no mention of a religious motive, nor did the mainstream media coverage. The gruesome killings seemed to have no larger significance. The absence of reporting on this case beyond its bare outline means that someone following it closely has no idea about Ibrahim's motivation.
Ignorance about motivation has several implications. First, while not every Muslim-on-non-Muslim attack is jihadi in nature, the obscurity of these offenses makes it hard to distinguish jihadi violence from violence which is criminal, familial, or just plain crazed.
Second, it means that Americans – including USA Today headline writers – barely know about the steady drumbeat of attacks, leaving them unaware about the scope of ideological Muslim-on-non-Muslim violence currently underway.
Third, ignorance prevents an accurate discernment of the jihad's methods, goals, and trends, impeding an informed, sensible response to it. It also means unawareness of important developments, such as ISIS' ability through mere exhortation – no money transfers or hierarchy needed – to inspire murders.
Finally, it permits American Islamists to deny that jihad has not reached the United States and to accuse anyone aware of this phenomenon to be prejudiced, even racist, thereby intimidating police departments, politicians, the press, and the professoriate from providing information.
An unprecedented wave of ideological violence has struck the United States since 1994, when PBS showed Steven Emerson's prize-winning documentary, Jihad in America. Despite the brutal and enduring nature of this low-intensity warfare, establishment institutions such as USA Today remain deeply unwilling to recognize it as a systematic and ideological assault, instead dismissing it as a vague form of unidentified extremism.
Denial will likely continue until the price gets too high. If 3,000 dead did not suffice to end American complacency, 30,000 dead or even 300,000 may not either. But three million certainly will. Should we not take steps to stop the carnage before it reaches such proportions?
Mr. Pipes (DanielPipes.org, @DanielPipes) is president of the Middle East Forum. © 2015 by Daniel Pipes. All rights reserved.

---
June 15, 2015 addenda: (1) This analysis builds an earlier article of mine, "Denying Islam's Role in Terror: Explaining the Denial," which focused on the reasons for denial. This new article considers the consequences of denial. Both follow on many previous articles railing against the neglect of jihadi violence. For a bibliography, click here.
(2) After so many acts of violence in the 9/11 spirit, what induced that headline writer to come up with the preposterously inaccurate "TERROR RETURNS"? Perhaps the Boston Marathon attack's special attributes combined to bring it to a different level of attention: its high-profile nature, the mystery of its perpetrators, the drama that played out over several days and included policemen and backyard boats, its causing a large city to shut down, and its reliance on an explosive device (rather than a knife, gun, or car attack). Whatever the reason, it was superficial and deceptive.