A minor issue at the Minneapolis-St. Paul International Airport (MSP) has potentially major implications for the future of Islam in the United States.
Starting about a decade ago, some Muslim taxi drivers serving the airport declared that they would not transport passengers visibly carrying alcohol, in transparent duty-free shopping bags, for example. This stance stemmed from their understanding of the Koran's ban on alcohol. A driver named Fuad Omar explained: "This is our religion. We could be punished in the afterlife if we agree to [transport alcohol]. This is a Koran issue. This came from heaven." Another driver, Muhamed Mursal, echoed his words: "It is forbidden in Islam to carry alcohol.r"
The issue emerged publicly in 2000. On one occasion, 16 drivers in a row refused a passenger with bottles of alcohol. This left the passenger - who had done nothing legally wrong - feeling like a criminal. For their part, the 16 cabbies lost income. As Josh L. Dickey of the Associated Press put it, when drivers at MSP refuse a fare for any reason, "they go to the back of the line. Waaaay back. Past the terminal, down a long service road, and into a sprawling parking lot jammed with cabs in Bloomington, where drivers sit idle for hours, waiting to be called again."
To avoid this predicament, Muslim taxi drivers asked the Metropolitan Airports Commission (MAC) for permission to refuse passengers carrying liquor - or even suspected of carrying liquor - without being banished to the end of the line. MAC rejected this appeal, worried that drivers might offer religion as an excuse to refuse short-distance passengers.
The number of Muslim drivers has by now increased, to the point that they reportedly make up three-quarters of MSP's 900 cabdrivers. By September 2006, Muslims turned down an estimated three fares a day based on their religious objection to alcohol, an airport spokesman, Patrick Hogan, told the Associated Press, adding that this issue has "slowly grown over the years to the point that it's become a significant customer service issue."
"Travelers often feel surprised and insulted," Mr. Hogan told USA Today.
With this in mind, MAC proposed a pragmatic solution: drivers unwilling to carry alcohol could get a special color light on their car roofs, signaling their views on alcohol to taxi starters and customers alike. From the airport's point of view, this scheme offers a sensible and efficient mechanism to resolve a minor irritant, leaving no passenger insulted and no driver losing business. "Airport authorities are not in the business of interpreting sacred texts or dictating anyone's religious choices," Hogan points out. "Our goal is simply to ensure travelers at [the airport] are well served." Awaiting approval only from the airport's taxi advisory committee, the two-light proposal will likely be in operation by the end of 2006.
But on a societal level, the proposed solution has massive and worrisome implications. Namely, the two-light plan intrudes the Shari'a, or Islamic law, with state sanction, into a mundane commercial transaction in Minnesota. A government authority thus sanctions a signal as to who does or does not follow Islamic law.
What of taxi drivers beyond those at MSP? Other Muslims in Minneapolis-St. Paul and across the country could well demand the same privilege. Bus conductors might follow suit. The whole transport system could be divided between those Islamically observant and those not so.
Why stop with alcohol? Muslim taxi drivers in several countries already balk at allowing seeing-eye dogs in their cars. Future demands could include not transporting women with exposed arms or hair, homosexuals, and unmarried couples. For that matter, they could ban men wearing kippas, as well as Hindus, atheists, bartenders, croupiers, astrologers, bankers, and quarterbacks.
MAC has consulted on the taxi issue with the Minnesota chapter of the Muslim American Society, an organization the Chicago Tribune has established is devoted to turning the United States into a country run by Islamic law. The wife of a former head of the organization, for example, has explained that its goal is "to educate everyone about Islam and to follow the teachings of Islam with the hope of establishing an Islamic state."
It is precisely the innocuous nature of the two-light taxi solution that makes it so insidious - and why the Metropolitan Airports Commission should reconsider its wrong-headed decision. Readers who wish to make their views known to the MAC can write it at publicaffairs@mspmac.org.
---
Oct. 10, 2006 update: I provide additional information on this topic at "More on Those Alcohol-Shy Minnesota Taxi Drivers." And I took up a related topic in a November 2005 weblog, "Muslim Taxi Drivers vs. Seeing-Eye Dogs."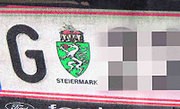 Oct. 16, 2006 update: I relate today how and why the MAC decided against the two-light scheme in "No Islamic Law in Minnesota, for Now."
Sep. 28, 2007 update: For a whole other problem connected to taxis, see Klaus Höfler, "Glaubenskrieg auf der Nummerntafel," with information how Muslim drivers in the Austrian province of Steiermark are scratching off the crosses on their license plates.