Turkish citizens are wildly optimistic about the invasion of Syria that began Oct. 9. President Recep Tayyip Erdoğan's decision finds broad support within Turkey, including from all the major opposition parties except the pro-Kurdish People's Democratic Party. The incursion is understood domestically not only as a measure to protect the country from the Kurdish forces Mr. Erdoğan calls "terrorists," but also to affirm Turkey's status as a power; Ankara no longer must bow to the wishes of Washington, Berlin or Moscow.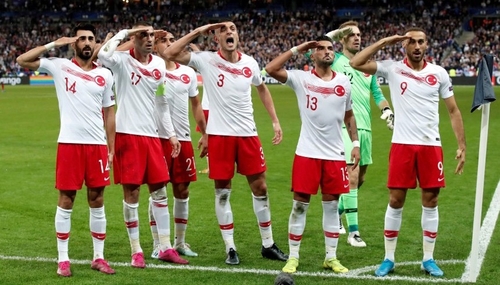 Turkey's World Cup qualifying players celebrated a goal against France on Oct. 15 with an unusual and prohibited military-style salute.
Then there's the pessimistic view, the one I share. The invasion damages Turkey internationally: Western and Arab governments have condemned the military operation, as have the Russian, Iranian, Indian and Chinese governments. Volkswagen paused a planned investment in Turkey, and other companies may follow suit. Congress is weighing economic sanctions. Italy, France and Germany have suspended arms sales. Tensions are heightening between Turks and Kurds in Germany, and will likely rise within Turkey as well. ...
Though northern Syria's open terrain is favorable to regular forces, Turkey's huge army may not do so well on the battlefield. Mr. Erdoğann has purged the officer corps several times in recent years for domestic political reasons. Even if initially routed, the Syrian Kurdish forces could regroup to mount a costly insurgency against the Turkish occupation. Turkey has many regional enemies eager to trip it up. Like many prior wars begun in a flush of jubilation—recall the British youth joyfully enlisting in 1914, confident of returning victorious within weeks—this one may end ingloriously.
Should the military operation go badly, responsibility for the failure will fall squarely on Mr. Erdoğan's shoulders. A brilliant politician and Turkey's most consequential leader since Atatürk, Mr. Erdoğan has repudiated Atatürk's legacy of socialism, secularism and avoiding foreign military adventures. Instead, for years he oversaw a capitalist economic boom, and he still rules with an Islamist sensibility and a neo-Ottoman approach to foreign policy. In the nearly 17 years since his party first took parliament, he has transformed Turkey.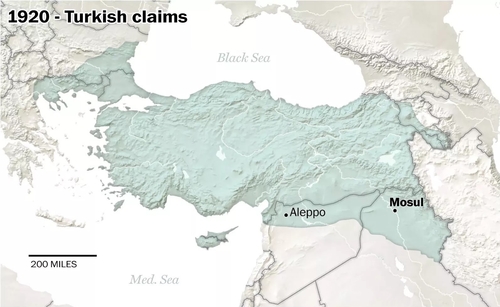 In 1920, the Ottoman parliament voted for boundaries as shown here. Though never implemented, its dream lives on and inspires the current government.
But like other masters of domestic politics— Saddam Hussein comes to mind—Mr. Erdoğan wrongly assumes that the cunning and aggression that brought him political success internally will also work internationally. This explains his unleashing thugs on the streets of Washington, abducting Turkish citizens accused of coup plotting from multiple countries, attempting to smuggle dual-use materials to Gaza, illegally drilling for natural gas in Cypriot waters, and shooting down a Russian jet fighter, among other bellicose actions.
Mr. Erdoğan's foreign-policy ineptitude has alienated other governments. Europeans seethe when he threatens to send 3.6 million displaced Syrians their way. Israelis despise him for a vitriolic anti-Zionism that compares them to Nazis. Egypt's president hates Mr. Erdoğan's backing of the Muslim Brotherhood. Mr. Erdoğan's abject apologies haven't compensated for shooting down the Russian jet. China hasn't forgotten Mr. Erdoğan's accusing it of genocide against the Uighurs, despite his silence now.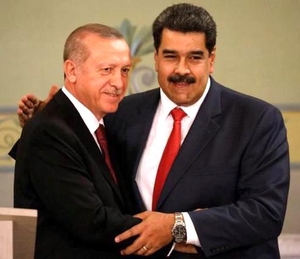 Erdoğan (L) and his close buddy, Maduro.
When the candidate from Mr. Erdoğan's AK party twice lost the Istanbul mayor's race this year, most analysts saw this as a "
political earthquake
" and a "
stunning blow
" to Mr. Erdoğann, but he remains as dominant and dangerous as ever. A ruthless ideologue, his continued rule could bring to Turkey the political repression, economic collapse, hunger and mass emigration that plague Nicolás Maduro's Venezuela.
I worry about this terrible outcome because Mr. Erdoğan has consolidated power over Turkey's institutions: the military, the intelligence services, the police, the judiciary, the banks, the media, the election board, the mosques and the educational system. He has supported the private security company SADAT, which some analysts consider a "shadow" or "private" army. Academics who signed a 2016 petition critical of Mr. Erdoğan's policies toward the Kurds have lost their jobs, faced criminal charges and even been jailed. Mr. Erdoğan's hare-brained theory that high interest rates cause, rather than cure, high inflation has recently done great damage to the economy. The 1,150-room palace he had built symbolizes his grandiosity and ambition.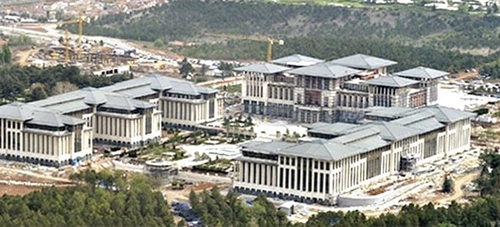 The palace in Ankara that Erdoğan built for himself.
In short, Mr. Erdoğan is a dictator with strange ideas, wild ambitions and no restraints. The invasion of Syria has made a domestic and regional tragedy the most likely outcome.
How can the outside world prevent catastrophe? By terminating its disgraceful indulgence of Mr. Erdoğan. Donald Trump is only the latest politician to fall for his mysterious charms— George W. Bush, Barack Obama and Angela Merkel, among others, preceded him. Mr. Erdoğan deserves punishment, not rewards, for his outrageous behavior. His heading a North Atlantic Treaty Organization member country should raise, not lower, the bar.
The U.S. consensus rejecting the Turkish invasion as unacceptable offers an encouraging basis for action. It suggests that Americans can join with others to restrain the rogue Turkish president and help his country avoid becoming another Venezuela. But unless tough action is taken quickly, starting with American leadership to end the Turkish occupation of northern Syria, it will be too late to stop Turkey from becoming a premier international trouble spot.
Mr. Pipes is president of the Middle East Forum.