This Sunday, millions of Turks will vote to endorse or reject constitutional amendments passed in January by Turkey's parliament. An opinion piece published by the German news agency Deutsche Welle explains that the "crucial" amendments "give all the power to one person, with almost no accountability," eliminating what is left of democracy in Turkey. Virtually all observers agree that if the referendum passes, Turkey will be transformed into an authoritarian state.
But I (along with a few others) disagree. Turkey's President Recep Tayyip Erdoğan years ago arrogated all the powers that the constitutional changes would bestow on him. He is already lord of all he sees for as long as he wants, whether through democratic means or by fixing election results. If the referendum passes, it will merely prettify that reality.
Consider the nature of Mr. Erdoğan's power. The obsequious prime minister, Binali Yıldırım, tirelessly advocates for the constitutional changes that will eliminate his own office, historically the most powerful in the country. Criticism of the all-mighty president can get even a child thrown into jail. The most tenuous connection to a (possibly staged) coup d'état attempt last July means losing one's job—or worse. The state routinely jails journalists on the bogus charge of terrorism, and truly independent publications are shuttered.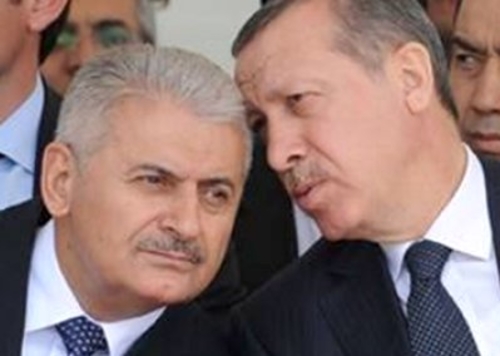 Is Erdoğan (R) reminding Yıldırım to eliminate his own job?
If Mr. Erdoğan has no need for constitutional changes, which amount to a legislative triviality, why then does he obsessively chase them? Perhaps as added insurance against ever being hauled into court for his illegal actions. Perhaps to assure a handpicked successor the power to continue his program. Perhaps to flatter his vanity.
Whatever the source of Mr. Erdoğan's compulsion, it greatly damages Turkey's standing in the world. When his aides were not permitted to rally Turks living in Germany for the constitutional changes, he accused the Germans of "employing Nazi measures." He also compared the Netherlands to a banana republic after Turkish ministers were prevented from speaking in Rotterdam. This souring of relations has already led to a breakdown in military ties with Germany.
Implicitly threatening street attacks on Europeans hardly helped Mr. Erdoğan's international standing, nor did allowing one of his close allies to call for Turkey to develop its own nuclear weapons. More damaging yet, the leader restarted a civil war with the Kurds in July 2015 as a gambit to win support of a nationalist party in parliament, a move that has already had dreadful human consequences.
This insistence on doing things his way fits a pattern. Mr. Erdoğan could have won visa-free travel for Turks traveling to Europe, but he refused a meaningless change to the definition of terrorism in Turkey's criminal code. He harms relations with Washington by making the extradition of Turkish cleric Fethullah Gülen a personal fixation. He potentially disrupts relations with 35 countries by setting his intelligence agencies to spy on pro-Gülen Turks. Former Trump adviser Michael Flynn tarnished his reputation by hiding his registering work as a foreign agent representing Turkey.
This dictatorial narcissism increases the price of dictatorship by causing Mr. Erdoğan to make unwarranted mistakes. A once cautious and calculating leader now pursues baubles that only generate enmities. This has damaged the economic growth that fueled his popularity. Mr. Erdoğan has turned into a self-parody, with his 1,100-room palace and Ruritanian honor guard.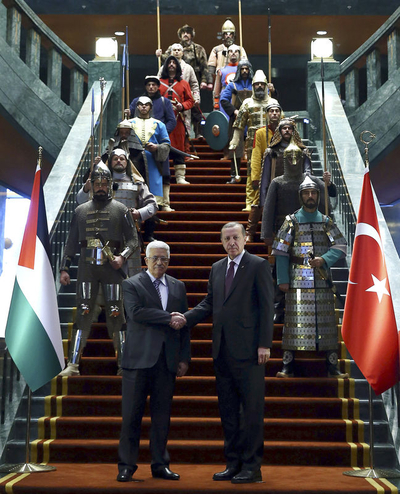 Erdoğan greets Mahmoud Abbas under an honor guard of historic Turkic soldiers.
Where will it end? The president has two apparent objectives. First, Mr. Erdoğan seeks to reverse Kemal Atatürk's westernizing reforms to reinstitute the Ottoman Empire's Islamic ways. Second, he wants to elevate himself to the grand, ancient Islamic position of caliph, an especially vivid prospect since Islamic State resurrected this long-moribund position in 2014.
Those two ambitions could meld together exactly one hundred years after Atatürk abolished the caliphate, either on March 10, 2021 (by the Islamic calendar) or March 4, 2024 (by the Christian calendar). Either of these dates offers a perfect occasion for Mr. Erdoğan to undo the handiwork of the secular Atatürk and declare himself caliph of all Muslims.
No one inside Turkey can effectively resist Mr. Erdoğan's enormous ambitions. This leaves him free to continue in his erratic ways, stirring trouble at home and abroad. That is, unless he one day trips, likely over an external crisis. Meantime, Turks and millions of others will pay an increasing price for Erdoğan's vainglorious rule.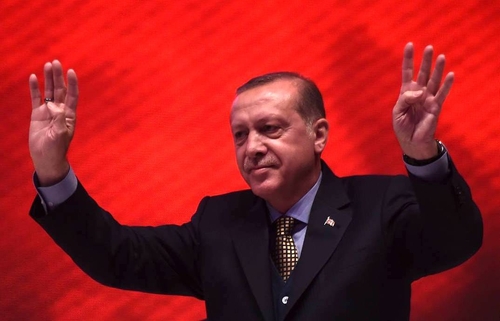 Erdoğan is lord of all he sees for as long as he wants.
Mr. Pipes is president of the Middle East Forum.