Question: Given the NSA revelations, weren't Pollard's actions business as usual between friends? Why the unprecedented sentence of life imprisonment for spying for a friendly country, which the government, until now, refused to reduce?
Answer: Let me begin by stating that Pollard committed a crime and should have been punished for doing so, but in a proportionate way. What Pollard did was particularly unimpressive compared to convicted spies like John Anthony Walker, who for decades gave away highly sensitive submarine information to the Soviets.
The court's stiff response can be attributed in part to Secretary of Defense Caspar Weinberger, who caused the US lawyers to renege on a plea bargain deal struck with Pollard. But Weinberger wasn't alone in demanding and insisting on maintaining this extraordinary sentence.
According to AIPAC former policy director Steven Rosen, there is a belief that comes out of FBI counterintelligence that Israel had penetrated US intelligence and that this spy ring had to be flushed out. Pollard was viewed as the visible part of this ring. This theory might explain why all US intelligence operatives continued to insist that Pollard not be released, even after Weinberger was no longer a force.
Q: On August 29, 2013, Edward Snowden released a document to the Washington Post exposing US funding of its huge spy network. In it, Israel joins China, Russia, Iran, and Cuba as priority targets. Does this further underscore US hypocrisy vis-à-vis Pollard?
A: The US-Israel mutual spying history goes back a long way, to even before the establishment of the state. In the mid-'80s, there was even a reverse Pollard case. Intelligence officer Major Yosef Amit, who had close associations to the Shin Bet, was recruited by CIA officer Tom Waltz, and subsequently supplied him with classified information concerning troop formations and policies regarding the territories and Lebanon. In 2004, Israel's navy intercepted an American spy submarine and chased it out of its territorial waters.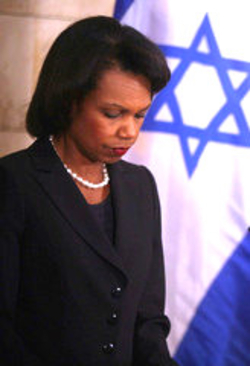 Condoleezza Rice had a lead role in American spying on Israel.
One of the most damaging pieces of evidence of US spying on Israel was found in a 2008 memorandum, revealed by WikiLeaks, in which Secretary of State Condoleezza Rice signed off on highly sensitive military and political information related to Israeli security. The Snowden revelations, though, remain the most comprehensive and specific. The NSA documents he made available reveal the strong collaborative relationship between the NSA and the Israel SIGINT National Unit (ISNU), wherein the NSA turns over to its Israeli counterpart raw, unfiltered data to analyze. But they similarly expose the agency's tracking of "high-priority Israeli military targets" such as drones and its Black Sparrow missile system and the fact that a National Intelligence Estimate ranked Israel's intelligence services third most aggressive against the US.
Prime Minister Netanyahu is also being personally targeted. Knowing this, he intentionally makes himself obscure. He has no private phone, doesn't send e-mails, and has no computer in his office. His most sensitive conversations take place in Mossad offices and even then he's prone to using hand gestures, writing down commands, and speaking in code. He won't even clarify what the code means, much to the dismay of Israeli officials.
Q: Over the years, the Pollard case has remained a constant irritant to the Israeli-US relationship. Will Pollard's release ease the tensions between the two countries?
A: It won't do anything. Had it come at a different time when the stakes were lower, it could have been used by the Obama administration in some way to change opinion. But, given the enormity of the Iran deal and the triviality of this, I can't see how anyone will approve the Iran deal based on this gesture.