... refer him to this little item, "American sub spied on Israel," from Aaron Lerner at the Independent Media Review Analysis:
Israel Television Channel Two military affairs correspondent Ronnie Daniel revealed this evening that the submarine Israel chased from its territorial waters last November was an American spy sub. The vessel was identified by the Israeli Navy 18 kilometers from shore near Haifa, and fled shortly after discovery. IDF commanders admitted it wasn't the first time a Western submarine had been intercepted spying on Israel. Daniel indicated that Israel does not know what the spy sub was focusing on. (June 5, 2005)
May 8, 2007 update: Gregory Levey, Israel's United Nations speechwriter and a senior foreign communications coordinator for Ariel Sharon and Ehud Olmert, has this to say in an article titled "Spy Games: America's efforts to spy on Israel."
While Israel has certainly spied on the United States in the past (and likely continues to do so), it may actually be the United States that is the nosier country—and the one that enjoys far more license in such covert activities. If one party should be paranoid about prying eyes—and I'm not sure either should—it should be the Israel.
Levey then tells a personal anecdote and quotes an Israeli counterintelligence agent whether Israelis are much concerned about American espionage. "Definitely," he nodded gravely. "They're trying to spy on us all the time—every way they can." A former U.S. intelligence official then replied to the question, whether the United States spies on Israel: "As an American, I would certainly hope so." There is "definitely an inordinate amount of focus" on Israel in U.S. intelligence. Are there people in the Israeli government and military who feed information to the United States, reverse Jonathan Pollards, he replied "It wouldn't surprise me at all." Levey gives one specific example, the 1986 case of Yosef Amit.
Amit was a major in Israeli military intelligence. At one point, he worked in the secretive "Unit 504," which is responsible for coordinating spies in Arab countries neighboring Israel, and he also had close contacts in the Shin Bet, Israel's domestic intelligence agency. In the mid-'80s, Amit was recruited by Tom Waltz, a Jewish CIA officer based in the CIA's station in Tel Aviv. And, until his arrest, he furnished the CIA with classified information about Israel's troop movements and its plans in both the occupied territories and Lebanon.
Apr. 24, 2008 update: Reacting to the arrest of 84-year-old Ben-Ami Kadish on charges of spying for Israel that date back 25 years, Caroline Glick offers policy advice for Israel in her Jerusalem Post column:
as the late Yitzhak Rabin once noted, every few years Israel discovers another US agent committing espionage against the state. Rather than make a big deal about it, and in spite of the fact that some of the information being stolen is deeply damaging to Israel's national security, out of a sense of comity with Washington, Israel keeps the scandals quiet and generally deports the spies.

By arresting an 84-year-old World War II veteran …, the US is sadly showing Israel once again that nice guys finish last. If Israel wants to be treated with respect by the US, the lesson of the Kadish affair, of the Syrian raid and of the Pollard affair is that Israel had better start pushing back.

The first thing it should do is arrest officials suspected of transferring classified materials to the US without authorization. It should then publish the names and details of US spies whom Israel previously caught and treated with kid gloves. Then it should publicly demand that Bush release Pollard from the prison where he rots, while the likes of Hizbullah agent Nada Prouty - who penetrated both the FBI and the CIA - is expected to receive a six-month prison sentence for her crimes.
Dec. 10, 2008 update: A Reuters reporter, Dan Williams, got a look at a new official history of Israel's intelligence services due out later this month that contains new evidence of U.S. spying on Israel. Titled in English "Masterpiece: An Inside Look at Sixty Years of Israeli Intelligence," it is as official a document as can be, with prefaces by the chiefs of Israel's military intelligence, Shin Bet, and Mossad and the Israel Intelligence Heritage and Commemoration Center as publisher.
Williams found that "American spy agencies use technologies like electronic eavesdropping, and trained staff from the U.S. embassy in Tel Aviv, for 'methodical intelligence gathering'."
Barak Ben-Zur, a retired Shin Bet internal security service officer, wrote in the volume that "The United States has been after Israel's non-conventional capabilities and what goes on at the decision-making echelons." Asked by Reuters for operational details on U.S. spying efforts, Ben-Zur declined. But he described the American efforts as largely benign, given close defense ties between Israel and the Bush administration. "At the end of the day," he said, "the United States does not want to be surprised. Even by us."
Nov. 29, 2010 update: Israel's ambassador to Washington in 1993-96, Itamar Rabinovich, has revealed that the U.S. government broke an Israeli code and tapped its secure phone embassy line. He did not specify the time period but it appears to have been after his ambassadorial tenure and went undiscovered for years, reports Yossi Melman in Ha'aretz.
After the Americans broke the code, Israel's deepest policy secrets were apparently exposed. "Every 'juicy' telegram was in danger of being leaked," Rabinovich told Army Radio's Razi Barkai. "We sent very few of them. Sometimes I came to Israel to deliver reports orally. The Americans were certainly tapping the regular phone lines, and it became clear that in later years they were also listening to the secure line."
Melman continues:
The Americans have also used their military attaches to gather information. Israel believes that over the years, U.S. intelligence services have been listening - or at least attempting to listen - to conversations between key people in Israel and staff at its missions around the world. For that reason, diplomats going abroad are instructed by the Shin Bet security service to treat every conversation as if it is being tapped and to make sure not to reveal secret information.
Jan. 19, 2011 update: WikiLeaks reveals, Reuters reports, a secret U.S. Department of State memorandum dated Oct. 31, 2008, signed by Secretary of State Condoleezza Rice. Details:
Citing the needs of U.S. analysts, the cable presented envoys in Tel Aviv, Jerusalem and several Arab states with an exhaustive and prioritized list of data regarding the "Palestinian Issues" being brokered by Washington.

These included "evidence of Government of Israel support for or opposition to actions to limit and/or reduce settlement and outpost growth" on occupied land where Palestinians want to establish a state. …the cable sought "details on Israel Defense Forces (IDF) operations underway or planned" against Palestinian militants, "including targeted assassinations and tactics/techniques used by ground and air units." Diplomats were asked for a comprehensive overview of Israel's high-tech communications, from Internet and cellphones to state-run "information repositories associated with radio frequency identification (RFID)-enabled systems used for passports, government badges, and transportation systems." The cable [also] sought updates on the movements and private contact details of Israeli civilian and military officials.
Sep. 5, 2011 update: Scott Shane of The New York Times describes evidence of U.S. government spying on Israeli secure telephone lines in "Leak Offers Look at Efforts by U.S. to Spy on Israel."
Shamai K. Leibowitz, 40, an FBI Hebrew-to-English translator who once legally represented the Palestinian terrorist Marwan Barghouti, passed on U.S. transcripts of Israeli embassy conversations to an extreme anti-Israel blogger, Richard Silverstein. He did so in the hopes that Silverstein would use the information to counter Israeli influence on the U.S. Congress and public opinion. Note what Leibowitz was translating: U.S. eavesdrops of Israeli government communications.

Shane adds that "Former counterintelligence officials describe Israeli intelligence operations in the United States as quite extensive, ranking just below those of China and Russia." He quotes Matthew M. Aid, author of the forthcoming Intel Wars, that Washington "started spying on Israel even before the state of Israel was formally founded in 1948, and Israel has always spied on us," adding that "Israeli intercepts have always been one of the most sensitive categories."
Aug. 7, 2012 update: I collect this information in an article today at "Spy vs. Spy, America vs. Israel."
July 1, 2013 update: Barack Obama responded to allegations of U.S. government spying on allies in the European Union and in the process exonerated Pollard:
we should stipulate that every intelligence service -- not just ours, but every European intelligence service, every Asian intelligence service, wherever there's an intelligence service -- here's one thing that they're going to be doing: they're going to be trying to understand the world better and what's going on in world capitals around the world from sources that aren't available through the New York Times or NBC News; that they are seeking additional insight beyond what's available through open sources. And if that weren't the case, then there would be no use for an intelligence service. And I guarantee you that in European capitals, there are people who are interested in, if not what I had for breakfast, at least what my talking points might be should I end up meeting with their leaders. That's how intelligence services operate.
Comment: Dry Bones can take it from here: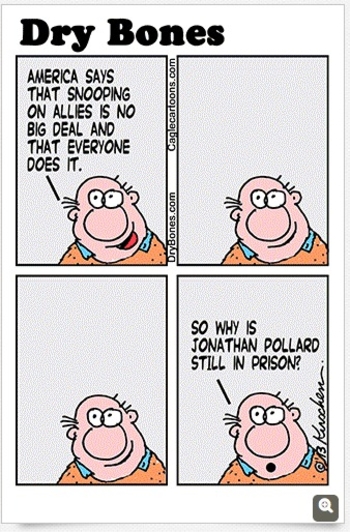 August 29, 2013 update: In a summary of a document called the "black budget," released by Edward Snowden to the Washington Post, the public for the first time has some understanding of the funding of the U.S. government's vast spy network. Among a very large body of important information, one reads that U.S. counterintelligence operations "are strategically focused against priority targets of China, Russia, Iran, Cuba and Israel."
Comment: This list confirms the obsession of U.S. counterintelligence agents that Israel ranks with enemies and rivals in spying on Americans.
Sep. 17, 2013 update: After all this mutual suspicion, how surprising to learn that the National Security Agency turns over raw intelligence date, including that of Americans, to Israel. Drawing on a 5-page, top-secret memorandum of understanding between the NSA and its Israeli counterpart released by Edward Snowden, the Guardian explains:
the US government handed over intercepted communications likely to contain phone calls and emails of American citizens. The agreement places no legally binding limits on the use of the data by the Israelis. … The deal was reached in principle in March 2009, according to the undated memorandum, which lays out the ground rules for the intelligence sharing. … Israel is allowed to receive "raw Sigint" – signal intelligence. The memorandum says: "Raw Sigint includes, but is not limited to, unevaluated and unminimized transcripts, gists, facsimiles, telex, voice and Digital Network Intelligence metadata and content."

According to the agreement, the intelligence being shared would not be filtered in advance by NSA analysts to remove US communications. "NSA routinely sends ISNU [the Israeli Sigint National Unit] minimized and unminimized raw collection", it says. Although the memorandum is explicit in saying the material had to be handled in accordance with US law, and that the Israelis agreed not to deliberately target Americans identified in the data, these rules are not backed up by legal obligations. "This agreement is not intended to create any legally enforceable rights and shall not be construed to be either an international agreement or a legally binding instrument according to international law," the document says.
Oct. 25, 2013 update: The Snowden revelations have now led to specific information about American spying on the heads of state of 35 allied countries in 2006, including Brazil, France, Germany, Mexico, and Spain, and leading to outrage in all those countries and prompting the U.S. government to fall back on an "everyone does it" plea. Indeed, everyone does do it. Getting caught seems to be the outrage.
As concerns U.S. espionage versus Israel, Danny Yatom, the head of Mossad in 1996-98, confirmed that this too takes place. The Times of Israel reports:
"I can tell you with certain knowledge that [America] has been listening in on its allies, including Israel," Yatom said, and "not necessarily in [Benjamin] Netanyahu's tenure" as prime minister.
As for listening on government leaders,
"It could very well be that these things [monitoring calls] are happening here [in Israel] too. When the Americans think they need to listen in on someone, they'll do just that."
Yatom noted the two issues of special interest to Washington: negotiations with Palestinians and the Iranian nuclear program.
"It is important for them to know what Prime Minister Benjamin Netanyahu really thinks… They have interests here because they want to be able to contend with Israeli claims that arise when talking about these issues," the ex-Mossad chief said. Yatom also stressed that the US seeks to obtain information on Israel's "real" position vis-a-vis-negotiations and what obstacles stand in the way of advancing peace talks.
Oct. 27, 2013 update: Amir Oren writes approvingly in Ha'aretz about American spying on Israel's current prime minister:
Netanyahu has been a U.S. intelligence target since the 1980s, during his stints as deputy chief of mission at the Israeli embassy in Washington and as Israel's ambassador to the United Nations, and possible even earlier, during his student days in Boston in the '70s. Now he cannot possibly be less of a concern to Obama than Merkel is - she is Europe's de facto leader, but she isn't capable of igniting the entire world. If the White House is monitoring two dozen or so international leaders, it's unreasonable to think the prime minister of Israel isn't on the list. Netanyahu's bargaining positions vis-a-vis Palestinian President Mahmoud Abbas affect how much attention Obama decides to devote to the Palestinian issue, but the main objective is to head off an Israeli surprise attack on Iran. When Netanyahu knows that Obama knows, and will act to stop him, it eliminates the chance of rash military action.
Oct. 30, 2013 update: Israeli intelligence analyst Ronen Solomon states that the U.S. government maintains a hidden rooftop spying unit at the Tel Aviv embassy, just as it does at embassies in Peking, Dubai, Moscow, and Madrid. Unnamed Israeli security officials say this news does not surprise them.
Nov. 3, 2013 updates: (1) In a major review of National Security Agency documents made available by Edward Snowden, the New York Times reports about its two-way relationship with Israel:
in a delicate spy-versus-spy dance, sharing takes place even with governments that are themselves important N.S.A. targets, notably Israel. The documents describe collaboration with the Israel Sigint National Unit, which gets raw N.S.A. eavesdropping material and provides it in return, but they also mention the agency's tracking of "high priority Israeli military targets," including drone aircraft and the Black Sparrow missile system.
(2) A survey of Israeli reactions to the most recent Snowden revelations, by Batsheva Sobelman in the Los Angeles Times:
"This doesn't surprise me," energy minister Silvan Shalom told local media Sunday. Shalom, a former foreign minister, said that upon taking public office, he was advised to assume "the whole world was listening" and that his phone was monitored constantly. "This was the basic working assumption," Shalom said.

"Everyone listens to everyone else all the time," Dov Weissglass, an adviser to former Prime Minister Ariel Sharon, told Israel Radio. Anyone in relevant circles knows that "sensitive issues are not to be communicated by electronic means," he said.
She also notes the complex intel relationship between the United States and Israel:
The leaked NSA documents show its tight relations with Israeli counterparts to be a two-way street. While the Israelis are "extraordinarily good SIG-INT [the interception of communications—signals intelligence] partners ... they target us to learn our positions on Middle East problems," an NSA official said, adding that Israel's intelligence services were ranked "third most aggressive against the U.S."
Presumably, Russia and China rank first and second.
Related Topics: Israel & Zionism, US policy receive the latest by email: subscribe to daniel pipes' free mailing list This text may be reposted or forwarded so long as it is presented as an integral whole with complete and accurate information provided about its author, date, place of publication, and original URL.