I just published an analysis of how immigration authorities should deal with the problem of Islamist immigrants at "Smoking Out Islamists via Extreme Vetting," Middle East Quarterly, Spring 2017. Here's news on the idea of in-depth research and interviews into those applying to enter the United States, starting with five items today, mostly in response to the MEQ article.
(1) CAIR's Florida Chapter is advising U.S. citizens who are Muslims not to answer additional questions at inspection points because the Trump administration continues to "disproportionately target American Muslim citizens." NBC News reports:
CAIR-FL says all American citizens of the Muslim faith make up 50 to 75 percent of those selected for secondary inspection when traveling – despite being just one percent of the population. The organization encourages members to comply and be truthful with officials and give basic information when asked.
(2) An employee of the U.S. Department of Defense working in a Muslim-majority countries writes me concerning the appendix that the department "worldwide uses many of the questions cited above for vetting local hires" and adds: "I personally believe this is an important tool in screening the bad guys out of US facilities overseas."
(3) One reader commented in response to the costliness of the procedure outlined above that financial burden can be shifted to applicants wishing to enter the United States.
(4) Another reader pointed out the benefit of requiring the Pledge Allegiance to the United States and all is stands for, including assimilation, no ties to other nations, their forms of government, or their leaders.
(5) The U.S. immigration questionnaire, USCIS Form N-400, already includes a number of intrusive and political questions. (January 31, 2017)
Feb. 10, 2017 update: Yassine Aber, a 19-year-old kinesiology student at the University of Sherbrooke, recounts his failed attempt yesterday to enter the United States at the land border at Derby Line, Vermont. He was questioned for five hours and his smartphone was searched; on it, the U.S. Customs and Border Protection found a photo on Facebook in which he was tagged along with Samir Halilovic, who is believed to have gone in 2014 to Syria for jihad.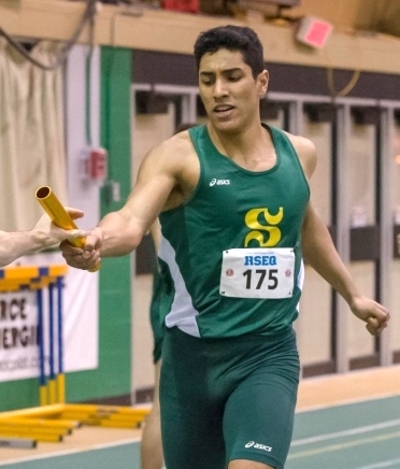 Yassine Aber passing the baton.
Details:
Aber told CBC News that he didn't know Halilovic well, but the two had friends in common and attended the same mosque. He said the group photo was taken at a wedding four years ago.

Aber was travelling to the U.S. to attend a track meet in Boston with other members of the university's track-and-field team. Aber, who was born in Canada to parents originally from Morocco, was travelling on a valid Canadian passport.

The 19-year-old was travelling in a vehicle with five other athletes and their coach. The others were made to wait five hours while he was questioned by border guards.

"They made me fill in papers and made me talk about myself, where I'm from, where I was born," Aber told CBC News. He said he was also asked about his parents and their origins, and what countries he has recently visited. Aber said he was then made to hand over his phone and its password. He was also fingerprinted.

When the border agents returned, Aber said they took him in for another round of questions, which were more pointed about his Muslim faith, the mosque he attended, and people he knew there. "They asked me, 'Do you go to the mosque?' I said, 'Yes, sometimes.' They said, 'How often? Which mosque do you go to?' They asked me about specific people," he told CBC News.

In a subsequent interview late Friday afternoon, Aber revealed that one of the people he was asked about was Halilovic. Ultimately, Aber was told he wasn't allowed to enter the U.S., but his teammates and coach were permitted entry. ...

Aber said he was refused on the pretext that he didn't have the right travel documents. "I received an official paper saying I didn't have papers, a passport or an immigration visa that was valid." But he said he was travelling on a Canadian passport that expires in 2026.

He requested more information, he said, but was not given any. "I was told it's a privilege for people from other countries to come to the United States and that privilege can be taken away at any time."
Comment: Good to see that U.S. border agents are vetting for Islamists. But this last-minute border interrogation can hardly substitute for the process I recommend above. It's vetting but not extreme vetting.
Feb. 24, 2017 update: Muhammad Ali Jr., 44, son of the boxer Muhammad Ali, reports having been detained for hours by immigration officials at Fort Lauderdale-Hollywood International Airport on return from speaking at a Black History Month event in Montego Bay, Jamaica. He was pulled aside while going through customs because of his Arabic-sounding names, says family friend and lawyer Chris Mancini. Quoting the Louisville Courier-Journal:
Mancini said officials held and questioned Ali Jr. for nearly two hours, repeatedly asking him, "Where did you get your name from?" and "Are you Muslim?" When Ali Jr. responded that yes, he is a Muslim, the officers kept questioning him about his religion and where he was born. Ali Jr. was born in Philadelphia in 1972 and holds a U.S. passport.
Mar. 2, 2017 update: Ahmad Amiri dislikes these questions, as he explains in "Why Is the West Afraid of Muslims" (ماذا يخيف الغربَ من المسلم؟) in the Emirates newspaper Ittihad.
Mar. 24, 2017 update: A "forensic psychiatrist with expertise in violence risk assessment" named Reena Kapoor informs us that "'Extreme Vetting' of Immigrants Won't Work," but somehow manages in the course of her presentation not once to mention Islam or Islamism, rather undercutting her argument.
Apr. 1, 2017 update: Russell A. Berman and Arno Tausch crunched numbers in "Support for Terrorism in Muslim Majority Countries and Implications for Immigration Policies in the West" and found some harrowing figures, especially that 52 percent of all Arabic-speaking adults favor terrorism against the United States.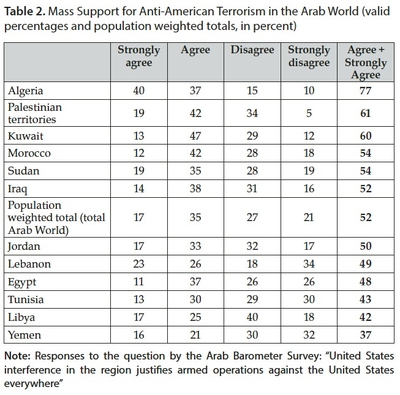 This leads them to the conclusions that it is not
unreasonable to exercise some caution in refugee and immigration policy, be it through efforts to screen for radical sympathies, no matter how difficult such "vetting" will turn out to be, or through the establishment of safe zones, to reduce the refugee or immigrant inflow.... conclusions are not too far from Daniel Pipes, "Smoking Out Islamists via Extreme Vetting."
May 23, 2017 update: "Extreme vetting" appears to have begun at Papua New Guinea's Manus Island detention centre in the context of a complex U.S.-Australian deal, according to two refugees who went through the process. They recounted that
interviews began with an oath to God to tell the truth and then proceeded for as long as six hours, with in-depth questions on associates, family, friends and any interactions with the Islamic State militant group. "They asked about why I fled my home, why I sought asylum in Australia," said one refugee.