The discussion began last December, when Donald Trump called for "a total and complete shutdown of Muslims entering the United States until our country's representatives can figure out what is going on." This proclamation aroused so much opposition that Trump changed his position – several times, in fact. Where do things stand now on this supremely contentious issue and what can we expect were he elected president?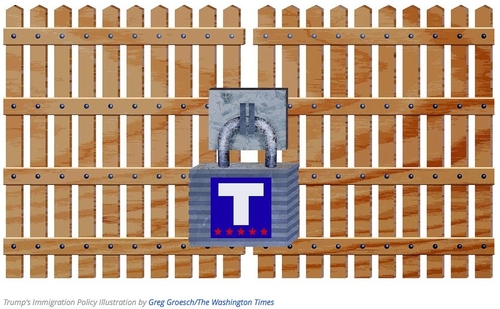 Trump's position began to evolve on on June 13: "When I'm elected I will suspend immigration from areas of the world where there's a proven history of terrorism against the United States, Europe or our allies until we fully understand how to end these threats." Nothing about Muslims here, just about geography.
On July 14, he called for the "extreme vetting" of immigrants: "if a person can't prove that they're from an area, and if a person can't prove what they have to be able to prove, they're not coming into this country." Again, nothing about Muslims, this time the focus is on about accurate identification.
In a joint interview with the Republican vice presidential candidate Mike Pence on July 17, Pence was asked to explain the discrepancy between his earlier denunciation of Trump's ban on Muslims and his new-found support for it. But before Pence could answer, Trump jumped in: "So you call it territories. Okay, we're gonna do territories. We're gonna not let people come in from Syria that nobody knows who they are." He elaborated about prohibiting nationals from what he called "terror states and terror nations" from entering the United States.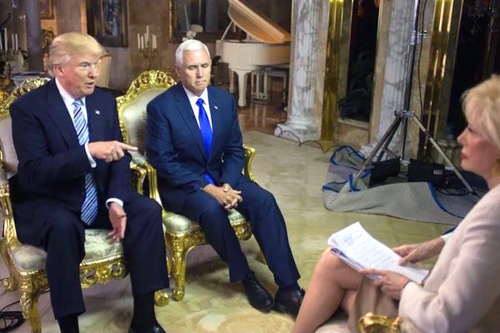 Donald Trump and Mike Pence with Leslie Stahl on CBS News.
Accepting the Republican nomination on July 21, Trump offered a more articulate and authoritative statement of this new position: "We must immediately suspend immigration from any nation that has been compromised by terrorism until such time as proven vetting mechanisms have been put in place. We don't want them in our country."
On July 24, Trump specified two of those "terror nations": "I'm talking territory instead of Muslim. ...We have nations and we'll come out ... over the next few weeks with a number of the places. And it's very complex. We have problems in Germany and we have problems with France. So it's not just the countries with ..." (it appears he was going to say "a Muslim majority" but was interrupted and did not finish the sentence).
Those few weeks later, on Aug. 15, Trump did not provide more places. Quite contrarily, he called for "a new screening test" to exclude all those with "hostile attitudes towards our country or its principles – or who believe that Shariah law should supplant American law. Those who do not believe in our Constitution, or who support bigotry and hatred, will not be admitted for immigration into the country. Only those who we expect to flourish in our country – and to embrace a tolerant American society
– should be issued visas." He again called for the temporary suspension of immigration, but this time "from some of the most dangerous and volatile regions of the world that have a history of exporting terrorism."
This medley of inconsistencies and contradictions points to several conclusions.
Obviously, Trump is no policy wonk but an amateur working out his thoughts under the glare of the biggest klieg lights. Put differently, he does respond to sustained criticism, even fundamentally changing one of his signature policies. Indeed, Trump has gone further and in May signaled his complete flexibility: "Look, anything I say right now – I'm not the president – everything is a suggestion." Thus did he put Americans on notice that he reserves the right to switch views on any topic at any time.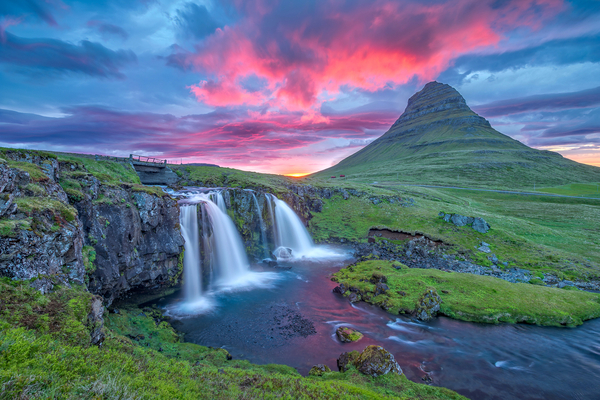 Iceland - provenance of most foreigners coming to the United States?
Second, his change from banning Muslims to citizens from countries "compromised by terrorism" took him from a coherent, if ugly, policy to one that is self-evidently infeasible. If Germans and French are unwelcome on account of their jihadis, who might enter the United States? The border will be slammed shut to all save for the nationals of such fortunate countries as Iceland and Costa Rica. Israel, "our greatest ally," must be near the top of Trump's no-entry list.
The most recent change both makes sense and is laudable; indeed, it very satisfyingly tracks my advice of eight months ago suggesting that Trump "ban Islamists, not Muslims." He's no longer rejecting all Muslims but discerning friend from foe, a crucial distinction that can indeed be achieved given sufficient resources, time, and intelligence.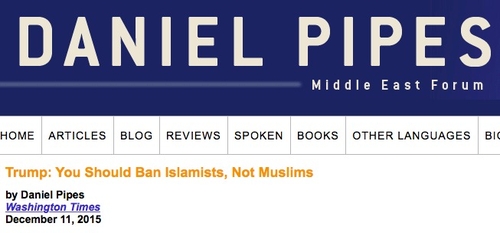 This sequence points to Trump being able to learn – slowly and erratically, to be sure – from his mistakes. It also indicates that, were he elected president, he would have a mandate to adopt virtually any policies he wishes on the grounds that "everything is a suggestion."
Daniel Pipes (DanielPipes.org, @DanielPipes) is president of the Middle East Forum. © 2016 by Daniel Pipes. All rights reserved.
---
Aug. 17, 2016 addendum: For a compilation of Trump's recent quotes on limiting immigration, click here.