I predicted at "Kastelorizo - Mediterranean Flashpoint?" that the issue of a Greek exclusive economic zone would turn the tiny island of the Anatolian coast into a crisis point. This blog notes some developments on the EEZ topic that bear on that issue.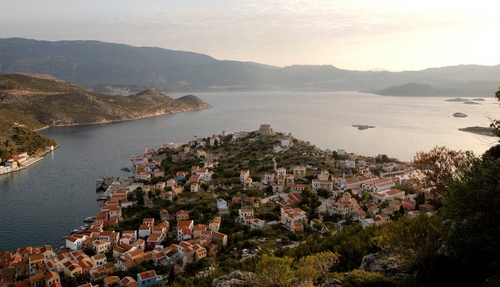 A view of the Kastelorizo town with Turkey visible in the distance.
For starters, the Hellas Frappe blog reports on a indirect Greek proclamation of its EEZ, at the behest of Foreign Minister Dimitris Avramopoulos. This was done via a verbal statement of its continental shelf coordinates to Secretary-General Ban Ki-moon of the United Nations. The Hellas Frappe story on this move includes the map below, which closely resembles the upper one of the pair posted at the main article. (February 21, 2013)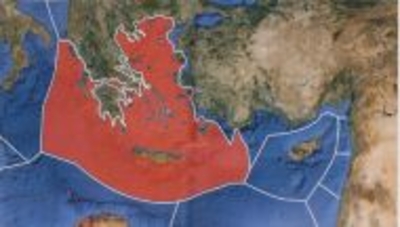 Kastelorizo features prominently in this map of the purported Greek EEZ claim.
Mar. 14, 2013 update: The Greek government has devised the idea of a "European Exclusive Economic Zone" or EEEZ as a way to spread the risk vis-à-vis Turkey to the rest of the European Union. Clever, but will it work?
Sep. 6, 2013 update: The July 3 coup d'état in Egypt, followed by the Turkish government's ferocious support for the ousted Morsi government has led to a rapid decline in hitherto warm Turkish-Egyptian relations which has transformed the eastern Mediterranean sea map. ANSAmed reports that Cairo now spurns Ankara in favor of Athens:
Greek Foreign Minister Evangelos Venizelos and his Egyptian counterpart Nabil Fahmy Thursday agreed to create a bilateral committee aimed at delineating the two countries' maritime zones despite possible objections by "third countries" and pointed to the prospect of a three-way cooperation with Cyprus. Speaking after talks with Venizelos in Cairo, as daily Kathimerini reports, Fahmy stressed that "each country has its own interests and it does not concern us if third countries are bothered by this," apparently referring to Turkey, which has expressed its objections to the prospects of Greece unilaterally declaring an exclusive economic zone (EEZ). Venizelos was slightly more diplomatic in tone, saying the initiative would be undertaken for the benefit of both Greece and Egypt and "with no hostile disposition toward any other country." Experts from Greece, Egypt and Cyprus are to meet soon to seek common criteria for a three-way initiative, sources said.
Oct. 18, 2015 update: It's a feel-good story about Israelis sailing on vacation who save Syrians in desperate straits, followed by intense gratitude ("When we told them we were Jews from Israel, they kissed us"). But the fact that this took place in the midst of a huge movement of Syrians to Europe and in the 1-2 mile passageway between Anatolia and Kastelorizo raises questions: What were Syrians doing there? Does this presage a larger movement, directed by Ankara of Syrians to Kastelorizo?
Oct. 12, 2016 update: Ankara has raised claims to Kastelorizo. It called on Athens not to proceed with scheduled military exercises near the island, then, according to Greek Reporter,
issued two NOTAM [Notice to Airmen] with which they call on Athens to cancel the planned exercises in the sea area west of Kastellorizo, and at the same time note that the island belongs in the Turkish search and rescue area of the Aegean Sea.
Specifically, the Turkish NOTAM A4447 / 16, which refers to the corresponding Greek A2200 / 16 that says that in the western region of Kastellorizo there will be the SAR military exercise in the October 18-19 weekend, Turkey argues that Kastellorizo (MEIS in Turkish, as mentioned in the NOTAM) is a demilitarized zone, and should not be included in the exercises of the Greek Armed Forces.
Moreover, on Tuesday Ankara issued NOTAM A4455 / 16 which states that the area in which the Greek Armed Forces exercise SAR (18-19 /10) is conducted, belongs to the Turkish Research and Rescue zone, calling, therefore, on Greek authorities to cooperate with Turkey on the issue.
July 13, 2017 update: I flew relatively near to Kastelorizo today (see the map at right). Hoping to get there someday.
Dec. 30, 2017 update: London's Daily Mail today published a travel piece on Kastelorizo that is completely innocent of the island's strategic or commercial importance. But it does sound like a nice place to visit.
Feb. 20, 2018 update: The leader of the parliamentary opposition in Turkey, Kemal Kılıçdaroğlu, has announced that if he becomes president, he will "invade and take over 18 Greek islands in the Aegean Sea, just as former Turkish PM Bulent Ecevit invaded Cyprus in 1974." Although Kastelorizo is far from the Aegean, presumably it is included in that threat. Additionally, Meral Akşener, head of the newly formed "Good Party" seemed to concur with Kılıçdaroğlu, tweeting that "what is required must be done."
Apr. 10, 2018 update: Greek soldiers fired warning shots at a Turkish helicopter after it approached the island of Ro, an uninhabited island just to the west of Kastelorizo. To add to the provocation, the helicopter buzzed the island at low altitude along the outer limit of the Turkish air control identification zone with its navigation lights turned off. The Daily Telegraph called the incident "a dangerous escalation of tension."
Apr. 17, 2018 update: The prime minister of Greece, Alexis Tsipras, flew to Kastelorizo to inaugurate two desalination plants, making a statement to the Turks about Greek sovereignty over the island. "Greece can defend its sovereign rights from one end of this country to the other. We won't negotiate, we won't bargain, we won't cede an inch of Kastelorizo land." He also told several islanders, "You are the guardians of Thermopylae." Turkish air traffic controllers responded as Tsipras left Kastelorizo by radioing his helicopter pilot to tell him the aircraft was flying in Turkish airspace.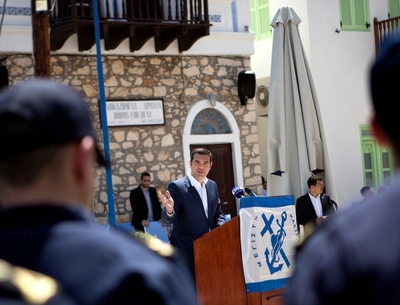 Prime Minister Alexis Tsipras on a visit to Kastellorizo in April 2018.
Apr. 21, 2018 update: In a long New York Times analysis, "Tiny Islands Make for Big Tensions Between Greece and Turkey," Patrick Kingsley reviews the situation in Kastelorizo. He notes that Ankara "does not contest sovereignty. But the government feels it is unfair that Greece should have the right to potentially exploit energy resources in parts of the Mediterranean seabed that lie within sight of Turkey but many hundreds of miles from the Greek mainland." Comment: This sounds like a warm-up to Turkish claims to the Greek EEZ, parallel to those already being made on the Cypriot EEZ.
Jul. 5, 2018 update: I waved at Kastelorizo today from my Aegean Airlines flight on the way from Tel Aviv to Athens. Note that Kastelorizo is highlighted on this map; not a coincidence.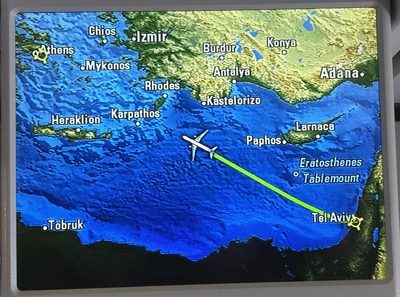 Nov. 14, 2018 update: iefimerida.gr has produced clearer maps showing the huge role of Kastelorizo in the delineation of eastern Mediterranean boundaries according to international law. Top includes the island, bottom excludes it; both are screen grabs.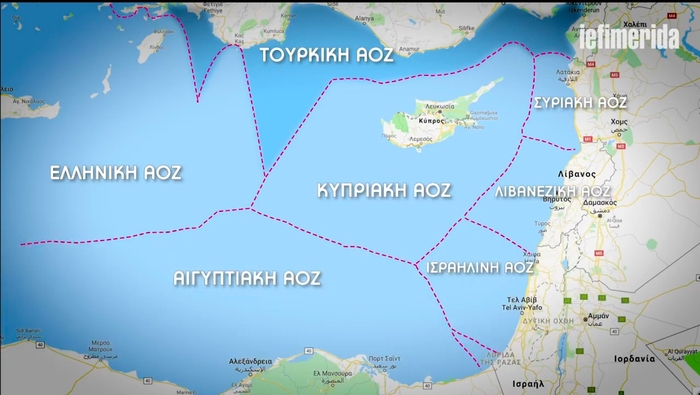 With Kastelorizo.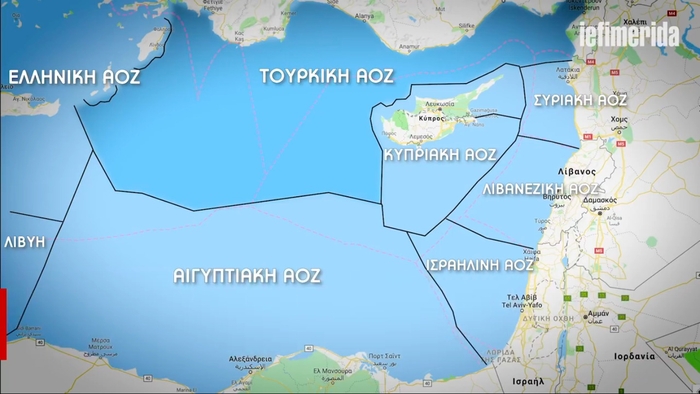 Without Kastelorizo.
Mar. 21, 2019 update: Theodore C. Kariotis mentions Kastelorizo only once in "The Critical Role of the Exclusive Economic Zone in the Greek-Turkish Dispute" but the article provides helpful background information on its role. The map of the Greek EEZ makes clear the island's crucial role.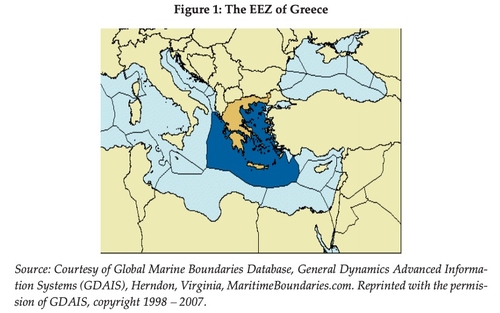 Jan. 14, 2019 update: Angelos Syrigos, an associate professor at Panteion University in Athens notes that
In 2012 Turkey formally laid claim to the northern section of the Eastern Mediterranean. It was the year that several maps depicting sea areas west of Cyprus and south of the eastern Aegean islands of Rhodes and Kastelorizo were published in the Turkish government gazette. ...

There has been no change since then. ... Greece went on to lodge the usual complaints with the United Nations, while issuing vague condemnations of Turkey's actions. Seven years have passed since then. Everyone knows what Turkey's exact claims are in the area. Greece has still not come up with a clear definition of what it considers the precise boundaries of its continental shelf in the Eastern Mediterranean. It merely protests Turkey's actions.
Things are now heating up.
In a directive to seafarers (navigational telex, or navtex) on January 3, Turkey announced that its research vessel Barbaros Hayreddin Pasa will conduct seismic surveys within a large chunk of the Greek continental shelf and the Cypriot EEZ in the Eastern Mediterranean.

These are the areas claimed by Turkey in 2012. Until now, the Barbaros used to conduct illegal surveys in parts of the Cypriot EEZ. It had for years stayed clear of the Kastelorizo and Rhodes continental shelves. This marks a shift in Turkish policy that must be taken note of. ... Furthermore, the sea area in question is officially claimed by Ankara.
In response, Syrigos urges that Greece develop a Turkey policy that focuses on two issues, one of which is that "Turkey will center its attention on the Kastelorizo area as it considers it to be the Achilles' heel of Greece's maritime claims."
Jun. 19, 2019 update: The Greek prime minister, Alexis Tsipras, stated that Greece will stop Turkey's drilling for natural gas inside the Greek EEZ east of Kastelorizo: "We won't allow Erdoğan to drill in Greece's EEZ. Greece has a prevention plan. Greece will not take a step back."
Jun. 23, 2019 update: Why are the Turks drilling off of Cyprus? It's a very aggressive act that can lead to tragedy. Charles Ellinas of the Atlantic Council speculates that
Turkey's position is that the area where it is drilling is part of its continental shelf and that it has sole rights to it. It does not see this as related to the Cyprus problem. Even though Turkey may be prepared to negotiate, it is more likely to be about EEZ rights related to two Greek islands off its coast, Kastellorizo and Stroggili, and the remainder of Cyprus' EEZ and the rights of Turkish Cypriots. ... If Turkey makes a discovery it will escalate the problems as it will probably plan to exploit it.
July 28, 2019 update: The Kastelorizo flashpoint I predicted in 2012 might be about to start.
The Turkish government has, based on its unique and self-interested understanding of the international law governing sea rights, sent three ships to explore for hydrocarbons in the exclusive economic zone (EEZ) of Cyprus; now, it has signaled an intention to do the same in Greek waters.
Specifically, the Turkish Petroleum Corporation (TPAO) has informed the Turkish Navy of plans to conduct seismic research in an area stretching from the south of Rhodes to beyond Kastelorizo starting sometime after August 15.
The new Greek government of Kyriakos Mitsotakis has responded with alarm: "Greece does not tolerate threats of war," announced Foreign Minister Nikos Dendias. Meantime, Athens is strengthening ties with Israel, which Dendias has just visited.
Dec. 12, 2019 update: A map of Turkey's sea boundaries in the Mediterranean Sea completely ignores the existence of Kastelorizo.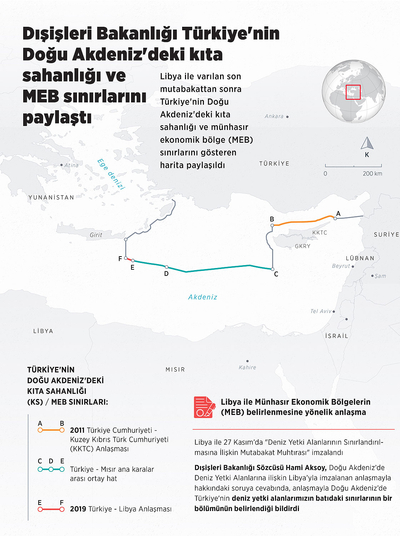 Dec. 17, 2019 update: In the aftermath of the Turkey-Libya agreement on Nov. 28 to create an exclusive economic zone that ignores the claims of other states, and Greece in particular, Erdoğan has now confirmed the signals I noted on July 28, 2019, that Turkish interests will begin exploring for natural gas reserves in Greek waters. From Ekathimerini:
Fueling what is already a highly charged atmosphere, Turkish President Recep Tayyip Erdogan has announced exploration and drilling activities in areas of the Eastern Mediterranean that are designated in the maritime border accord signed between Turkey and Libya, and which violate Greek sovereignty.

"With the help of God and very soon here we will begin seismic surveys and drilling," Erdogan said, pointing to an area south of Kastellorizo and east of Crete, during a Sunday appearance on Turkey's A Haber TV.
Dec. 27, 2019 update: In a newly aggressive spirit, Turkey's military is regularly overflying and engaging in naval exercises in Kastelorizo's sovereign space. Where is this leading?
Jan. 2, 2020 update: In the context of its agreement with the Tripoli authority in Libya and the signing of the EastMed agreement, Turkey's government has announced plans to drill for oil and gas in the territorial waters south of Kastelorizo (and also south of Crete).
Comment: This is potentially a very major development, in which Erdoğan directly challenges Greek sovereignty.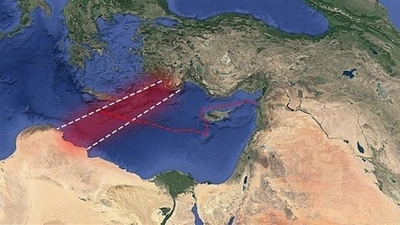 Ankara's idea of the Turkish-Libyan corridor that, among other problems, ignores the territorial rights of Greek islands.
Jan. 9, 2020 update: Çağatay Erciyes, the director general of Turkey Ministry of Foreign Affairs tweeted today about Kastelorizo: "It is ridiculous to think that a small island of 10km2, which is 2km away from Turkey and 570km from Greece, can create a 40,000 km2 area of maritime jurisdiction in the Mediterranean Sea."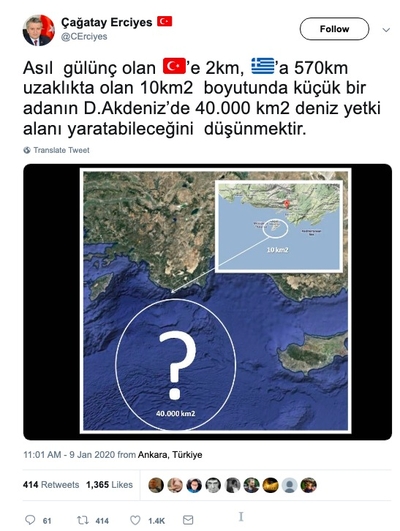 Jan. 10, 2020 update: As the Greek chief of staff visited Kastelorizo, the Turkish air force engaged in 18 overflights of the island.
Jan. 30, 2020 update: The Greek and Turkish navies have both issued NAVTEX warnings about their plans to engage in exercises tomorrow in the area south of Kastelorizo.
Feb. 6, 2020 update: The Turkish government has announced definite plans to explore for gas and oil in the Mediterranean Sea south on Kastelorizo, i.e., in the Greek EEZ.
Feb. 17, 2020 update: Mention of refugees reaching Kastelorizo raises the prospect of the Turkish regime overwhelming the island's 425 inhabitants with thousands of illegal migrants to make life there intolerable. Comment: I would not put this scheme past Erdoğan.
Feb. 19, 2020 update: I Kathimerini reports that the Turkish coast guard is escorting illegal migrants to Kastelorizo.
Mar. 11, 2020 update: Burak Bedkil provides an overview of current issues in "Kastellorizo: Tiny Island, Colossal Dispute."
July 15, 2020 update: Jack Dulgarian plays out a scenario of Erdoğan's Turkey seizing Kastelorizo: It starts with Erdoğan needing a boost in advance of the 2023 presidential elections, so his forces take Kastelorizo without a shot and the Western powers acquiesce to the fait accompli (think Hong Kong). Dulgarian suggests that the Greeks prepare for this threat by purchasing some arms and changing relations with Washington.
Comment: The prospect of a successful Turkish invasion is convincing. The proposed Greek steps less so.