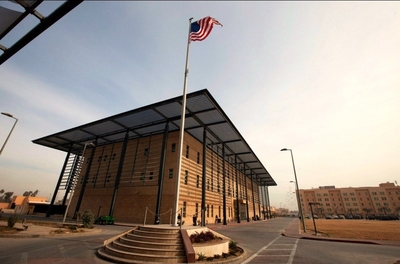 One of Embassy Baghdad's fine buildings.
Ever since the U.S. government announced in March 2004 plans to build "the largest embassy ever run by any country,"
I have been on the case
, poking fun at its over-wrought size (104 acres), excessive expense (US$750 million), gargantuan staff (16,000) and bloated annual budget ($6 billion). I also bemoaned the embassy's location in Saddam Hussein's' old palatial grounds, criticized its isolated self-contained quality, and shuddered at the provocative implications of this diplomatic monstrosity. For an overview, see my
article
on this topic; for plenty of dismal but entertaining detail, see my 5,700-word
blog
.
Now comes the news that this hubristic exercise will be cut down to size. Reports The New York Times in "U.S. Planning to Slash Iraq Embassy Staff by Up to Half" that the Iraqi government is not processing visas or permitting food deliveries on a timely basis, that it is confounding security measures, arbitrarily confiscating documents, computers and weapons, spreading conspiracy theories, and otherwise honing nationalist resentments against the White Elephant. Therefore, the staff there will be cut in half.
Comments:
(1) It's about time. What planet has the State Department been living on? Had it no idea that Iraqis might be resentful of this diplomatic intrusion?
(2) Studying a little Muslim history would have made this conclusion obvious.
(3) The U.S. government has a history of honorable disengagement from the countries it conquers and occupies; and Iraq is no exception, with all forces pulled out less than nine years after the invasion, with the local government allowed not only to take charge but even to bully Americans.
(4) There's an informal tradition that wherever the State Department builds its largest embassy, trouble surely follows – Saigon and Tehran being earlier examples. Iraq is now in play. Peking is next on the pecking order. (February 7, 2012)
May 5, 2012 update: The Baghdad embassy is not the only U.S. diplomatic white elephant in the region. Ernesto Londoño reports today in the Washington Post that the Obama administration rushed through a consulate in Mazar-e Sharif on the insistence of its special envoy Richard Holbrooke, signed a 10-year lease for a piece of property, and spent more than $80 million on the site. But now, American officials acknowledge, plans for the consulate the northern Afghan city have been abandoned because of various dangerous. Some details:
Eager to raise an American flag and open a consulate in a bustling downtown district of, officials in 2009 sought waivers to stringent State Department building rules and overlooked significant security problems at the site, documents show. The problems included relying on local building techniques that made the compound vulnerable to a car bombing. … The plan for the Mazar-e Sharif consulate, as laid out in a previously undisclosed diplomatic memorandum, is a cautionary tale of wishful thinking, poor planning and the type of stark choices the U.S. government will have to make in coming years as it tries to wind down its role in the war.

The embassy memo says the facility was far from ideal from the start. The compound, which housed a hotel when the Americans took it on, shared a wall with local shopkeepers. The space between the outer perimeter wall and buildings inside — a distance known as "setback" in war zone construction — was not up to U.S. diplomatic standards set by the State Department's Overseas Security Policy Board. The complex was surrounded by several tall buildings from which an attack could easily be launched. …

Among the corners cut in the interest of expediency, the memo says, was failing to assess how well the facility could withstand a car bombing, a task normally carried out by the department's Bureau of Overseas Building Operations. … The structure's outer perimeter wall is composed of sun-dried bricks made from mud, straw and manure, and the contractor used untreated timber for the roof, the memo says.

A chain of security incidents has prevented U.S. officials from moving into the facility, which was scheduled to be ready for occupancy last month. Most notable was the April 2011 attack on the United Nations compound, which is close to the would-be U.S. consulate. A mob enraged by the burning of Korans by a fringe American pastor stormed into the compound after Friday prayers and killed three European U.N. workers and four of their Nepalese guards.
Sep. 30, 2013 update: For a first-hand account of life in the white elephant, read Hugh Iwanicki, Shock and Alarm: What it was really like at the U.S. Embassy in Iraq.
Related Topics: Iraq, US policy receive the latest by email: subscribe to daniel pipes' free mailing list This text may be reposted or forwarded so long as it is presented as an integral whole with complete and accurate information provided about its author, date, place of publication, and original URL.