Hafiz al-Asad (also spelled Hafez al-Assad) died ten years ago today, prompting some personal reflections:
I worked the Syria topic for 15 years, 1985-2000, writing one major academic study, two monographs, and many journal articles, newspaper articles, and book reviews – in all, about 100 publications. Because of my hostility to the regime, however, other than two visits to the country as a student in 1972 and 1973, I was not allowed to return, even when such august institutions as Reader's Digest and the U.S. government sponsored my travel.
The death of Hafiz al-Asad then brought my Syria specialty to an abrupt end. This monstrous but fascinating leader had intrigued me, especially his quasi-surreptitious pan-Syrian ideology, his double-game playing, and his ability to make Syria more important than it should have been. Just over a year later, the enormity of 9/11 further wrenched me away from matters Syrian.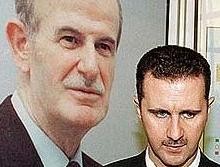 A poster of Hafiz next to the actual Bashshar al-Asad.
In retrospect, I note that those 15 years of study focused more on the figure of Hafiz al-Asad than on the country of Syria. And so, with Asad's passing, my interest waned. His son and successor, Bashshar (also spelled Bashar), inherited a well-functioning tyranny that he has maintained reasonably well. But Bashshar al-Asad could sustain neither the horrifyingly repressive internal apparatus (e.g., some 20,000 killed in Hama in 1982) nor the wildly ambitious foreign policy that put Damascus at the center of most Middle Eastern issues (
pan-Syrianism
is defunct). Syria has become just another boring dictatorship. (June 10, 2010)
Related Topics: Daniel Pipes autobiographical, Syria
Related Articles:
receive the latest by email: subscribe to daniel pipes' free mailing list
This text may be reposted or forwarded so long as it is presented as an integral whole with complete and accurate information provided about its author, date, place of publication, and original URL.