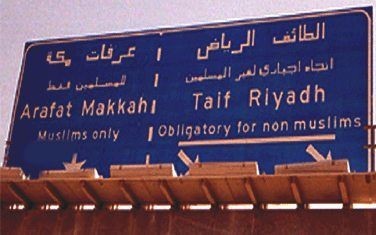 Saudi traffic sign indicating that only Muslims may enter Mecca.
Nirosh Kamanda
, a Christian from Sri Lanka, had a visa to work as a truck driver in Dammam, a town on the Persian Gulf. But after a short time, he illegally left his job and even more illegally entered Mecca – strictly forbidden to non-Muslims – where he sold goods near the Grand Mosque. When questioned by the police, he claimed he had overstayed his
umra
visa, which allows a Muslim to go on pilgrimage outside of the
hajj
season. But the police, benefiting from a new fingerprint system, quickly established who he was and arrested him. Kamanda admitted his identity and having come to Mecca to earn money. "I heard that Makkah is a safe place, where I could hide my identity."
Comment: (1) One wonders what Kamanda's fate might be. Deportation, prison, corporal punishment, or even death?
(2) The day the ban on non-Muslims from Mecca and Medina (see the road sign to this effect) emerges as an issue in intra-Muslim debates will be the day one can say that reform of the religion has begun. (May 21, 2007)
May 20, 2009 update: Aymenn Jawad writes in a comment to this blog today that "Nirosh Kamanda was detained and sent to Jeddah. He then faced a trial in a Shari'a court with the Minister of Interior deciding on a punishment based on the recommendations of a judge. However, his fate after this is unknown and will probably never be revealed."
Related Topics: Islam, Mecca and Medina, Saudi Arabia
Related Articles:
receive the latest by email: subscribe to daniel pipes' free mailing list
This text may be reposted or forwarded so long as it is presented as an integral whole with complete and accurate information provided about its author, date, place of publication, and original URL.