Grover Norquist.
Paul Sperry, author of the new book,
Infiltration
, in an interview calls Grover Norquist "an agent of influence for Islamists in Washington." When asked by FrontPageMag.com why a Republican anti-tax lobbyist should so passionately promote Islamist causes, Sperry implied that Norquist has converted to Islam: "He's marrying a Muslim, and when I asked Norquist if he himself has converted to Islam, he brushed the question off as too 'personal.'" As
Lawrence Auster comments
on this exchange, "Clearly, if Norquist hadn't converted to Islam, or weren't in the process of doing so, he would simply have answered no."
Indeed, Norquist married Samah Alrayyes, a Palestinian Muslim, on November 27, 2004. On the one hand, Islamic law limits a Muslim woman to marrying a man who is Muslim; this is not an abstract dictum but a very serious imperative, with many "honor" killings having resulted from a woman ignoring her family's wishes. On the other hand, they were married in a church by the Rev. Stephen T. Melius of Weston United Methodist Church in Weston, Massachusetts.

Samah Norquist, née Alrayyes
Alrayyes (now known as
Samah Alrayyes Norquist
) has radical Islamic credentials of her own; she served as
communications director
at the Islamic Free Market Institute, the Islamist organization Norquist helped found. Now, she is employed as a public affairs officer at the U.S. Agency for International Development – and so it appears that
yet another Islamist finds employment in a branch of the U.S. government
.
Grover Norquist has for some years now been promoting Islamist organizations, including even the Council on American-Islamic Relations; for example, he spoke at CAIR's conference, "A Better America in a Better World" on October 5, 2004. Frank J. Gaffney, Jr. has researched Norquist's ties to Islamists in his exhaustive, careful, and convincing 2003 study, "A Troubling Influence," and concludes that he is enabling "a political influence operation to advance the causes of radical Islamists, and targeted most particularly at the Bush Administration."
But if Grover Norquist is indeed a convert to Islam, it could be that he is not just enabling the Islamist causes but is himself an Islamist. (April 14, 2005)
Sep. 30, 2005 update: A biography of Samah Norquist gives a more complete explanation of her U.S. government job. She is
the Public Affairs Specialist for Arab and Muslim outreach at the Bureau of Legislative and Public affairs at USAID. In her position, she works on developing and implementing communications and public affairs planning with regard to various Muslim and Arab outreach issues including USAID activities in Iraq, Afghanistan, Middle and Near East and many parts of the Muslim world where AID is present. This includes serving as a liaison with Muslim and Arab American interest groups to brief them on USAID activities in the developing world and coordination of the Agency's participation in events, conferences, and discussions designed to educate the publics about American foreign assistance. In addition, Norquist attends interagency meetings representing USAID on issues related to Arab and Muslim outreach and public diplomacy.
Also, in an earlier job, "she was cultural affairs assistant at the U.S. Embassy in Amman, Jordan, where she was responsible for cultural exchange programs between the United States and Jordan."
Jan. 19, 2006 update: Of possibly related interest: President Bush two days ago announced his intent to nominate David Norquist, Grover's younger brother, to a top position at the Department of Homeland Security. Here is the White House announcement.
The President intends to nominate David L. Norquist, of Virginia, to be Chief Financial Officer at the Department of Homeland Security. Mr. Norquist currently serves as Deputy Under Secretary of Defense (Budget and Appropriations Affairs). Prior to this, he served as Acting Principal Deputy Under Secretary of Defense (Comptroller), as well as Deputy Under Secretary of Defense (Financial Management). Earlier in his career, Mr. Norquist served on the professional staff of the House Appropriations Committee. Mr. Norquist received his bachelor's degree and master's degree from the University of Michigan. He went on to receive a second master's degree from Georgetown University.
As a UPI report on this news observes, "The elder Norquist has been a trenchant critic of some of the department's policies, such as its "No-Fly" list, which he sees as an infringement on personal privacy and liberty."
June 12, 2006 update: The Senate confirmed David Norquist as CFO of DHS.
Nov 11, 2008 update: Grover and Samah have adopted an 8-month-old baby girl from Bethlehem and named her Grace.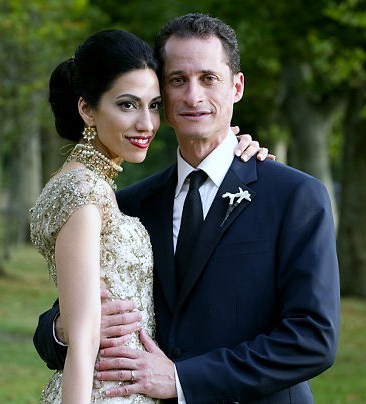 Huma Abedin and Anthony Weiner
June 9, 2011 update: Speaking of non-Muslim men prominent in American politics who marry Muslim women, did Anthony Weiner, born Jewish, convert to Islam to marry Huma Abedin, a Muslim of South Asian origins? According to one account, he has accommodated his pious wife by "giving up drinking and even occasionally fasting in Ramadan." Ben Barrack marshalls evidence to suggest that he did at "Did Weiner Secretly Convert to Islam to Marry a Muslim?" June 21, 2011 update: For an extended analysis of this topic, see this interview of Robert Spencer, "Abedin/Weiner: A Marriage Made by Hillary Clinton and the Muslim Brotherhood?"
June 11, 2011 update: Gary H. Johnson. Jr. follows up on Gaffney's study with "The Norquist Cell: Operation GroverKhan." His two conclusions:
First, Grover Norquist is an advocate for legitimating Shariah Compliant Finance as an ethical alternative to capitalism. And second, Norquist's chosen battle ground for this subversive effort has been and remains the chiefly influence- and lobby-based contracts drawn up through USAID.
Mar. 4, 2014 update: Ryan Mauro finds today that the evidence "suggests that Norquist's passion [for Islamist causes] was triggered by a personal conversion to Islam. His wife, Samah, is a devout Muslim. In 2008, they adopted a Palestinian baby from Bethlehem."
Related Topics: Muslims in the United States
Related Articles:
receive the latest by email: subscribe to daniel pipes' free mailing list
This text may be reposted or forwarded so long as it is presented as an integral whole with complete and accurate information provided about its author, date, place of publication, and original URL.