Lothrop Stoddard wrote in 1921 about Algerian suspicions that the French authorities were not immunizing but sterilizing them in The New World of Islam (New York: Scribner's), p. 113:
compulsory vaccination was bitterly opposed for years by the natives of Algeria. The French officials pointed out that smallpox, hitherto rampant, was being rapidly extirpated. The natives replied that, in their opinion, it was merely a crafty scheme for sterilizing them sexually and thus make room for French colonists. The officials thereupon pointed to the census figures, which showed that the natives were increasing at an unprecedented rate. The natives merely shrugged their shoulders and continued to inveigh against the innovation.
Seventy-five years later, in my book, The Hidden Hand: Middle East Fears of Conspiracy (New York: St. Martin's Press, 1996), I wrote more generally about Arab and Iranian phobias concerning Westerners seeking to infect them with diseases:
Western colonialism stands accused of causing all "diseases rampant in the Arab lands." Specifically, the British imported cholera and malaria to Egypt after World War II. A British midwife who trained in the Kabylia province of Algeria got accused by his angry Algerian supervisor of working in league with the "white-coated saboteurs passing their hands from vagina to vagina, infecting my heroic people with syphilis!" An unnamed enemy—presumably American—infiltrated deadly diseases into Iraq via maggot-ridden cigarettes. Israel transmitted cancer to Palestinians by getting them to take dangerous factory jobs or subjecting them to phosphorous searches. It also smuggled irradiated fruit into Egypt to cause cancer.AIDS, combining sex and disease, prompts recurring nightmares. Jerusalem hires young Jewish women infected with AIDS to spread the affliction in Egypt. One article in the Egyptian press focuses on an Israeli named Sarah who cavorted in luxurious apartments and infected the young and the prominent, while other versions count between 20 and 327 infected Israeli agents. The most imaginative account conjures up a "special formula" of the AIDS virus that infected sexual partners without in any way affecting the Israeli female carriers.

---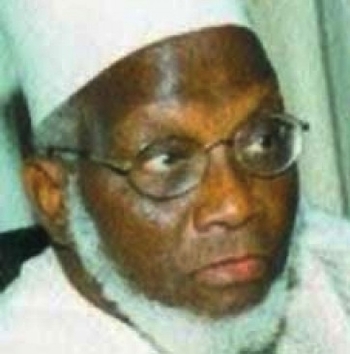 Ibrahim Datti Ahmed, a physician and president of the Supreme Council for Sharia in Nigeria, is behind the campaign against polio vaccination.
With this background it comes as less than a total shock to learn from predominantly Muslim northern Nigeria, one of the few areas where polio still exists, that leaders suspect polio vaccinations of being part of a conspiracy theory.
Abiodun Raufu
explains for the
British Medical Journal
that "Plans by the World Health Organization to vaccinate against poliomyelitis in Nigeria to eradicate the condition there by the end of the year could run into a major hurdle" because of a single well-placed Islamist:
The Supreme Council for Sharia, one of the respected Muslim organisations in the predominantly Muslim region of northern Nigeria, has asked the government to halt the immunisation programme, claiming it has evidence to show that the vaccine contains anti-fertility substances.

The secretary general of the Supreme Council for Sharia in Nigeria, Dr Ibrahim Datti Ahmed, said the application of the oral polio vaccine should be suspended to allow time for the investigation of the council's claim. Dr Datti said investigations by his organisation have found that recently declassified US documents show that the United States had had a policy, since 1975, that promoted the depopulation of African and Muslim countries. He added that the documents showed that WHO had introduced human chorionic gonadotrophin (HCG), a naturally occurring hormone essential for maintaining pregnancy in women, through massive anti-tetanus health campaigns in Nigeria, Tanzania, the Philippines, Nicaragua, and Mexico.

Dr Datti said "WHO has been actively involved for more than 20 years in the development of anti-fertility vaccines using HCG tied to tetanus toxoid as a carrier. The council harbours strong reservations on the safety of our population not least because of our recent experience in the Pfizer scandal, when our people were used as guinea pigs with the approval of the federal ministry of health and the approval of all the relevant UN agencies."
Comment: Ibrahim Datti Ahmed, 68, carries much responsibility if his conspiratorial ideas succeed in keeping polio alive not just in Nigeria but globally. (August 9, 2003)
Jan. 4, 2004 update: An important article in today's Baltimore Sun by John Murphy establishes how the Muslims of northern Nigeria are listening to Ibrahim Datti Ahmed and suspect that the polio vaccines being offered them gratis are in fact "contaminated with an anti-fertility agent that would sterilize their children or perhaps infect them with the AIDS virus, all part of an American plot to depopulate the developing world." Murphy tells this shocking anecdote from the village of Fanisau, Nigeria:
In January last year, Nigerian health workers knocked on [Halima] Umar's door, offering her newborn daughter a free dose of polio vaccine. Two drops of the oral polio vaccine taken at least three times as a child, the health workers told her, would protect her daughter, Zaliha, from the crippling virus for life. But Umar turned the vaccinators away. Most of her neighbors did the same, some hiding children under their beds.They had heard a rumor circulating through the hot, dusty villages of northern Nigeria that the vaccine had been contaminated with an anti-fertility agent that would sterilize their children or perhaps infect them with the AIDS virus, all part of an American plot to depopulate the developing world. The villagers believed it. It didn't matter that the World Health Organization, the Nigerian government and dozens of doctors and scientists dismissed the allegations as baseless, assuring the public that the vaccine taken by 1 billion children worldwide is safe. "We just didn't like the vaccine," says Umar.During the following three months, vaccinators returned to Umar's neighborhood two more times to immunize the children. On both occasions, the shy 22-year-old mother politely but firmly declined their offer. Then in June, 10-month-old Zaliha developed a fever and diarrhea. Zaliha, who had recently learned to crawl, suddenly could no longer sit up. A few days later, paralysis, polio's damning trademark, arrived, leaving her legs limp and lifeless. ...Standing in her doorway on a recent morning, holding her crippled daughter, she expresses no regret. Asked if she would accept the vaccine if she could wind the clock back to that day health workers first knocked on her door, she does not hesitate with her answer. "No," says Umar, shaking her head. "I would do the same."
On other occasions, villagers have "chased, threatened and assaulted vaccinators. Frustrated, some vaccination teams dumped thousands of doses of the vaccine rather than face angry villagers" and three northern Nigerian states canceled immunization campaigns last year.
Ali Guda Takai, a WHO doctor, explains the logic: "What is happening in the Middle East has aggravated the situation. If America is fighting people in the Middle East, the conclusion is that they are fighting Muslims." Indeed, the number of polio cases has increased sharply with the wars in Afghanistan and Iraq: 9 in 2001, 54 in 2002 and 74 in the first 11 months of 2003.
The source of the problem lies with the doctors, imams, political leaders and professors who endorse the conspiracy theory. They are led by Ibrahim Datti Ahmed, 68, whom the article quotes as saying of Americans, "They are the worst criminals on Earth to sterilize children for life. Even Hitler was not as evil as that."
Not only does this conspiracy theory harm Nigerian children like Zaliha, but it has worldwide consequences, obstructing a $2 billion-effort to eradicate polio. So long as it lives on in northern Nigeria, it lives on everywhere: "All it takes is for someone to hop on an airplane ... to start reinfecting another part of the world," notes the epidemiologist David Heymann. Chalk up one more tragedy to the baneful influence of conspiracy theories.
Feb. 26, 2004 update: Ibrahim Shekarau, governor of Kano, one of the three Nigerian states refusing the polio vaccine, justified this decision on the following brilliant grounds: "it is a lesser of two evils to sacrifice two, three, four, five, even ten children [to polio] than allow hundreds of thousands or possibly millions of girl-children likely to be rendered infertile."
March 1, 2004 update: "Laboratory tests have confirmed that Nigeria was the source of the virus that caused a case of polio in Ivory Coast. ... Ivory Coast is the eighth previously polio-free country in Africa where the crippling disease has reappeared in recent months. Its last polio case was reported in July 2000. Nigeria is believed to have also exported the infections to the seven other previously polio-free African countries: Benin, Burkina Faso, Cameroon, the Central African Republic, Ghana, Togo and Chad. The World Health Organization says the exported cases and continued opposition to polio vaccination by religious and political leaders in the northern states of Nigeria are jeopardizing its efforts to eradicate polio by the end of this year." So reports today's New York Times on the further ravages of conspiracy theories.
March 22, 2004 update: Good news: "Some Nigerian States End Polio Vaccine Ban" reads the Associated Press headline. Nigeria's president himself put the polio vaccine into five babies' mouths, a sign that the six-month polio vaccine boycott had eroded in Nigeria's predominantly Muslim northern region, dubbed the global epicenter of polio. All the more dramatic was it that one of those five children is the son of the state governor of Zamfara, who until recently rejected the vaccine.
Kano now remains the only one of Nigeria's 36 states still rejecting the anti-polio campaign. It is the largest remaining reservoir of the polio virus in Nigeria, which in turn hosts nearly half of the world's polio cases.
April 24, 2004 update: Bad news: "Holdout Threatens Global Polio Eradication Effort." The details:
The northern Nigerian state of Kano, whose 3 million children younger than 5 are one of the world's last reservoirs of the polio virus, will not participate in a nationwide immunization campaign that starts today, according to observers there.

Over the last year, virus originating in northern Nigeria has caused new polio outbreaks in nine African countries where the disease had earlier been eliminated. Kano's decision to continue its 12-month boycott of mass polio immunization threatens further spread of the virus and is jeopardizing the 16-year, $3 billion effort to eradicate the disease from Earth.
June 30, 2004 update: Good news: The mostly Muslim Nigerian state of Kano, which banned polio vaccinations last year, will resume them in the next few days, the World Health Organization has announced. Ibrahim Shekarau, Kano's governor, has accepted that the oral polio vaccine is safe and effective. This is key, as Kano State "is now the only polio-endemic area where immunization is not taking place," according to the WHO.
Nigerian authorities have reported 259 polio cases so far in 2004, compared with 56 in the same period in 2003. Globally, the total number of polio cases has reached 339 in 2004, almost double the number for the same period in 2003.
July 2, 2004 update: Bad news: "Major Polio Outbreak Reported in Nigeria." Officials in the heavily Muslim northern Nigeria state of Kano disclosed today that dozens of suspected polio cases have appeared among children in recent weeks. Each of 15 districts in the city of Rogo has seen an average of two cases, all of which showed the symptoms associated with polio, with some children already paralyzed. In all, Nigeria this year has reported 259 polio cases, or over 60 percent of the 339 cases reported worldwide). Noteworthy too is that fact that all six countries classified as polio-endemic by the WHO—Afghanistan, Egypt, India, Niger, Nigeria and Pakistan—have substantial Muslim populations. This raises the question, whether conspiracy theories similar to those found in Nigeria are found in the other countries too.
July 21, 2004 update: More bad news: "Muslim radicals still oppose polio vaccine." Kano State may have accepted the polio vaccine but Nafiu Baba Ahmed, secretary general of the influential Supreme Council for Sharia in Nigeria, continues to reject the vaccine and warns that "A lot of people will no longer take part in the polio vaccination exercise because of the fear that they have regarding the immunisation and in particular the scientific proof that it can cause infertility in children."
Aug. 24, 2004 update: What the medical authorities feared is now coming to pass, namely its spread to countries near to Nigeria, including Sudan, Guinea, and Mali, according to the World Health Organization and other agencies. Bruce Aylward, coordinator of the WHO's anti-polio initiative, said this means that the major polio epidemic "we've been fearing has now spread beyond the firewall we put in place ... as we tried to contain the virus as close as possible to the epicenter in Nigeria." In all, the disease which was limited to only two at the beginning of 2003, has now appeared in about a dozen countries and the WHO's hope to eradicate polio by Jan. 1, 2005 is defunct – thanks to the conspiracy theories swirling among northern Nigeria's Muslim population.
Aug. 27, 2004 update: A parallel problem is now developing in India, where conspiracy theories rampant among Muslims in eastern Bihar state are again leading to reluctance to take polio immunizations. In this case again, the purpose of the immunization is thought to be to cut down on population; in the slums of Gaya, about 60 miles from the state capital, Patna, "many poor and ignorant women regard the anti-polio drops as a deceptive strategy to control the birth rate. In the long run they feel it will reduce the fertility of future generations," notes Mahjabeen Anjum, a health worker. "The misgivings against the polio drops are more pronounced among poor Muslims," she continues. For example, Sanjeeda Khatoon, a vegetable vendor, explained why she disallowed polio drops for any of her nine children. "The government is more concerned with population control than the health of the people."
Sept. 6, 2004 update: Health workers have taken to the field in Kano State, Nigeria, and have immunized 57 percent of its 3.8 million children. This relatively high number results from a massive public-information effort by the government to urge polio immunizations.
Oct. 11, 2004 update: The worst of the polio resistance seems to be over. The Times of India reports from Lucknow that Maulana Khalid Rashid, a member of All India Muslim Personal Law Board, personally administered two drops of polio vaccine to a child at Aishbagh Eidgah yesterday. "Not only the children of my madarsa [madrassah], I would like to convey the message to children all over India that this [vaccine] do not have any 'side effect,'" he said, referring to impotency. The newspaper notes that this was perhaps the first time UNICEF had ever knocked on the doors of a madrassah in its efforts to eradicate the virus.
Jan. 12, 2005 update: The World Health Organization reports today that the number of new polio cases rose dramatically in 2004 to 1,185, compared with 784 in 2003, due to the boycott in Nigeria led to a resurgence of the disease in parts of Africa. Most of the new cases were in Africa - Benin, Botswana, Burkina Faso, Central African Republic, Chad, Cameroon, Ghana, Guinea, Mali, Togo – but some appeared in Saudi Arabia. This has stymied efforts to eradicate the disease by Dec. 31, 2005.
Feb. 20, 2005 update: The Polio Conspiracy Theory seems to be dying out. "Squeezing drops of vaccine into the mouths of wailing babies," reports the Associated Press,
the presidents of Nigeria and Benin launched a redoubled polio drive Sunday to regain progress lost after a vaccine-boycott led by Muslim clerics set back eradication efforts. Under tight security, with snipers on the roofs of border posts scouring the surrounding vegetation, Presidents Mathieu Kerekou of Benin and Olusegun Obasanjo of Nigeria launched the polio campaign as dance troupes pranced to pounding drums. The presidential doctoring is a prelude to a four-day, 22-nation vaccination blitz in west and central Africa next week.
March 27, 2005 update: Spoke too soon. Statistics for 2005 from the Nigerian Red Cross and the U.N. World Health Organization indicate that Nigeria has recorded 20,859 measles cases, of which 20,606 occurred in the mainly Muslim north and only 253 in the mainly Christian south. All of the 589 victims who died all lived in the north. Further, anti-vaccine conspiracy theories spread by imams could also affect measles, the outbreak of which is also surging in northern Nigeria.
April 22, 2005 update: A. H. Jaffor Ullah notes in Muslim World Today that this sad story of polio resurgence comes fifty years after the introduction of the polio vaccine on April 12, 1955, by a team of scientists led Jonas Salk.
May 2, 2005 update: The polio infection has traveled from Nigeria to Indonesia, probably via Mecca, Donald G. McNeil Jr., reports in the New York Times. Indonesia's last case of polio had been in 1995; now it is the 16th country to be re-infected by the virus from northern Nigeria. Because the virus is closely related to a strain found in Saudi Arabia in December, the most likely explanation is that it was brought back from there by an Indonesian worker or by a pilgrim who went on hajj in January. Polio, McNeil notes, "is now found almost exclusively in Muslim countries or regions."
May 7, 2005 update: Things are getting interesting: The World Health Organization, whose campaign to eradicate polio has cost nearly US$4 billion since 1985,
Is making known that member states of the Organization of the Islamic Conference have contributed just $3 million of that amount - to be precise, $1.2 million from the United Arab Emirates, $1 million from Malaysia, $330,000 from Qatar and $100,000 from Oman.
Notes that recent outbreaks of polio have occurred in sixteen countries, primarily Muslim ones (including Saudi Arabia, Indonesia, Yemen, Sudan, Chad, Burkina Faso, Cameroon, Mali, Benin, Guinea and Ivory Coast). Further, in 2004, 792 of 1,267 cases of polio worldwide were in Nigeria. In 2005, the count comes to 124 new cases, with Nigeria, Sudan, and Yemen the worst-affected countries. Indonesia and Yemen, previously polio-free countries, have both reported new cases since 2003.
Requests more money from Muslim governments, especially those of Bahrain, Kuwait, and Saudi Arabia – none of which have contributed funds so far. The amounts now needed? $50 million by July 2005 and $200 million for 2006.
The WHO is talking bluntly, in the way United Nations organizations rarely do:
Linda Muller, its spokeswoman: "The time to act is now, we can't afford to wait."
David L. Heymann, WHO's director general's representative for polio eradication: "It would be a good sign for Islamic countries to see other Islamic countries giving. But they've come in more slowly than we expected."
Kul C. Gautam, deputy executive director of UNICEF, which buys vaccine for poor countries: it is unfortunate that donations the Persian Gulf states "still make up such a small proportion of the overall contribution to this global public good."
Stephen Strickland, chief of polio eradication for the United Nations Foundation, which has contributed $30 million and raised much more, dismissed a recent Saudi pledge of $500,000 "peanuts," and criticized Kuwait for offering nothing while poor Muslim countries struggle to vaccinate their children. "They could certainly do more" and – given that the new outbreak was apparently spread by pilgrims to Mecca, "you would think they'd take the lead in this."
Multiple calls over two days by a New York Times reporter to the Saudi and Kuwaiti embassies in Washington went unreturned.
And who did give to the polio-eradication campaign? Rotary International, over $600 million, the U.S. government over $500 million (plus the use of staff and laboratories), British and Japanese governments over $250 million each, the European Union, World Bank, and the governments of Canada, Germany, the Netherlands more than $100 million each. Other major donors include several European countries, Russia, Australia, the Bill & Melinda Gates Foundation, and the United Nations Foundation.
Comment: (1) It is noteworthy that the World Health Organization, a U.N. body, should focus on the Muslim countries to pay for a mostly Muslim incidence of polio outbreaks. (2) The trivial participation of the wealthy Muslim countries in the polio campaign fits into a larger pattern (remember the non-aid to the tsunami victims in late 2004) best understood by reading David Pryce-Jones' Closed Circle : An Interpretation of the Arabs.
May 11, 2005 update: The World Health Organization announced that Yemen has more than 63 cases of polio since April 21, 2005, a larger outbreak than found in any other country. Nigeria follows with 54 this year. Indonesia has 6. The Yemeni situation has received special attention: "It's a much bigger outbreak than we originally thought, and it's spread throughout the country," noted the doctor in charge of WHO's polio-eradication campaign, David L. Heymann. Testing shows that the Yemeni strain originated in northern Nigeria, traveled east through Chad and Sudan, and jumped the Red Sea early in 2005.
Yemen and Indonesia are the most recent of 16 previously polio-free countries that have reported new cases since the vaccine boycott began in Nigeria in 2003. Polio in Yemen and Indonesia can be contained through immunization, but the WHO worries especially about Somalia, where anarchy would impede a vaccination campaign. "We have already seen polio reintroduced in Ethiopia," noted Oliver Rosenbauer, spokesman for the WHO's polio eradication program. "If it spreads to Somalia, it will be a problem because it is logistically very, very challenging there."
May 17, 2005 update: The WHO has confirmed 83 cases of polio in Yemen, a country until a month ago thought permanently free of the disease. This amounts, it says, to "a major epidemic."
May 24, 2005 update: I summarized the information in this weblog in more polished form in a column today, "A Conspiracy Theory Spreads Polio."
May 29, 2005 update: Fergus Walsh in the Observer finds that the polio immunization program is "back on track" in Nigeria. In part, this is because the reigning conspiracy theory has taken a new turn, one for the better. Sheikh Aminudeen Abubaker, chief imam of the Daawah mosque in Kano, still believes the polio vaccine contains an anti-fertility agent but he supports immunization because he sees the agent as temporary, like a contraceptive pill. When females stop taking it, they can conceive. Also, to win more support for immunization, the vaccine now used in Kano is manufactured in Muslim-majority Indonesia.
June 1, 2005 update: It's slightly off-topic, but a report by Laura M. Kelley and Nicholas Eberstadt, Behind the Veil of a Public Health Crisis: HIV/AIDS in the Muslim World (National Bureau of Asian Research), points to parallel problems resulting from the Muslim unwillingness to deal with HIV/AIDS:
Despite the fact that the Muslim world is home to many of the behaviors—such as premarital sex, adultery, prostitution, homosexuality, and intravenous drug use—which have helped spread the HIV virus in other countries and regions around the world, many governments in the Muslim world have been slow to respond to the rapidly spreading disease.
July 5, 2005 update: The Associated Press reports from Indonesia that 111 children in that country have come down with polio, including one on the island of Sumatra, which until just last week was polio-free. The other cases have since April 2005 appeared in the provinces of Banten, West Java, and Jakarta. Health experts believe the disease was imported from Nigeria and the WHO expects the number of polio cases in Indonesia to continue to climb.
Media coverage of this appalling development is handled seriously and honestly by the print media; for example, this AP report mentions that the problem originated in Nigeria, "where polio vaccinations were suspended for several months in 2003 after radical Islamic preachers warned parents not to vaccinate their children because they believed it was part of a U.S. plot against Muslims." But the National Public Radio coverage of this story at 9 p.m. EDT this evening attributed the problem to "unfounded reports of contaminated vaccines," shamelessly hiding its cause.
Aug. 9, 2005 update: Indonesia has registered 205 cases of polio in five provinces and 14 districts, including two victims in the capital city, Jakarta. At least 700,000 out of 6.5 million eligible children were not immunized in a recent campaign, some of them because their many parents believed the vaccine was dangerous. Rumors in Indonesia are similar to those that spread earlier in Nigeria.
Aug. 20, 2005 update: A hero to the rescue – and it is none other than the Kingdom of Saudi Arabia, which is requiring, effectively immediately, that visitors under 15 years of age from nineteen countries be vaccinated against polio on arrival in the kingdom, whether or not they were previously vaccinated. Those countries are Afghanistan, Angola, Burkina Faso, Cameroon, the Central African Republic, Chad, Egypt, Eritrea, Ethiopia, Guinea, India, Indonesia, Ivory Coast, Mali, Niger, Nigeria, Pakistan, Sudan and Yemen.
Interestingly, the Saudis have engaged in similar health campaigns before, such as the one against meningitis in the 1960s, when they required proof of a meningitis vaccination before granting a hajj visa. Also of note is that two cases of polio were found during the hajj of early 2005; Saudi Arabia being polio-free since 1995, these clearly came from abroad.
This vaccination requirement stems the potential for contagion as millions of Muslims convene for the hajj – and also at other times of the year, when much smaller but still sizeable numbers go on the 'umra. Beyond the practical dimension, this step firmly places the considerably authority of the Saudi state behind polio vaccination, something likely to be important in places like Nigeria and Indonesia.
Aug. 30, 2005 update: With 225 cases of polio in the country since March 2005, coming after ten years without any, the authorities in Indonesia are swinging into action with a US$24 million polio vaccination drive intended to include 24 million young people. In addition to more than 750,000 health workers at 245,000 posts at health clinics, bus depots, rail stations, and airports, political leaders and celebrities are trying to counter rumors that vaccinations are dangerous and violate Islamic law. For example, Kristiani Yudhoyono, wife of the president, administered the drops to several children in a Jakarta suburb. "People should not be afraid," she said. "We are doing this for the sake of the children, for the sake of the next generation."
June 15, 2006 update: Educe Ababa, a Nigerian health official, announced that Nigeria recorded 467 polio infections in the first months of 2006, compared with 224 new cases for the whole of 2005, more than doubling the prior rate of infection. Nearly 90 percent of the new infections were reported in Nigeria's predominantly Muslim north.
Aug. 15, 2006 update: Polio cases in Afghanistan have increased substantially in recent months, but less due to conspiracy theories than anarchy in the south, obstructing vaccinations. At least 25 cases of polio have been identified so far this year, compared with 9 in all of 2005.
Oct. 18, 2006 update: Kenya has just reported its first case of polio in 22 years, a three-year-old girl in the Dadaab Somali refugee camp in the country's north-east. Dadaab houses about 157,000 refugees. Polio re-emerged in Somalia in 2005 after an absence of three years. About 200 cases have been reported since then.
Nov. 4, 2006 update: As the Government of India presses forward with an "Intensive Pulse Polio Immunisation" program in a week, 4-page pamphlets in Arabic and copies of the September 2006 issue of an Urdu-language monthly, Taameer-e-Hayaat, published from Lucknow, are appearing in Muslim sectors of Vadodara (or Godhra) to warn against taking the anti-polio vaccination. They state that the vaccine is imported from Israel and contains chemicals that render impotence or sterility. The Taameer-e-Hayaat article by Shahbaz Hindi reads: "While the Ulemas of Nigeria have issued a fatwa against polio drops, president of Nigeria's Supreme Council of Sharia Laws Ibrahim Datti, himself a well-known physician, has accused the United States of mixing certain elements into the polio vaccines that causes infertility." To counter this article, Chief District Health Officer Dr Prakash Vaghela circulated materials pointing out that the Saudi authorities do not permit children on the hajj unless they have received their polio vaccines.
Nov. 12, 2006 update: Some rare good news from the polio front, this time in India. Having imams explain that polio inoculations are not a plot by the kafirs to render children infertile seems to be working in Uttar Pradesh, India's most populous state. Biswajeet Banerjee of the Associated Press tells the story of Farzaan Siddaqui, who in August 2006 assaulted health workers when they argued with him to allow them to immunize his 3-year-old son and 1-year-old daughter. This time, Wajhat Valdi, his imam, told of what happened earlier, entered Siddqqui's house alone and a mere 15 minutes later, a smiling Siddaqui, agreed to the procedure, which in turn opened up his neighborhood for the inoculations. "I am so happy that they have listened to me," Valdi said. "It was the will of Allah that I should come here."
On a larger scale, the Uttar Pradesh top health official, A. K. Mishra, noted that nearly three-quarters of the state's new polio cases are in Muslim families. The state has seen 438 new polio cases in 2006, of which 25 appeared over the past week.
Feb. 17, 2007 update: A remote-controlled roadside bomb in Salarzai, a village about 50 kilometers northeast of Khar, the main town in Bajur Agency, instantly killed Dr Abdul Ghani Khan, chief surgeon at the main government hospital in Bajur, and injured three others in his car, one critically. He was returning from a jirga (tribal council) where he had been trying to convince tribesmen to immunize their children against polio.
Dr. Amir Khan, medical superintendent (MS) at Khar District Headquarters Hospital, said that residents of Mullah Said Banda in the Salarzai area had earlier refused to get their children vaccinated against polio and added that Dr. Ghani was visiting the area to allay misperceptions about the vaccination. "The locals had also warned polio teams against visiting the area," the MS said.

Paramedic Hazrat Jamal, who is one of the three injured in the explosion, said that the residents of Mullah Said Banda were against the polio campaign. "As soon as we reached there, an armed prayer leader warned us against visiting the area. Some locals said: 'On one hand, our enemy [the United States] is bombing us for no reason while on the other hand you are coming here disguised as polio campaigners to spread vulgarity."
Feb. 23, 2007 update: From Pakistan, Declan Walsh finds a situation comparable to Kano, Nigeria in 2003.
The parents of 24,000 children in northern Pakistan refused to allow health workers to administer polio vaccinations last month, mostly because of rumours that the harmless vaccine was an American plot to sterilise Muslim children. The disinformation - spread by extremist clerics using mosque loudspeakers and illegal radio stations, and by word of mouth - has caused a sharp jump in polio cases in Pakistan and damaged global efforts to eradicate the disease. The World Health Organisation (WHO) recorded 39 cases of polio in Pakistan in 2006, up from 28 the previous year. The disease is concentrated in North-West Frontier Province, where 60% of the refusals were attributed to "religious reasons".
The government made strenuous efforts against the conspiracy theories about an "infidel vaccine," with health workers carrying copies of a fatwa, endorsing the vaccinations signed by leaders of Pakistan's most powerful religious parties. This seemed to work, in that some 9 million children have been or will be shortly vaccinated. Only 24,000 children have been denied the vaccine, but health officials indicate that is enough to provide the virus with the needed toehold. Walsh provides the political context for the conspiracy theories:
The vaccination struggle is entangled with the confrontation between the government and powerful militants in the tribal areas. Refusals were highest in areas where conservative clerics and self-styled "Pakistani Taliban" fighters hold sway, flouting government authority and making their own strict laws. Almost 2,000 children were not vaccinated in Bajaur, a tribal agency on the Afghan border where US warplanes bombed a house last year in the hope of killing al-Qaida's No 2, Ayman al-Zawahiri. The jets missed al-Zawahiri, but inflamed extremist sentiment. Recently militants ordered Bajaur's barbers to stop shaving beards on the grounds that it was "un-Islamic." The barbers complied. In nearby Swat Valley a young firebrand cleric, Maulana Fazlullah, denounced the polio campaign through a local radio station. His brother was killed in a Pakistani army attack on a madrasa (Islamic school) late last year. Almost 4,000 children were not vaccinated in Swat.
It gets even worse.
Some linked the attack to a fatwa issued in Dara Adam Khel, a lawless town famous for its gunsmiths, in December. A cleric named Mufti Khalid Shah declared a fatwa on employees of the UN, the WHO and all other foreign organisations. "Killing their employees is in line with the teachings of jihad in Islam," said a notice. "We are very worried," said Mr Khan. "You have to be very careful about admitting to working for an NGO these days." Aid workers in Bannu, near North Waziristan, had been sent a letter and a 500 rupee ($10) note, he said. "The letter said they had a choice. They could either stop work or buy their own coffin."
July 28, 2007 update: Sudanese Islamists have jumped into the act. Here's an interview (video available) with the leader of the country's Muslim Brethren, Sadeq Abdallah bin Al-Majed, who declaims on this topic after declaring the Darfur problem the result of an American conspiracy:
Interviewer: You issued a fatwa prohibiting the vaccination of children, claiming it is a conspiracy of the Jews and Freemasons. Is this true?
Sheik Sadeq Abdallah bin Al-Majed: This is 100% true.
Interviewer: How come?
Sheik Sadeq Abdallah bin Al-Majed: I followed this issue in several shocking articles, which failed to shock anyone in the government.
Interviewer: But where did you get the information about a conspiracy?
Sheik Sadeq Abdallah bin Al-Majed: I am following this issue, along with two or three brothers. We are following this issue globally through the Internet, through several media outlets, and through the ministry that carries out this procedure, which I consider to be a crime against the children.
Interviewer: But how come? After all, there is medical supervision...
Sheik Sadeq Abdallah bin Al-Majed: No, brother. They only claim that there is medical supervision. I wrote and challenged the Health Ministry to meet with me for a dialogue, in which I would provide the proof, and they would have to prove me wrong. But they refused. Allah be praised, the fact that I followed this issue bore fruit, and thousands of children were saved from the claws of the Jewish movement, which is represented by the watchamacallit...
Interviewer: The Freemasons?
Sheik Sadeq Abdallah bin Al-Majed: ...the Freemason movement, which is behind this. If the Jews could find a way to annihilate the people throughout the world, and ultimately have the rule to themselves – they would do it.
Oct. 11, 2007 update: Just what was needed in Nigeria - an outbreak of polio caused by a mutating polio vaccine, 16 cases recorded by April 2007, perhaps 70 by now. In other words, the vaccine itself is creating new cases of polio to occur. Though unusual, this problem has occurred in various places around the world. One can only imagine the impact of this news on the Islamists so suspicious of the vaccine in the first place.
On the positive side, the New York Times article reporting this news also, in passing, notes that the polio cases spread to many new countries from the initial 2003 outbreak in Nigeria have mostly been "snuffed out."
Mar. 29, 2008 update: And now measles. The northern Nigerian state of Katsina reports a measles epidemic that has killed nearly 165 children and infected 3,000 in the past three months, though the death toll could be much higher due to unreported cases. Katsina's director of disease control, Halliru Idris, says that "over 95 percent of all the children that have measles are those whose parents have not allowed them to receive immunization."
June 8, 2008 update: The Daily Times of Pakistan reports on "5 polio cases reported, more feared": "Five polio cases have been reported in Karachi recently and have been traced to out-of-town carriers. More cases are suspected to have developed."
July 17, 2008 update: Polio surfaced in Ali Gram, a village in the Swat Valley of Pakistan when an eight-month-old girl tested positive with type 1 polio, the most dangerous and contagious strain. This is the first confirmed case of the disease in Swat since 2003. A pro-Taliban religious leader, Maulana Fazlullah, condemned polio vaccinations as a Western conspiracy to render Muslims infertile, prompting Islamists to campaign against the innoculation, going so far as to beat up medical teams.
Sep. 16, 2008 update: The Taliban claimed responisiblity for a suicide bombing in southeastern Afghanistan, killing two Afghan doctors employed by the World Health Organization, leading the WHO to cancel polio jabs for 1.2 million Afghan children.
Mar. 22, 2009 update: The whole polio problem started in Nigeria, and so maybe now will the solution come from there, reports Katy Pownall of the Associated Press.
after another tripling of cases in 2008, a big new anti-polio push is under way in Africa's most populous country, and this time, some Muslim clerics have made themselves part of the solution, joining community leaders, health workers and the victims themselves in waging the war. ... At least one Muslim leader took unprecedented action against the boycott-supporters. The Shehu of Borno, the top Islamic authority in his state until his death in February, last September stripped a chief of his traditional title for divorcing his wife after she had their children immunized. "His excellency has zero tolerance for those who hinder the fight against polio," his spokesman, Usman Chiroma, explained at the time.
June 4, 2009 update: In a much ballyhooed speech to Muslims in Cairo, Barack Obama announced: "Today I'm announcing a new global effort with the Organization of the Islamic Conference to eradicate polio," implicitly recognizing that the survival of polio is a problem connected to Islam.
Sep. 8, 2009 update: The Taliban prohibition against polio vaccinations in the Swat Valley of Pakistan held for a year but has been pushed aside.
Authorities in Pakistan's Swat Valley have resumed vaccinating children for polio, a practice the Taliban had banned as un-Islamic before the insurgents were beaten back by an army offensive, an official said Tuesday. ... The army says it has killed more than 1,800 suspected militants in Swat since launching its latest offensive there four months ago. The government is now trying to bring the valley back to normal. ... In Swat, government official Khurshid Khan, a doctor, said the last inoculations against polio were administered nearly a year ago. Six cases of polio have been discovered since vaccinations resumed Monday. About 215,000 children are a target of the three-day campaign, he said. ...

Swat resident Yar Mohammad said the people of the valley welcomed the resumption of the campaign. "The militants have been depriving our children of our basic right. It is our national responsibility to secure our kids against all diseases," said Mohammad, who lives in the valley's main city, Mingora.
Jan. 25, 2010 update: A Pakistani woman's magazine in Urdu, Mahnama Banat-e-'Aisha, contains a lengthy article "Polio: Disease or Dangerous Jewish Conspiracy?" by Mohammad Kamran Talib. For the imaginative details, see MEMRI's summary and excerpts.
May 20, 2010 update: The persistence of polio among Muslims imperils the ambitious goal of elminating the disease entirely, as "donor fatigue" threatens to end the US$750 million a year required to keep the effort going. Maria Cheng reports for the Associated Press:
Since WHO [the World Health Organization], the U.S. Centers for Disease Control and Prevention, UNICEF and Rotary International set out to eradicate polio in 1988, they have come tantalizingly close. By 2003, cases had dropped by more than 99 percent. But progress has stalled since and several deadlines have been missed. Polio has virtually disappeared from the West but is entrenched in a handful of countries, namely Afghanistan, India, Nigeria and Pakistan. ...

Dr. Paul Adovohepke, who heads UNICEF's polio team in Nigeria, said rumors about the vaccine's safety — which resulted in a year-long suspension of polio campaigns in 2003 — seem to have subsided. He has seen Nigerians ask vaccinators to go into their homes to give the polio vaccine to their kids. "[That] was not possible in 2003," he said. But recent surprises, like an outbreak in Tajikistan, which had been free of the disease for years, show how unpredictable the effort remains. ... Two of the countries where the virus is spreading — Pakistan and Afghanistan — are plagued by conflict which make it nearly impossible to vaccinate enough kids. Experts had also assumed the polio virus in the vaccine could never spark big outbreaks. They were wrong. Since 2005, a vaccine-derived epidemic has been spreading in Nigeria and similar epidemics are certain to erupt in the future. ...

Ellie Ehrenfeld, who sits on WHO's Advisory Committee for Polio Eradication, said the current situation is encouraging, but has a tinge of deja vu. "We have been very close before, and then things blew up," she said. If polio is not stopped in the next few years, she said serious questions should be raised about whether the program should be scrapped. "It's theoretically possible to eradicate polio," she said. "Whether or not we can do it is entirely another matter."
June 2, 2010 update: Indiana University Press has announced The Politics of Polio in Northern Nigeria by Elisha P. Renne, an anthropologist at the University of Michigan. Here's the ad copy:
In 2008, Northern Nigeria had the greatest number of confirmed cases of polio in the world and was the source of outbreaks in several West African countries. Elisha P. Renne explores the politics and social dynamics of the Northern Nigerian response to the Global Polio Eradication Initiative, which has been met with extreme skepticism, subversion, and the refusal of some parents to immunize their children. Renne explains this resistance by situating the eradication effort within the social, political, cultural, and historical context of the experience of polio in Northern Nigeria. Questions of vaccine safety, the ability of the government to provide basic health care, and the role of the international community are factored into this sensitive and complex treatment of the ethics of global polio eradication efforts.
More bluntly, as one of the book's blurbers puts it, Renne tries to "persuade you that Muslims' fears were justified."
Comment: Typical of the academy: Choose the opposite of common sense.
July 21, 2011 update: In a failed effort to collect DNA from Osama bin Laden's family, the CIA sponsored an anti-hepatitis vaccination program that is now having repercussions on the anti-polio effort in Pakistan. Public-health organization officials worry it could harm efforts to vaccinate Muslim children. "In a nation swirling with rumors of CIA plots, critics say, this real-life one could cement public suspicions, play to radical clerics' anti-vaccine propaganda and endanger health workers."
Jan. 17, 2012 update: Cases of polio have tripled in Afghanistan and Pakistan over the past year. Rod Nordland reports for the New York Times that the former saw 25 cases in 2010 and 76 in 2011, while in Pakistan the incidence went from 80 in 2010 to 192 in 2011. Polio is now endemic only to those two countries and to northern Nigeria. Interestingly, the Taliban have endorsed the polio vaccine, unlike many other Islamists.
July 16, 2012 update: Pakistani authorities postponed a three-day anti-polio campaign, targeting 34 million children under five, in the country's northwest region of Waziristan when the Taliban leader Hafiz Gul Bahadur banned inoculations, on the grounds that it is a cover for espionage. At least 240,000 children will not receive the polio drops. In 2011, Pakistan recorded 198 cases of polio, the highest number in a decade.
Oct. 17, 2012 update: (1) As an anti-polio team administered vaccine to small children on the outskirts of the Pakistani city of Quetta, gunmen on a motorcycle opened fire, killing one. This follows Taliban threats against the polio campaign. This follows the shooting death of a doctor administering polio vaccines in Karachi in July 2012.
(2) Jason Beaubien reports that northern Nigeria
is the only place in the world where polio cases are increasing: As of Sept. 1, it had recorded 90 polio cases in 2012 — or nearly three times as many as in the same period last year. The city of Kano in northern Nigeria has been called the "epicenter" of the current polio outbreak. And remnants of the paralyzing disease are visible even on its streets. Polio victims drag their shriveled legs through traffic at intersections, begging for crumpled bank notes. Signs declare "End Polio Now." Vaccination campaigns are regular fixtures here. Just outside Kano, in the small farming village of Minjibir, six kids have been paralyzed by polio this year alone.
Dec. 4, 2012 update: Jason Beaubien reports for National Public Radio about a recent outbreak of vaccine-derived polio in Pakistan – ten cases between in a two-month period - which has the World Health Organization wondering about the effectiveness of its work there. (Vaccine-derived polio occurs when the weakened strain of polio in an oral vaccine infects unvaccinated people.)
This is the first time that vaccine-derived polio has been detected in Pakistan. The cases appeared in the north of the Balochistan province near the Afghan border. WHO officials say the outbreak, involving a variety of the virus called type 2 polio, illustrates that vaccination campaigns in the area are failing to reach sufficient numbers of people. Wild strains of type 2 polio were eradicated globally in 1999. However, a new strain of vaccine-derived polio emerged because the vaccine continued to contain the old type 2 virus and it managed to spread to people who weren't adequately immunized against it.
Dec. 6, 2012 update: As Hanisa, 22, was on her way to her first day of work as a vaccination assistant in the village of Kalota, north of Kabul, Afghanistan, three men on two motorcycles shot her at least six times. She died from the wounds.
Dec. 18, 2012 update: Pakistani gunmen killed a male volunteer for the anti-polio campaign in Karachi on Dec. 17 and five Pakistani women (four of them in Karachi) on the 18th. The government responded by suspending vaccination efforts in parts of the country.
Dec. 19, 2012 update: Two more anti-polio workers were shot and killed in Pakistan, bringing the death toll to eight in two days. The United Nations responded by suspending its vaccination campaign.
Dec. 20, 2012 update: Mushtaq Yusufzai and Waj S. Khan of NBC News counts nine dead in Pakistan in recent days and notes all were killed by assassins on motorcycles. It also notes that polio "disproportionately affects members of the Pashtun population in Pakistan, who largely live in the country's northwest and border region. They account for roughly 15 percent of the population, but 75 percent of all polio cases."
Dec. 25, 2012 update: The New York Times ran an analysis today, "Getting Polio Campaigns Back on Track," by a staff writer, Donald G. McNeil Jr., which makes the astonishing argument that the West is much to blame for Muslim resistance to polio vaccinations:
Resistance to polio vaccine springs from a combination of fear, often in marginalized ethnic groups, and brutal historical facts that make that fear seem justified. ...

The Nigerian government is currently dominated by Christian Yorubas. More than a decade ago, when word came from the capital that all children must swallow pink drops to protect them against paralysis, Muslim Hausas in the far-off north could be forgiven for reacting the way the fundamentalist Americans of the John Birch Society did in the 1960s when the government in far-off Washington decreed that, for the sake of children's teeth, all drinking water should have fluoride.
Funny, I don't recall the Birch Society murdering any one to stop the fluoride program.
The northerners already had grievances. In 1996, the drug company Pfizer tested its new antibiotic, Trovan, during a meningitis outbreak there. Eleven children died. Although Pfizer still says it was not to blame, the trial had irregularities, and last year the company began making payments to victims.

Other rumors also spring from real events. ... when the Central Intelligence Agency admitted sponsoring a hepatitis vaccination campaign as a ruse to get into a compound in Pakistan to confirm that Osama bin Laden was there, and the White House said it had contemplated wiping out the residence with a drone missile, it was not far-fetched for Taliban leaders to assume that other vaccinators worked for the drone pilots.
Now, there's a leap in logic.
Even in friendly areas, the vaccine teams have protocols that look plenty suspicious. If a stranger knocked on a door in Brooklyn, asked how many children under age 5 were at home, offered to medicate them, and then scribbled in chalk on the door how many had accepted and how many refused — well, a parent might worry.

In modern medical surveys — though not necessarily on polio campaigns — teams carry GPS devices so they can find houses again. Drones use GPS coordinates. The warlords of Waziristan made the connection specific, barring all vaccination there until Predator drones disappeared from the skies.
McNeil goes on to explain the logic of thinking that the vaccine contains either pork, the virus that causes AIDS, or an element that sterilizes Muslim girls.
Comment: When there is no right and wrong, this split-the-difference approach is inevitable. Thank you, New York Times.
Dec. 31, 2012 update: In addition to the conspiracy theories which prevent polio from being eradicated, Pakistan suffers from an even more debilitating rumor: That iodized salt causes infertility and therefore must avoided, leading to such maladies as spontaneous abortion, stillbirth, goiters, mental retardation, and birth defects, which in turn lead to lethargy, lower IQ scores, and reduced productivity. Nearly half of Pakistan's population of 200 million suffers from some form of iodine deficiency disorder. Richard Leiby reports for the Washington Post on the origins of this bizarre problem:
Seventeen years ago, well-meaning government officials launched a maternal health initiative in the face of ever-rising birth rates. To this day, people remember a slide show on official Pakistani television — at the time the nation's only channel — that pushed prenatal care and awareness of vital nutrients. The next-to-the-last slide promoted one element in particular: iodine. The final slide, officials recall, credited the initiative to the government's department of primary health and family planning.

"There was a communication mistake," Tariq Aziz, an expert on production of iodized salt, said of the 1995 broadcast. "People thought this was purely a family-planning initiative." After the public conflated iodine with government-enforced birth control, rumors took off about an international scheme to limit Muslim population growth through iodized salt. The falsehoods became especially potent in a society that prizes large families and where contraception use is low.
Religious leaders promote the notion of iodine as part of a Western plot.
"I do not use iodine salt, and I advise my relatives and friends not to use it as well," said one Lahore cleric, Maulana Muhammad Asim. "I do not have any evidence to prove that it is causing infertility," he added. "But my question is: Why are the U.S. and the West so worried about the health of Pakistanis that they are forcing us to use iodine? . . . They have an agenda."
Jan. 24, 2013 update: And now the polio virus has been found in the sewers of Cairo, Egypt, apparently of Pakistani provenance, according to the World Health Organization. Egypt had been clean of polio since 2004. Pakistani authorities will post teams at international airports vaccinating all passengers leaving the country up to four years old.
Feb. 8, 2013 update: Gunmen presumably from the Boko Haram gang of Islamists, killed nine or twelve women (depending on which source one credits) as they immunized children against polio in Kano, Nigeria. By way of background, Nigeria reported 121 cases of polio in 2012, more than any other country.
Apr. 10, 2013 update: As a team of female polio workers in northwestern Pakistan (Mardan district in Khyber Pakhtunkhwa province) were administering polio drops to children, unknown gunmen killed one policeman and wounded another.
Apr. 24, 2013 update: Writing in the British medical journal, The Lancet, Qanta A Ahmed, Sania Nishtar, and Ziad A Memish offer a creative and counterintuitive argument in "Poliomyelitis in Pakistan: time for the Muslim world to step in" that the Saudi government, with its modern medical sector, its immense resources, and its control of the hajj can pressure countries like Pakistan to get with the polio vaccination program.
Apr. 25, 2013 update: The Guardian Nigeria published a scorching piece today about the rejection of polio vaccinations (and modern medicine more generally) by Itunu Ajayi, "Tackling vaccines' rejection in Northern Nigeria." An excerpt:
the greater percentages of these people are more than convinced that these vaccines are meant to sterile their young one thereby controlling their birth rate. These beliefs are causing preventable infant and maternal mortality. They do not trust the government enough to believe that the vaccines are meant to do what they are said to be meant for - militating against child killer communicable diseases like polio, measles, Tuberculosis, Lassa fever, malaria, cerebrospinal meningitis and tetanus. A recent statistics indicated that 67 per cent deaths in Nigeria are as a result of these preventable diseases especially as it relates to children.
Apr. 30, 2013 update: In an attempt to win support for polio vaccinations, Bill Gates (whose foundation is active in the polio eradication campaign) traveled to Doha, Qatar where he met with Muslim religious leaders attending the 10th annual Doha International Conference for Interfaith Dialogue (DICID) and connected to the International Union of Muslim Scholars in a successful effort to win their cooperation to in convincing local religious leaders, especially in Nigeria, Pakistan, and Afghanistan, to permit children to be vaccinated.
May 17, 2013 update: Nigeria's International Islamic Fiqh Academy, a subsidiary of the Organization of Islamic Cooperation, has given its support to the anti-polio campaign, calling on parents to "ensure that their sons and daughters get vaccinated against polio" while condemning acts of violence against vaccinators.
May 27, 2013 update: The World Health Organization has announced that two Somali children have recently been found to have polio, one in southern Somalia and one in a Kenyan camp with Somali refugees. This may not sound like much but a New York Times account by Donald G. McNeil Jr. explains its significance:
If the outbreak is not quickly contained, the consequences could be far-reaching. From 2002 to 2005, the virus spread from Nigeria, where it has never been wiped out, to 21 other countries, paralyzing more than 1,000 victims. During those years, according to the Centers for Disease Control and Prevention, it moved east to Sudan, from there across the Red Sea to Saudi Arabia and Yemen. From Saudi Arabia it spread as far as Indonesia and from Yemen to Somalia. Those outbreaks took months to stamp out. Saudi Arabia began requiring polio vaccination certificates of all pilgrims headed to Mecca and in 2009 began vaccinating on arrival all pilgrims from countries with polio.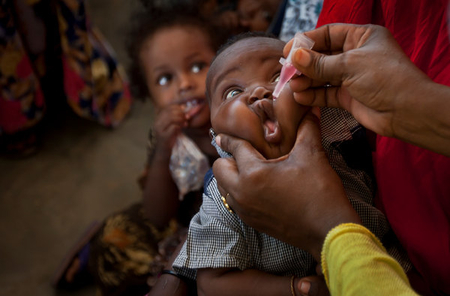 A Somali baby in Mogadishu vaccinated for polio, April 2013.
And an update on the disease: "Polio is very close to eradication. Last year the world had only 223 known cases of paralysis. Until recently they were found only in Nigeria, Afghanistan and Pakistan. Virus has also been found this year in the sewers of Cairo, but no paralyzed children have been found in Egypt."
May 28, 2013 update: For an overview of the Bill & Melinda Gates Foundation efforts to eradicate polio – and the problems it faces in a handful of Muslim-majority countries – see Michael Toole, "Polio eradication efforts need money and political commitment."
June 1, 2013 update: I reflect today on the senselessness of a Nigerian doctor's single-handed success at stopping eradication efforts at "Islamism's Decade of Spreading Polio."
June 4, 2013 update: The polio virus was detected on April 9, 2013, in sewage water of the southern Israeli Bedouin town of Rahat, population 53,000. No reports of paralytic polio infections have appeared, nor are any likely. It appears to be the same strain as was found earlier in 2013 in Cairo sewage, which in turn resembles the strain found in Pakistan and Afghanistan.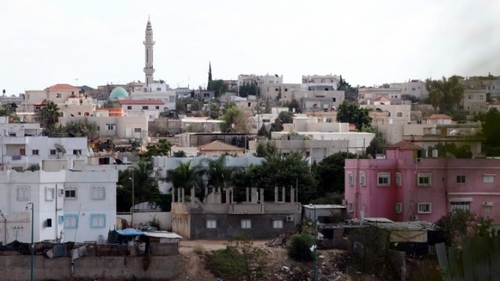 Rahat, Israel.
June 6, 2013 update: Islamabad's International Islamic University is holding a two-day international conference for Islamic scholars from Saudi Arabia, Egypt, Yemen and other countries to propose ways to overcome opposition to polio vaccinations in Pakistan.
A sample opinion, from Mohammad Wesam Abbas Khidr, secretary general of the Egyptian organization issuing fatwas: "Depriving a child of polio drops is equal to committing a sin. Protecting your child from disease is a religious obligation." In a more threatening tone, his Saudi counterpart, Abdulqahir Mohammad Qamar of the International Islamic Fiqh Academy in Jeddah said that "If Pakistan fails to stop transmission of polio virus, there are chances the Saudi government may impose travel restrictions on Pakistanis."
June 17, 2013 update: Unknown assailants shot and killed a schoolteacher and a government health worker giving polio drops to children in the northwestern Pakistani district of Swabi.
June 18, 2013 update: The polio virus in the sewage of one Bedouin town of Israel has now spread to sewage in Be'er Sheva, Kiryat Gat, Ashdod, Tel Aviv, and three other locations. Plus, it turns out, according to medical experts, that about 10 percent of the Negev residents have not been inoculated against polio.
June 19, 2013 update: When polio appears, well, the reaction in Israel is different from Nigeria and Pakistan: scare gets parents rushing to immunize their kids
Reports on the discovery of the polio virus in southern sewage systems led thousands of concerned parents to rush to their local health service providers Tuesday to immunize their children. "We received a lot of calls and parents who were late in immunizing their children came to receive the medicine," Tzvia Yarden an administrator of Beersheba child health services, told Israel Hayom. In addition, health ministry officials began making calls and paying house visits to ensure that all Israeli children up to age six will receive vaccinations against the virulent disease. The Health Ministry stressed that so far no cases of the disease have been discovered, but officials have ordered 220,000 additional units of medicine to augment the 400,000 existing ones.
Even the Muslims respond differently in Israel: "Kaeed Abu-Alkayan, a parent from the Bedouin village of Hura, near where the strains were discovered, said he and other parents were so worried they could not sleep at night. He said that running sewage in the street and a nearby dump were fertile breeding spots for any number of diseases."
July 11, 2013 update: Israel's Health Ministry reports that traces of the polio virus are continuing to appear in sewage in the southern and central parts of the country, prompting the ordering of nearly a million doses of the "live attenuated" oral vaccine and the continuous examination of stool samples.
July 20, 2013 update: Polio struck in Somalia in 2006-07, then disappeared, only to re-emerge again in May 2013. Now, Jason Beaubien reports for National Public Radio,
the East African country has the worst polio outbreak anywhere in the world. Twenty new cases of polio were reported this week in Somalia by the Global Polio Eradication Initiative. That brings the total number of cases in the Horn of Africa to 73. The rest of the world combined has tallied only 59 cases so far this year. Health workers are worried that the virus could gain a foothold in the Horn of Africa and jeopardize the multibillion-dollar effort to wipe out the virus worldwide.

Until this recent outbreak, global efforts to eradicate polio appeared to be making remarkable progress. Last year the number of children paralyzed by polio hit a record low at 223. This year it was looking like there were going to be even fewer cases. The last significant pockets of the virus appeared to be isolated in Afghanistan, Pakistan and Nigeria. Then in May, a 2-year-old girl in Mogadishu became the first confirmed case of polio in Somalia in more than six years.

The number of polio cases in Somalia is increasing by the day, says Dr. Nasir Yusuf, who leads UNICEF's immunization efforts in eastern and southern Africa. Part of the problem, he says, is that the majority of children in Somalia have never been immunized against polio. "We have an outbreak in a population that has been quite vulnerable for quite some time," Yusuf says. Somalia has the second worst rate of polio vaccination in the world after Equatorial Guinea, according to the World Health Organization.
July 21, 2013 update: A New York Times account of polio in Pakistan by Donald G. McNeil Jr. basically blames the suspicion about vaccinations on the CIA's fake anti-hepatitis campaign connected to bringing down Osama bin Laden – ignoring the fact that the suspicion long preceded news of this gambit in mid-2012.
Plus, it ascribes the country's leadership wanting the disease eradicated to its rivalry with India which has successfully eliminated polio.
There are some signs of success:
A few years ago, 39 substrains of the polio virus circulated; now only two do. About 300,000 children live in areas too dangerous for vaccinators, but almost all the sewage samples from those areas are clear of the virus.
It finds the epicenter of the disease to be
a cramped slum called Shaheen Muslim Town No. 1 in Peshawar, a hotbed of anti-Western militancy. Since sampling began, its sewers have never tested negative for the virus. It is a neighborhood of migrant Pashtun families who rent rooms briefly and move on, looking for menial jobs picking fruit or making bricks. ... In this part of the world, virtually all those with polio are from the Pashtun tribe, in which resistance to vaccination is highest. It is Afghanistan's largest ethnic group and the wellspring of the Taliban, but a minority in Pakistan. Pakistani Army sweeps and American drone strikes have driven many Pashtuns from their mountain valleys into crowded cities.
Aug. 1, 2013 update: The World Health Organization, worried about of a medium- to high-likelihood of Israel's polio virus spreading to other countries, has issued a travel advisory warning visitors to be vaccinated before reaching Israel. To which, Health Ministry Deputy Director Dr. Boaz Lev replied that "The World Health Organization is over-reacting to the situation. Their hysterics are disproportionate to the situation on the ground."
Aug. 4, 2013 update: More on the polio virus found in Israel:
The Israeli Health Ministry announced the launch of a major operation to vaccinate 150,000 children under the age of 9 in the south of the country against polio. It hopes to complete the job in a month. They are using a live virus in the vaccine.
The ministry might decide next week give vaccinate all children in Israel under 9.
The virus is thought to have reached Rahat in February 2013 from Egypt.
The last outbreak of polio in Israel occurred in 1988, when sixteen Israelis suffered paralysis.
Aug. 9, 2013 update: The discovery of viral strands of polio in the sewage facilities from Lod and Ramle means that, starting in a few days, all Israeli children born since 2004 (i.e., ten and under) will be vaccinated for polio. Twenty eight virus carriers have been identified, 26 of them children under ten. The presence of the polio virus is one of the most serious public health problems Israel has faced in decades.
August 22, 2013 update: In a survey of efforts to eradicate polio, the New York Times finds it "is facing serious setbacks on two continents," and more precisely in Somalia and Pakistan.
Aug. 30, 2013 update: The U.S. Centers for Disease Control and Prevention has added a polio alert to its page on Israel under its advice to "most travelers":
Polio

You may need a polio vaccine before your trip to Israel.

If you were vaccinated against polio as a child but have never had an additional dose as an adult, you should get an additional dose. Adults need only one additional dose in their lives.

If you were not completely vaccinated as a child or do not know your vaccination status, talk to your doctor about getting vaccinated.

If visiting Israel with children, it is especially important to make sure they are up-to-date on their routine polio vaccinations.
Sep. 2, 2013 update: To be on the safe side, even though there is not a single incident of polio outbreak in Israel, the authorities have decided to vaccinate a million children.
Sep. 4, 2013 update: The Saudi authorities convened a group of Islamic scholars mainly from Pakistan for a two-day meeting at the Islamic Development Bank headquarters in Jidda to win and announce their support for polio eradication programs.
Oct. 7, 2013 update: A remote-controlled bomb exploded near a government health center in Peshawar, in northwestern Pakistan near Afghanistan, during the distribution of anti-polio kits, killing 2 (including a policeman) and wounding at least 12.
Oct. 12, 2013 update: The polio virus has appeared in Sudan's South Kordofan and Blue Nile provinces where the SPLM-North rebel group backed by South Sudan is fighting Sudanese government forces. According to the United Nations, more than 165,000 children in the two Sudanese states are at risk "due to a lack of immunization in the border area in more than two years." The Security Council has called on the warring sides "to urgently overcome differences" and allow a two-week polio vaccination campaign can to begin as scheduled on Nov. 5.
Oct. 25, 2013 update: In a plaintive article one day after World Polio Day, "War on polio extremely hard," Sidrah Roghay reviews the situation in Pakistan. Excerpts:
When asked about the utility of the polio vaccine, Mirdaat, an eight-year-old Afghan waste picker calls it "an American conspiracy to wipe out the Muslim race." He holds the same opinion about blood screening for hepatitis. "Health workers will sell our blood to America. There is honour in Pakhtun blood. It cannot be sold." Eight other little waste pickers accompanying Mirdaat nod their heads in agreement.
Since mid-July last year [2012], 17 health workers and five policemen involved in anti-polio campaigns have been killed and 14 others wounded by militants in 25 attacks across the country.
Pakistan remains one of the three endemic countries for polio, along with Afghanistan and Nigeria.
There were 46 polio cases reported in Pakistan this year.
Oct. 29, 2013 update: Initial reports of the discovery of a polio outbreak among 22 children in Deir al-Zour Province in northeastern Syria have now been confirmed in 10 of the 22 children according to the World Health Organization, with results of tests on the other 12 children expected soon. Most of the cases are in children under 2 years of age.
Before the Syrian civil war broke out in 2011, 95 percent of the country's population was immunized; now, half a million Syrian children have not been inoculated against polio. In response, the U.N. is starting a campaign to immunize 2.4 million children in Syria against polio and other diseases, as well as in the neighboring countries: Lebanon, Jordan, Iraq and Turkey, Egypt, and Israel.
The New York Times reports: "Public health officials have speculated that a possible source may have been jihadi fighters traveling to Syria from Pakistan."
Nov. 6, 2013 updates: The polio outbreak in Syria has scared the World Health Organization into planning to vaccinate more than 20 million young children in the a Middle East period of six to eight months, a campaign that may divert vaccines intended for use elsewhere.
Nov. 7, 2013 update: The recent re-emergence of the polio strain in Israeli sewage points to the potential to spread to non-Muslim-majority countries. Two German specialists, Martin Eichner of the University of Tubingen and Stefan Brockmann of Reutlingen Regional Public Health Office, worry about polio spreading to Europe, especially should substantial numbers of Syrian refugees reach the continent. Conceivably too, tourists going to Israel could bring it back. Dr Benjamin Neuman, a virologist at the University of Reading, explains:
The Syrian outbreak puts Europe at risk because of the way we give vaccines. In parts of the world where it is still possible to catch a wild strain of poliovirus, children are usually vaccinated with a live but genetically weakened poliovirus which gives excellent protection but has a tiny risk of changing back to the more dangerous form. However, in parts of the world where polio has been eradicated, like the UK, children are usually given a killed vaccine. It doesn't protect quite as well but it cannot mutate, so it protects reasonably well while preventing polio from being accidentally reintroduced to a country. Vaccination is never perfect, so despite being vaccinated, a small percentage of children in the UK would be at risk of contracting polio if they were exposed to the virus. Until the virus is completely extinct, it is essential that we continue to vaccinate our children.
Eichner adds: "The WHO wants to get rid of polio completely and had got pretty close until recent outbreaks. The fact that most of those infected do not display symptoms but can still spread the disease makes it a very hard virus to get rid of as it is like fighting an invisible enemy."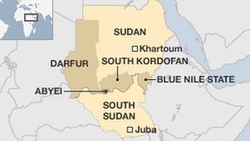 Nov. 12, 2013 update: Civil war in the Sudan between the government and rebels in the South Kordofan and Blue Nile provinces blocked a polio vaccination campaign this past week directed toward 165,000 children, the United Nations reports.
Nov. 13, 2013 update: The polio outbreak in Syria has spurred governments and international organizations urgently to vaccinate 22 million children in Egypt, Gaza, the West Bank, Jordan, Lebanon, Turkey Syria, and Iraq,. The $30 million campaign will inoculate even children already vaccinated against polio.
Nov. 30, 2013 update: USA Today carries an article today, "Islamic law and suspicion fuel polio resurgence" by Imran Ali Teepu, that does not live up to its title, for it says very little about Islam.
Dec. 11, 2013 update: A parallel development on a minute scale exists among Hasidic Jews and measles: One third of all cases of measles in the United States, or 58 out of 175, were among Hasids in the Brooklyn. Given that there were 3 to 4 million cases of measles worldwide leading to 158,000 deaths, however, this is not a major problem.
Dec. 29, 2013 update: (1) One person, Zahid Gul, was killed and two injured yesterday when two armed men on a motorcycle opened fire on an anti-polio vaccination team at Matani Hospital, in the outskirts of Peshawar, Pakistan, near the tribal areas.
Also, a tally for 2013 finds that 82 persons were newly infected with the polio disease in Pakistan, compared to 58 in 2012. The same news report records two further December attacks on anti-polio workers in Pakistan: "On December 13, gunmen had attacked two separate polio teams in northwestern Pakistan, killing one polio worker and two guards. On December 21, unidentified militants gunned down a polio worker in the Jamrud Tehsil area of Khyber Agency."
(2) Syrian refugees in Turkey have brought 17 recently reported cases of polio to the country after an absence of 14 years and completely eradicated for 11 years.
Jan. 9, 2014 update: A rare piece of good news from Syria: according to the World Health Organization, the polio vaccination effort of children there appears to have stopped the spread of the disease just halfway the process, with no new cases for many weeks.
Jan. 11, 2014 update: The year 2013 saw 83 new polio cases reported in Pakistan, more anywhere else in the world, including Afghanistan and Nigeria, the other two countries where the disease is endemic. There had been just 51 reported cases in 2012, reports Pamela Constable for the Washington Post. Efforts to combat the virus, however, are hampered by attacks by Islamists; just the past three months have seen at least a dozen government vaccinators or their police escorts killed or wounded in the country's northwest. None of the perpetrators have been arrested.
In response, the government is enlisting influential figures, including Muslim scholars, in a campaign to endorse polio vaccines. For example,
Sami ul-Haq, a conservative Sunni cleric whose seminary, or madrassa, in this northwest town [of Akora Khattak] once trained Afghan Taliban fighters, is part of the new effort in support of the anti-polio campaign. He recently issued an Islamic edict declaring that vaccines against polio and other diseases are "useful" for health, that there is "no prohibition in Islam" against them and that "suspicions being spread about them have no basis in fact."

"I felt it was important for the facts to be clear so people will not be confused," ul-Haq, who was recently named as a government peace emissary to the Pakistani Taliban, said in an interview at his seminary. His vaccinated grandson Mohammed, 2, sat on his lap. "Islam says that treating all diseases is a must."
Constable points out one new reason why the government is promoting vaccinations as it is:
because of the growing threat of foreign quarantines and travel restrictions, especially for Pakistani workers abroad whose wages help prop up the nation's teetering economy. On Jan. 3, the government of India issued a mid-February deadline for all Pakistani visitors to obtain proof of polio immunization.
The clinic technician, Jamal Shah, at a hospital in Akora Khattak, recalls (in Constable's paraphrase) "that when the government began immunizing children against polio in the 1980s, many people believed the vaccines were a Western plot to sterilize Muslims. With public education, he said, resistance gradually declined" until the case of Shakil Afridi, the Pakistani surgeon used by the CIA to get information on Osama bin Laden under the pretence of conducting a hepatitis immunization survey. Shah explains:
That incident had a great effect on the minds of the people. After that, they started hating the polio teams. Now that we have celebrities coming to support us, people are thinking more positively, and they are coming to us on their own.
Still, the Afridi impact lingers: a few days ago, Taliban spokesman Ehsanullah Ehsan announced that the anti-polio campaign is "used to spy on our holy fighters."
Izrar Madani, an aide to Sami ul-Haq, says the anti-polio pamphlets and propaganda originally came from Nigeria, then reached Pakistan via India, confirming my research which found the source being a doctor in northern Nigeria in md-2003.
Jan. 22, 2014 update: Deutsche Welle's Shamil Shams reports on violence in Pakistan hampering the anti-polio campaign.
Pakistani security escorted a heath worker administering the anti-polio vaccination to a child in Peshawar, Pakistan, on Jan. 15.

A bomb rigged to a bicycle hit a police patrol on its way to guard a polio vaccination team in northwestern Pakistan on Wednesday, January 22 killing six policemen and a boy, the police said. It was the second attack in as many days targeting heath workers. On Tuesday, four gunmen opened fire on a medical team in the southern city of Karachi on Tuesday, January 21, killing three health workers including two women. The killings come just days after Pakistani authorities began a nationwide drive to eradicate polio. Officials say the militants want to terrorize the polio immunization teams in the city so that they abandon their campaign. ...

Experts say the militants' attacks have made it extremely difficult for health workers to run their campaign. They say that the failure of the polio eradication drive will be devastating for the country and its already weak economy. "If the polio virus spreads in the country, Pakistanis will be barred from travelling to other countries," Sikandar Januja, an activist in Karachi, told DW.
Feb. 10, 2014 update: MEMRI has published a lengthy study of the problem in Pakistan under the title "Rising Attacks on Polio Workers In Pakistan - Media Report: Rumors that the Vaccine 'Is a CIA Plot to Sterilize Muslim Children'; Article: 'Jews, Who Dream of Ruling The World, Have Invented... Vaccines, Drugs, and Injections... to Weaken Muslims'" and also made available an audio recording under the title "Pakistani Jihadi Audio Message Against Polio Vaccination: 'If A Polio Team Visits Your Area You Need To Shoot Them'."
Feb. 16, 2014 updates: (1) Pakistani Islamists raised the ante in Peshawar today by setting off a remote-controlled bomb at a polio vaccination center, killing one police officer and injuring another.
(2) An Associated Press analysis explains how the pool of polio genes in Pakistan threatens other countries as well:
Pakistan's beleaguered battle to eradicate polio is threatening a global, multi-billion-dollar campaign to wipe out the disease worldwide. Because of Pakistan, the virus is spreading to countries that were previously polio-free, U.N officials say. "The largest polio virus reservoir of the world," is in Peshawar, in northwestern Pakistan near the border with Afghanistan, according to WHO. ...

Fresh cases of polio - traced through genetic sequencing to the Pakistani strain of the disease - are showing up in countries that were previously polio-free, including Syria and Egypt, as well as in the Gaza Strip, said Ban Khalid Al-Dhayi, the spokeswoman for UNICEF in Pakistan. ... "A lot of countries that spent so much money and resources eradicating polio are worried," Al-Dhayi said in an interview.
Afghanistan and India, to Pakistan's west and east, are particularly vulnerable:
The same genetic sequencing found that 12 of the last 13 new polio cases in Afghanistan originated in Pakistan. Just last week, a 3-year-old was diagnosed with polio in the Afghan capital of Kabul, the first case since 2001.

Neighboring India, with a population of 1.2 billion, has been polio-free for three years. Fearful that Pakistan could wipe out that achievement, India is demanding that Pakistani visitors provide proof of vaccination.
The prospets of ending this danger are dim indeed.
Underlining the danger that Pakistan poses to achieving that goal, Al-Dhayi said there are 350,000 Pakistani children in just one small area of the country who have not been vaccinated - and it takes only one child left unvaccinated to reverse global gains against the disease. The area - North and South Waziristan - is too dangerous for health workers to venture. Islamic militants, many with ties to al-Qaida, banned polio vaccinations there in 2012 to press their demand that the United States end its use of drones to target their hideouts.
Dr. Imtiaz Ali Shah, the provincial government's polio campaign coordinator, notes the impossibility to eradicate the polio virus from Peshawar, because tribal peoples from the heavily infected regions arrive daily in the city, bringing with them the virus: tribal regions, he notes, "are producing so many cases."
Feb. 20, 2014 update: In a 5,000-word article in the New York Review of Books bearing the title, "Syria's Polio Epidemic: The Suppressed Truth," Annie Sparrow blames Bashar al-Assad for what she calls a "man-made outbreak" and argues that the Assad regime's willful spreading of polio has gone unremarked.
A critical-care pediatrician and assistant professor of global health at Mount Sinai in New York, she starts by noting that, of Syria's 93 or more cases, the average age is just under two and all live in territory not controlled by the government. Also, it all the instances are of wildtype 1, "the most vicious form of the disease." She estimates that "for each crippled child, up to one thousand more are silently infected. Polio is so contagious that a single case is considered a public health emergency. Ninety cases could mean some 90,000 people infected, each a carrier invisibly spreading the disease to others for weeks on end."
Once the war began, the government started ruthless attacks on civilians in opposition-held areas, forcing millions to seek refuge in filthy, crowded, and cold conditions. Compounding the problem are Assad's ongoing attacks on doctors and the health care system, his besieging of cities, his obstruction of humanitarian aid, and his channeling of vaccines and other relief to pro-regime territory. ... Of the 1,919 health centers across the country before the war, 652 have been destroyed, shut down due to insecurity, or closed for lack of power, the vast majority in opposition-held areas. ...

Of the roughly 1.8 million children born since the conflict began, more than half may be completely unvaccinated. WHO estimates that the vaccination rate has dropped from 83 percent of two-year-olds before the war to 52 percent in 2012. ... More than three million children across Syria may now be vulnerable.
United Nations agencies deployed to Syria in early 2012 to respond to this government-created humanitarian crisis are in a Catch-22: they all must stay in Damascus because their mandate
requires that they respect the regime's sovereignty, making their operations contingent upon government consent. The millions of dollars of food, medical aid, and other humanitarian supplies provided by UN-financed convoys are all controlled by the regime. The UN's current polio vaccination program ­ sponsored by UNICEF and delivered in UN-financed convoys and flights ­ is fully orchestrated by the Syrian government.
Thus has Assad's war "generated the perfect conditions for polio: the severe malnutrition we see now in many opposition-held areas, on top of appalling living conditions." Nonetheless, the Syrian authorities refuse to take responsibility for controlling it. "For months the Syrian Ministry of Health denied that polio had even broken out." Once it did accept that polio had spread, it still failed to detect the polio outbreak, losing the chance to limit the virus to just one region.
In fact, the government's warning system not only missed the first case, it missed the first two dozen. It's still missing them: there have been at least forty-six new cases since the last "official" case was documented by the Syrian government and WHO in October.
Sparrow finds that Syria's children "are now at greater risk than children in the three countries where polio is still endemic (Afghanistan, Pakistan, and Nigeria) because they lack the natural immunity that comes from exposure and because the spread of polio by respiratory means is aggravated by the crowded conditions under which millions now live."
To avert a polio epidemic, "a surveillance system is required that can trace affected children and contacts more rapidly than the virus spreads, but the government's sloppy surveillance and months of denial mean that it is now impossible to contain it."
She finds the United Nations colluding with the Assad regime:
Despite claims by both the Syrian government and WHO that the campaign has reached most children at risk, the government's vaccination effort is focused on children in government-controlled areas, where hospitals are open and food, clean water, and fuel are available, while neglecting the children in the opposition-held areas where polio has actually broken out. In those areas, the government continues to attack civilians, hospitals, and schools. ...

Meanwhile, the UN backs the regime's claims with various press releases: "538,000 vaccines airlifted to Hassake," reads one UNHCR report; "3.3 million children vaccinated against polio," states another by UNICEF and WHO. But even the numbers cited by WHO and the regime are inconsistent and regularly changed. We are told nothing about the children already infected.
All of which provides incentive to leave Syria, bringing polio and other diseases to new countries:
by ignoring the epicenter of the epidemic, the UN facilitates Assad's forced-displacement strategy, creating an incentive for civilians in opposition-held areas to flee abroad, where the chances of protecting their children from both bombs and polio are greater. As asylum seekers and smuggled migrants spread across the region, they put other Middle Eastern countries and Europe at risk of polio. The flurry of international humanitarian activity away from the epicenter of the polio outbreak diverts attention from Assad's other ongoing atrocities.
Mar. 2, 2014 update: Twelve security personnel of the Khyber Khasadar Force and one passer-by child were killed and 11 others injured when two roadside bombs went off in Jamrud tehsil of Khyber Agency, Pakistan; ironically, the bombs were intended for a polio vaccination team but none of the anti-polio personnel were even injured. The paramilitary troops had ben guarding the anti-polio workers.
Apr. 1, 2014 update: The remarkable Qanta Ahmed, associate professor of medicine at the State University of New York, offers a personal account of efforts to combat polio in Pakistan in "Polio's endgame The debilitating and often deadly virus has almost been eradicated – now the Muslim world must finish the job." She also discerns a method behind the conspiracy theorists' madness:
Realizing the elimination of polio is a global goal, the Taliban see the eradication programme as a bargaining chip to exchange for the cessation of US-operated drone operations targeting militant leaders.
In the darkness, she espies "an opportunity for the Muslim world leadership – not just in government but in the worlds of business, philanthropy and even sport. Today, while the Muslim world struggles with deepening sectarian tensions, the opportunity to fight polio brings with it a chance of unity."
Apr. 6, 2014 update: UNICEF has announced the start of its first mass vaccination campaigns for polio in Iraq since the disease was recently found there. It will also begin efforts in Syria and Egypt, aiming to reach in all more than 20 million children over the five days.
May 9, 2014 update: The World Health Organization has, for the first time ever, declared the spread of polio an international public health emergency. It calls the current polio outbreaks an "extraordinary event" that requires a coordinated international response. It notes that the governments in three countries (Pakistan, Syria and Cameroon) have allowed the virus to spread beyond their borders and wants nationals of those countries to have a polio vaccination certificate in hand to travel abroad.
June 23, 2014 update: Wild poliovirus type 1 (WPV1) has appeared in the airport sewage of World Cup host city of Campinas, Brazil, base camp for the Portuguese and Nigerian teams. Genetically sequenced, it closely matches a strain recently detected in Equatorial Guinea, a near neighbor of Nigeria. Could a member of the Nigerian team have brought the virus with him?
Aug. 11, 2014 update: Will ISIS permit polio vaccinations in the territories it controls? UNICEF and the World Health Organization, which are planning a campaign in Iraq to reach four million Iraqi children under the age of 5, do not have contact with ISIS and are wondering what the answer might be. They are especially curious, as both organizations are part of the United Nations, which designated ISIS a terrorist group. This problem adds to others in the region facing vaccinators recently; the New York Times explains:
In both Iraq and Syria, the re-emergence of polio followed a 14-year absence and is considered a consequence of the collapse of Syria's public health system during the civil war that began in March 2011. Despite multiple vaccination campaigns in both countries over the past few months, many children in combat zones and hard-to-reach areas have not been vaccinated. Multiple rounds of vaccine are required to combat the polio virus.

The last big Iraq vaccination effort in May, which covered all 19 provinces, was only partly successful. [UNICEF spokeswoman Juliette] Touma said vaccination coverage was lowest in Anbar in the west, and Nineveh and Kirkuk in the north, because of violence and mass population movements. Coverage was also low in Muthanna, in the south, because of what Ms. Touma called "social reservations and lack of awareness among the local communities."
Aug. 12, 2014 update: Annie Sparrow, author of a major study on polio in Syria in February 2014, now has a second installment in "Syria: The Other Threat." In it, she concentrates on the culpability of international organizations who maintain too-high standards for a war zone like Syria and end up substantially undercounting the number of cases of polio.
as I have documented in The New York Review, the spread of polio has been aggravated by the inadequate response of the World Health Organization (WHO) and UNICEF—the two UN agencies responsible for dealing with the epidemic. And new revelations have made clear that independent polio vaccination efforts in northern Syria have been severely hampered by those agencies' mismanagement. Over the past year, ISIS has made this situation even worse with its kidnapping of international health workers, detention and intermittent execution of national medical personnel, and seizure of aid convoys.
She notes that "nearly all the cases of polio have occurred in areas of northern Syria under rebel control, where the government is seemingly doing everything in its power to prevent vaccination." As a doctor from Aleppo bitterly told Sparrow, "The government's polio control strategy for children is to kill them before they can get polio."
She sees polio in Syria possibly
undermining polio eradication efforts across the Middle East and more widely. Only eighteen months ago, the WHO-led Global Polio Eradication Initiative (GPEI) could claim to be on the verge of wiping out the disease. After twenty-five years and a multi-billion dollar campaign, the number of countries with endemic polio had dropped from 125 to 3, and two out of the three wildpolio viruses have been eliminated. Yet polio is now flourishing in Central Asia and Africa, as well as in the Middle East. Since January 2013, more than 550 new cases of type 1 wildpolio have been reported in ten countries, and numbers rise weekly. The virus has been detected in the sewers of other countries that had previously eliminated polio, including Israel and Egypt. Already by June, the numbers of polio cases in Pakistan this year outstripped the total for all of 2013.
Sparrow ridicules the statement by the director of WHO's polio effort, Bruce Aylward, for describing the polio eradication program as "in an extremely good position, aside from this spread in the low season, and aside from the situation in Pakistan."
Part of why WHO is able to maintain an optimistic view of polio eradication efforts is that it significantly undercounts the incidence of polio. Ordinarily, diagnosis is straightforward: a child presents with acute onset of paralysis, and a laboratory confirms that poliovirus is present in the child's stool. This is the sole definition used by WHO; for the agency, a case of "acute flaccid paralysis"—the clinical description of a suspected case of polio—does not count unless a laboratory has confirmed the presence of the virus in two stool samples taken within fourteen days of the onset of paralysis. But in a country like Syria that is riven by violent conflict, the timely collection of stool samples and their transport to the sole officially recognized laboratory across front lines in Damascus are often impossible.
Again, she blames the Syrian government for this breakout:
What Syria's experience makes clear is that the polio crisis is not simply a result of conflict or war, as leading WHO and UNICEF officials claim. After all, polio has not recurred in such conflict-ridden countries as South Sudan, the Central African Republic, or the Democratic Republic of Congo. Polio did not even break out in Iraq during the eight years of war and turmoil following the US invasion of 2003. Yet it took only some two years of fighting in Syria for polio to reappear—and only another six months for it to spread to Iraq. Syria stands out as an epicenter of polio's reemergence—after an eighteen-year absence—because of the extraordinary brutality of the government.
Comment: Sparrow's point boils down to this: In addition to conspiracy theories causing polio not to be eradicated, the hideous Assad regime is doing its best to spread this and other diseases in rebel-held areas of Syria. In other words, there are two major reasons for polio's revival, not just one.
Oct. 23, 2013 update: Laurie Garrett, Council on Foreign Relations Senior Fellow for Global Health, has posted a map of vaccine-preventable outbreaks that finds "a hostile climate for vaccinators thwarts the eradication of preventable illnesses such as polio." In particular, "the resurgence of polio in Pakistan is strongly correlated with the increase of attacks on vaccinators and health-care workers there."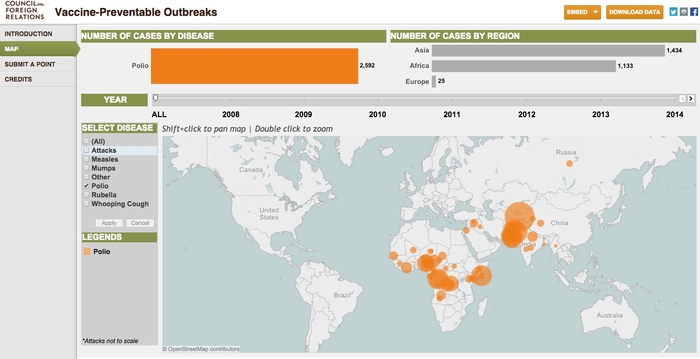 The CFR map, with polio 2008-14 appearing.
Dec. 10, 2014 update: Two gunmen on a motorbike shot six bullets and killed a polio vaccinator, Muhammad Sarfraz, 40, in Faisalabad, Punjab Province, Pakistan on Dec. 9, on the day two of a three-day national vaccination campaign. Sarfraz, a school teacher, had volunteered for the campaign. This was the second time he had been attacked this year.
Feb. 14, 2015 update: Two developments in Pakistan: (1) Gunmen attacked a vehicle in the Khyber tribal region close to Afghanistan, that carried a polio vaccination team in, killing the driver and wounding a health care worker. (2) Two polio workers and two security guards were reported missing in Baluchistan.
Feb. 27, 2015 update: Pakistani officialdom in the northwestern province of Khyber-Pakhtunkhwa is finally getting serious about polio vaccinations, preparing to put recalcitrant parents in jail, if need be. (Out of 13 new cases in all of Pakistan in 2015, 11 of them have been in Khyber-Pakhtunkhwa or the tribal regions.) Deputy police commissioner for Peshawar, Riaz Khan Mahsud, explains: "We had 13,000 to 16,000 refusal cases. There is total determination on our part. We shall convince parents of the good of vaccinating their children, but if they refuse, we shall detain them. There is no leniency."
Mar. 11, 2015 update: Unknown assassins killed two female health workers and a police guard in a remote, mountainous area of Mansehra district in Khyber-Pakhtunkhwa Province in northwestern Pakistan. The local police chief, Muhammad Ejaz Khan, said that "The two-member team was administering polio drops in an Afghan refugee camp and its surrounding areas when two gunmen opened fire on them." The gunmen escaped.
Sep. 30, 2015 update: Three British scholars, Jonathan Kennedy, Martin McKee and Lawrence King, published a paper, "Islamist insurgency and the war against polio: a cross-national analysis of the political determinants of polio" that in nine densely-worded pages full of numbers reaches the self-evident conclusion that
Islamist insurgents' hostility towards polio vaccination programmes negatively affects the implementation of the [Global Poliomyelitis Eradication Initiative, a campaign launched in 1988 to eradicate poliovirus through immunization].
Jan. 13, 2016 update: As a police van escorting anti-polio workers arrived at a polio eradication center in Quetta, Pakistan, a suicide bomber attacked the van, killing at least 15, most of them police. Two Islamist groups, Pakistani Taliban and Jundullah, claimed the attack.
Apr. 11, 2016 update: After so much bad news over the past 13 years, it comes as a bit of a shock to learn that the World Health Organization expects polio might be eradicated within the year. Says Michel Zaffran, its director of polio eradication: "We absolutely need to keep the pressure up, but we think we could reach the point where we have truly interrupted the transmission at the end of the year or the end of the low season [winter] next year. ... It is going to be an extraordinary achievement. This has been an ongoing effort since 1988. We started with 150 countries and we are now just down to two countries and nine cases [so far in 2016]."
To be more specific, the nine cases of wild polio virus recorded in the first hundred days of this year include two in Afghanistan and seven in Pakistan. This means that such countries as Nigeria, Syria, and Iraq, are again free from polio. According to a report in the Guardian,
The WHO is concentrating its efforts in three areas known to be reservoirs for the virus – the Pakistani city of Karachi and two cross-border corridors, around Quetta Block and in the Peshawar district. Zaffran said 47 districts in Afghanistan have been prioritised for vaccination and surveillance, of which 32 are under control of anti-government forces. In these cases it is difficult to reach the children. We are vaccinating at transit points but we are still confident, because we've only had two reported cases this year so far compared to 22 [total cases] last year."
Comment: I am pleased and astonished by this news – and wondering what happened in countries like Nigeria, Syria, and Iraq. Where did the Islamist opposition go?
Aug. 12, 2016 update: In April, just four months ago, polio seemed to be on the way out, with no new cases reported since August 2014. But now, two new cases have appeared in northeast Nigeria, setting back global efforts at eradication by two years.
Sep. 11, 2016 update: The Taliban took credit for the motorbike assassination today of Zakaullah Khan, a veteran doctor engaged in the polio vaccination campaign in Peshawar, Pakistan. There have been over one-hundred deaths carried out by Islamists against polio teams in Pakistan since December 2012. The Taliban also announced their intention to carry out many more such attacks.
Sep. 14, 2016 update: The World Health Organization declared Nigeria "polio-free," making it the final piece in eradicating the disease from the entire continent of Africa, in what National Public Radio calls "a major triumph in the multibillion-dollar global effort to eradicate the disease."
Not so fast: "Three new cases of polio have been confirmed in areas liberated from Boko Haram militants, prompting health officials to launch a massive campaign to vaccinate millions of children across four countries in West and Central Africa."
June 20, 2017 update: In an outbreak of polio in mostly-ISIS-controlled areas Syria that WHO calls "very serious," 17 children have been paralyzed.
Jan. 18, 2018 update: Twp gunmen riding on a motorcycle shot and killed two women in Quetta, Pakistan, Sakina Bibi, 50, and her daughter, Alizah, 20, as they were giving immunization drops to children.
Apr. 7, 2018 update: A lengthy New York Timesreport, "He Killed a Red Cross Worker: 'I Will Go to Hell for What I Did'," looks at the case of Mohammad Nasim, an Afghan polio patient who shot and killed a Spanish physiotherapist, Lorena Enebral Perez, who worked at a polio center. The article's author, Rod Nordland, finds the motive to be "a mystery" but anyone familiar with this weblog entry, plus the perpetrator's being a "devoutly religious man" who "had studied in Islamic madrasas, where he managed to memorize the entire Quran, in its original Arabic," plus his yelling "Allahu Akbar" as he committed the crime, will have a pretty good idea why the murder took place.
Nordland himself supplies plenty of hints: Dur Mohammed, 45, commented that "He just did that because she wasn't a Muslim." Zakirullah Rahim, 35, added: "So she was not a Muslim, but she was helping Muslims."
Aug. 21, 2018 update: Why limit the ban to polio? Indonesia's top Islamic body, the Indonesian Ulama Council (MUI), issued a fatwa against measles vaccine, calling it "religiously forbidden" because it supposedly contains traces of pork and human cells. It will, however, be allowed temporarily.
Sep. 24, 2018 update: A polio official was killed in the Badan area of Bajaur district, Pakistan.
Nov. 6, 2018 update: 14 deaths and more than 1,500 cases of measles have been reported since September in southern Thailand because of Islamist suspicions that the vaccinations contain porcine gelatin as a stabilizing agent. In some districts, only 60 percent of the population has been immunized.
Nov. 12, 2018 update: Indonesia's Ulama Council calls the measles and rubella vaccines, "unclean" because it uses porcine gelatin. In some districts, only 7 percent of the population has been immunized.
Feb. 28, 2019 update: Good news from Egypt, polio free since 2006 and undertaking a massive vaccination campaign to reach 16.5 children ages of 1 to 5 years – without Islamist obstruction.
Apr. 26, 2019 update: At least three Pakistani polio vaccinators or their police protectors were killed since the resumption of an anti-polio campaign that began on Apr. 23. One tally counts 95 persons associated with anti-polio efforts killed in Pakistan since 2012. Pakistan, Afghanistan and Nigeria remain the only countries where the disease still exists.
And a new anti-vaccination tactic has emerged: "More than 25,000 children were rushed to hospitals in northwestern Pakistan on Monday after false rumors that polio drops were making children sick, creating a panic. A man, Nazar Gul, was detained this month on suspicion of conspiring against the polio vaccination campaign after a video went viral that showed Mr. Gul urging students to pretend to faint after immunization."
Apr. 27, 2019 update: Following the three murders and other acts of violence (such as the burning of a health facility), the Pakistani government suspended its anti-polio campaign across the country "for an indefinite period."
Comment: So far as I can tell, having followed conspiracy theory-driven efforts to shut down polio vaccinations since 2003, this is the very first time Islamists have forced a government to shut down an anti-polio campaign. Obviously, it's a worrisome sign – for Pakistan, for Muslims, and for all humanity. But it's very good for poliomyelitis.
May 10, 2019 update: "Pakistan had all but eliminated polio. Then things went badly wrong" reads the Washington Post headline. Haq Nawaz Khan and Pamela Constable report that "The virus was so close to being wiped out" but then
a single rumor of vaccinated children falling sick in a village school last month triggered panic and violence nationwide. Since then, the anti-polio drive has been suspended until July while officials scramble to regroup. Half a dozen vaccinators or their guards have been killed, and new cases of children with numb or paralyzed limbs are being reported every week, setting back years of effort to eliminate the virus.
In numerical terms: "Between 1994 and last year, the number of infected children in Pakistan plunged from 20,000 to just 12. But 15 new cases have been reported this year." The incident that caused the problem?
On April 22, vaccinators spent the morning at a school in Mashokhel, a few miles outside Peshawar, the capital of Khyber Pakhtunkhwa province. Soon after they left, school administrators reported that dozens of students were vomiting and fainting. Among local residents, long-suppressed suspicions burst into a frenzy. An angry mob attacked the school and burned down the local health clinic. ...

As the news circulated that day via social media and cellphones, frightened parents rushed 40,000 children to hospitals in Peshawar. Health officials later reported that almost all were found healthy and sent home, but by then it was too late to contain the panic. Across the country, hundreds of thousands of parents refused to let their children receive the drops, and the vaccination drive was suspended.
May 24, 2019 update: To cope with the conspiracy theories, the Pakistani government is trying new tactics, reports the New York Times: "vaccination teams will take a friendlier approach, ask fewer questions, make fewer follow-up visits, and stop recording extensive details about the families they visit." The story also reports one of the more imaginative of conspiracy theories: "vaccinators have been accused of marking targets for American drones."
And a piece of good news: "Nigeria has not had a confirmed polio paralysis case since 2016."
June 28 2019 update: The BBC today carries a long and illustrated analysis on the situation of battling polio in Pakistan.
July 16, 2019 update: "Polio Cases Surge in Pakistan and Afghanistan" reads the New York Times headline. Donald G. McNeil Jr. writes that
The global drive to eliminate polio, which has gone on for 31 years and consumed over $16 billion, has been set back again by a surge of new cases in Pakistan and Afghanistan. As of July 10, there were a total of 42 polio paralysis cases in the two countries. They comprise a single large outbreak, because most cases are in the tribal areas along the border, where local people easily cross back and forth. ...

For each paralyzed victim — usually a child below age 5 — there are about 200 others who are infected and shedding the virus in their stool, the World Health Organization estimates. ...

false rumors spread on social media saying the vaccine had triggered fainting spells — or even that it had killed dozens of children — and many families locked their doors to vaccinators or hid their children. ...

The virus is threatening to spread to other countries. In May, a sewage sample in a bordering province in Iran tested positive for the strain of virus circulating in Pakistan; Iran had its last case of polio paralysis in 2001.

A further threat to the eradication campaign is that a few countries — mostly in Africa — have been unable to eliminate some mutated strains of the polio viruses used in live vaccines. Those strains have reverted back into forms capable of causing paralysis.

In the last two years, there have been outbreaks of "vaccine-derived polio" in Angola, the Democratic Republic of Congo, Ethiopia, Indonesia, Mozambique, Niger, Nigeria, Papua New Guinea and Somalia.

Last week, a sewage sample in western China tested positive for a vaccine-derived polio strain, meaning the virus must be circulating there although no cases of paralysis caused by it have yet been detected. Xinjiang, the province where it was found, borders on both Pakistan and Afghanistan.
Aug. 22, 2019 update: Surprisingly good news, courtesy of the Economist:
On August 21st Nigeria marked three years since its last documented case of wild polio. That means the country is set to be declared polio-free by the World Health Organisation-backed Global Polio Eradication Initiative. If that happens, probably next year, all of Africa will be officially free of the virus. Polio will remain in only Afghanistan and Pakistan; and one day it will be completely eradicated, like smallpox was in 1980.
Comment: Could it be that, after 16 long years, the end of this grand drama of conspiracy theory is coming to an end?
Sep. 19, 2019 update: Apparently not. Nineteen years after the World Health Organization declared the Philippines free of polio, a single case of a 3-year-old girl has appeared in the mainly Muslim Lanao del Sur Province in Mindanao, with a second case likely. Sep. 20, 2019 update: That second case has been confirmed Laguna Province, a mostly Catholic area.
Oct. 23, 2019 updates: (1) The World Health Organization reports 72 cases of polio in Pakistan in 2019 after only eight in all of 2018. Officials described the anti-polio program in Pakistan being in a "failing trajectory."
(2) The good news: two out of three strains of polio (#2 and #3) have been eradicated worldwide. The bad news:
First, millions of families around the world have not let their children have the drops because of persistent false rumors that the vaccine is a Western plot to sterilize Muslim girls or do other harm.
Second, in some countries, viruses used in the oral vaccine itself have mutated into a form [called cVDPV] that can be passed on in diapers and sewage, and can paralyze unvaccinated children.
Dec. 18, 2019 update: Two gunmen on a motorcycle killed at least two Pakistani policemen as they gathered at a health center before heading out with polio vaccinators in the Lal Qila area of Khyber-Pakhtunkhwa province, near the border with Afghanistan.
May 15, 2020 update: The COVID-19 pandemic has harmed anti-polio efforts, for health-care providers have suspended their door-to-door vaccination campaigns. As a result,
New cases have emerged in ­Niger and Chad, and fears have mounted about a resurgence in Afghanistan and Pakistan. Although the number of new polio infections has been small — 155 confirmed cases since January — even blips are worrisome, public health experts say, because small increases can trigger explosive outbreaks, especially in poor countries without the resources to combat the virus alone. "The polio virus is being let free," said Abdul Qadir, a health worker who has spent the past eight years delivering the vaccine in western Pakistan.
Nov. 3, 2020 update: The headline says it all: "The women who risk their lives to deliver Pakistan's polio vaccines: As activists target female vaccinators, Pakistan remains one of only two countries worldwide not to have eradicated polio."
Feb. 4, 2021 update: And now, not only is COVID-19 a conspiracy against Muslims, but so is the vaccine against COVID-19. Excuse me if I take some time to ponder that contradiction.
Plus, there is this: "A lot of people in my country are in denial, they don't think Covid is real," says Ayesha Raza Farooq, a Pakistani senator engaged in polio eradication.
Mar. 21, 2012 updates: (1) That Prime Minister Imran Khan of Pakistan came down with COVID-19 two days after being vaccinated can't help the polio campaign. As Javed Akram, vice chancellor of the University of Health Sciences, Lahore, notes, "In Pakistan, we already have skepticism, conspiracy theories and negative propaganda about vaccines."
(2) Reuters, reporting on AstraZeneca's COVID-19 vaccine: "Indonesia's highest Muslim clerical council, the Indonesia Ulema Council, said on its website Friday that the vaccine is 'haram' because the manufacturing process uses 'trypsin from the pork pancreas.' Still, the council approved the AstraZeneca vaccine for use given the pandemic emergency."
Mar. 30, 2021 update: Three Afghan women carrying out polio vaccinations were shot dead in two separate attacks in eastern Afghanistan.
June 16, 2021 update: At least five polio workers were shot dead in eastern Afghanistan.
Oct. 19, 2021 update: A headline with unexpected good news, coming out of a now-Islamist-controlled country: "Taliban Allow Polio Vaccine Program to Restart in Afghanistan."
Dec. 11, 2021 update: Tehrik-i-Taliban Pakistan, a U.S.-designated terror group, claimed credit for assassinating one police officer and seriously injuring another as they escorted polio vaccinators to do their job in Tank, a remote district in Khyber Pakhtunkhwa province.
Jan. 25, 2022 update: Gunmen shot and killed a Pakistani policeman who was providing security for polio vaccination workers in Kohat in northwestern Pakistan, then they fled.
Feb. 10, 2022 update: Bill Gates met Pakistan's Prime Minister Imran Khan and expressed optimism about eradicating polio. "We're not done but we're certainly in by far the best situation we've ever been in. I think the steps taken in Pakistan during 2022 will probably set us up to finish polio eradication. Afghanistan is a little bit of a question mark because that's a more complex situation," but he noted vaccination rates had gone up this year after dropping off since 2018.
The Reuters report adds that "No children have been paralysed by wild polio in Pakistan in more than a year, according to the Gates Foundation, but the virus was detected in December in sewerage samples in Khyber Pakhtunkhwa province. Four wild polio cases were reported in Afghanistan in 2021 and one this year."
Mar. 6, 2022 update: Israel just recorded its first case of polio since 1989 in Jerusalem. One wonders if the four-year-old had contact with persons from infected countries.
Apr. 2, 2022 update: Polio eradication faces new difficulties unrelated to conspiracy theories but due to COVID-19 and the Ukraine crisis.
June 22 2022 update: "Polio back in Britain for first time in 40 years." "It is thought that the virus was re-imported this year in a traveller from Afghanistan, Pakistan or Nigeria."
June 28, 2022 update: Unidentified jihadis opened fire on a polio vaccination team in northwest Pakistan, killing one person handing out doses, two policemen, and injuring a child. There was no immediate claim of responsibility.
July 22, 2022 update: A Haredi man in Rockland County, New York State, has polio.
Aug. 2, 2022 update: The Guardian brings bad news from many places:
a worrying sequence of events is playing out around the world. Pakistan has witnessed a string of fresh cases, ending a 15-month period without a single new instance of polio. The wild virus from Pakistan has led to infections in Mozambique and Malawi, previously free of the disease.

In June, the WHO reported cases of vaccine-derived polio – where a weakened virus in the vaccine itself spreads in the environment and infects people – in Eritrea, Ghana, Togo, Ivory Coast, Israel, Yemen, Nigeria and the Democratic Republic of the Congo. And in July, a patient in a New York City suburb was diagnosed with vaccine-derived polio. Over the past six weeks, traces of this form of the virus have also been found in sewage samples in Kolkata and London.
Mar. 2, 2023 update: Three children have been diagnosed with polio in Safed, one of Israel's most Jewish towns.