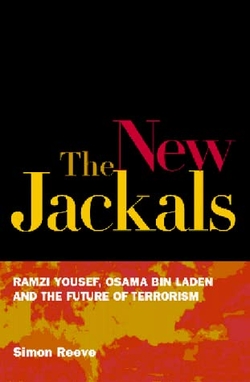 The names Ramzi Yousef and Osama bin Laden, two men who have devoted themselves to killing Americans at random, conjure up images of hatred and mayhem; but as individuals they are murky, even mysterious. Simon Reeve, an investigative journalist formerly with London's Sunday Times and now a freelance author, makes these arch-terrorists come to life in an unusual dual biography.
In a compelling reconstruction, Mr. Reeve takes the many disparate factoids we already know (that a World Trade Center bomber went back to the rental company to claim the $400 deposit on the truck he had blown up; that the pharmaceutical factory in Sudan bombed by U.S. missiles turned out to be legitimate) and makes them into a coherent and slightly horrifying account.
His two central characters cannot help but rivet one's attention. Yousef (born 1968) grew up as a second-class citizen in Kuwait, while bin Laden (born 1957) is the 17th son of one of Saudi Arabia's richest men. Both studied engineering and had their youthful wayward years.
Both then found their (anti-American) political cause and quickly rose through the ranks to become leaders. Yousef is described as an "evil genius" who invented new and undetectable kinds of bombs; bin Ladin, inspired by an extremist vision of Islam, used his huge fortune to create a personal army.
Yousef, now a lifelong guest at the Florence Correctional Institute in Colorado, is considered the most dangerous prisoner in the entire U.S. penal system; bin Laden, living out of animal-infested caves in Afghanistan, ranks as America's most dangerous criminal still on the loose.
Mr. Reeve unearths fascinating material about these two. The bomb used in the World Trade Center explosion was "the largest by weight and damage of any improvised explosive device" the FBI had ever seen. Ramzi Yousef's laptop computer contained a cyber-business card identifying him as "International Terrorist."
From this mass of information comes important insights into the nature of the current terrorism wave.
For example, Mr. Reeve shows that although Yousef has a reputation as an Islamic militant, he had a girlfriend while living in the Philippines and was "gallivanting around Manila's bars, strip-joints and karaoke clubs, flirting with women." From this and other suggestions of loose living, the author finds "scant evidence to support any description of Yousef as a religious warrior." The FBI agent in charge of investigating Yousef finds that "he hid behind a cloak of Islam."
Mr. Reeve concludes that identifying Yousef simply as an Islamic terrorist is not only inaccurate, it also does an injustice to one of the world's great religions." So, then, what motivated him? Here, Mr. Reeve mistakenly argues that Yousef had no real ideology - "no clear or definable political goals" and a generalized hatred of the United States. This analysis, however, overlooks Mr. Reeve's own plentiful evidence in The New Jackals that Yousef, who called himself "Pakistani by birth, Palestinian by choice," made anti-Zionism the core belief of his wretched existence.
In another note found on his computer, for example, he threatened more attacks on American targets "in response to the . . . assistance given to the Jewish State . . . by the American government." Yousef did have a clear and definable goal: the destruction of Israel. Finding Israeli installations too well defended, he attacked American ones instead. In short, he is a Palestinian terrorist.
What makes Yousef's case odd, as again Mr. Reeve notes, is his lack of contact with Israel, never ever having been in that country. " Despite a Pakistani father and a Pakistan passport, despite a secure upbringing [in Kuwait], and several years of education in the West, Yousef chose to affiliate himself with the Palestinians and launch a devastating terrorist war against America on their behalf."
Seeking a cause, in other words, he voluntarily took up a Palestinian identity. In this he is far from alone: As Commentary magazine recently revealed, Edward Said made this same conceptual leap in the 1970s, just as he took up politics. Before him, Yasir Arafat did likewise in the 1950s; and even earlier, the leading Arab intellectual George Antonius did something similar in the 1930s.
If Mr. Reeve's account offers many such insights, it is also true he makes too many mistakes; they are minor, but for a book in which most information is uncheckable, they raise red flags. James Woolsey, a former head of the Central Intelligence Agency, was not an admiral. The fourth "Rightly-Guided" caliph of Islam was not named "Ali Radiallahu" (radi Allah 'anhu is an honorific meaning "may God be pleased with him"). Rif'at al-Mahjub, speaker of the Egyptian parliament, was killed not in 1993 but in 1990. Jonathan Pollard was never jailed at the "Supermax" prison in Florence, Colo.
Nor is it reassuring to find contested, even conspiratorial, notions reported as facts: Mr. Reeve blithely states that CIA arranged for Sheikh Omar Abdel Rahman to enter the United States (as opposed to the accepted version that he entered due to a low-level consular error).
Mr. Reeve concludes with a rousing call to arms against the new wave of terrorism represented by Yousef and bin Ladin; noting that "Bin Ladin commands an army of some 5,000 terrorists" (a figure that also includes individuals linked to groups under his umbrella organization), the author points to extraordinary dangers ahead. To the question, why so relatively few actual incidents have taken place, he indicates that they are biding their time. Some are classic "sleepers" waiting to be activated, while others are preparing for the right moment to launch an unprecedented reign of terror.
In other words, Mr. Reeve's important work, though slightly marred by its inaccuracies, is an outstanding account describing a terrible and growing peril.