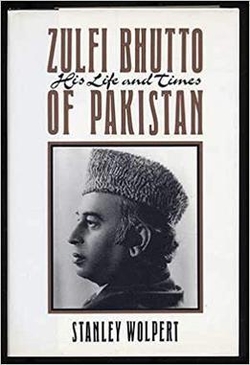 Stanley Wolpert, one of America's leading historians of South Asia, has written an important biography on an unlikely subject. Zulfikar Ali Bhutto, Pakistan's leader from December 1971 to July 1977, is not the sort of person about whom a major American press would normally publish a full-scale biography. His five and a half years in power were inglorious, to say the least. If Pakistan was poor and unstable when Bhutto grabbed power, it was yet poorer and more unstable when he lost power. His rule had relatively little impact on the United States. Further, his life ended in abject humiliation: arrest, imprisonment, followed by hanging.
Why, then, should an American take interest in this biography of Bhutto? For three reasons. To begin with, Bhutto put together a uniquely popular movement, one which fifteen years after his death remains Pakistan's most vital political force. In a polity usually dominated by military dictators, his charismatic presence deeply moved millions. This fact explains why his daughter Benazir won the 1988 elections and served as prime minister during 1988-90, and why she continues to exert a powerful influence yet today.
Second, Wolpert's exceptional research and novel-like style of writing bring this Third World demagogue vividly into focus. The author tracked down nearly everyone who could shed light on Bhutto, he unearthed the most obscure scraps of media coverage, and (most important) he gained access to Bhutto's private papers. These prodigious efforts give Zulfi Bhutto of Pakistan a remarkably full, intimate quality. Wolpert's biography offers an entree into a remarkably different world.
Finally, it's worth reading about Bhutto because he represents a type - the unprincipled, populist, Middle Eastern leader seeking power as an end in itself. Bhutto resembles such Muslim leaders as Mujibur Rahman of Bangladesh, Mu'ammar al-Qadhdhafi of Libya, Saddam Husayn of Iraq, and the PLO's Yasir 'Arafat. But he most closely resembles Gamal Abdel Nasser of Egypt, the man who dominated Middle East politics for the decade after 1956, and whose legacy remains alive among Arabs somewhat as Bhutto's does among Pakistanis. These two leaders shared a striking number of features.
Snatching victory from defeat: Nasser led the Arabs to defeat at Suez in 1956 yet emerged from the incident as the most popular leader in the Arabic-speaking countries. (He also recovered from an even more disastrous defeat in 1967 without much damage to his popularity.) Similarly, Bhutto masterminded Pakistan's defeats of 1965 and 1971 but profited from both.
Emotion-laden nationalist rhetoric: Both men made their mark through the force of their oratory, tapping deep responses among their countrymen. Bhutto's explanation of the 1965 loss reflected, accorded to Wolpert, "the suspicious, prejudices, and fears deep in countless Pakistani hearts and minds." His defiant words ("We will wage a war for a thousand years") had the intended effect, thrilling "every Pakistani who heard it, especially the men back home, who knew they had lost the war but whose dream of victory was being kept alive by [Bhutto's] words." In fact, "The more outrageous his rhetoric became . . . the more heroic Zulfi Bhutto appeared to Pakistani audiences." Nasser dazzled his audiences in like manner.
Political chameleons: Both politicians represented no ideas beyond their own power. They turned opportunism - the bobbing and weaving for short-term advantage - into an art. They adopted to the moment and to the audience. Ideologies and ideals mattered little to them. They saw arguments as but words, to be changed with circumstance. The politician serves as a vessel for others' interests. Bhutto and Nasser avoided taking a clear political position; why make enemies gratuitously? Accordingly, their followers came from many points on the political spectrum, from fundamentalist Muslims to pro-Soviet leftists.
Identifying self with country: Nasser and Bhutto mystically believed it their destiny to save their peoples. Wolpert notes that Bhutto fused "his own battered, defeated, and unappreciated feelings, dreams, ambitions, and desires with those of the people of Pakistan."
Seeing the world through conspiracy theories: When Egypt lost to Israel, the Western powers got blamed; and they (as well as the Soviet Union) got similarly accused when Pakistan lost to India.
Further, both Nasser and Bhutto applied socialist principles and created expectations they could not fulfill. Abroad, they espoused transnational ideologies (Pan-Arab nationalism, Third Worldism), meddled militarily (in Yemen, Bangladesh), and played Americans off against Russians.
In these many ways, Bhutto represents the unhappy politics of his region. To know him as Stanley Wolpert makes possible, is to live vicariously the pains of Pakistan and the countries to its west.