Another crisis with Iraq appears over, with Saddam again stronger than he had been. The reason for his success is not hard to find: "Arabs Angry with U.S. for Iraq Crisis," reads the typical newspaper headline. And indeed they are. From all over the Middle East, politicians, religious leaders, and Ahmad-Six Packs have harsh words for American actions. In their view, we are "starving and besieging the Iraqi people . . . without the slightest regard for their human rights."
In addition, Arab commentators seem not to find Saddam Hussein a threat to themselves. One highly-placed Jordanian, for example, blandly asserts that "there is no capability of Iraq to threaten its neighbors for the next 20 years."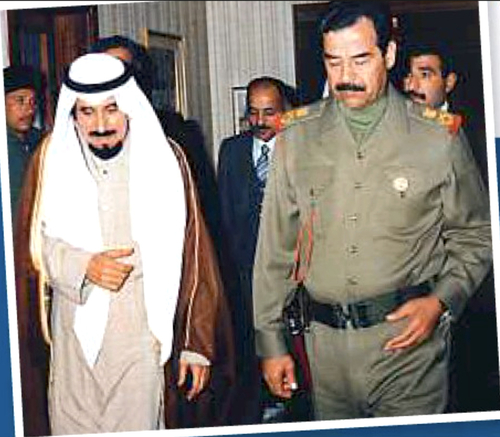 Saddam Hussaln with Kuwalti Emir Shalkh Jaber Al Ahmad Al Sabah at the 1989 Arab Summit In Baghdad.
With such attitudes, it comes as no surprise that Middle Eastern governments tried to prevent the U.S. government from using force against Saddam. Neither the Saudis nor Turks has agreed to the use of their territory for strikes against Iraqi targets. Secretary of State Madeleine Albright undertook an embarrassing trip to the region where she found no Arab support for using force against Iraq.
Now, all this is very strange. In the natural order of things, it should be the Saudis, Turks, and others who beseech the Americans to help fend off Saddam - the tyrant who without provocation attacked Iran in 1980, Kuwait in 1990, and Saudi Arabia and Israel in 1991. Middle Easterners, after all, are a lot closer to Saddam Hussein's missiles than are we; and they are also a lot weaker than the United States.

Why then are we in this topsy-turvy situation whereby the distant and strong power begs nearby and weak states to contain their mutual enemy? An answer may lie in the fact that the U.S. government has repeatedly found itself in this position. During the Vietnam war, we had to plead with the South Vietnamese to stand strong against the Vietcong and North Vietnam. During the last decade of the cold war, Washington had to convince the North Atlantic Treaty Organization (NATO) allies to accept modern American missiles on their territories.
In each of these cases, as in the present one, American officialdom made the same mistake: so convinced of the righteousness and importance of its cause, it shouldered the main responsibility for it, shoving aside the local parties.
This had the perverse effect of freeing up the locals; aware that what they do has almost no importance, they reverted to political immaturity. No longer having to worry about their own skins, they instead indulge in corruption (Vietnam), political opportunism (NATO), and conspiracy theories (the Middle East). The American adult rendered others child-like.
The solution, then, lies in a very different American approach, one that gives significance to the allies' actions. With this in mind, I propose that President Clinton say something like this:
"It's up to you, my Middle Eastern friends. If you think you can coexist with a Saddam who possesses large armies and weapons of mass destruction, we're happy to withdraw our aircraft carriers, our soldiers in the region, and the rest of our infrastructure. If you think you can survive a Saddam who gains the proceeds of 3 million barrels of oil a day, we will lift the sanctions. In short, if you really want to return to the way things were before the Iraqi troops invaded Kuwait in August 1990, just tell us and it's yours.
"But if, to the contrary, you worry that such steps will endanger your security, we are happy to stay. However, we need you explicitly to ask us to do so. You have to pay a portion of our costs and provide soldiers and materiel to carry out the mission. Finally, so that we know that the request is deeply felt, and not just the whim of the leaders, you also must hold a referendum on the topic so that the populations of your countries can endorse our efforts."
This sensational statement would turn the politics of the Middle East right-side up and transform the United States from pariah of the region to savior.
Daniel Pipes is editor of the Middle East Quarterly.
---
March 29, 2011 update: I note today, at "Four Middle Eastern Upheavals," that Barack Obama is attempting a version of the reserved policy suggested above. But I also castigate his efforts as "clumsy and ill-prepared."
My bet: Obama's ineptitude discredits the reserved approach and the U.S. government soon returns to its forward habits.