I would like to tell you about my mother.
She was born Irena Eugenia Roth in Warsaw on Nov. 28, 1924. Her father was a businessman with I.G. Farben, the largest company in Europe; her mother was a renowned beauty and the first female automobile driver in Warsaw. Her sister Hanna came along two years later. The family lived in downtown Warsaw, close to her maternal grandparents, owners of a leather-goods store.
As this family sketch suggests, Irene had a good life in Poland. Photographs attest to the elaborate skits she performed with her sister. She enjoyed after-school treats with her grandmother at an elegant pastry shop. Her parents attended white-tie parties boasting an elegance we hardly can imagine nearly a century later. When she compared notes with her future husband, Richard Pipes, who lived not far away and whom she later met at Cornell University, they found they had attended the same birthday party.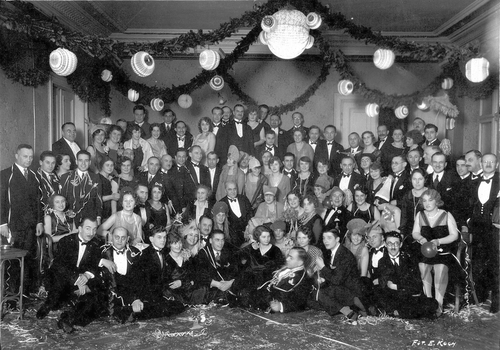 A 1930s Warsaw party. Both my maternal and paternal relations attended.
Then, of course, it all came crashing down. The Nazis invaded Poland on Sep. 1, 1939, when Irene was 14. Her father was arrested (ironically) as a German citizen and the family fled by car to the northeast. Miraculously reunited with him, they flew together to Stockholm and from there, took a ship to New York City, landing on Jan. 27, 1940. After spending an eye-opening weekend on Ellis Island, they entered the United States.
Thanks to a brother of her father who had the foresight to get out before the invasion, the family had the means to set themselves up, first on Drummond Street in Montreal and then on Central Park West in New York. With astonishing speed, the family learned English and entered American life. To give you a sense of their assimilation, I'd like to read the full text of a telegram sent by my grandfather and two of his brothers on Nov. 6, 1940, a day after Franklin Delano Roosevelt was elected to the presidency for the third time:
To President Roosevelt, Washington. Dear President, We, victims of the aggressors who were obliged to leave behind us our beloved fatherland Poland, our homes and families, congratulate you on your reelection, seeing in its result a light ray for the whole of humanity. May God bless you and your dear family.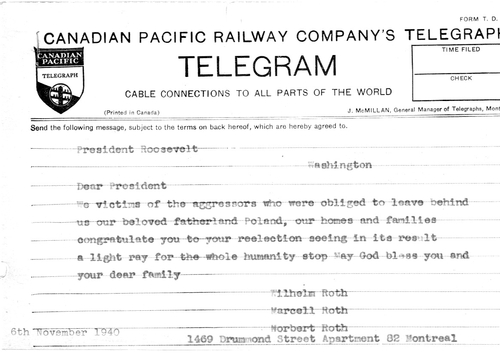 In 1942, my mother entered Cornell University where she studied architecture. The next year, she met my father on a double-blind date. They married in the Hotel Delmonico on Park Avenue on Sep. 1, 1946 – seven years to the day after the German invasion. Richard immediately started graduate studies at Harvard. I was born in 1949, a stillborn daughter followed, and Steven arrived in 1954.
Although a self-described party girl, my mother fit well enough into the academic life in Cambridge and accompanied my father as he rose over the next decade to full professor. Setting up house successively in Boston, Watertown, and Belmont, they acquired a New Hampshire country house in 1959 and moved into a grand house near Harvard Square in 1964. They owned a house on the Caribbean island of Tortola for two decades and then a small Key Biscayne condo in 2014. The first of four grandchildren was born in 1979; others came in 1985, 1987, and 2000. The first great-grandchild arrived in 2018.
Sabbaticals took Richard and Irene to Paris, London, and Palo Alto. A stint with the Reagan Administration meant living in Washington for two years, 1981-82. Richard retired from Harvard in 1996.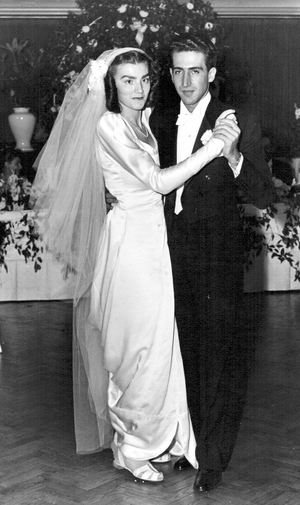 Richard and Irene dancing at their wedding.
That same year, at a party celebrating my parents' 50
th
wedding anniversary, I remarked how they kept going and going, keeping up the social life, intellectual life, and travels. I then repeated that same observation on their 60
th
anniversary in 2006. And then again on their 70
th
in 2016.
Richard died of old age in 2018 but still Irene gainfully kept things going on her own, maintaining three residences, the magazine subscriptions, and the friendships. But it was not the same without him. Also, as she reached her mid-90s, she showed great frustration at not having the capabilities of someone about 70: "I am not myself today," came her ritualistic complaint, "what's wrong with me?" She tried to assert her independence, an increasingly difficult task. She died peacefully at 98 years this morning: at 10:45am, July 31, 2023.
Some reflections, first about the family and then about my mother:
When I was born, nearly everyone in my family had escaped Poland and the Holocaust. Every adult not only had to become an American and to learn English, but every one of them carried trauma. The elders spoke English with exotic Polish or German accents, the younger ones spoke standard American English with perhaps an exotic hint, but all carried the burden of having come to the United States as refugees.
As the years passed, of course, immigrants died and Americans were born. The death of my mother marks the passing of the very last immigrant who still remembered Poland. Only her first cousin Victor remains, but he left Poland at the age of three. Irene's passing, in other words, marks the end of an era for the extended family.
The successful transition from refugee status to native-born Americans was inevitable and good, but it also marks a moment of sadness with its loss of experience, color, and memory.
My mother came to appreciate her birth country, returning to Poland first in the 1950s and then, in her later years, spending about a month there annually, enjoying friendships and the arts, proud of speaking a distinctively elegant pre-war Polish. She also served for decades as the president and principal patron of the American Association of Polish Jewish Studies. Interestingly, in later years her friends increasingly tended to be found in Poland, as she felt very much at home in her natal town, delighting in the language, food, and high culture. Her wonderful companion and assistant of recent years, Agata Bogatek, is Polish; I thank her for the great service she faithfully provided.
Finally, about Irene the personality, the friend, the wife, the mother and grandmother.
To start, her personality: My mother was distinctly a character. She would not take no for an answer and wore down innumerable gate agents and park rangers to get her way. Against all odds, she insisted that her many excursions to casinos netted large sums. She officially quit smoking about 1970 but carried on clandestinely for over the next fifty years, to the bemusement of the entire household. At the 70th wedding anniversary, she made sure we all knew that she was still pondering if she had made the right choice in marrying Richard.
As friend: She had a talent for friendships, charming strangers and keeping those close to her by her side. Especially with age, she developed an imperious demeanor that we relatives found a bit exasperating but delighted the outside world. Through middle age, she had friends and correspondences on several continents. As she grew older, though she complained about their disappearing on her, she managed to find new friends, especially in Poland.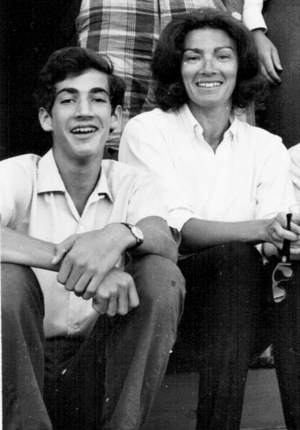 Irene and Daniel, 1964.
As wife: Irene and Richard were married 72 years, or three-quarters of their lives. They were very married, intensely involved with each other. But they also spent much time apart, perhaps because their characters were so different, and they needed a bit of relief. I grew up among constant bickering: heat up or down, lights on or off, turn left or right, too salty or not enough? He was the intellectual, she not; she the social butterfly, he wanting to go home, already. That said, they rounded out each other and had an enviably successful marriage.
As mother: Irene was not exactly a helicopter parent. She had us children when young; being extroverted and social, she preferred that we find our own way in the world. Thus, I changed trains on my own traveling in Switzerland at the tender age of seven. I made my own breakfasts. I learned to swim by being thrown off a float. I got my driver's permit one day after my 16th birthday. Busy as friend and wife, motherhood was something of a side-activity – which was fine with us, her children.
Grand-motherhood suited her better, coming when she was older and not demanding her full-time attention. I cannot count the times my mother solemnly announced that my having fathered Sarah, Anna, and Elizabeth was the best thing I ever did in my life. She reveled in her granddaughters, perhaps in part seeing them as compensation for the still-born daughter.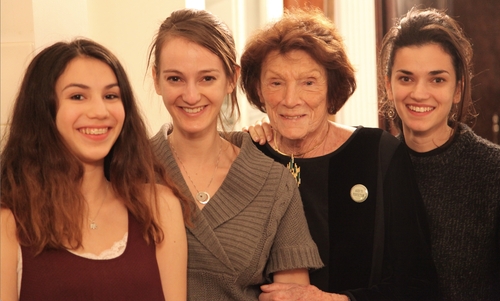 Irene at her 90th birthday party with her three grand-daughters (from left): Elizabeth, Sarah, Anna.
I conclude by recalling her oft-stated wish to be buried next to Richard with the simple epitaph, "His Wife." I never agreed to this, hinting that I had something better in mind, and that will be: "Irene Eugenia Pipes, née Roth. 1924-2023. Holocaust Survivor. Wife, Mother, Grandmother, Great-grandmother."
---
Antony Polonsky, emeritus professor of Holocaust Studies at Brandeis University and chief historian of the Global Educational Outreach Project at Polin (the museum of Polish Jewish history in Warsaw) adds this description of Irene Pipes' professional work:
Irene Pipes and Polish-Jewish Relations
Irene came from a family that was well integrated in Polish society but retained strong Jewish ties. Irene herself was devoted to her Jewish heritage and was well acquainted with Polish culture. She had a particular love of Polish popular and cabaret songs of the 1930s with which she grew up. She was thus an ideal intermediary in the attempts from the mid-1980s to alleviate the tensions and hostility between Poles and Jews, insofar as these are discrete groups, which is not always the case. She believed that the way forward was for both Poles and Jews to look again at their common history and recognize both its positive and negative aspects.
As President of the American Association for Polish-Jewish Studies from the early 1990s, she employed her considerable diplomatic talents to foster dialogue and discussion in an open manner on difficult and divisive issues. She also played an important role in the production of the Association's quarterly newsletter, Gazeta, and was a consistent supporter of its yearbook, Polin: Studies in Polish Jewry.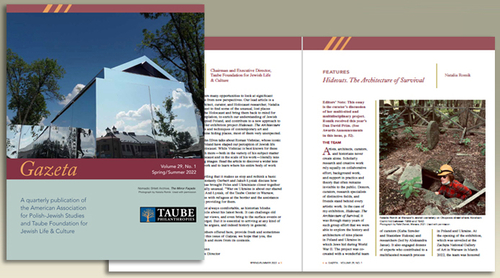 The final issue of "Gazeta," December 2022.
Her enormous contribution to Polish-Jewish understanding was recognized by the award to her by the Polish government of the Commander's Cross of the Order of Merit of the Republic of Poland. Even as her strength weakened, she remained devoted to the cause of Polish-Jewish understanding and was saddened by the rise of populism in Poland and the threat it posed to an honest and dispassionate evaluation of the complex and sometimes disputed Polish-Jewish past. Until the end she remained optimistic, convinced that people of good will would be able to find common ground and that dialogue and understanding would prevail. She will be sorely missed.
---
Aug. 7, 2023 update: American Friends of POLIN Museum of the History of Polish Jews sent this letter to me: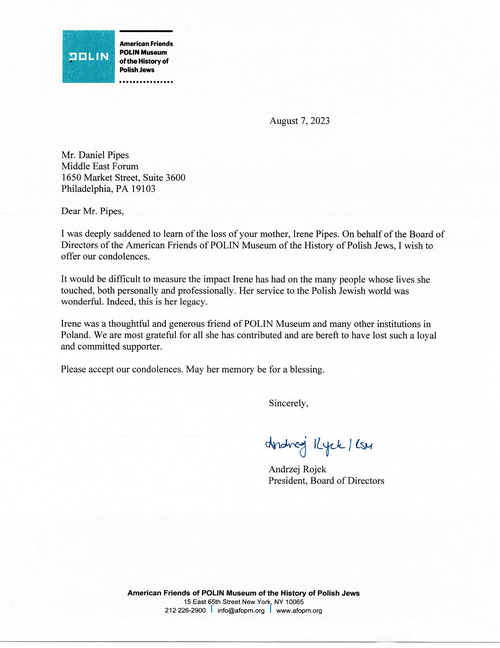 ---
Aug. 31, 2023 update: Boston's Jewish Journal ran an informative obituary by Penny Shwartz, minutely amended here:
Irene Pipes, 98: Champion of fostering Jewish-Polish relations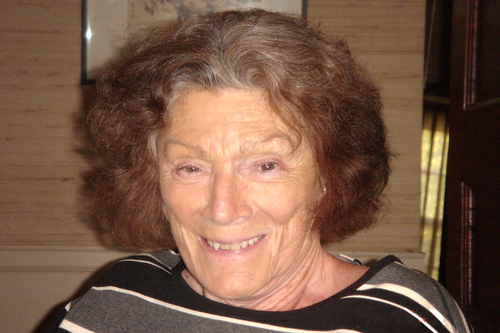 Irene Pipes.
By the time Irene Pipes and her husband Richard were starting a family in 1949, the Jewish refugees had become fully assimilated Americans.
It had been only nine years since each had fled Nazi-occupied Poland with their families, who settled in New York. After meeting in college and getting married, the young couple was about to enter the Ivy League world of Harvard and Cambridge, and looked only to a bright future. They wanted nothing to do with the traumas of their past.
The only time their oldest son Daniel and his brother Steven heard Polish was when their family gathered with relatives and when their parents didn't want them to understand what they were saying to each other.
"Polish was a secret language," Daniel told the Jewish Journal in a conversation recalling his mother Irene, who died July 31 in Cambridge at age 98.
Richard, her beloved husband and companion for some 72 years of marriage, died five years ago. The career-long Harvard University professor was a scholar of Russian and Soviet history and an adviser to the Reagan administration on Soviet and Eastern European policy.
In ways Irene would never have imagined, she discovered a level of comfort and pleasure in her native Warsaw, Daniel wrote in a published remembrance. It was a transformation that began in the 1950s and continued for the rest of her life, said Daniel Pipes, president of the Middle East Forum and a prominent commentator on the region.
"She felt very much at home in her native town, delighting in the language, food, and high culture," he wrote.
Over time, she became an early and influential champion of fostering Jewish-Polish relations and of the re-emergence of Jewish life in Poland.
Her advocacy included serving as president of the American Association for Polish-Jewish Studies since the 1990s and she played a leading role in the production of Gazeta, the association's notable quarterly journal, Antony Polonsky wrote in a comment to Daniel Pipes' remembrance. Polonsky is an emeritus professor of Holocaust and Jewish studies at Brandeis University and chief historian at Warsaw's POLIN Museum of the History of Polish Jews.
"She employed her considerable diplomatic talents to foster dialogue on difficult and divisive issues," Polonsky wrote.
Her contributions to Polish-Jewish understanding earned her the Commander's Cross of the Order of Merit of the Republic of Poland, noted Polonsky, who worked closely with Irene at the American Association for Polish-Jewish Studies.
Daniel Pipes realized only recently that his mother's embrace of Poland stood out among Jewish Polish refugees and survivors, who did not want to visit their native country having survived persecution against Jews and in some cases, the deadly Holocaust.
Over time, Irene began to spend one month every year in Warsaw, Daniel Pipes said. His father was a reluctant co-traveler, being among those who would have preferred to spend less time there. "She was appreciated there as someone who carried this pre-war, pre-fascist, pre-Communist culture," he recalled about his mother.
There was also a touch of nostalgia, Daniel Pipes said.
Born Irena Eugenia Roth in Warsaw on Nov. 28, 1924, she recalled a happy childhood with her younger sister, Hanna, enjoying a financially comfortable lifestyle. When Daniel Pipes and his family traveled to Warsaw with his mother, she was eager to take them to the pastry shop cafe she had frequented with her grandmother many decades before.
She developed close friendships with college professors and people in the arts, including Krzysztof Penderecki, a prominent classical composer, and his wife, Elzbieta.
Her friendship with professor Józef Andrzej Gierowski, the rector of Jagiellonian University in Krakow, led to her keen interest in the university's Institute for Jewish Studies. Nearly a decade ago, she established a research center on the history and culture of Polish Jewry and Polish-Jewish relations. She also funded a chair at Bar-Ilan University in honor of her parents, The Marcell and Maria Roth Chair in the History and Culture of Polish Jewry.
She her husband, Richard, and Daniel Pipes were guests at the launch of the center, with a two-day program in October of 2014 that included talks by Richard and Daniel, according to professor Michal Galas, the center's director appointed from its founding.
Edyta Gawron, a professor at the Jewish Institute, recalled fond conversations she had with Irene over the course of her many visits to Krakow, with Irene speaking in fluent Polish about her favorite food and places she enjoyed visiting.
She was always eager to speak with young people taking Jewish studies classes. "I think she admired their determination to commemorate the Jewish life in Poland," Gawron said in an email.
Irene stayed up-to-date on current events in Poland, both her son and Polonsky said. Despite being saddened by the recent rise of populism there, she never lost her sense of hope for Poland's future and in Jewish-Polish relations.
"She remained optimistic, convinced that people of good will would find common ground," Polonsky wrote. "She will be sorely missed."