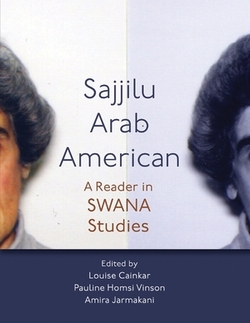 The preface does not shy from declaring the politics that inspires what follows. The volume fits into something called the Critical Arab American Studies book series that raises and addresses "the politics of producing radical antiracist, anti-imperial, and feminist knowledges about Arab American and SWANA [a new term, meaning Southwest Asian and North African] communities as well as their connections to other racialized communities in the United States and in the global South more broadly." (News to me that the United States is in the global South.) The book under review "directly attends to such critical investments in radical and decolonial knowledge production, investments that continue to be articulated and solidified in response to ongoing racial and gendered violence and to evolving imperial agendas and military projects."
Once past this slightly demented theorizing, however one finds a tedious, if massive, collection of 39 previously published writings covering such haphazard topics as "Grandmothers, Grape Leaves, and Kahlil Gibran," "The Limits of Muslim Cool," and "The Pulse of Queer Live: Arab Bodies in Gay Bars." Oddly, this door-stopper of a book about Arab-Americans somehow manages not once to mention such prominent figures as Paul Anka, Michael DeBakey, Steve Jobs, George Mitchell, Ralph Nader, Sirhan Sirhan, John Sununu, Danny Thomas, Helen Thomas, or Frank Zappa. Maybe they do not fit into the theme of "evolving imperial agendas and military projects."
Of course, no academic volume on "decolonial knowledge production" on SWANA studies would be complete without a swipe at this reviewer. Steven Salaita, who proved even too radical by the lax standards of the American university, and who now drives a school bus, declares that my "moral apparatus exemplifies the very worst facets of imperative patriotism." If any reader can explain what this means, do send a note.