When formulating the Israel Victory idea in the late 1990s (and first writing about it in April 2001), it seemed as distant as the moon. But now, the combination of a more realistic Israeli body politic and Arab states focused on the Iranian threat brings it within reach. Therefore, its implications need to be worked out in some detail. That is the goal of this pamphlet.
Israel Victory means Israel imposes its will on West Bank and Gaza Palestinians, so that majorities there eventually cease to try to eliminate it and, instead, accept the permanent existence of the Jewish state. Israel Victory aims to defeat Palestinians so they will no longer be an enemy on the military, diplomatic, economic, or any other battlefield. Ironically, liberating Palestinians from their obsession with Israel benefits them even more than Israelis, for it finally opens a path for them to build their own polity, economy, society, and culture. Thus, do all sides gain from Israel Victory and Palestinian defeat.
Polling shows the Israeli public increasingly attracted to the idea of victory. For example, a Midgam Research & Consulting survey after the Israel-Hamas war in May 2021 found 82 percent of Jewish Israeli respondents agreeing that "[t]here can be no appeasing Hamas; only by defeating it unequivocally can we bring this conflict to an end." And 70 percent agreed that "[t]here can be no deals with terrorist organizations, only defeat. Israel must use all its military, diplomatic and economic means to crush Hamas's will to continue fighting."
Israeli political leaders newly speak of winning. As defense minister, Naftali Bennett did so when blessing the troops: "Strengthen the hands of those who defend our holy land, grant them deliverance, and adorn them in a mantle of victory." When he was prime minister, Benjamin Netanyahu spoke of "Israel's victory." As president, Reuven Rivlin jumped on the Israel Victory bandwagon: "From the inception of Zionism until today, an Israel that initiates is an Israel that is victorious. Now is the time to initiate; now is the time for victory." Former defense minister Avigdor Liberman articulated his goal vis-à-vis Hamas to "break its will to continue to fight."
So, too, with the military brass. Israel Defense Forces (IDF) chief of staff Aviv Kochavi holds that the Israeli military has "formulated a concept for victory through the Multi-Year 'Momentum' Plan." As he prepared to take over the Southern Command, Maj. Gen. Eliezer Toledano addressed the challenges ahead: "I am responsible for border protection, for winning the war and for providing security and a sense of security to the citizens of Israel."
Tehran's dominant influence over four Arab-speaking capitals (Baghdad, Damascus, Beirut, Sanaa), as well as its further aggressions, combined with weak U.S. support has prompted several Arab leaders to look to Israel as an ally. Starting with the United Arab Emirates, but also Bahrain, Oman, Saudi Arabia, Morocco, and Sudan, Arab decision-makers view Israel less through the lens of the Palestinian-Israeli conflict and more in terms of bilateral relations, providing the Jewish state with more freedom of action.
Israel Victory is simple to explain but has complex implications. What tactics should Israel use? How much violence is required? Do Israeli ethics obstruct victory? Does it brutalize Israeli society? Does it harm Israel's reputation internationally? Can Palestinians be defeated in the face of their worldwide support network? Does Islam provide an undefeatable core? How does one recognize a Palestinian change of heart? How will defeat affect Israel's Muslim citizens?
The excellent essays that follow take up several aspects of this inquiry: MK Zvi Hauser argues for disarming Hamas. MK Evgeny Sova offers ideas for strengthening the consciousness of Israeli victory. Maj. Gen. (Res.) Yitzhak Brick argues that the IDF must regain its old spirit. Looking at the home front, Brig. Gen. (Res.) Hilik Sofer finds the Israeli public's resilience greater than usually thought, and Sarah Haetzni-Cohen points to the importance of civil-society organizations. Brig. Gen. (Res.) Amir Avivi explains how victory requires establishing full sovereignty in the Negev, and Tom Nisani does the same for the Temple Mount. Shlomo Ne'eman explores how to withstand international pressure. Yifa Segal refutes the erroneous connection between poverty and violence.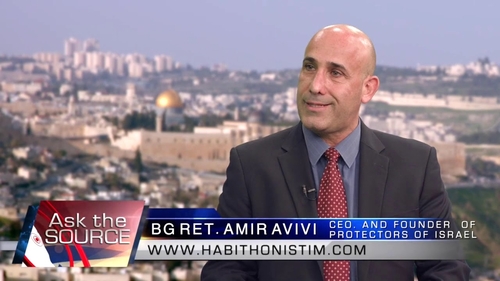 Brig. Gen. (Res.) Amir Avivi.
The Israeli strategist Efraim Inbar reassuringly sees Palestinians as nothing but a "strategic nuisance" because they lack economic or military heft, but he overlooks the fact that the global Left's ever-more furious anti-Zionism rests almost exclusively on its perception that Israel abuses the Palestinians of the West Bank and Gaza. This means that the only way to reduce this dangerous hostility—imagine a Bernie Sanders-style leftist one day in the White House—is by settling the Palestinian issue. From an Israeli point of view, therefore, dealing with the West Bank and Gaza is as urgent as dealing with Iran's nuclear arsenal. And now is the time to address it while the international context is relatively benign.
Israel Victory represents Israel's only possible path to resolution. It has two main virtues. First, unlike Jerusalem's current policy, which merely puts out brush fires, it squarely addresses the Palestinian rejectionism that inspires worldwide anti-Israel emotions. Second, it is solution agnostic, with no implications for what happens after the Palestinians accept Israel—for example, it says nothing about the West Bank's final disposition; this means that all seeking security and welfare for Israel can support it.
Brig. Gen. (Res.) Yossi Kuperwasser correctly pointed out at an Israel Victory Project event at the Begin Center (on July 4, 2018): "When we talk about victory, we begin to win." God apparently endorses Israel Victory when speaking to Israel in Deuteronomy 20:3-4: "Today you are going into battle against your enemies. Do not be fainthearted or afraid; do not panic or be terrified by them. For the Lord your God is the one who goes with you to fight for you against your enemies to give you victory." On a lighter note, the American comedian Alan King quipped that every Jewish holiday can be summed up as, "They tried to kill us, we won, let's eat." Note the operative verb here: "won." It's excellent advice for the government of Israel.
Daniel Pipes (DanielPipes.org, @DanielPipes) is president of the Middle East Forum.