In "Putin Really May Break the Nuclear Taboo" (Declarations, April 30), Peggy Noonan argues persuasively that we need to take Vladimir Putin's threats seriously. Americans' assumptions about the impossibility of deploying nuclear weapons ("That won't happen! It has never happened!") are incorrect.
Ms. Noonan reaches this conclusion by looking at the poor Russian military performance in Ukraine and at Mr. Putin's nihilistic character. May I suggest a third, historical factor? Mr. Putin is a Soviet man; he lived his first 39 years in the Soviet Union, rose to the rank of lieutenant colonel in the KGB foreign intelligence and publicly rued the U.S.S.R.'s demise. He was shaped by and continues to reflect Soviet doctrines.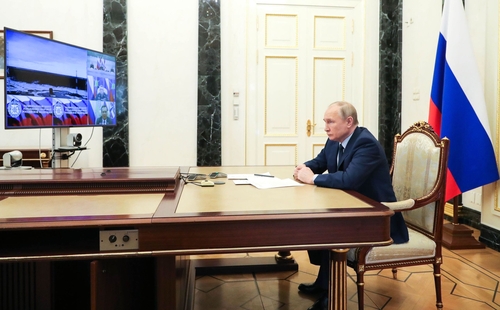 Vladimir Putin on April 20, 2022.
One of those doctrines concerns the use of nuclear weapons. Almost exactly 45 years ago, my father, Richard Pipes, revealed this doctrine in a Commentary magazine article, "Why the Soviet Union Thinks It Could Fight & Win a Nuclear War."
"The strategic doctrine adopted by the USSR over the past two decades calls for a policy diametrically opposite to that adopted in the United States," he wrote. "The notion of an extended nuclear war is deeply embedded in Soviet thinking, despite its being dismissed by Western strategists who think of war as a one-two exchange. . . . Whereas we view nuclear weapons as a deterrent, the Russians see them as a 'compellant.'" He concluded, "There is something innately destabilizing in the very fact that we consider nuclear war unfeasible and suicidal for both, and our chief adversary views it as feasible and winnable for himself."
Nearly a half-century later, that article deserves a rereading by U.S. policy makers.
Daniel Pipes
President, Middle East Forum
Philadelphia