Colin Wright correctly points out that replying to the question, "What are your pronouns?" implies acceptance of the premise that humans can choose their gender ("When Asked for Your 'Pronouns,' Don't Answer," op-ed, Feb. 5). His suggestion not to reply to the pronoun impertinence makes good sense.
But matters are sometimes more complex. The only person to ask me for pronouns did so in bureaucratic mode as I was scheduling a medical appointment. Not wanting to jeopardize my health for a principled stand on pronouns, I unhappily mumbled "he/his." Some employers and schools require staff and students to supply pronouns. In such cases, rudeness, sarcasm or refusal do not work.
Something succinct, clever and polite is needed. My best retort is, "I think you know the answer," but I welcome better ones from your readers.
Daniel Pipes
Philadelphia
Mr. Pipes founded Campus Watch.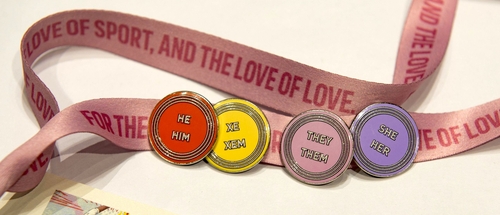 Pronoun pins for Adidas store sales associates.
Feb. 10, 2022 addendum: Other suggestions:
A letter writer to the WSJ: For older persons, "My pronouns are what they've been for the past 7+ decades."
One e-mail correspondent who goes by Literary Pretender: "That question makes me uncomfortable."
A neurologist: "XX" or "XY."
AJC replied in a comment: "I avoid pronouns and prefer to be addressed by my name."
Kevin sarcastically suggests: "why shouldn't we all adopt the most universal and gender-neutral pronouns: it / its / that. It, no pun intended, has the added benefit of putting humans on the same level as plants and animals."