On arrival in Cairo in 1971, this reviewer threw himself into the life of the city, including the faded, somewhat sad music halls in the Ezbekiya district. Fifty years later, reading how those establishments were founded precisely fifty years earlier and then prospered both brings back memories and puts them into their rightful perspective.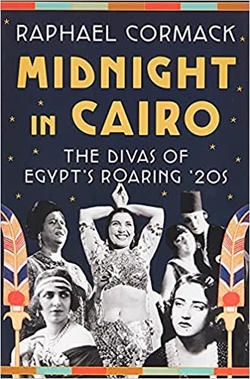 Cormack, who has a Ph.D. in Egyptian theater (who knew such a degree program existed?) from the University of Edinburgh, has thoroughly researched a topic one would have expected lost to archival inquiry: the women at the center of Ezbekiya's demi-monde of nightclubs, dance halls, cabarets, and theaters. They were a diverse lot, coming from a wide range of backgrounds but sharing both an artistic ambition and outsized resolve.
Take the artiste Rose al-Yousef who arrived in 1912 from today's Lebanon, 14-years-old, penniless and alone. Through dint of "struggle, mystery, hard work, determination, and more than a little mythologizing," she became a successful actress, then a publisher. The weekly magazine she founded and named after herself (Ruz al-Yusuf) still publishes ninety-five years later. In addition, her son (Ihsan Abdel Koudous) and her grandson (Yussef El Guindi) are both significant writers. Thus does her legacy live on.
The story is also full of surprises. "It includes, at different points, a gay English Arts and Crafts designer, several crossdressing actresses, a belly dancer involved in underground left-wing politics, and an unsuccessful attempt to make a film version of the life of the prophet Mohammed, directed by the man who went on to make Casablanca." In brief, "The 1920s and 1930s were an exciting time to be alive in Egypt."
Less so the 1950s. Starting with the January 26, 1952, burning down of much of Ezbekiya, followed by the July 23, 1952, coup d'état that toppled the monarchy and brought Gamal Abdel Nasser to power, what Cormack calls the "prudish, quasi-puritanical disdain of the modern entertainment industry" brought that industry to its knees, leaving only the worn and forlorn remnants this reviewer witnessed in the early 1970s. "Cairo was now a city populated by a whole new cast of characters: Soviet advisors, African liberation movements, and activists from across the third world."