The shake-up in the Communist countries has ignited ferment among the tens of millions of ethnic Turks living there. Suddenly, Turkish nationalism, a passion thought long dead, has resurfaced in Europe and Asia.
It could lead to one of the most acute challenges to face the Soviet empire.
Consider the following major developments that have taken place in the past two years.
In a reprise of last year's Berlin Wall drama, Turks in Azerbaijan destroyed the "Azerbaijan wall" - their name for border installations along the 500-mile Soviet border with Iran. They called for unification with Iranian Azerbaijan and the formation of an independent Azerbaijan state.
Since early 1988, fighting over the autonomous region of Nagorno-Karabakh has increased to the point that Armenians and Azerbaijani Turks are nearly at war with each other.
Crimean Turks, who were brutally expelled in 1944 by Stalin from their homeland at the northern edge of the Black Sea, have defied the authorities and are returning to the Crimea, where they are building squatter houses.
In central Asia, a new nationalist organization of Uzbek Turks, called Unity, has more than 500,000 members. Also in Central Asia, more than 100 Meskhetian Turks died at the hands of Uzbeks during riots in June 1989.
Three hundred thousand Turks fled persecution in Bulgaria in 1989, in one of the most massive emigrations in years. After a reform Government took over and ended the harassment of Turks, the majority Christian population in Bulgaria took to the streets in anti-Turkish protests.
The Bulgarian and Greek governments have begun planning military cooperation against their common nemesis, Turkey. In a possible foreshadowing of the new European order, it now seems to matter less that one government belongs to the Warsaw Pact and the other other to the North Atlantic Treaty Organization than that both are Christian.
For most observers, it may come as a surprise that Turks live in so many countries, for Turks are usually associated with the Turkish Republic. Some 44 million Turkic-speaking people make up almost 90 percent of the republic's population, but more Turks live outside it than in it, inhabiting a swath of countries from the Adriatic Sea in the west to the further reaches of Siberia in the east.
The largest number, 42 million, live in the Soviet Union, followed by 11 million in Iran, 7 million in China, 2 million in Afghanistan and 1 million in Bulgaria. In addition, there are 400,000 in Iraq and 200,000 each in Greece, Romania, Yugoslavia and Mongolia. Cyprus and Syria are each host to 100,000 Turks.
Turks are almost entirely Muslim; with a total population of some 108 million, they constitute the second largest ethnic group in Islam, following only the Arabs.
Why their wide dispersal? First, for many centuries Turks were superior soldiers, and their strength enabled them to rule in a great many countries. At the height of their power in the 16th century, dynasties of Turkish rulers held sway in an area extending from Algeria to India, from the Balkans to southern Arabia.
This tradition of power translates today into resentment against them. Inherited hostilities help explain current troubles in Bulgaria and Nagorno-Karabach.
Second, Turks were a nomadic people who traveled vast distances in search of pastures and plunder. They tended not to live in cities. In modern times, this meant that they remained at some remove from modernization processes and, unable to mobilize politically, rarely succeeded in establishing their own states.
As a result, with the exception of Turkey, Turks everywhere constitute a minority population. A great many Turks are frustrated nationalists - especially in Azerbaijan and Central Asia. These patterns have taken on new importance as Soviet imperial hegemony has declined.
Half of all Turks live under Communist regimes. Of the 13 countries in which substantial numbers reside, seven have Communist governments.
As Moscow lifts the dead hand of Communist rule, Turkish nationalism and age-old ethnic animosities are again being heard. In some cases, as in Nagorno-Karabach, Turks are exploiting the new freedom to wreak revenge on traditional foes; elsewhere, as in Bulgaria, they are the victims.
The Kremlin's troubles are only beginning, for the repoliticization of Turks outside Turkey has many ramifications. In the face of weakened control from Moscow, Soviet Turks are unlikely to accept rule by Russians indefinitely.
Ercüment Konukman, a Turkish Government minister, recently said that, in coming years, Soviet Turks "will rise up, attain their independence" and establish states under the Turkish flag. He might just be right.
Daniel Pipes of the Foreign Policy Research Institute wrote the forthcoming book, The Rushdie Affair.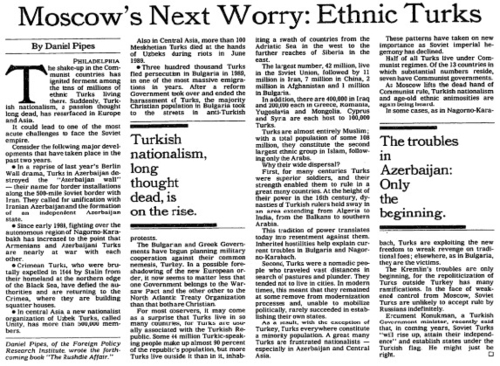 ---
Mar. 6, 1990 update: A letter from a professor disagrees with my analysis.
To the Editor:

Readers are ill served by some of your treatment of recent events in Azerbaijan and Central Asia and their supposed repercussions outside the Soviet Union. In particular, "Moscow's Next Worry: Ethnic Turks" by Daniel Pipes (Op-Ed, Feb. 13) and "Turkey Sensitive About Its Identity" from Erzurum, Turkey (news article, Feb. 6) are sensationalist and poorly informed.

They contain simplistic assumptions about the identity of language, ethnicity and nationality among Turks, as well as misinformation. Your report seems unable to distinguish between the Anatolian Turks and the tiny Azerbaijani minority in northeast Turkey. The commentary on Armenian history in Turkey seems to imply that this is relevant to Azerbaijan, perhaps because of the kinship of Turks and Azerbaijanis.

Mr. Pipes lumps together recent Baku events, the Nagorno-Karabakh conflict, the attempts at resettling the Crimean Turks, the Uzbek Unity Party, the Uzbek pogroms against Meskhetian Turks and the persecution of Bulgarian Turks as evidence of what he calls "Turkish nationalism" and the "repoliticization of the Turks outside of Turkey."

The Turkic peoples entered southern Central Asia, the Middle East and Eastern Europe at various times, from various places and for a variety of reasons. Their conversions to Islam occurred in different forms over eight centuries. Because of their historical, geographical and religious differences, there is no single Turkic culture and no single Turkic literary language, nor is there any historical memory of a single Turkic state.

The Central Asians have nothing politically, and very little culturally, in common with the Turkish speakers of Iran, Azerbaijan or Turkey. They also have very little in common with one another. For example, settled Uzbeks often stress their cultural ties with non-Turkic Tajiks or with East Turkestani Uighurs, but never with Kazakhs or Kirghiz.

While there seems little doubt that the Turkic nationalities of the Soviet Union, for example, Uzbeks, Kazakhs, Kazan Tatars, Crimean Turks and Tatars, Azerbaijanis and others, will seek greater political expression or independence, these movements will be motivated by national and local, not "Turkic" sentiments. The dream or nightmare of a Turkish nationalism resulting in a "Turkish" state uniting Central Asian, or all Soviet, or even worldwide "Turkdom" excites some American political scientist and journalists, and perhaps a few souls in Ankara, but is unpopular among the Turks of the Soviet Union.

Walter Feldman
New York, Feb. 14, 1990
The writer teaches language and literature of the Turks and Uzbeks at the University of Pennsylvania.
For two other published letters, click here.