As Iranian forces push the Iraqi invaders out of their territory, they face the choice of whether to halt at the border on the Shatt al-Arab channel, where hostilities broke out nearly two years ago, or to cross over into Iraq. Baghdad, trying to bring Ayatollah Khomeini's government in Tehran to the bargaining table, has offered to withdraw immediately to the prewar borders, to let an international tribunal investigate the causes of the war, and to pay reparations – all reportedly as the price of a cease-fire.
The Iraqi regime of Saddam Hussein urgently needs a three-month pause in the fighting if a meeting of the nonaligned movement, scheduled for September in Baghdad, is to take place as planned. That meeting, originally intended to build Hussein's Baath regime into a world power, would give the regime a boost.
But appeasement of Khomeini is unlikely to work any better for the Iraqis than it has for Western powers attempting to reach a modus vivendi with Iran. If the outside world has learned anything about revolutionary Iran, it is that the Ayatollah does not hold back when he smells victory. And Khomeini has the incentive to invade Iraq. Such a reversal might topple Hussein's whole Baath government, thus fulfilling the Ayatollah's threat, made in April, 1980, to relegate the regime to the "refuse bin of history." The Iranians could then have a hand in establishing a government more favorable to fellow Shiites – who make up more than half of Iraq's population – and to Islamic precepts ignored by the secularizing Baathist socialists.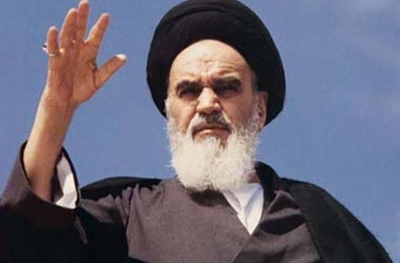 Ayatollah Khomeini: not readily appeased.
Furthermore, the two most important Shiite holy cities, Karbala and Najaf, are situated in Iraq, not far from the Iranian border. Khomeini may want them under his control, particularly since he spent 14 years in Najaf as a political refugee from the Shah's government.
Kid gloves
An invasion of Iraq also offers Khomeini the advantage of keeping Iranian army officers occupied far away. Khomeini has treated Iran's military with kid gloves ever since he took power, seeing it as a greater danger to his regime than any other force in the country. This must be an even bigger concern now, because the military successes have spotlighted a 34-year-old colonel, Sayyid Shirazi, the leader of this spring's advances.
Should the Iranian forces cross the Shatt al-Arab and carry the war into Iraqi territory – and recent air attacks on Basra point in that direction – the Iraqi leadership would have several choices:
It could end its policy of trying to shield the civilian population from the effects of war. This "guns and butter" policy has caused the country's reserves to run down to $5 billion from $30 billion.
It could appeal more urgently for help from other Arab states. Saudi Arabia and the Persian Gulf sheikdoms have already lent Iraq $24 billion since hostilities with Iran began in September, 1980.
It could press Egypt for manpower (BW-May 24). Egyptian pilots are already reported to be flying Soviet-made planes for Baghdad, and some Egyptian workers in Iraqi construction projects have been pressed into service with Cairo's consent.
Daniel Pipes is a historian at the University of Chicago