The famed "red line" warning that Barack Obama issued in August 2012 to Bashar al-Assad of Syria was arguably the defining foreign policy moment of his presidency: an unequivocal warning to a rogue leader to desist from war crimes or pay the price.
When Assad's crossing of this red line a year later ended in a blur, with Russian-backed promises that the Assad regime would hand over its chemical agents, responses were bifurcated. The president and his allies hailed this as a monument of diplomacy, whereby a plausible threat led bloodlessly to a major improvement in behavior. In contrast, critics presented Obama as a paper tiger who raged with threats that collapsed when offered meaningless assurances by a well-established liar.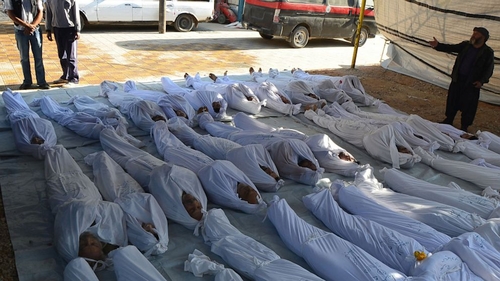 Bodies of Syrians killed by Syria regime nerve gas in August 2013.
For two years, there was no verdict; the two sides kept making their points without closure. But now, closure is at hand.
That's because there are now multiple reports of the Assad regime using chlorine in barrel bombs, plus the discovery of traces of ricin, sarin and VX. In response, the U.S. government has done nothing about these hideous developments other than issue mild rebukes, turn to the feckless United Nations, and hope against hope that the Russians and even the Iranians would dispose of the problem. No mention of red lines this time, just a wish no one would remember 2013.
But we do remember and we do draw conclusions. It's now indisputably clear that Obama is no more than a paper tiger. His threats against the Syrian dictatorship meant nothing but vanished into thin air, replaced by squirming and prattle.
Not only is this response important in itself, but it has implications for other hostile states, notably Russia, China, and especially Iran. If Obama dares not handle the weakling in Damascus, how might he venture to do so with the more formidable foes in Moscow, Peking, and Tehran?
For this reason, the issue of Assad's chemical weapons is crucial to American foreign policy. Like many observers, I count the months (still another 20 of them) until this president is gone and the United States of America has an opportunity for a fresh start to stand by its word, live up to its historic reputation, and protect itself.
Mr. Pipes (DanielPipes.org, @DanielPipes) is president of the Middle East Forum. © 2015 by Daniel Pipes. All rights reserved.