I recently published "The Middle East Runs out of Water," a survey of the region's acute hydraulic problems with a kicker at the end how Israel has, in less than a decade solved its shortages. This weblog entry notes interesting developments on these complementary topics.
---
May 11, 2015 update: Neighbors in the Middle East may not be ready to learn about water from Israelis but Californians are: some projects (such as the $1 billion desalination plant IDE Technologies is building to provide 50 million gallons of water daily in the San Diego area starting in November) are already underway and many, many more are in the works.
June 14, 2015 update: News out of Iran finds that:
Precipitation has fallen 20% in Iran in the current water year (183 millimeters vs. 229 millimeters in the previous year).
More than 500 Iranian cities are struggling with drinking water shortage.
The regime earmarked $10 billion to harness cross-border water resources.
A former minister of agriculture calls the water crisis "more dangerous than Israel, America, or political fighting," and suggested the Iranian plateau will soon become uninhabitable.
The UN has labeled water Iran's "most important human security challenge in the coming decades."
Sep. 2, 2015 update: Space pictures show the contrast between Iran's Lake Urmia in 2000 and 2014.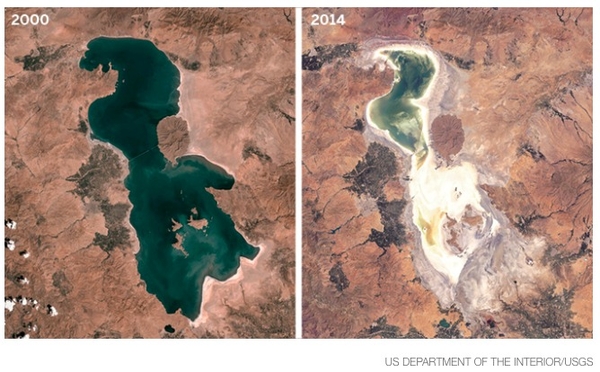 Iran's Lake Urmia is disappearing.
July 29, 2016 update: Scientific American today republished a 1,600-word article by Rowan Jacobsen, "Israel Proves the Desalination Era Is Here," that nicely summarizes Israeli advances in desal technology in the area of biofouling, which the author characterizes as "an Achilles' heel of desalination and one of the reasons it has been considered a last resort." Specifically:
Desal works by pushing saltwater into membranes containing microscopic pores. The water gets through, while the larger salt molecules are left behind. But microorganisms in seawater quickly colonize the membranes and block the pores, and controlling them requires periodic costly and chemical-intensive cleaning. But [the Israeli] developed a chemical-free system using porous lava stone to capture the microorganisms before they reach the membranes.
Jacobsen also gives a sense for the feel of a desal plant:
Inside Sorek, 50,000 membranes enclosed in vertical white cylinders, each 4 feet high and 16 inches wide, are whirring like jet engines. The whole thing feels like a throbbing spaceship about to blast off. The cylinders contain sheets of plastic membranes wrapped around a central pipe, and the membranes are stippled with pores less than a hundredth the diameter of a human hair. Water shoots into the cylinders at a pressure of 70 atmospheres and is pushed through the membranes, while the remaining brine is returned to the sea.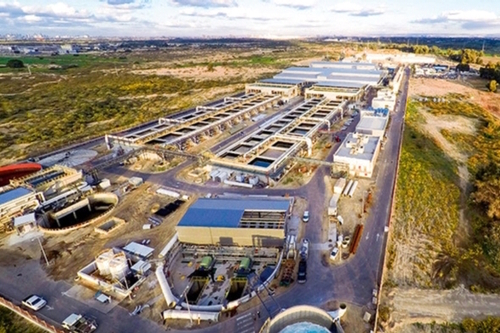 The new Sorek desalination plant, south of Tel Aviv, the largest reverse-osmosis desalination plant in the world.
Prices have gone way down:
Water produced by desalination costs just a third of what it did in the 1990s. Sorek can produce a thousand liters of drinking water for 58 cents. Israeli households pay about US$30 a month for their water — similar to households in most U.S. cities, and far less than Las Vegas (US$47) or Los Angeles (US$58).
Jacobsen concludes his visit to the desal facility by tasting its product with his host:
On the far end of the Sorek plant, Bar-Zeev and I get to share a tap as well. Branching off from the main line where the Sorek water enters the Israeli grid is a simple spigot, a paper cup dispenser beside it. I open the tap and drink cup after cup of what was the Mediterranean Sea 40 minutes ago. It tastes cold, clear and miraculous.
Aug. 9, 2016 update: Susan Abulhawa, a novelist, amusingly attempts to rebut the Scientific American article today at "Israel's desalination miracle, Santa Claus and other fairy tales" in Middle East Eye. From plain factual inaccuracies (claiming that Jerusalem's rainfall exceeds that of London) to polemical outrage ("Israel's water regime functions synergistically within a larger context of Jewish exclusivity and Palestinian negation"), Abulhawa tries to pull down the monumental achievement that is Israel's water regimen.
Particularly corrupt is her comparing water in the land of Israel today with how it was many decades ago, for example, quoting a travel guide from 1891, when the area's population was about 5 percent of what it is now. A more useful comparison, which she conspicuously does not make, would be Israel vis-à-vis its neighbors, such as Egypt, Gaza, the West Bank, Jordan, and Syria.
Comment: Maybe she and her ilk would to better to help build Palestinian water supplies than denigrate Israel's?
Sep. 16, 2016 update: Is Tunisia heading for a "thirst intifada"? Could well be. See the analysis by Perrine Massy.
Sep. 28, 2016 update: Tunisia has terrible problems with drought, the Associated Press explains:
Farmland is too parched to cultivate crops and rural protesters have tried disrupting water supplies to the capital, while one legislator is calling for a "thirst revolt."

A lack of rain, combined with years of bad resource management, has left reservoirs and dams at exceptionally low levels that could lead to a "catastrophic situation," said Saad Seddik, who was agriculture minister until last month.

With municipal water supplies periodically cut off, residents of some towns are walking several kilometers to fetch water from public fountains, loading up donkeys with water canisters - if there's any left. ...

One recent government response: The minister of religious affairs asked imams to hold prayers for rain. ...

Tunisia has long had water issues, but what's unusual this time is that regions across the country, from north to south, are being hit.

The drought is also worsening social tensions, already simmering because of chronic unemployment.

The town of Fernana has seen weeks of unrest since a young man set himself on fire in desperation - mirroring a similar act in 2010 that unleashed the Arab Spring protests that overthrew Tunisia's president. This time, the Fernana protesters took out their anger at the establishment by converging on nearby dams and briefly cutting off water supplies to the capital, Tunis.

In another town, Mateur, 70 kilometers from Tunis, protesters angry over a lack of water blocked a road for two days earlier this month and burned tires. Police cleared their roadblock, but water cutoffs continue.